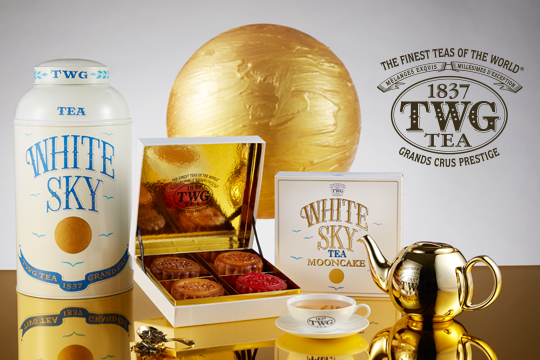 TWG Tea : White Sky Tea Mooncake Collection
Published by Sugar & Cream, Monday 03 September 2018
Text by S&C, images courtesy of TWG Tea
Glorious Mid-Autumn Festival by TWG Tea
Bersiaplah memanjakan diri Anda dengan koleksi Mooncake memesona nan lezat dari kemewahan produk TWG Tea.
White Sky Tea Mooncake Collection tersedia di semua TWG Tea Salons & Boutiques di Jakarta mulai tanggal 3 September 2018 – 25 September 2018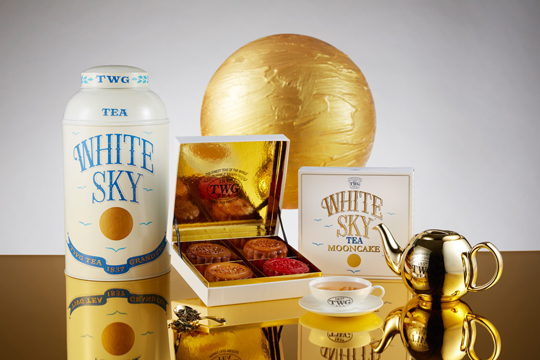 TWG Tea Traditional Mooncakes in Box of 4
Sebuah bentuk tradisi kuliner memikat dari negeri Tiongkok yang mendunia dalam menyambut pergeseran musim yaitu merayakan pertengahan musim gugur bertepatan di saat bulan purnama. Tradisi ini dikenal dengan nama Mooncake Festival yang selalu dirayakan dengan menikmati kue bulan terbaik.
Dalam menyambut keceriaan tradisi ini, label ternama TWG Tea meluncurkan White Sky Tea Mooncake Collection yang siap menggoda lidah kecap Anda untuk mencicipinya.
Bagi pencinta teh, kue bulan TWG Tea terbilang istimewa. TWG Tea menawarkan kejutan manis berupa tea-infused yang menyebarkan sensasi aroma teh lembut hingga segar dalam setiap Kue Bulannya.
Berdasarkan aroma dan rasanya, White Sky Tea Mooncake Collection terdiri dari : Mooncake Constellation, Jewel, Harvest dan Ruby.
Constellation
Bagi pencinta Singapore Breakfast Tea yang lembut dan elegan, ikonik Constellation menawarkan perpaduan cita rasa harmonis antara biji teratai berwarna coklat, tebaran biji melon panggang, kuning telor asin dengan tea-infused Singapore Breakfast Tea.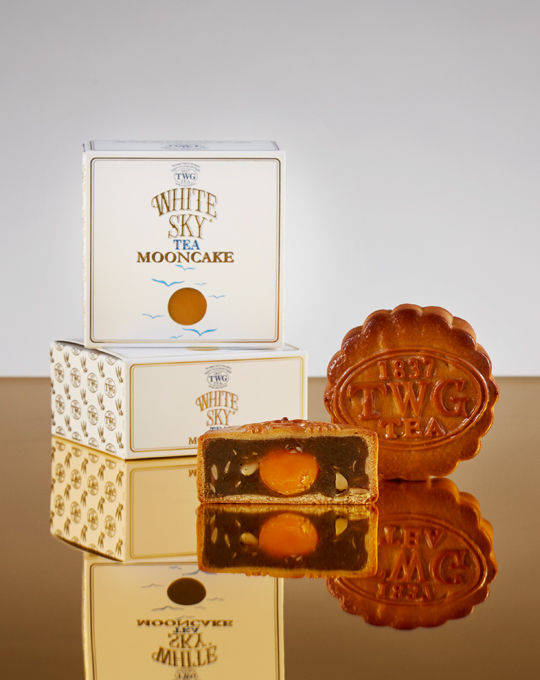 TWG Tea Constellation Traditional Mooncake
Jewel
Sesuai dengan keindahan namanya, Kue Bulan ini terbungkus mewah dengan lapisan cokelat dimana sensasi lembut isinya terbuat dari pasta teratai putih berselimutkan aroma TWG Chocolate Tea. Selebihnya Anda akan menemukan kejutan manis berupa serpihan cokelat dalam pastanya.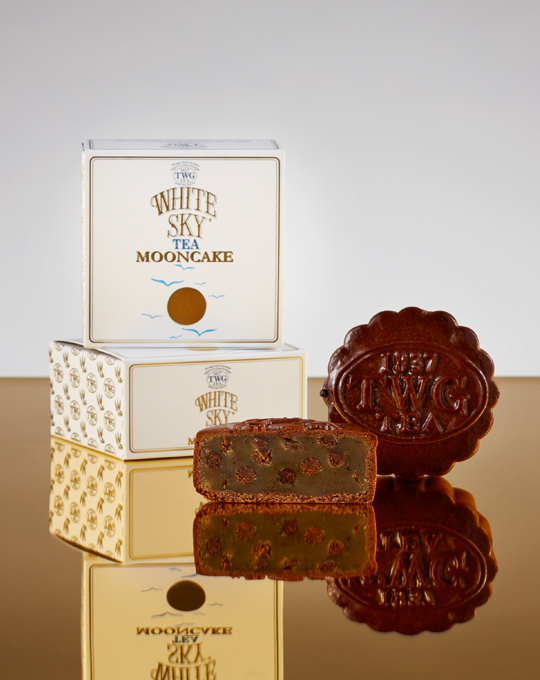 TWG Tea Jewel Traditional Mooncake
Harvest
Dalam kulitnya berwarna emas, Kue Bulan eksklusif ini menawarkan sensasi pasta teratai cokelat yang mewah diresapi dengan TWG Camelot Tea. Untuk menyempurnakan dan meningkatkan keunikan cita rasanya, pasta dikombinasi dengan irisan mungil almond, pecan dan hazelnut.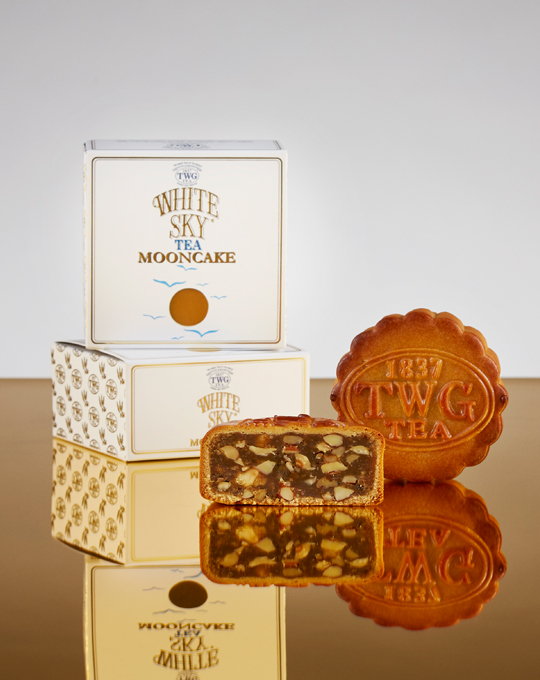 TWG Tea Harvest Traditional Mooncake
Ruby
Warna merah Ruby yang menyolok sempurna menjadi daya tarik utama dari Kue Bulan ini. Tidak kalah memesona, Ruby menggoda dengan kelezatan isinya yang dibuat dari pasta teratai putih dengan kombinasi apricot dan cranberry serta tea-infused TWG Geisha Blossom Tea.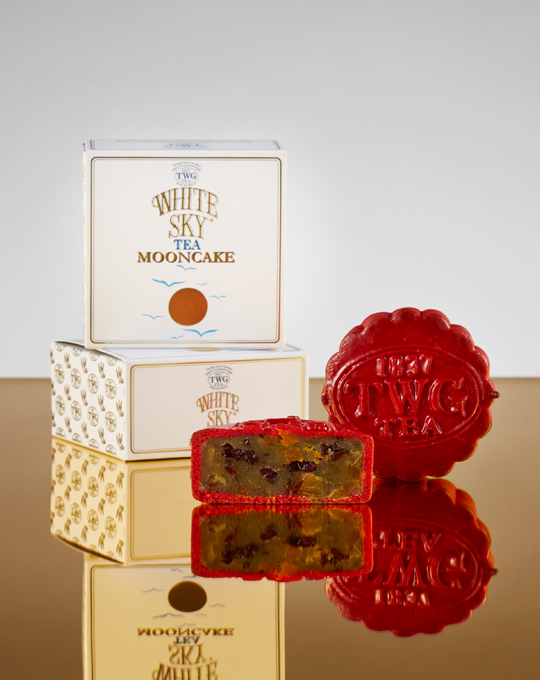 TWG Tea Ruby Traditional Mooncake
TWG Tea's set of four Mooncakes retails at IDR 450.000,- beautifully packaged in the elegant White Sky Tea Mooncake gift box. Each mooncake in an individual White Sky Tea Mooncake gift box retails at IDR 120.000,-.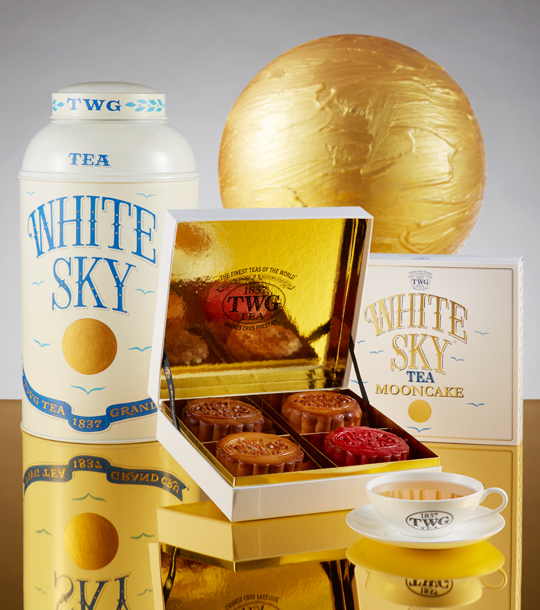 TWG Tea Traditional Mooncakes in Box of 4