Coming from a family who doesn't prioritize traveling, Australian-born interior designer, Greg Natale, got his first exposure into the design world through films and television. Striking settings often found in these films and television shows made him think that creativity has no limit, which finally motivated him to design a room in his own, personal way. "I love taking the beginnings of an idea and teasing out the possibilities for the creation of a design," says Greg about his love of interior design.
Read also an article about his residential project in Neutral Bay, Sydney : "Light House"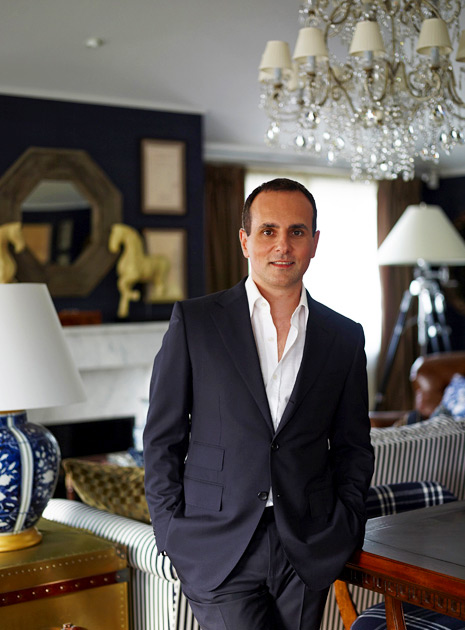 Greg Natale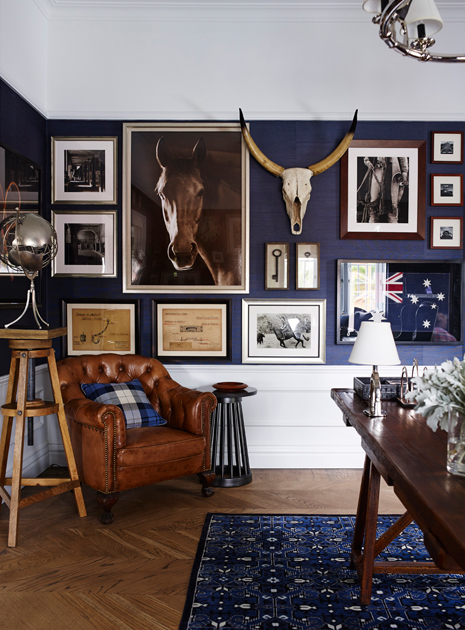 Brisbane Guest House
After completing his studies in Interior Design at Design Centre Enmore, Sydney, followed by Visual Arts in Sydney College of the Arts and Architecture, University of Technology Sydney, Greg started his career in 1996. In 2001, he ventured to establish the Greg Natale Design firm based in Sydney, Australia. His career took off quite rapidly, even so far as winning various awards, such as the Belle Coco Republic Interior Designer of the Year in 2001 and 2014, as well as being named as one of The World's Top 15 Designers by Architectural Digest Mexico in 2015. Along the way, he's also collaborated with several famed brands, such as Designer Rugs, Porter's Paints for wallpapers, as well as furniture products with Worlds Away USA, mosaic and tiles with Teranova, and cushion and homeware collection with One Duck Two.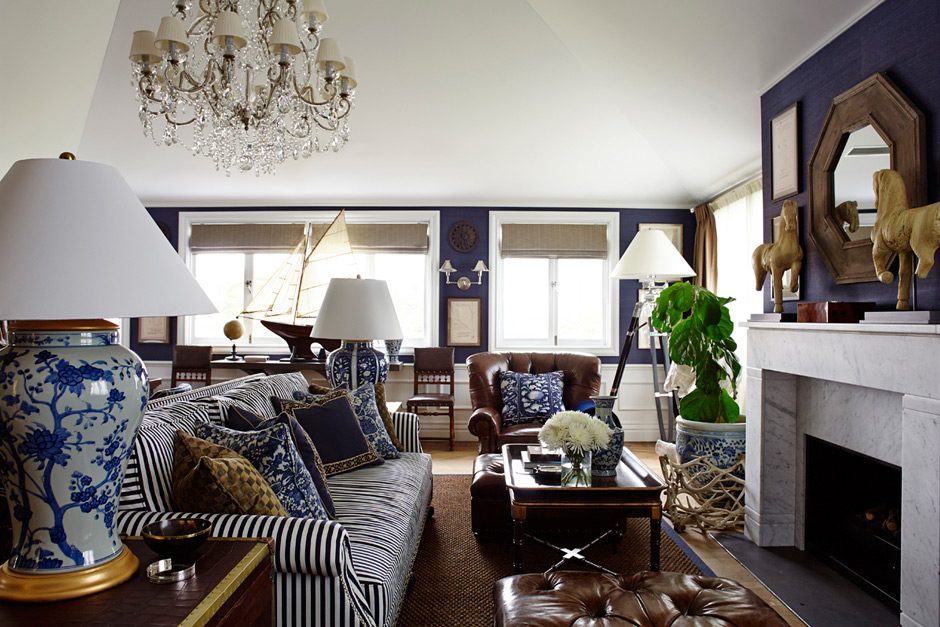 Brisbane Guest House
The name "Greg Natale" is now associated with the importance of layering in creating a design and the combination of bold colours and patterns, which have become part of his character. "Layering is a technique I firmly believe in – the careful, considered accumulation of all the elements that go to make up a warm, cohesive, welcoming interior. Building these layers is something I really enjoy, whether I am working in a minimalist or maximalist space," says Greg, who published his first book on interior design, The Tailored Interior, in 2014.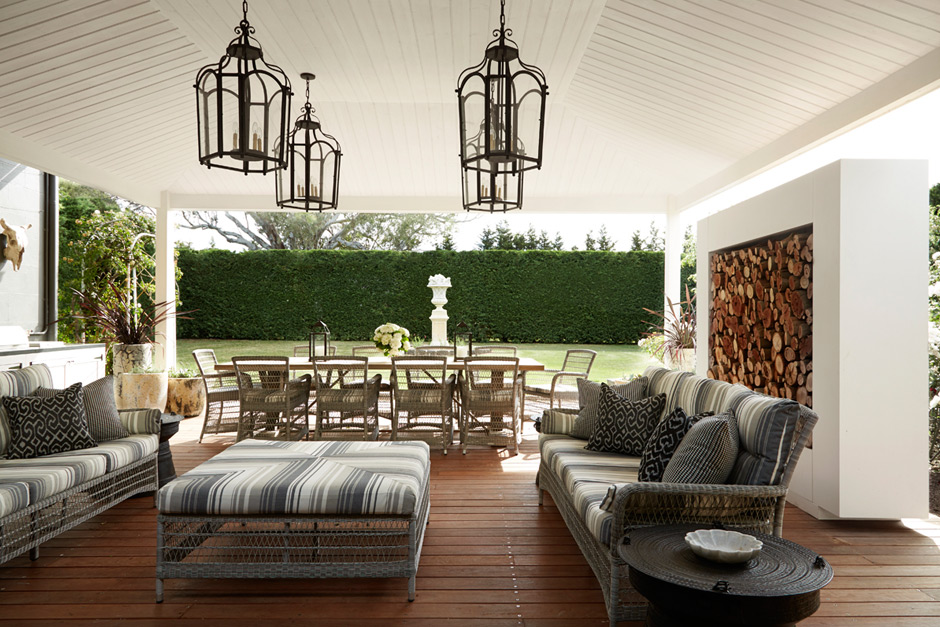 Geelong Country House
An exclusive interview with Greg Natale
How has your work evolved since you first started your own brand?
"In terms of interior design, I've had incredible opportunities to work on vastly different places, from a luxury apartment in an iconic Sydney city building, to a horse stud blending rustic and industrial glamour in Geelong, Victoria, to a barn-style holiday house in Oklahoma, USA. I've also had the chance to expand my vision and brand through exciting product collaborations such as rug, carpet, wallpaper, tile and cushion collections. These have allowed me to explore my love of colour and pattern, and the way they add another layer of detail to interiors. And I've even been able to celebrate my fondness for mid-century modern furniture and vintage-inspired glamour through a couple of furniture collections."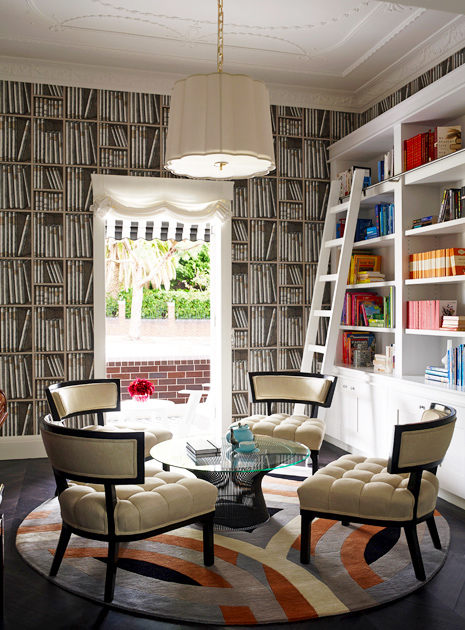 Croydon House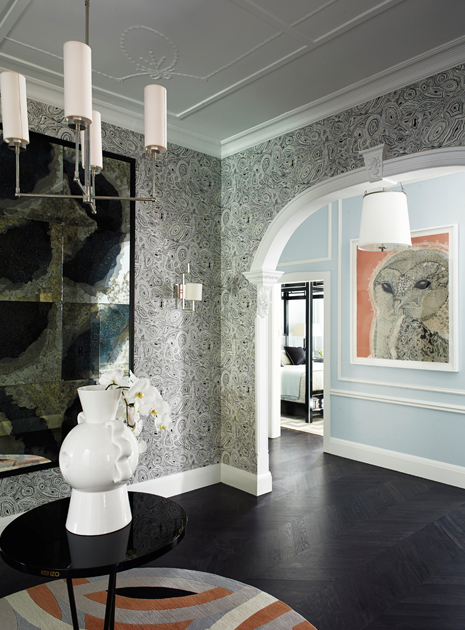 Croydon House
How has your style changed?
"I wouldn't say it has changed but rather evolved. I'll continue to champion the magic of monochromes and the bold use of colour and pattern, and I will always make sure to tailor these to the particular space I'm working with, whether it is miminalist or maximalist. Layering will always be important to me, and whether I'm working on a classic or contemporary space, I'll still strive to fuse design and decoration for the most cohesive look."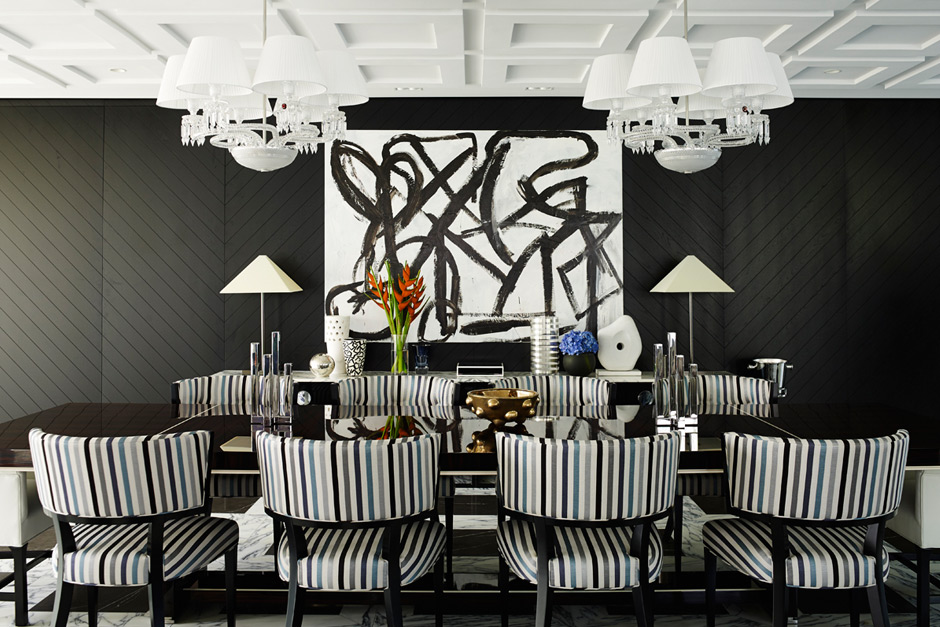 Brisbane House
What makes you fall in love with bold style, patterns, and layering on design approach?
"I love how bold colours and patterns bring life, interest, warmth and detail to any space. The beauty of them is that you can incorporate them through the smallest of touches, such as cushions, throws and accessories, while still working with a neutral palette. Layering, to me, is the key to creating warm, cohesive interiors. Layering is about thoughtfully including all those elements that make up a welcoming, livable space – wall and floor treatments, major furniture such as sofas and coffee tables, secondary furniture such as side tables and feature chairs, soft furnishings, art and accessories. Whether your style is pared back or extravagant, whether your space is small or large, layering is still important, and what changes is the style and size of the pieces, rather than the number of pieces."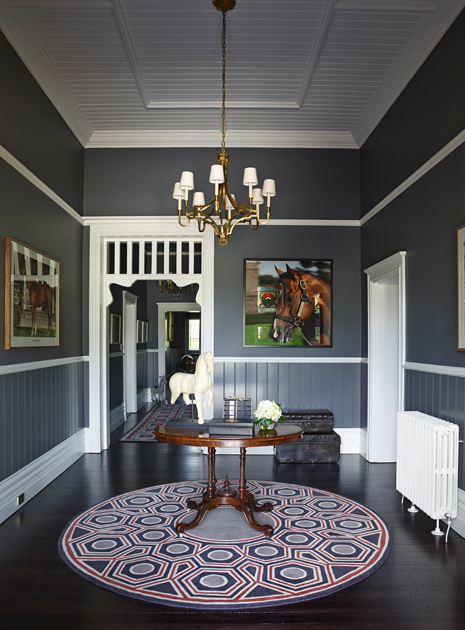 Geelong Country House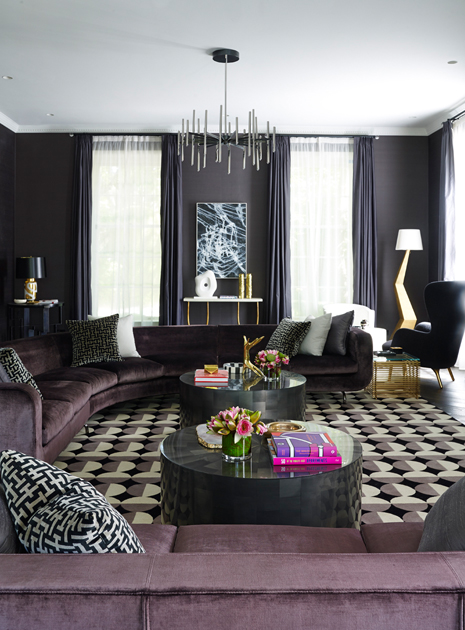 Melbourne House
You've done many collaboration with other brands, what criteria do you use when designing a product?
"I use the same criteria as I do for my designs. They must be sophisticated, striking, and of contemporary relevance even if they reference classic or vintage eras. They must add to the warmth and livability of a room, and hold an important place in the overall design. I want to deliver carefully considered designs that work in a variety of spaces, and that enhance a room by bringing another layer of warmth, detail and interest. I want to use the very best materials and collaborate with like-minded quality brands."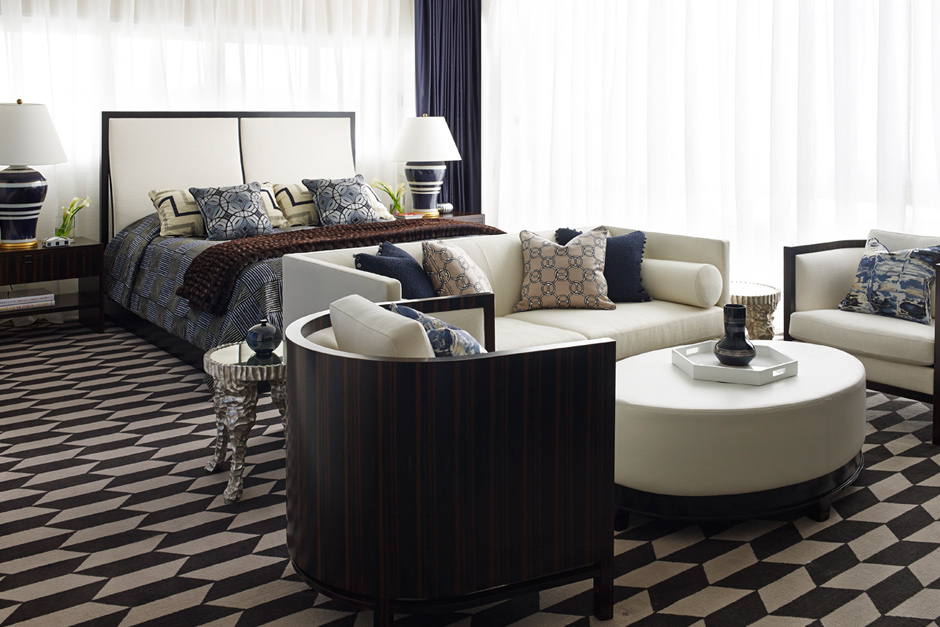 Brisbane House
What would you say is your strongest skill, and how did you come to hone it?
"I'd say my strongest skill is editing the look of a room to ensure that it presents a strong, cohesive story. I have honed that skill through many years of practice and devotion. My work involves stepping back at every stage of the design process and assessing the whole, judging how pieces and finishes, colours and patterns are balanced, seeing if there is enough juxtaposition between them to deliver a dynamic contrast, and checking that the entire work pulls together so that every piece has a place and a relationship to the next."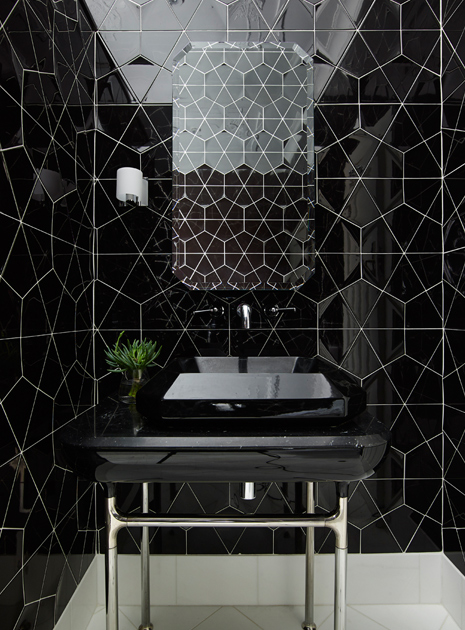 Croydon House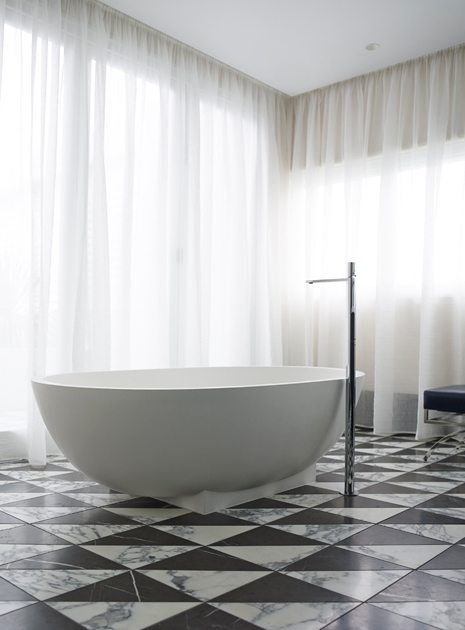 Brisbane House
What kinds of style are you interested to explore nowadays?
"At the moment, I'm keen to explore more organic patterns. I've been quite focused on geometrics and angles, but in upcoming collections you'll see an introduction of softer curves."
What fascinates you right now and how is it feeding into your work?
"I'm currently obsessed with vintage furniture. I have always loved mid-century modern design, the styles of the '70s, and the '80s Italian Memphis movement. What I really enjoy is finding ways to work vintage and vintage-inspired pieces into contemporary settings."
How do you see design trends evolving in Australia?
"I think while we are fully conversant with international design trends, we do bring our unique character and aesthetic to designs, giving global trends a local flavour. Because our lifestyle tends to be centered around the beach and the outdoors, we have a more casual, laid-back approach to living, and as a result our designs are generally more pared back, with a focus on maximising access to light."
What is the definition of luxury to you?
"I think space is the ultimate luxury. I live in a small apartment in eastern Sydney so I'm well aware of the need to maximise space in interior design, to use every inch of a place and incorporate visual tricks to make it appear larger."
The recent interior book you have bought?
"ABCDCS: David Collins Studio, a beautiful book that the architect and interior designer had been working on before he died. With a foreword by his friend and client Madonna, it is a sumptuous, glamorous tribute to Collins' work."
Where is your favorite place in Sydney?
"The suburb of Surry Hills, which is a dynamic design hub. My office is there, and we're surrounded by wonderful home and design stores, as well as great cafes and bars. Life in Surry Hills is never dull."
Do you have any personal collection?
"Boxes – I love them and own many. They're great for storing all manner of treasures. I've also got a thing for YSL."
How do you design your own house?
"My apartment is contemporary and tailored, with a predominance of monochromes, punctuated by pops of bright pink in furniture, accessories and artworks. The layout of my apartment features many angles, so I have echoed these in my choices of paneling, furniture and carpet. I turned what was a small U-shaped kitchen into more of a glamorous sideboard on legs, to visually open up the space, and I used the same granite on the floor and wall to create the impression of a flowing, continuous surface. It's not a large place by any means, but I find my apartment warm, livable and welcoming, full of pieces and styles that I cherish."
Terlahir dari keluarga yang jarang melakukan traveling, Greg Natale, desainer interior asal Australia ini membuka mata pada dunia desain lewat apa yang dilihatnya di televisi dan film. Setting yang menakjubkan dalam tayangan tersebut menyeretnya dalam pemikiran bahwa kreativitas itu tak ada batasnya. Sebab ini ia ingin mendesain ruang dengan caranya sendiri. "Saya menyukai bagian awal dari prosesi ide kemudian berlanjut melihat kemungkinan-kemungkinan yang bisa dilakukan untuk kreasi desain tersebut," tutur Greg tentang kecintaannya pada dunia interior.
Baca juga artikel mengenai projek residensial Greg Natale di Neutral Bay, Sydney : "Light House"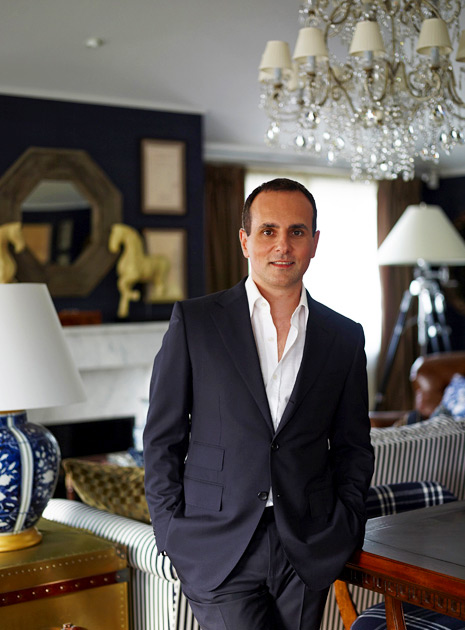 Greg Natale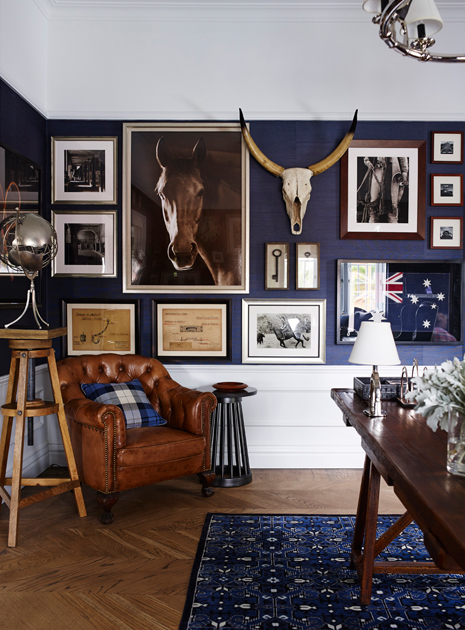 Brisbane Guest House
Setelah menyelesaikan studi Desain Interior di Design Centre Enmore, Sydney, lalu ke Visual Arts di Sydney College of the Arts and Architecture, University of Technology Sydney, Greg meniti kariernya dalam ranah interior mulai tahun 1996. Pada 2001, ia memberanikan diri untuk mendirikan firma Greg Natale Design yang berbasis di Sydney, Australia. Kiprahnya berkembang pesat bahkan hingga menyabet berbagai penghargaan termasuk Belle Coco Republic Interior Designer of the Year tahun 2011 dan 2014, juga disebut sebagai salah satu The World's Top 15 Designers oleh Architectural Digest Mexico pada 2015. Berbagai kolaborasi telah dilakukannya bersama brand terkemuka seperti Designer Rugs, Porter's Paints untuk wallpaper, serta produk furnitur dengan Worlds Away USA, koleksi mosaic dan tiles dengan Teranova, juga koleksi cushion dan homewares dengan One Duck Two.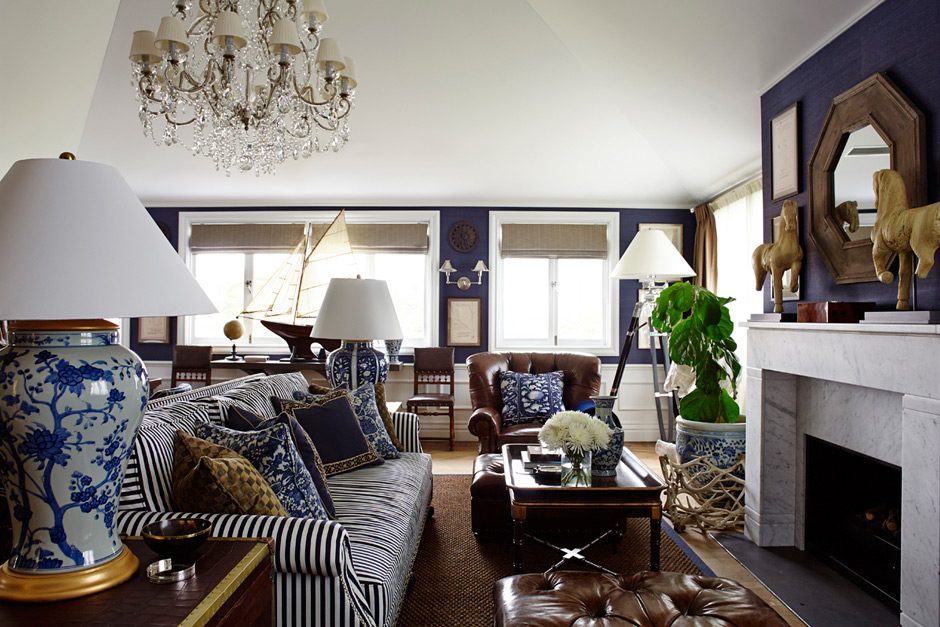 Brisbane Guest House
Nama Greg Natale kini diasosiasikan dengan kekuatan layering dalam mendesain, paduan warna bold dan pattern menjadi ciri yang tak bisa lepas dari karakternya. "Layering adalah teknik yang sangat saya yakini—ketelitian, akumulasi dari semua elemen untuk membuat sebuah ruang terasa hangat, kohesif, dan nyaman. Membangun layers adalah hal yang saya nikmati, baik saat bekerja di ruang minimalis maupun maksimalis," ucap lelaki yang telah menelurkan buku interior pertamanya, The Tailored Interior pada 2014.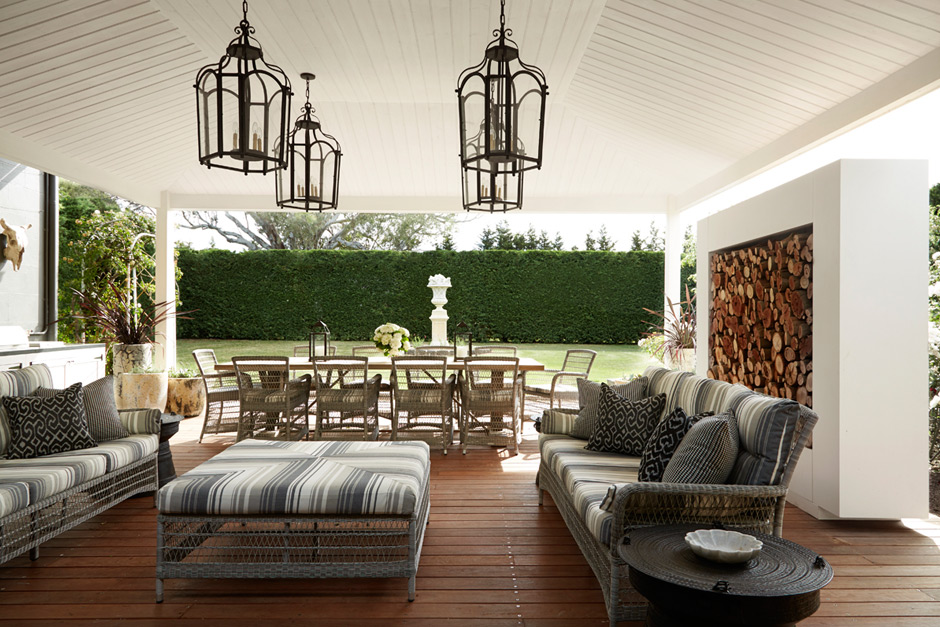 Geelong Country House
Wawancara eksklusif dengan Greg Natale
Perkembangan yang kini dirasakan pada pekerjaan Anda setelah mendirikan firma desain di tahun 2001?
"Dalam hal desain interior, saya mendapat kesempatan luar biasa untuk bekerja di berbagai tempat yang benar-benar berbeda. Mulai dari apartemen mewah di bangunan ikonis Sydney, peternakan kuda yang memadukan gaya rustic dan industrial glamour di Geelong, Victoria, hingga rumah peristirahatan bergaya barn di Oklahoma, AS. Juga mendapat kesempatan untuk mengekspansi visi dan brand saya melalui berbagai kolaborasi menyenangkan seperti mendesain produk karpet, wallpaper, tile, dan koleksi bantal. Hal ini mendukung saya untuk mengeksplorasi kecintaan pada warna dan pattern, serta bagaimana mereka dapat menambah detail berupa layer berbeda pada interior. Beruntungnya lagi, saya dapat mewujudkan ketertarikan saya pada karya furnitur modern di pertengahan abad (mid-century), termasuk karya-karya yang terinpirasi dari vintage glamour, melalui beberapa koleksi furnitur."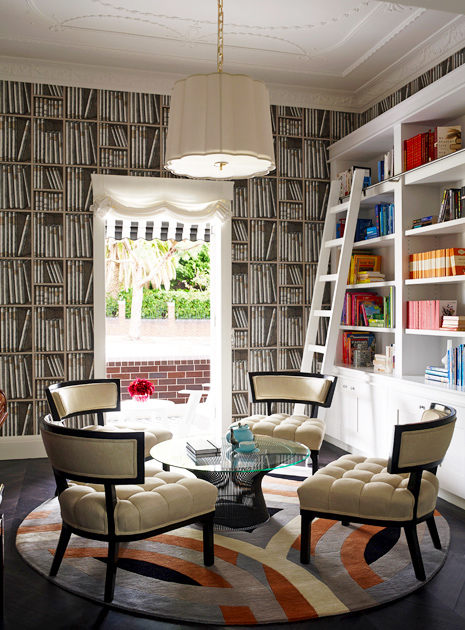 Croydon House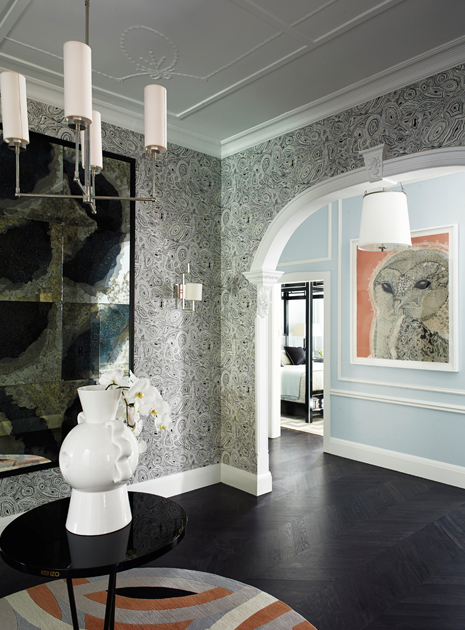 Croydon House
Bagaimana dengan gaya Anda, adakah yang berubah?
"Saya rasa bukan berubah, tapi berkembang atau berevolusi. Saya terus melanjutkan kekuatan dan keajaiban monokrom serta penggunaan warna bold juga pattern. Saya memastikan untuk menerapkan hal tersebut di setiap ruangan yang saya kerjakan, baik itu minimalis ataupun maksimalis. Layering akan selalu menjadi hal yang penting dalam pengerjaan ruang bergaya klasik maupun kontemporer, saya berusaha memadukan desain dan elemen dekoratif untuk mendapatkan tampilan yang paling kohesif."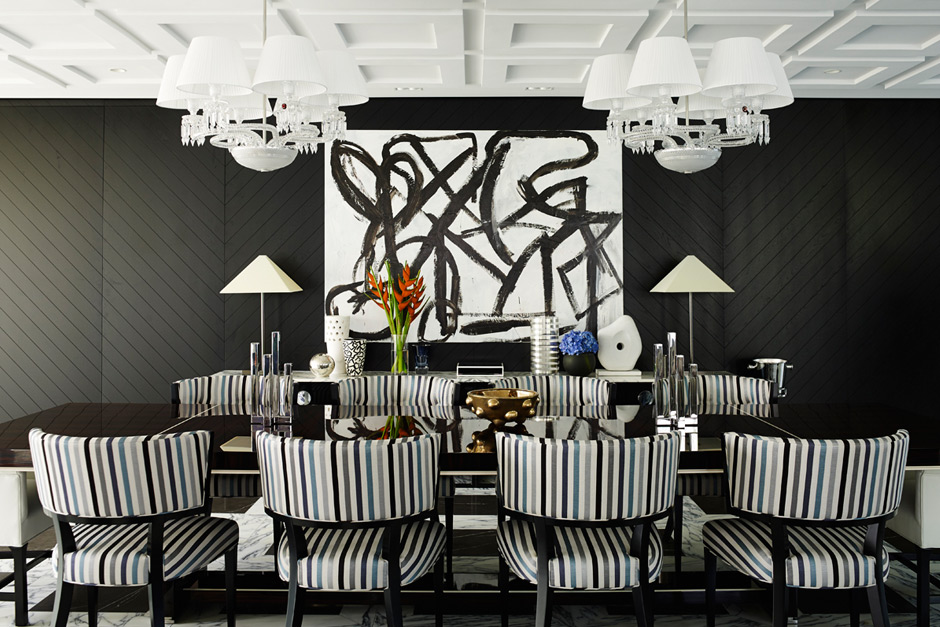 Brisbane House
Apa yang membuat Anda jatuh cinta pada pendekatan desain layering, serta penggunaan pattern dan gaya yang bold?
"Saya suka bagaimana warna berani dan pattern dapat membawa kehidupan, ketertarikan, kehangatan, serta detail dalam ruang mana pun. Keindahannya dapat diterapkan melalui sentuhan kecil sekalipun seperti penggunaan bantal, selimut, dan aksesori, terlebih saat Anda dihadapkan pada palet natural. Layering adalah tentang bagaimana memikirikan keseluruhan elemen pendukung yang dapat membangun kenyamanan sebuah ruang—treatment pada lantai dan dinding, furnitur besar seperti sofa dan coffee tables, furnitur sekunder seperti side table dan kursi, soft furnishing, karya seni, dan aksesori. Baik Anda yang menyukai gaya pared back ataupun extravagant, memiliki ruang yang kecil ataupun besar, layering tetap penting. Apa yang berubah adalah gaya dan ukuran dari benda tersebut, bukan jumlahnya."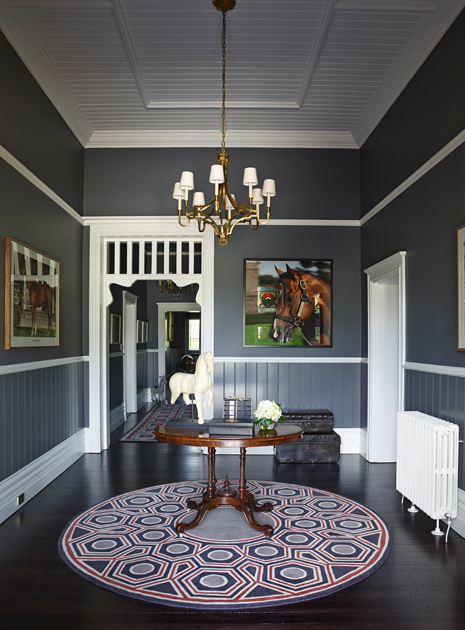 Geelong Country House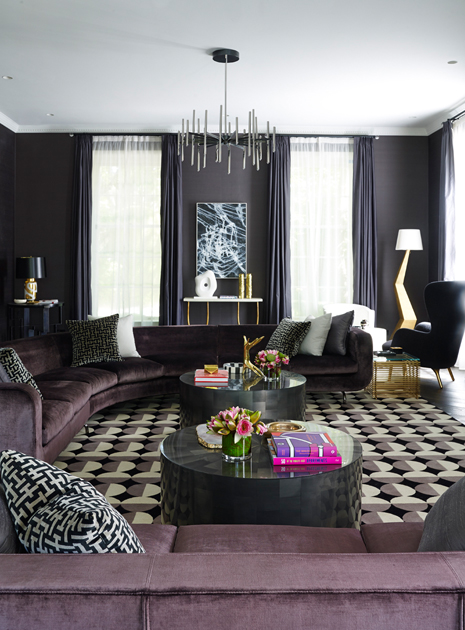 Melbourne House
Anda telah berkolaborasi dengan beragam brand, kriteria seperti apa yang Anda gunakan saat mendesain sebuah produk?
"Saya menggunakan kriteria yang sama seperti saat mendesain ruang. Mereka harus sophisticated, striking, dan memiliki relevansi pada gaya kontemporer sekalipun referensinya klasik atau ditujukan untuk area vintage. Produk tersebut harus menambahkan kehangatan dan kenyamanan dari sebuah ruang, serta memegang peranan penting dalam keseluruhan desain. Saya ingin secara teliti menyampaikan desain yang dapat digunakan di berbagai jenis ruangan, dan dapat menambah keindahan ruang dengan membawa layer baru akan kehangatan, detail, dan ketertarikan. Saya ingin menggunakan material terbaik dan berkolaborasi dengan kualitas brand yang memiliki satu visi."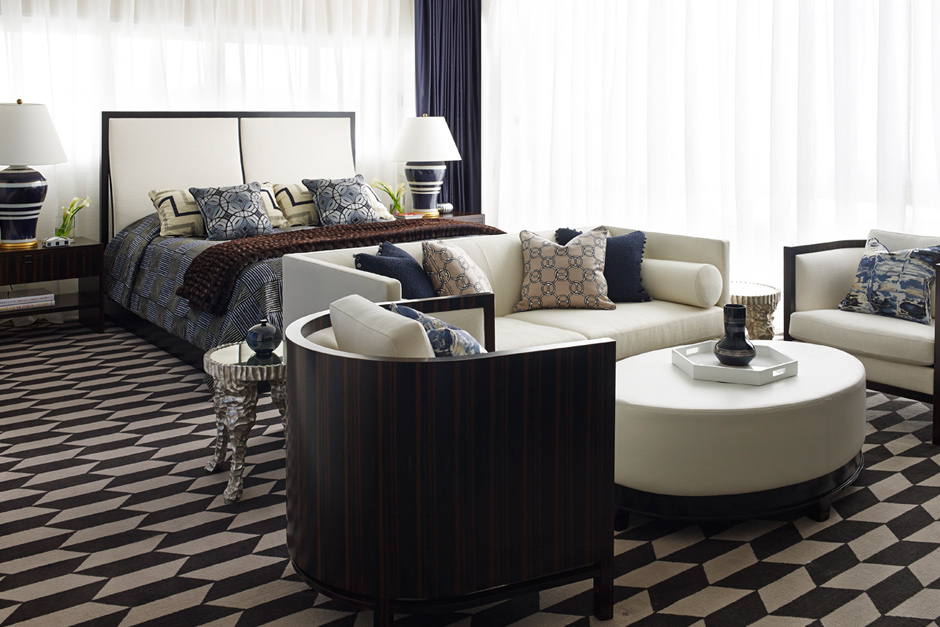 Brisbane House
Menurut Anda, apa yang menjadi kelebihan Anda dan bagaimana mengasahnya?
"Mungkin kemampuan mengedit tampilan ruang untuk mendapatkan cerita yang kuat dan kohesif. Saya telah melatih kemampuan tersebut melalui praktek langsung selama bertahun-tahun dan kesetiaan padanya. Dalam bekerja, saya selalu mengambil satu langkah ke belakang untuk melihat setiap tahapan dan proses desain yang berjalan lantas menilainya secara keseluruhan, memutuskan bagaimana tiap produk dan finish, warna, serta pattern itu seimbang, melihat apakah sudah cukup penempatan di antara mereka untuk menyampaikan kekontrasan yang dinamis, juga mengecek seluruh pekerjaan tersebut secara kesatuan agar tiap produk dan elemen memiliki tempatnya serta hubungan satu dengan yang lainnya."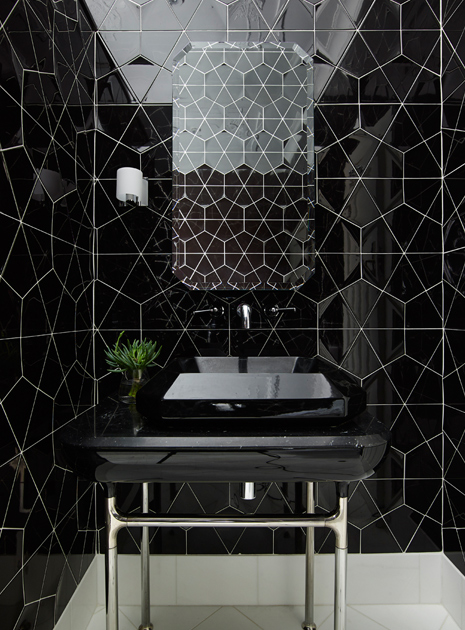 Croydon House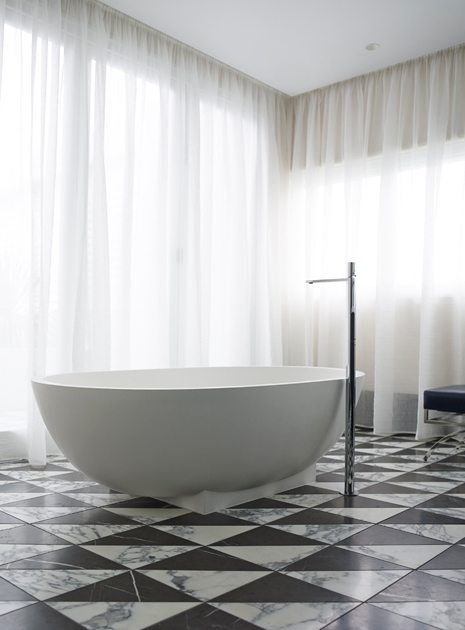 Brisbane House
Gaya seperti apa yang ingin Anda eksplorasi saat ini?
"Saat ini saya ingin mengeksplorasi pattern yang lebih organik. Saya telah fokus pada geometris dan sudut angles, namun untuk proyek ke depannya, Anda akan melihat sebuah introduksi akan lekukan-lekukan yang lebih halus."
Apa yang menarik perhatian Anda saat ini dan bagaimana pengaruhnya terhadap pekerjaan Anda?
"Saat ini saya terobsesi dengan furnitur vintage. Sejak dulu saya menyukai desain modern dari pertengahan abad (mid-century), gaya dari tahun '70-an, dan pergerakan Italian Memphis di tahun '80-an. Hal yang saya nikmati adalah mencari jalan untuk menggunakan produk vintage maupun produk yang terinspirasi dari karya vintage dalam sebuah setting kontemporer."
Bagaimana Anda melihat tren desain di Australia?
"Saya pikir kami mengikuti dan tahu betul akan tren desain internasional, namun kami membawa karakter unik juga estetika tersendiri, menyumbangkan cita rasa lokal pada tren global. Karena gaya hidup kami lebih cenderung terpusat di sekitar wilayah pantai dan alam bebas, kami memiliki pendekatan yang lebih kasual dan santai. Hasilnya, desain kami secara general lebih pared back dengan fokus memaksimalkan akses pada pencayahaan natural."
Definisi kemewahan bagi Anda?
"Saya pikir ruang adalah kemewahan utama. Saya tinggal di apartemen kecil di timur Sydney. Karenanya, saya sangat sadar akan kebutuhan memaksimalkan ruang dalam hal desain interior. Menggunakan tiap inci dari tempat tersebut dan memadukan trik visual untuk membuatnya terlihat lebih besar."
Buku interior yang terakhir Anda beli?
"ABCDCS: David Collins Studio, karya indah yang dibuat oleh sang arsitek dan desainer interior sebelum ia meninggal. Dengan kata pembuka dari teman dan kliennya, Madonna, buku ini merupakan sebuah tribute yang memesona terhadap karya-karya Collins.
Tempat favorit Anda di Sydney?
"Kota satelit Surry Hills, yang juga merupakan kawasan desain. Kantor saya di sana, dan kami dikelilingi oleh rumah-rumah indah, toko desain, juga kafe, dan bar. Kehidupan di Surry Hills tidak pernah membosankan."
Apakah Anda memiliki koleksi personal?
"Boks, saya sangat menyukainya dan punya banyak. Boks sangat berguna untuk menyimpan semua 'harta karun' Anda dengan baik. Saya juga selalu memiliki ketertarikan tersendiri untuk Saint Laurent Paris."
 Bagaimana Anda mendesain apartemen Anda sendiri?
"Apartemen saya bergaya kontemporer dan personal, dengan dominasi monokrom yang diberi kejutan warna pink pada furnitur, aksesori, dan karya seni. Layout dari apartemen saya memiliki banyak sudut, sehingga saya menyatukannya melalui paneling, pemilihan furnitur, dan karpet. Saya mengubah dapur kecil berbentuk U dengan bufet yang lebih glamor untuk 'membuka' ruang tersebut secara visual, serta menggunakan granit yang sama pada lantai dan dinding untuk menciptakan kesan yang mengalir juga berkesinambungan. Bukan ruang yang besar memang, namun saya merasa apartemen ini hangat, nyaman, dan terbuka, terdiri atas benda-benda dan gaya yang saya sukai."