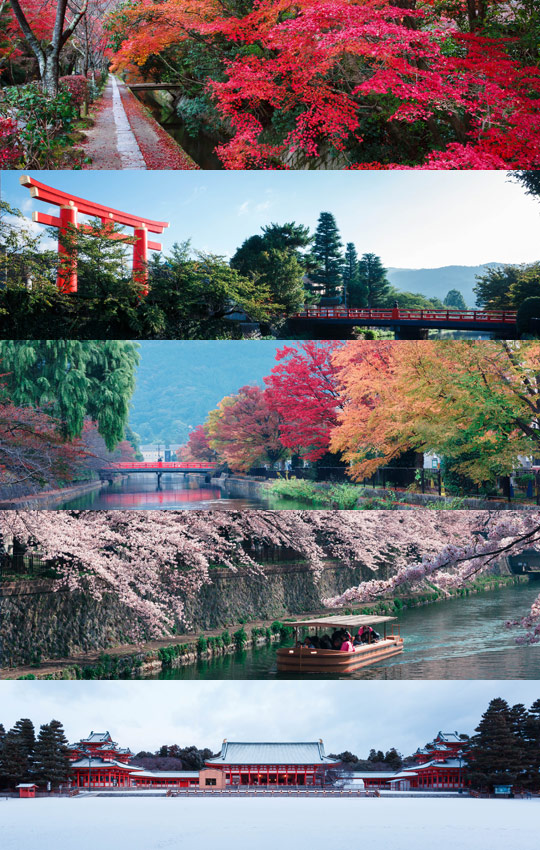 Kyoto–an authentic Japanese experience
Published by Sugar & Cream, Tuesday 27 June 2017
Text and photos by Vincent Sung
While most cosmopolitan Asian cities experiment with ultra modern architectural design, Kyoto stays true to its traditional past and aesthetic, especially since restrictions kept Kyoto from becoming just another large Japanese metropolis.
It's no wonder that Kyoto was voted number one 'Best city in the World' in 2015 by Travel & Leisure unanimously by the magazine's readers.
Although everyone in Kyoto lives in the 21st century, quite often you will see women and sometimes men of all ages – dressed in kimonos – blending into the daily street scenes. On occasion, in the Gion district, you may see ornately dressed geishas bow in and out of traditional teahouses. Daily life is calm, and the heart of Kyoto lies along the Kamogawa river; an ideal place for an afternoon bicycle ride or evening stroll along the scenic path. Kyoto has many areas that are deserving of your precious time: ancient temples and shrines, Kyoto Imperial Palace, Nijo Castle, Gion shopping area and much more …
Kyoto was not bombed during World War II, so much more of the old city remains as it was since several centuries. Kyoto is home to hundreds of temples and first-time visitors should guard against temple 'burnout' by taking the best in small doses and frequently rest in lovely traditional tea shops. No visits are completed before trying the traditional onsen (Japanese style bath and sauna) and eating a full kaiseki course at a ryokan.
After arriving at Osaka KIX airport, you can travel by train to the futuristic Kyoto Station, which has the feeling of a set for 2001: A Space Odyssey. The top is reached by ascending its Stairway to Heaven escalators. Rent a bicycle to start your visit from one of the numerous rental stations available around the huge Isetan building or next to Kyoto Tower. Bicycling around town is the best way to enjoy every little traditional streets and get to discover hidden treasures that are usually not on tourist maps. Lovely wooden traditional shops, houses and tea shops were a reminiscence of scenes out of the Memoirs of a Geisha novel. Don't forget to pick a free copy of Explorer Kyoto, a useful map and guide of the best each city (Osaka & Kyoto) has to offer.
Another alternative, if you fly in through Osaka International airport, is the very convenient MK shuttle offering inexpensive door-to-door service, greeting you at the arrivals at KIX Osaka airport. The reasonably priced (¥ 3,600/person) shared shuttle van brings you to your final destination in Kyoto in approximately an hour and half. Price includes one suitcase up to a meter size. Reservations are necessary at least 48 hours in advance. http://www.mktaxi-japan.com Tel. +81(0)75-778-5489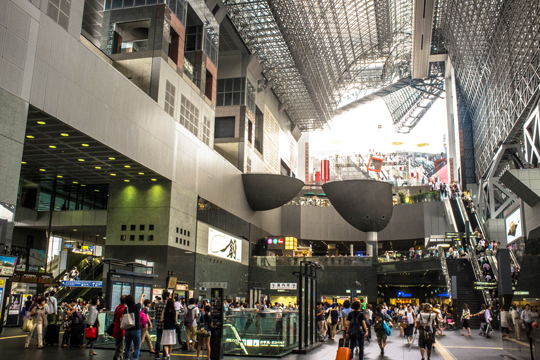 Kyoto Traveler's Inn
Highly recommended and budget friendly is to check in at the exquisite Kyoto Traveler's Inn, which is perfectly located in the heart of the old Kyoto. It offers forty Western style rooms and thirty-eight Japanese style tatami rooms all fitted and equipped for couples, group of friends or family. Free WIFI is available at Café Green Box and on every floors in every room category. They offer a choice of Western style breakfast or Japanese style composed of fresh vegetables, miso soup, grilled fish and rice bowl. For travelers staying at the hotel, their public bath opened from 3pm to midnight is a great way to relax after a long day walking around the city. Bicycles are also available for rent by the day or for the whole week. http://www.k-travelersinn.com Tel. +81(0)75-771-0225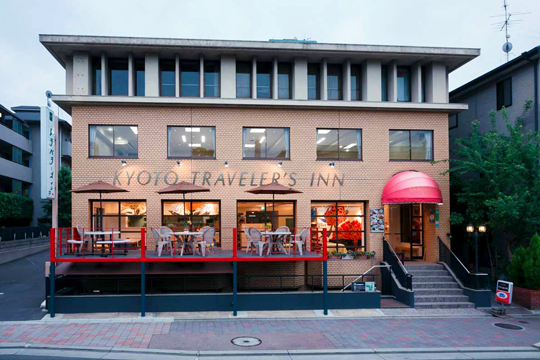 Day 1
Start your first day by visiting some near-by temples: Heian Jinja and Yasaka Jinja. Heian Shrine is a big temple near the Kyoto Modern Art Museum and Kyoto National Art Museum. The whole environment at Heian Shrine is very zen; empty spaces all covered with stones. The very nice garden, Shin-en Garden (entrance Fee: 600 Yen) displays two ponds with lilies and plants and a pavilion where you can just sit down and unwind from long walks. Newly weds love to go there for their photo shoots.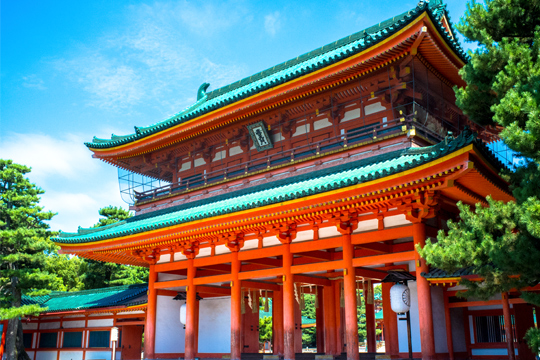 The next stop is at Yasaka Temple, a Shinto shrine in the Gion District of Kyoto. Situated at the east end of Shijō-dōri (Fourth Avenue), it was built originally in 656. The shrine includes several buildings, including gates, a main hall and a stage.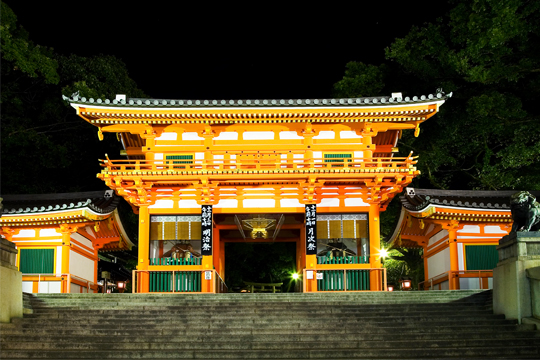 Another notewhorthy temple is the Kodai-ji temple, located in the Higashiyama mountains (just South of Yasaka temple). Established in 1605 by a noblewoman, Kita-no-Mandokoro in memory of her late husband and samurai, Toyotomi Hideyoshi. Its design and exquisite craftmanship is well renowned all over Japan and thousands of visitors are expected every years during autumn when the foliages and gardens are lit at night and offer outstanding sceneries. http://www.kodaiji.com Tel. +81(0)75-561-9966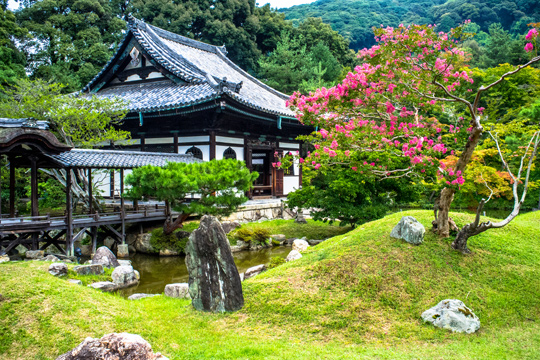 Feeling hungry? A highly recommended Donkatsu restaurant, Katsukura is located in the Sanjo shopping strip of Kyoto. An expert in breaded pork cutlets, they have rapidly expanded with twenty-six branches all over Japan, twelve are readily available around Kyoto. They take pride in serving top premium quality pork loin and fillet cutlet. A specialty, Yuba croquette (¥ 1,550) was a surprising and delicious mix of vegetables and pork filled croquette. A good deal is to order the Sangen Pork Ton-Katsu Zen set (from ¥ 1,280 – 80gr to ¥1,950 – 160gr) which comes with barley rice, miso soup and free-refill pickled vegetables. Served with two different sauces to choose from, it was really tender and perfectly cooked to preserve the meat flavors. The Kyoto-style interior of the restaurant is very tasteful and reminiscence of a Japanese tavern atmosphere. http://www.fukunaga-tf.com/katsukura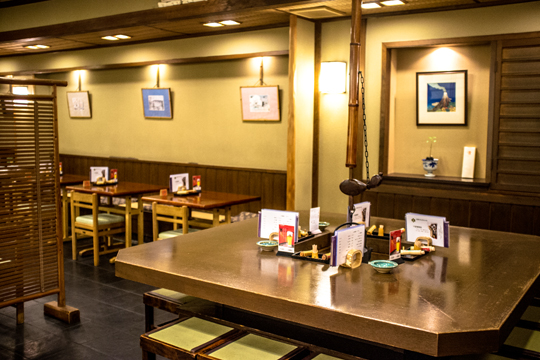 After a long day of temple visits, back at the Kyoto Traveler's Inn hotel, rest your tired feet and immerge yourself into a Japanese tradition at their public baths which opens until midnight. You can get fresh Japanese beers from their vending machines in the hallways (change is available at the front desk).
Day 2
On your second day, as an alternative to Japanese breakfast, try Kyoto Traveler's Inn's Western breakfast or a refreshing cold soup like gaspacho or hot midly spicy Okra and Prawn Thai Soup with Nampler (ask for the seasonal soup of the day).
A great way to start the day and to learn more about Japanese ancient cultures, is to immerge yourself with unique experiences offered by KAFU – Wa Experience. One of them, coming highly recommended is KADO or Ikebana, 'the way of flowers' with expert Kimiko Yamamoto who was taught in the tradition of Moribana style under her Japanese Master. A tradition dating back to 600 years, she explained the intricated relations between human and nature, the philosophy behind every 'empty spaces' and the careful selection of each flower stem.  She transports you back in time with her passion of Kado, from Tatebana style (standing flower) to Rikka style (16th century Kyoto), Seika style of the Edo period (18th century) then the Nageire style (Toss-in or Throw-in) to actual 20th century Moribana style which has thirty-eight recognized schools registered at the Kyoto Ikebana Association. Through her words, you will feel touched and be able to understand the 'temporary beauty of nature' while grasping the foundamental rules of Ikebana display.
Another meditative experience, SADO or Tea Ceremony, soothes the mind and stimulate the brains by using pure green tea leaves. For the past 500 years, Buddhist monks have practice the Wa-Kei-Sei-Jak (Harmony-Respect-Purity-Tranquility), a kind of meditation in movement. With many traditional protocols and manners, Kimiko san who wore a colorful Japanese kimono, prepared a bowl of exquisite green tea in a Zen tatami room, while showing 'the way to serve it' in the line of the traditions she had learned since many years. http://kafu.co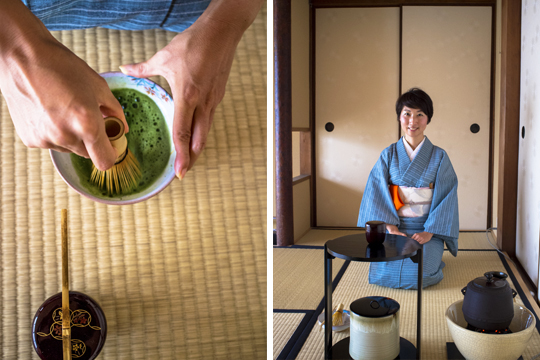 To continue the full Japanese delicacies experience, head to Nishinotoin Tea House Motoan located downtown Kyoto near Nijo Castle. A must-try is the delicious Matcha Roll cake or Matcha Baum Kuchen set (¥ 1,200) served with a choice of Matcha, Sensa, Hojicha, Genmaicha tea or Matcha Latte. This traditional and peaceful tea shop clientele is composed mostly of high-society Japanese ladies who appreciate the tea brews on offer – Marukyu-Koyamaen, a highly reputed local tea brand manufacturer. http://www.marukyu-koyamaen.co.jp/english/nishinotoin/index.html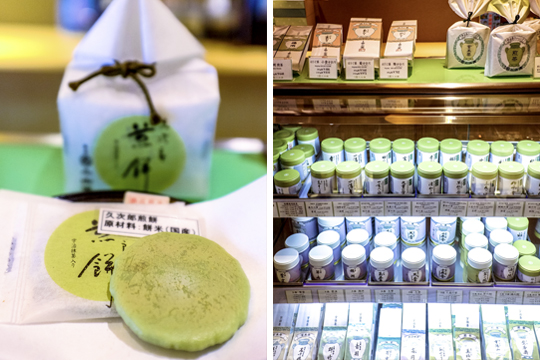 For dinner, highly praised by locals is Kushikura, an upscale yakitori restaurant (grilled meat on a stick) housed in a converted machiya house in central Kyoto. Kushikura's dining space is spread across several rooms on the house ground floor with more private rooms upstairs. The best seats are in the tatami-floored room in the back of the house past a communal counter, offering views of the traditional garden. You can order yakitori sticks a la carte (average about ¥ 150 per stick), but the best way to sample all the rich flavours is to order the Miyako Course (¥ 3,100). The meal includes a seasonal appetizer, chawan-mushi (warm egg custard) with chicken, corn and daikon (radish) foam, miso soup with rice, Kyoto's delectable pickled vegetables, and six different types of yakitori. It is highly recommended to reserve as this restaurant is very popular and often fully booked. Lunch (11:30-2:30pm); Dinner (5pm-10:30pm). Tel. +81(0)75-213-2211 www.fukunaga-tf.com/kushikura
Day 3
On the third day, a nice alternative is to pre-book MK taxi for a traditional pottery visit outside of Kyoto. Unraku-gama is located in Kiyomizu-yaki Danchi, a region known for its Kiyomizu-yaki and Kyo-yaki ceramics. As extraordinary earthenware's colours deepen over time, at Unraku-gama, exceptional ceramics are produced unlike any others.  A long tradition of artisans since 125 years, this family business was passed on from one generation to the next, currently headed by Unraku Saito III. While many workshops developed during the Momoyama Era, with the growing popularity of tea ceremony in Kyoto, the aristocrats and masters of tea ceremony requested for more luxurious and show pieces. Advanced potter's wheel techniques and colourful picturesque designs were perfected during the Edo Era, which were mastered by Unraku Saito I. To this days, experts and glazed ceramic connoisseurs travels from around the world to acquire highly priced unique pieces from Unraku-gama. Kyoto Kiyomizu-ware pottery Unraku-gama http://unrakugama.com/en Tel. +81(0)75-591-1506


After a short expedition outside of town, have an authentic lunch at the local soba specialist restaurant Honke Owariya, which was established since 1465. Originally a confectionary shop, which was patronized by the Emperor's family and monks from Kyoto's historic temples, the original taste has been preserved since over 540 years. Soba are made from buckwheat flour and best eaten cold with a side dish of soy-based sauce into which the soba are dipped before being eaten. www.honke-owariya.co.jp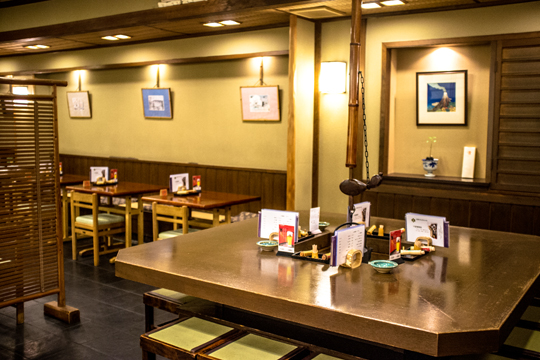 For an entertaining afternoon, Samurai Kembu is just the perfect answer to your childhood dreams 'to become a Samurai for one day'. Kembu means 'sword dance' and is one of the various Japanese traditional performing arts. It is said that in feudal times, Samurai were performing Kembu to give themselves courage or to achieve mental concentration. A scene from "The Last Samurai" portrays a Kembu performance on the day before the final battle. They offer different sessions (12pm / 5pm) and packages (2 hours light package ¥8,000 / 3 hours full package ¥10,000) daily. Starting with an hour Samurai Kembu show in their theatre with music and lights, the show transports you to past eras. Visitors are then invited to step into the shoes of a Samurai and try the basic sword techniques. www.samurai-kembu.jp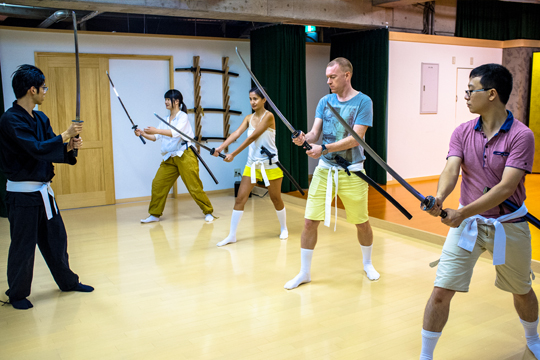 Time for dinner at a neighbourhood restaurant, Chikurin offers informal seating at the bar counter only. Traditional Kyoto style 'obanzai' home-style dishes can be ordered along with draft beers (Ebisu is the norm) or with a selection of locally made sake.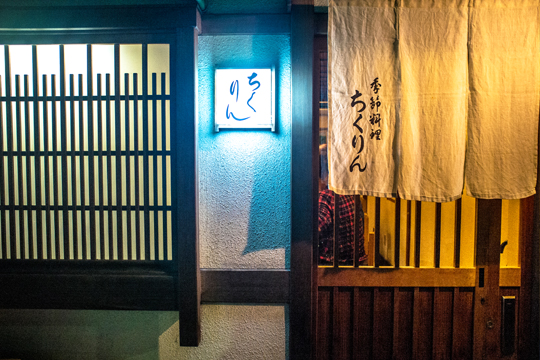 Day 4
Five minutes away from Kyoto Traveler's Inn, is a French alternative for breakfast at Le Bac a Sable which serves homemade French croissants, baguettes, fresh breads, quiches and other delicacies prepared every morning by the French baker/owner. They also sell locally made olive oil and offer a three-courses lunch for ¥1,200. Tel. +81(0)75-746-3080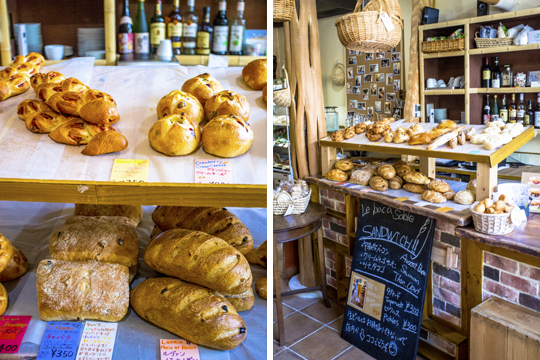 Be prepared to do some shopping at the long shopping arcade known as "Kyoto Kitchen" or Nichiki Ichiba. Nishiki Market is a five blocks long shopping street lined by more than hundreds shops and restaurants. The lively retail market specializes primarily in all things food related, like fresh seafood, produce, knives and cookware, and is a great place to find seasonal foods and specialties, such as Japanese sweets, localy made pickles, dried seafood and Kobe beef. Most specialize in a particular type of food and freely give out samples or sell sample dishes and skewers meant to be eaten then and there. The market has a history of several centuries, and many stores have been operated by the same families for generations. It all started as a fish wholesale district, with the first shop opening around 1310. A larger variety of shops moved in later, and the area changed from a wholesale market to retail.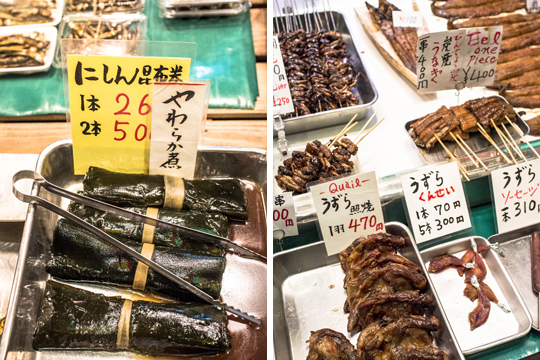 Inside the shopping arcade, a welcome rest can be had at the only Lipton teahouse outside of England, which stands there since 1930. Inside the Tea House, the atmosphere is warm and cozy. The place has a nice upscale, chic feeling to it and most of the visitors seem to be young or middle-aged couples that are looking to have a romantic tea experience. Their menu offers a scrumptious selection of excellent teas, both iced and hot such as Ceylon or Darjeeling. The Royal Milk tea is extraordinaire and very authentic (¥ 630). As for the cake selection, spot your favorite from the storefront, where they are displayed and get it served to your table. Don't forget to bring back home a box of lemon madeleine, the house specialty. Lunch can be had as well. The seafood gratin (¥1,000) is coming on top of the list otherwise try their Pasta Pescatora (¥ 1,160). For dessert, a favorite is the Mount Blanc tarte (¥ 560). http://www.fukunaga-tf.com/eng/shop_information/lipton.html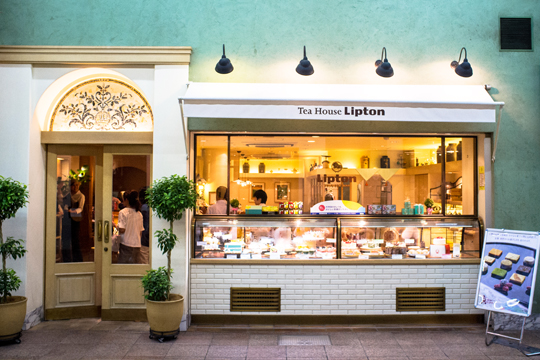 To finish off the day with something different, try the best Indian restaurant in town: Mughal. Tucked away in a little street, this authentic Indian restaurant comes with an Indian chef and waitresses. Try the Non Vegetarian Thali set (¥ 3,150) with a serving of meat curry, two vegetables curry, tandoori chicken, sheek kebab, papad, naan bread, basmati rice, salad, raita and masala chai. Fulfilling and different from other Indian restaurant, the quality and freshness is incomparable.  Tel. +81(0)75-241-3777 www.kyoto-mughal.com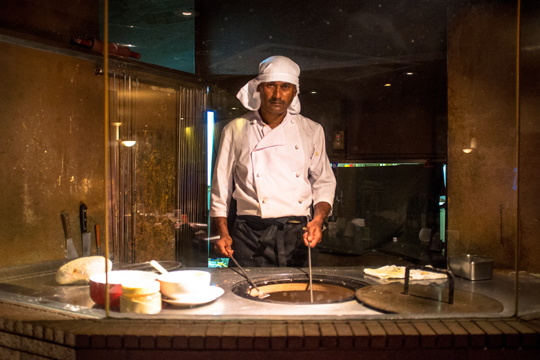 Kyoto offers an immersion into the life of Japanese and the way they lived hundred years ago, while offering activities for all type of budgets and travellers' tastes. Endless discoveries and experiences can be had in this magical city where not-too-long ago, geishas and samurais lived in peaceful harmony.