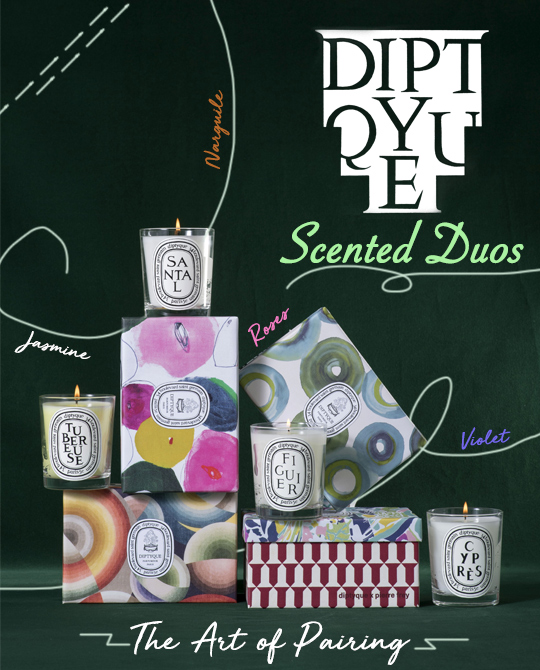 diptyque's Scented Duos – The Art of Pairing
Published by Sugar & Cream, Tuesday 05 March 2019
Text by S&C, images courtesy of diptyque
Scents of Play & Limited Edition Gift Sets
Musim semi ini dirayakan diptyque Perancis dengan mengundang Anda untuk bermain sekaligus menciptakan sensasi aroma yang paling mengesankan dan personal bagi Anda!
Koleksi diptyque's scented duos dan diptyque lainnya tersedia secara resmi di The Papilion Duo, Pacific Place Jakarta.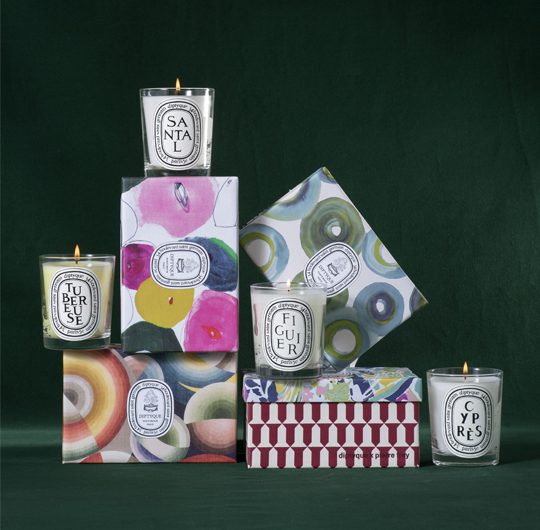 diptyque has created five limited-edition gift boxes, decorated with Pierre Frey designs.

Pilih dua parfumed candles favorit Anda dari 49 total parfumed candles diptyque dan nyalakan keduanya bersamaan. Dalam seketika Anda berada dalam perjalanan imajiner dengan sensasi baru dari gabungan dari kedua aroma tersebut. Reaksi kimia dari kedua parfum yang menyebar dan menyatu di udara sekitar ruang menciptakan lansekap aroma terbaru bagi indera penciuman Anda.


Amuse yourself with the art of pairing by choosing two diptyque parfumed candles and reinvent a new fragrance.
Teruslah bermain dan bereksperiment sambil menciptakan sensasi-sensasi aroma baru yang sanggup memikat emosi Anda. Apapun yang memikat emosi Anda akan terekam terus dalam perjalanan memori Anda.
Melalui the art of pairing, diptyque mengundang Anda dalam perjalanan indra ke taman imajiner, di mana semua aspek dunia alami bertemu. Anda akan menemukan sensasi unik aroma baru yang tidak ada duanya.
Temukan, bayangkan, wangi, rasakan……. biarkan emosi Anda menjadi panduan Anda dalam perjalanan ini. Perjalanan tanpa batas.
Bagi Anda pemula, ada pilihan terbaru. diptyque baru meluncurkan 5 set pasangan parfumed candles dalam edisi terbatas. Istimewanya, setiap kemasan cantik edisi terbatas ini didekorasi dengan desain dari Pierre Frey (perusahaan wallpaper dan fabric ternama dari Perancis).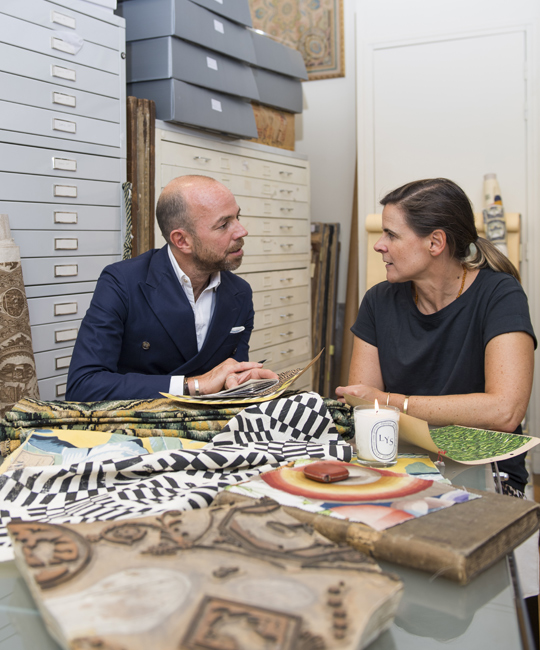 Piere Frey X diptyque
Amuse yourself with 5 new scented duos from diptyque :
1. An Eastern garden at dusk, Lily and Narguile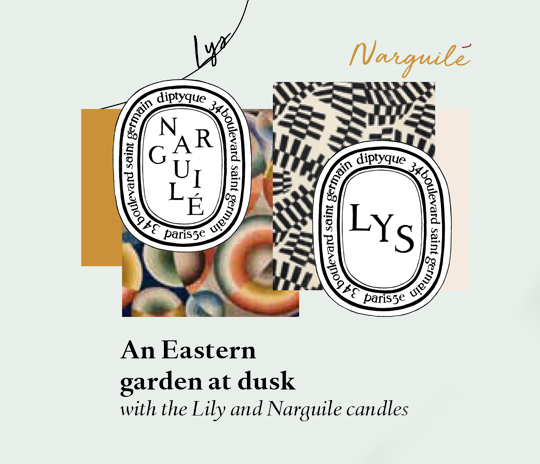 Aroma yang mengundang lamunan Anda kembali pada suasana taman Timur saat senja menyelimuti kota Riad. Di teras, terlihat lampion dinyalakan satu per satu di dekat karangan bunga lili besar yang tersebar, dan  diletakan di bawah pohon palem besar. Pan tempat asap melengkung dari narguile. Nada-nada manis dari volute tembakau menghangatkan aroma bunga-bunga putih, menggarisbawahi aksen pedasnya.


Lily and Narguile
2. The flower festival, Roses and Jasmine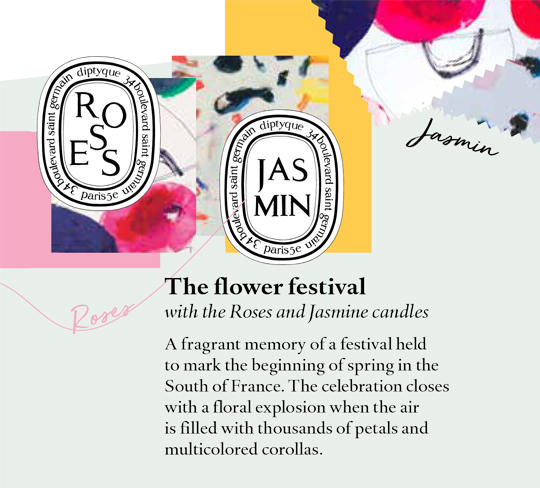 Perpaduan bunga mawar dan melati. Kenangan wangi dari sebuah festival diadakan untuk menandai awal musim semi di Prancis Selatan. Perayaan ditutup dengan ledakan bunga ketika udara disekitarnya dipenuhi dengan ribuan kelopak dan warna-warni mahkota bunga.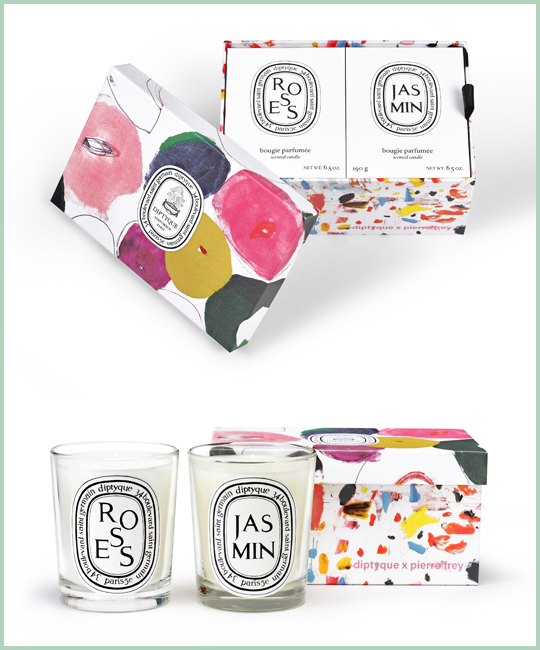 Roses and Jasmine
3. Memories of Asia, Sandalwood and Tuberose


Aroma hutan tropis lembab mengingatkan kenangan perjalanan ke Asia dengan bunga-bunga wangi tumbuh subur dan imaginasi gajah-gajah besar sedang mengangkat batang-batang pohon. Aroma kayu cendana yang lembut seperti beludru berpadu dengan aksen tuberose yang hijau dan memabukkan.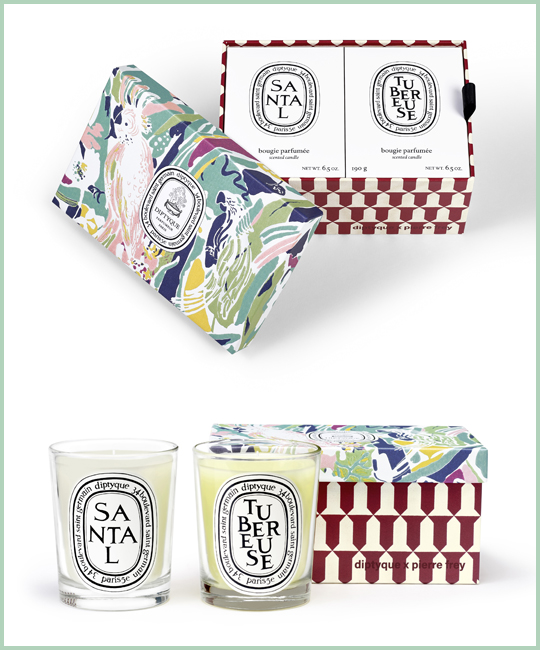 Sandalwood and Tuberose
4. Greece in the shade of fig trees, Cypress and Fig Tree


Perpaduan aroma ini membawa Anda ke perjalanan imajiner ke pulau-pulau di Yunani pada musim panas. Jalur pepohonan merambah perbukitan yang menghadap ke Laut Mediterania. Ketika angin berhembus, aksen hijau dan aroma kayu pohon ara menyatu dengan aroma getah dari pohon cypress, Anda merasakan aroma semerbak pohon ara yang segar.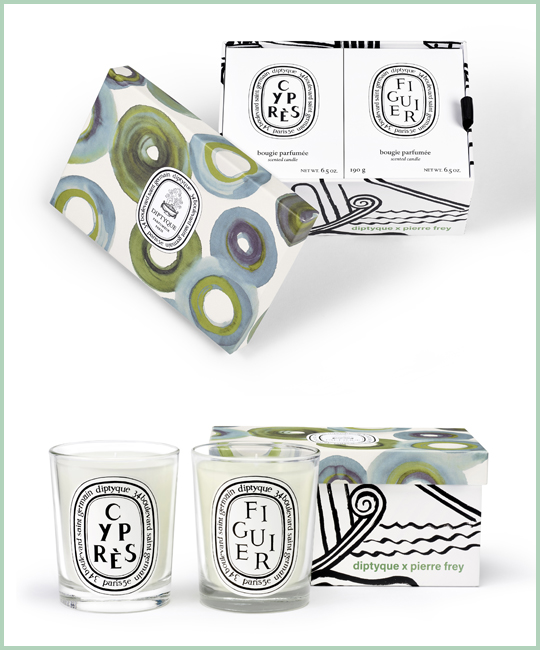 Cypress and Fig Tree
5. The artist's drawing pouch, Leather and Violet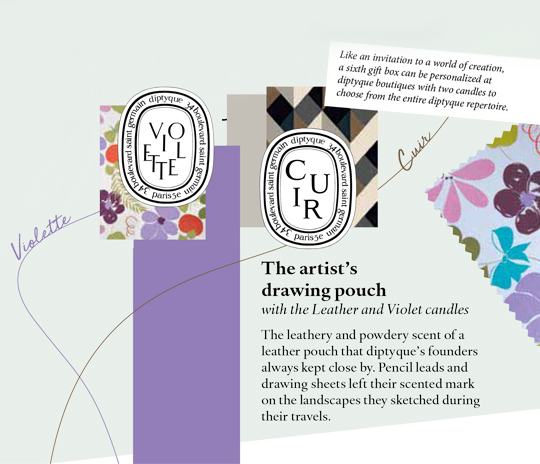 Perpaduan  unik aroma kulit dan bedak dari kantong kulit yang kerap dibawa oleh pendiri diptyque. Setiap sketsa perjalanan meninggalkan jejak wangi melalui gambar yang dibuat.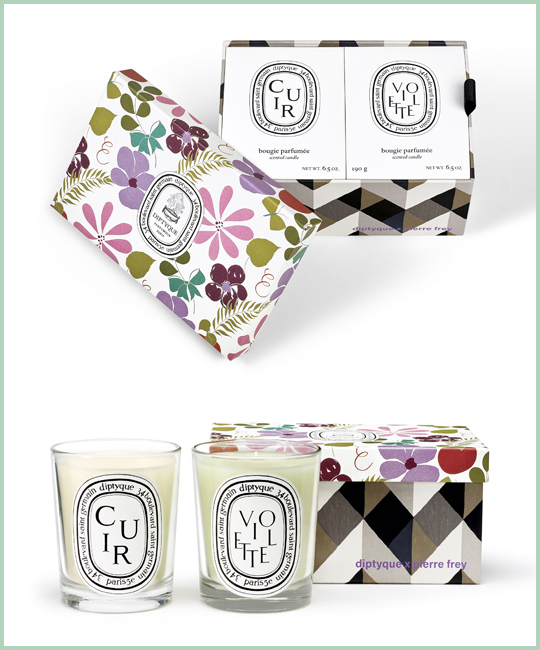 Leather and Violet
Datang dan jajaki kecerian tanpa batas dari perpaduan 2 parfumed candles berbeda di The Papilion Duo, Pacific Place Jakarta