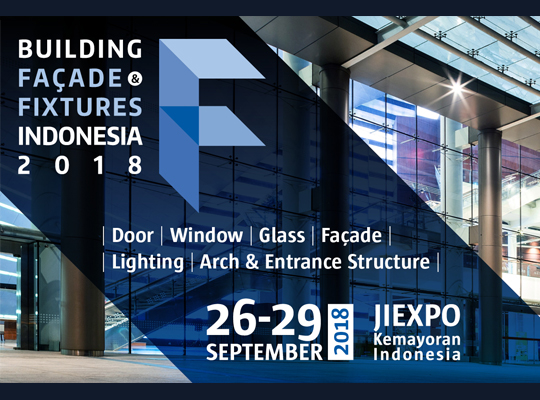 Building Façade and Fixtures Indonesia 2018
Published by Sugar & Cream, Monday 27 August 2018
Text by Auliya Putri, Images Courtesy of Building Façade and Fixtures Indonesia
@ Jakarta International Expo Kemayoran, 26 – 29 September 2018
Building Façade and Fixtures Indonesia adalah pameran pertama di Indonesia yang didedikasikan untuk meningkatkan kualitas desain dan teknik fasad bangunan. Pameran ini akan mempertemukan para distributor dan pabrik yang memiliki teknologi, peralatan, bahan dekoratif, dan aksesoris yang paling dicari untuk konstruksi bangunan, industri, arsitektur, komersial, maupun residensial, dan desain interior dengan fasad serta perlengkapan khusus.

Apa saja yang dipamerkan? Yang utama dari pameran ini ialah fasad, pintu, jendela, bangunan, perekat, sealant, hinge, pencahayaan, kaca, dan arch and entrance structure.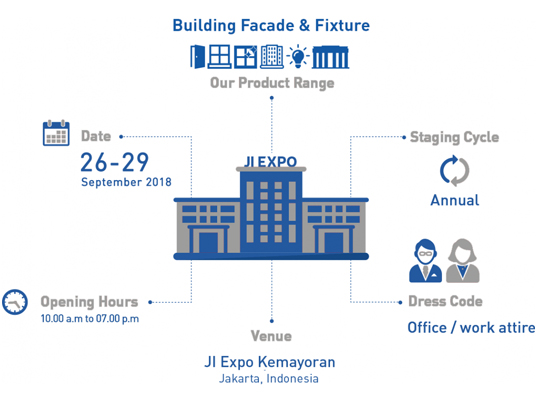 Dilangsungkan di Jakarta International Expo Kemayoran, selama 4 hari mulai dari tanggal 26 hingga 29 September 2018. Building Façade and Fixtures Indonesia merupakan sebuah kesempatan baik untuk memperluas kehadiran pasar fasad dan perlengkapan khusus bangunan di wilayah Asia khususnya Indonesia.