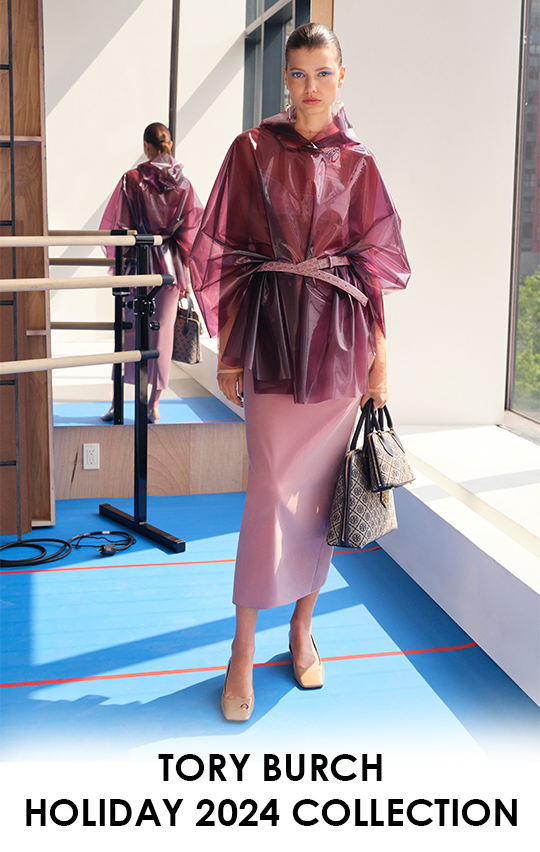 presented by

TORY BURCH HOLIDAY 2024 COLLECTION
Published by Sugar & Cream, Thursday 19 October 2023
Images courtesy of Tory Burch
Embracing clean lines and minimal tailoring
Tory Burch Holiday 2024 collection, a dichotomy plays out between clean lines and intense texture. Balletic tulle creates movement and soft volume around the body, balanced by streamlined coats, tops and skirts. Stretch cotton and satin are transformed through fabric manipulation: Chalky paint gives structure to an embroidered muslin dress; a coat that appears to be supple leather is actually glazed viscose; metal studs mimic reptilian scales; and a patent jacket is laser-cut to feathery effect. The cat and rabbit prints are by German photographer Walter Schels, known for capturing animals in heroic, almost-human portraits.

The collection's handbags and shoes reimagine our signatures. The Swing bag from Spring 2023 is scaled down to a miniature size; the Ballet Loafer now comes in our T Monogram jacquard; and the Lee Radziwill Double Bag features a fluffy cow print.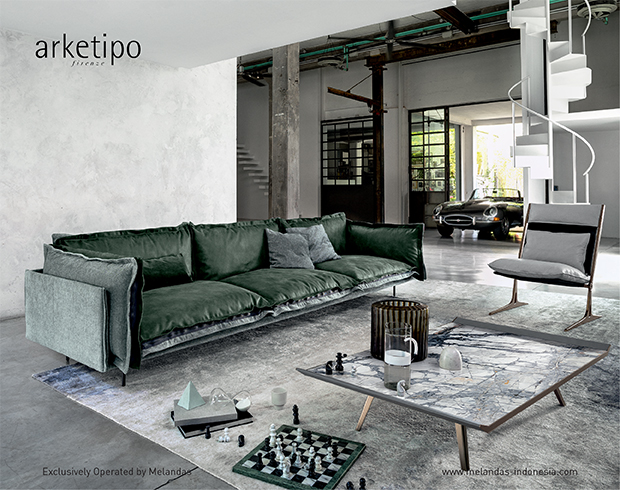 Presented by Melandas Indonesia
FABRICATIONS: A juxtaposition of sheer and opaque, luminous and matte, slick and tactile. Weightless tank dresses are layered with jersey, power mesh, and tulle, while silver studs flash against dry canvas and viscose. Many materials aren't quite what they seem: A humble-looking cotton is in fact a shapely, high-tech weave; sensual satin is shot through with four-way stretch, becoming almost futuristic; and sculptural tailoring is surprisingly malleable.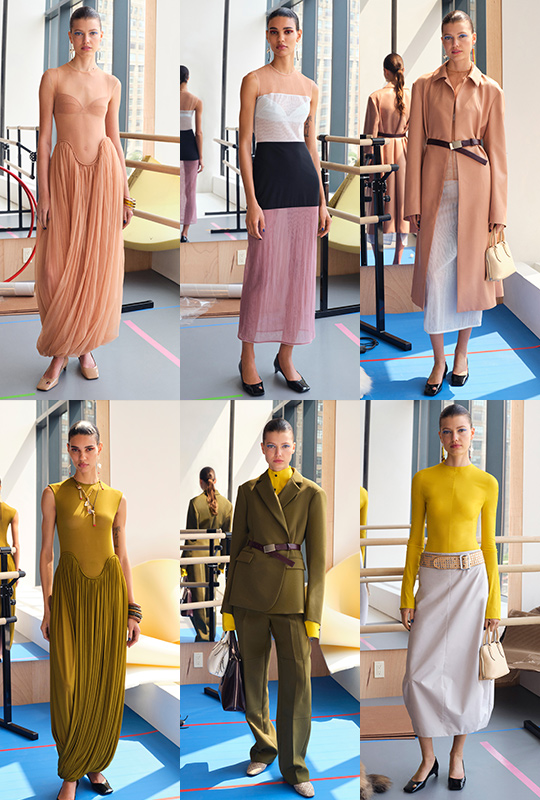 SILHOUETTES: Several looks build on the clean lines of a t-shirt or tank, from georgette tops and molded tees to ethereal, vaguely Grecian bubble dresses. Their curved waists are formed with lingerie underwires, with swaths of tulle and jersey looped in a single piece. Next to stretchy satin separates that hug the body, box-pleated canvas skirts and viscose cargo pants offer satisfying structure.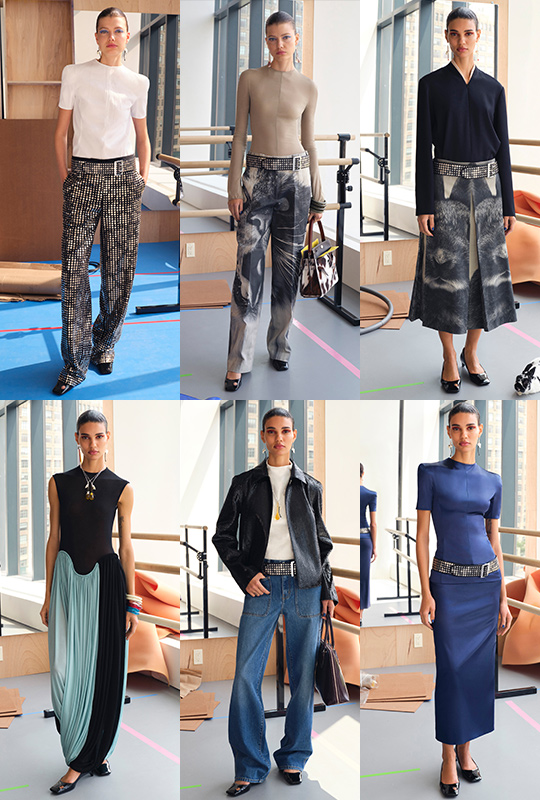 HANDBAGS: New and iconic handbags evolve in a range of sizes, shapes, and textures. Our best-selling Lee Radziwill Double Bag comes in a fluffy cow print, picking up on the collection's animal references. The Swing bag from spring 2023 — a modern take on a '90s doctor bag — is styled with a new mini version. Both will be available in a range of neutrals, brights, and our T Monogram jacquard.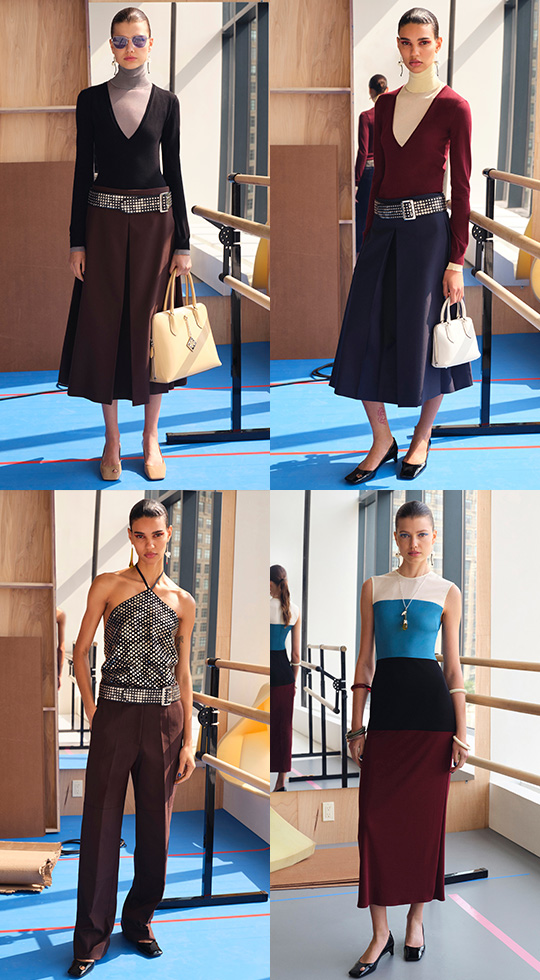 SHOES: The Peep Toe pump from Fall 2023 returns for holiday in classic black and beige. Its strange details — a square toe box, angled heel, and single cut-out over the toenail — lend humor and quirk to an otherwise familiar, timeless style. Our best-selling Ballet Loafer now comes in our hazelnut T Monogram jacquard, as does a flat lace-up bootie.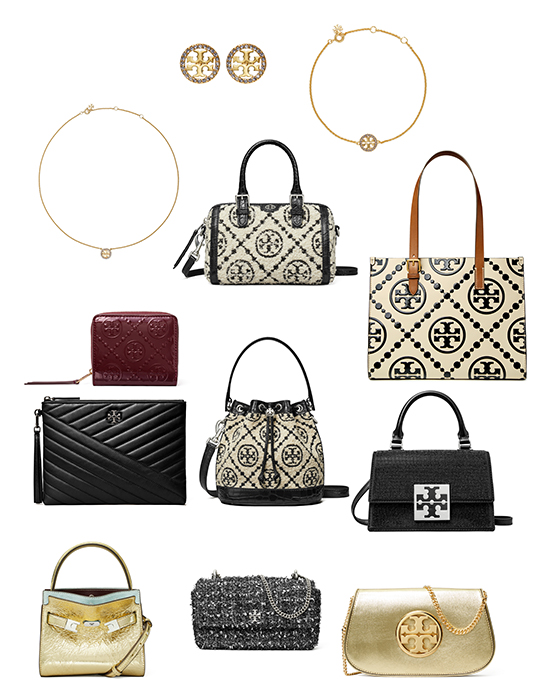 JEWELRY & ACCESSORIES: The season's jewelry is designed to be styled in mismatched, personal ways. Resin teardrop earrings come in a range of juicy colors, each studded with our metal abstract logo. Charm earrings and necklaces feature a curious mix of faux shark teeth, clothespins, and matches — both unlit and burned.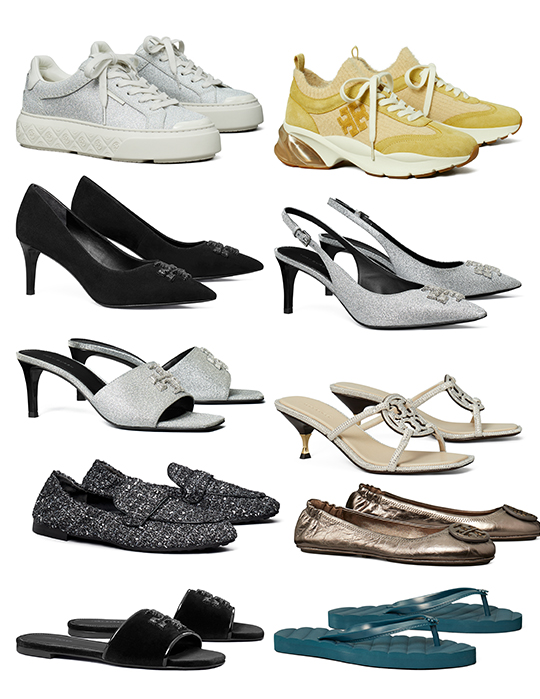 Belts are the finishing touch on many looks, from a simple leather style to a studded double-eyelet belt reminiscent of the '90s.