Just like Pharrell Williams said, "Clap along if you know what happiness is to you," seems like he definitely knows what happiness is to people nowadays.
Bersama dengan David Grutman, Pharrell membangun The Goodtime Hotel sebagai oase baru untuk melepas penat di kawasan South Beach, Miami. Tak sekedar menawarkan kenyamanan, The Goodtime Hotel juga memberi pengalaman bersantai di hotel dengan desain instagram-able. Setiap sudut hotel yang didesain oleh Ken Fulk ini sangat indah dan menarik untuk dieksplor, pastinya siap mempercantik feed media sosial Anda. So, brace yourself and pose!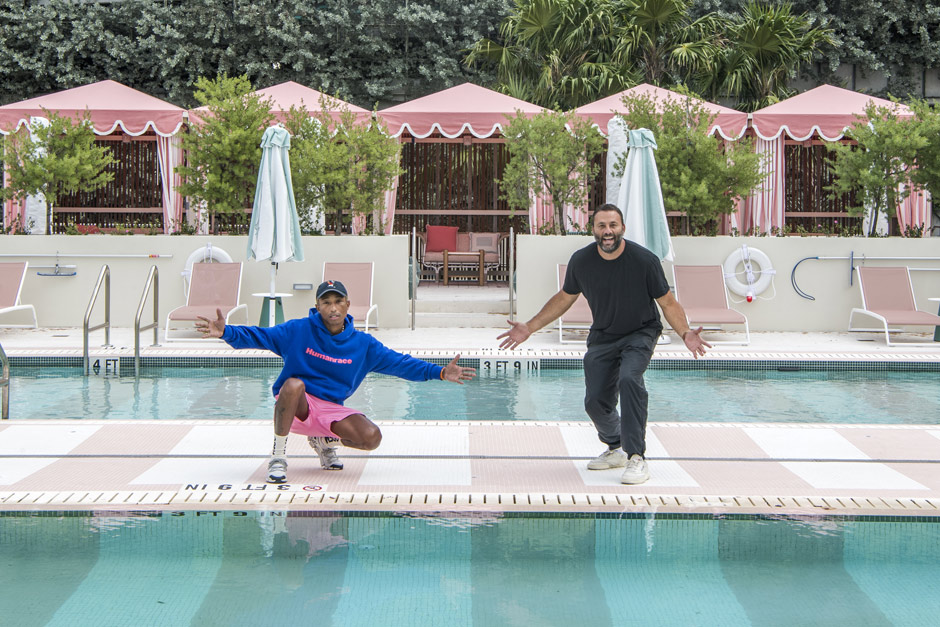 Pharrell Williams & David Grutman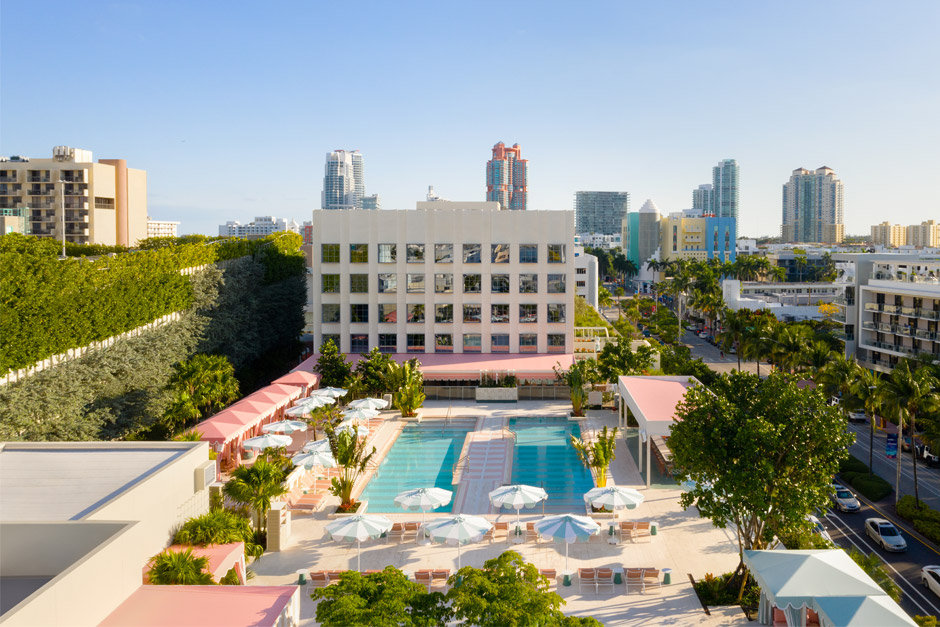 "My first hotel needed to break the mold," says David Grutman. "I wanted to provide the 360-degree Groot Hospitality experience that our other venues are known for, but I also wanted to add more. This is about providing a getaway within a town that's already known as a vacation spot. When you arrive at the hotel, and walk through our doors, it becomes a full on experience. When you're at the Goodtime, we want you to feel like your worries and anxieties have been left outside. I am proud to have worked closely with Pharrell, Michael, Eric and Ken Fulk on bringing this hotel to life."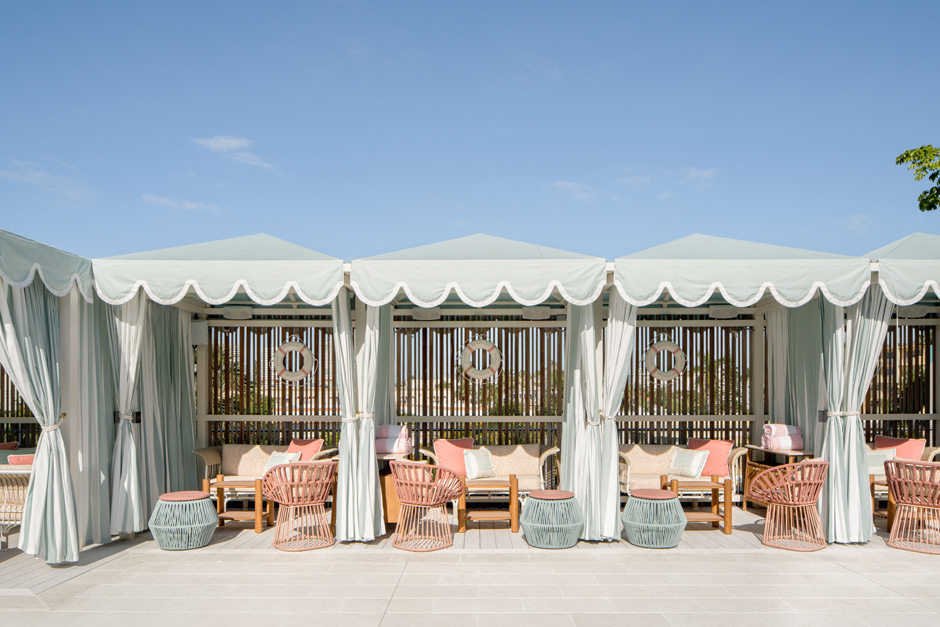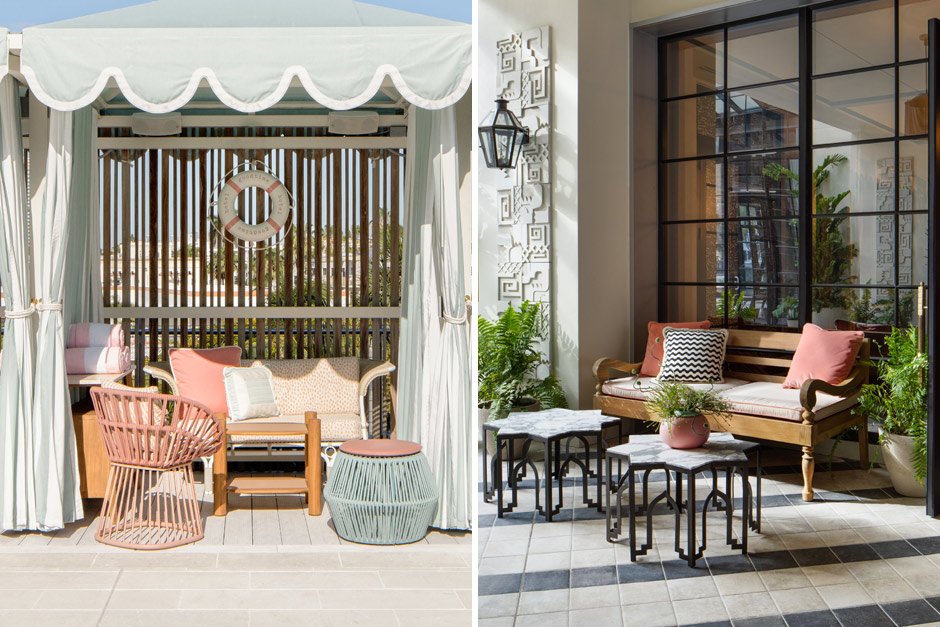 Butuh waktu tiga tahun untuk mewujudkan The Goodtime Hotel dengan desain interior yang sangat "Miami". Dilengkapi oleh furnitur bergaya Art-deco membuat hotel ini terasa luxury yet homey. Masuk ke kawasan hotel, para tamu akan melewati atrium kaca yang dipenuhi tanaman hijau. Kesan hijau nan rimbun terus berlanjut hingga ke area lobby, di mana terdapat mural hand-painted eksotis, surrealist wallpaper, sofa bermotif pohon tropis, dan sentuhan marmer di meja resepsionis.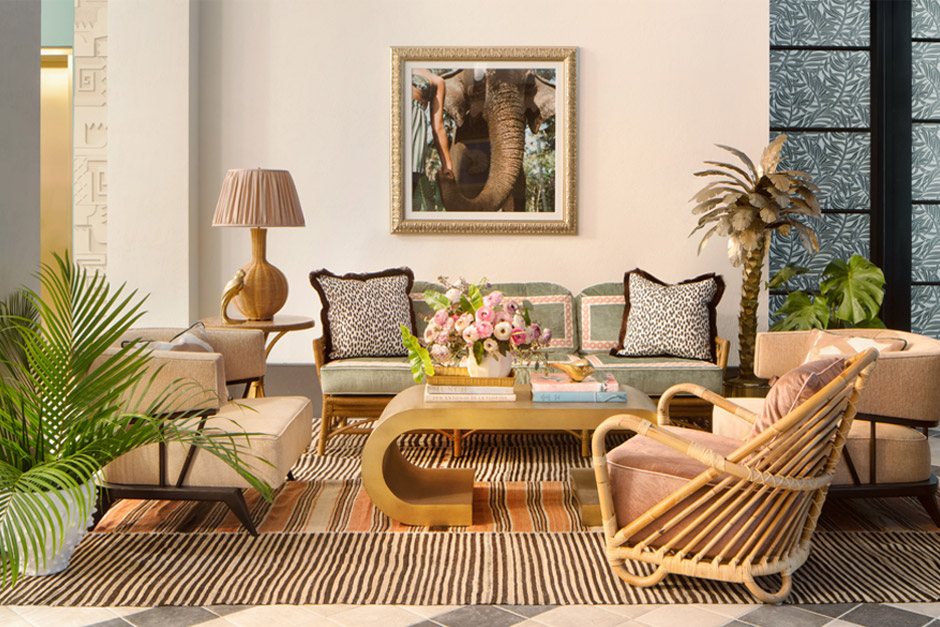 Terdapat ruang baca serba guna bernuansa pink dan peach yang dindingnya dipenuhi rak buku kayu ek natural. Jajaran buku di rak bersanding dengan detil unik lainnya, seperti floor lamp berbentuk jerapah dan burung beo, side table berkaki nanas, telepon retro, hingga sofa pink beraksen rumbai. Pharrell mengaku, desain interior area ini terinspirasi oleh karakter Wes Anderson sebagai Margot Tenenbaum di serial drama The Royal Tenenbaum.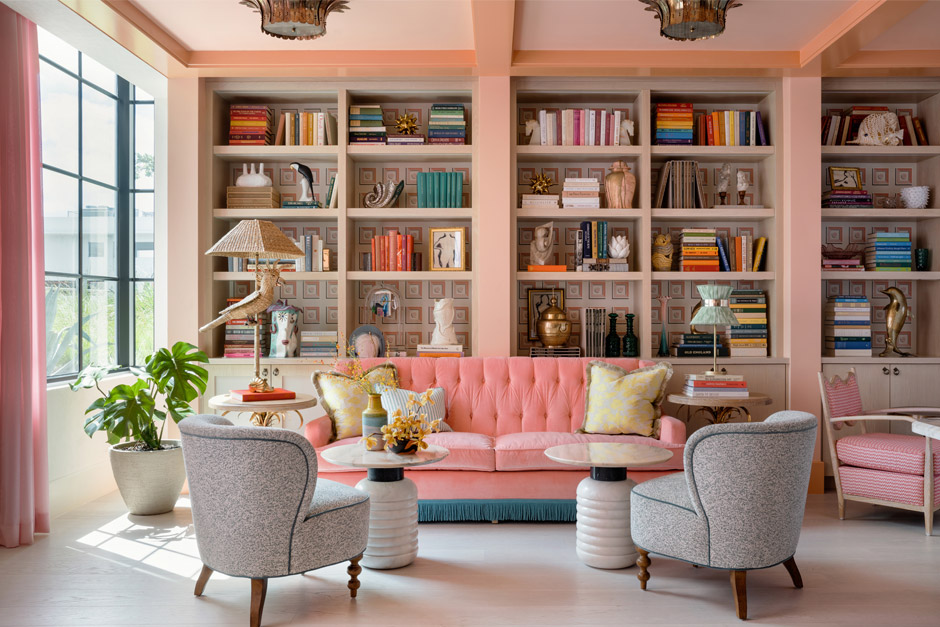 Dave Grutman dan Pharrell Williams ingin siapapun yang memasuki The Goodtime Hotel merasa senang. "We want The Goodtime Hotel to impart a feeling of both revitalization and that rare, exciting thrill that takes over when you discover something special," says Pharrell Williams. "It's that adrenaline-fueled sensation of entering a whole new setting and a whole new mindset. This place will provide a natural good time, for all who come through."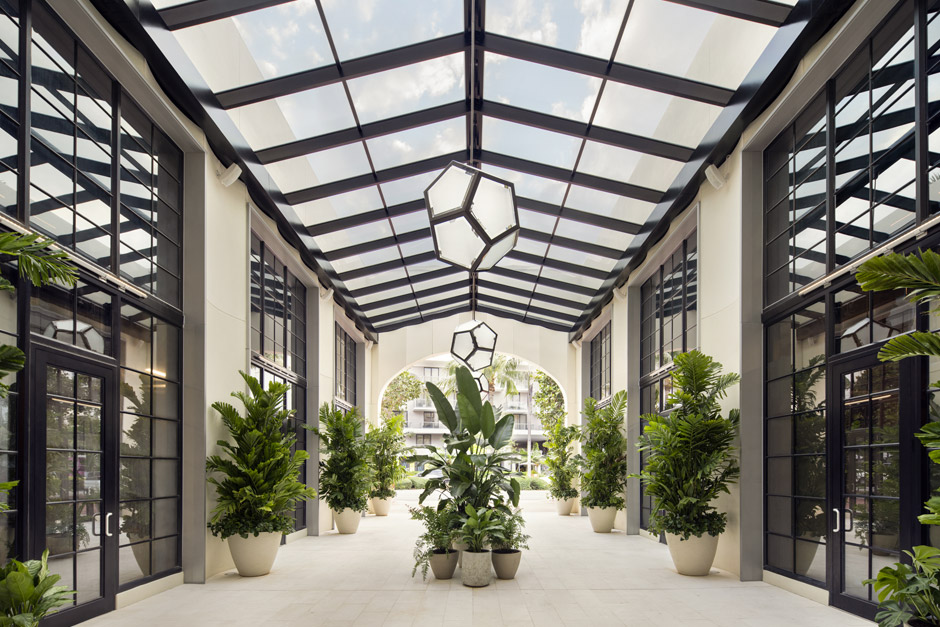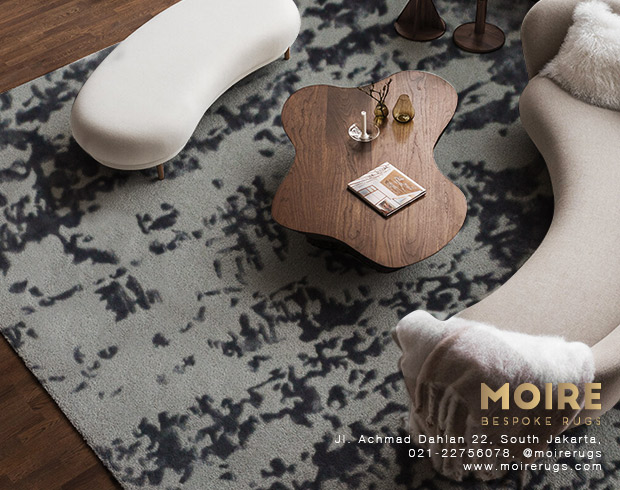 Presented by MOIRE Rugs
Restoran indoor-outdoor bernama Strawberry Moon akan memanjakan pengunjung dengan sajian khas Mediterania. Restoran ini diselimuti palet warna Miami Vice, seperti pink dan teal, serta dilengkapi kursi dengan sandaran berbentuk kerang dan lampu gantung anyaman. Keluar dari restoran akan terlihat dua kolam renang yang dipisahkan oleh lantai bergaris pink dengan hiasan pohon palem di tepinya. Sedangkan sekeliling kolam tersedia deretan private cabana, long chair, serta bar yang instagram-worthy.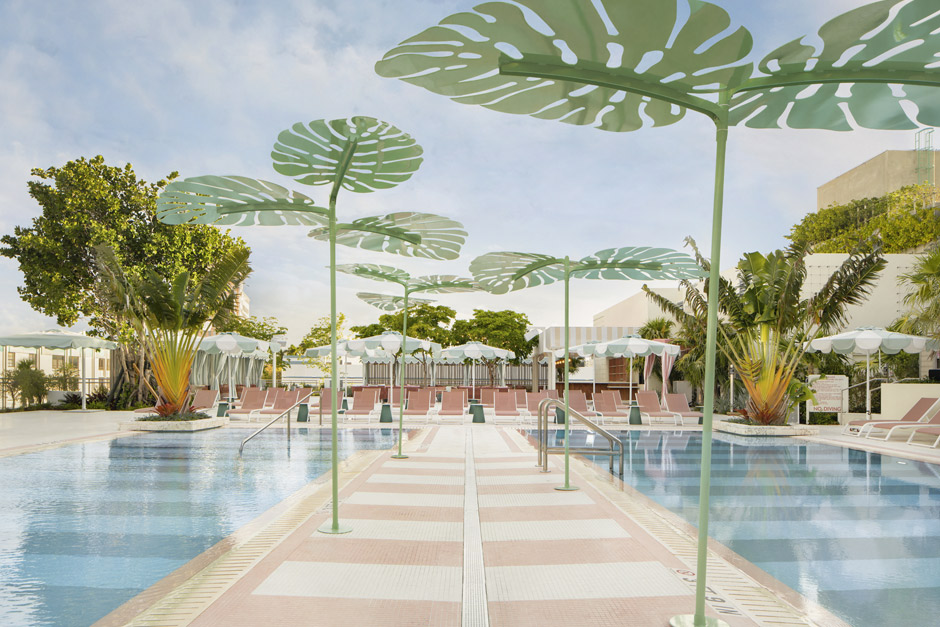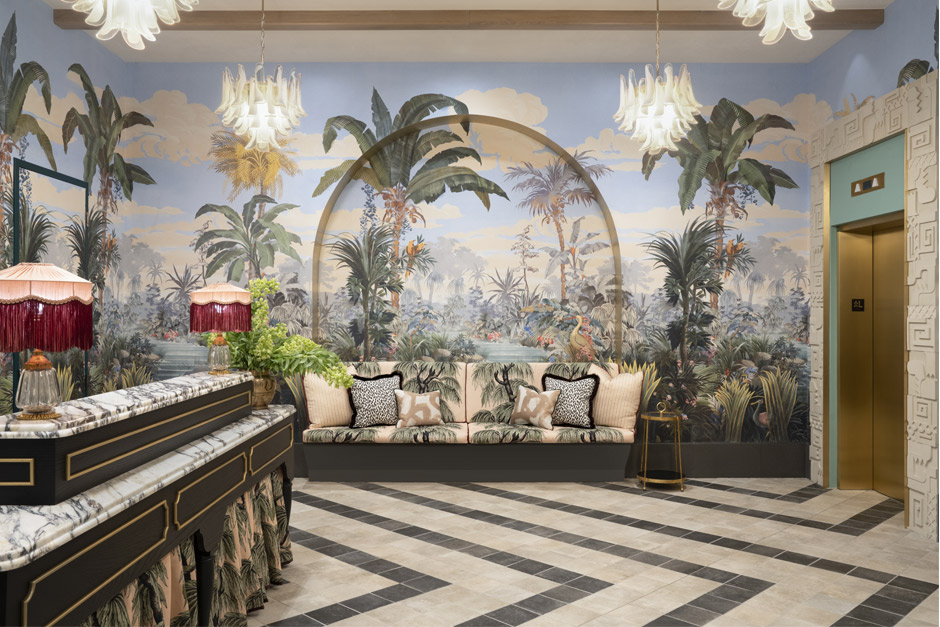 Pilihan kamar hotel pun cukup beragam, sebanyak 266 kamar terbagi dalam tipe queen size hingga suite. Bedding berwarna hijau garis-garis nampak selaras dengan bench dan bathrobe motif leopard. Karpet hijau pada koridor hotel memiliki motif footprint yang menambah sisi playful, seolah meninggalkan jejak kaki basah setelah bermain di pantai Miami.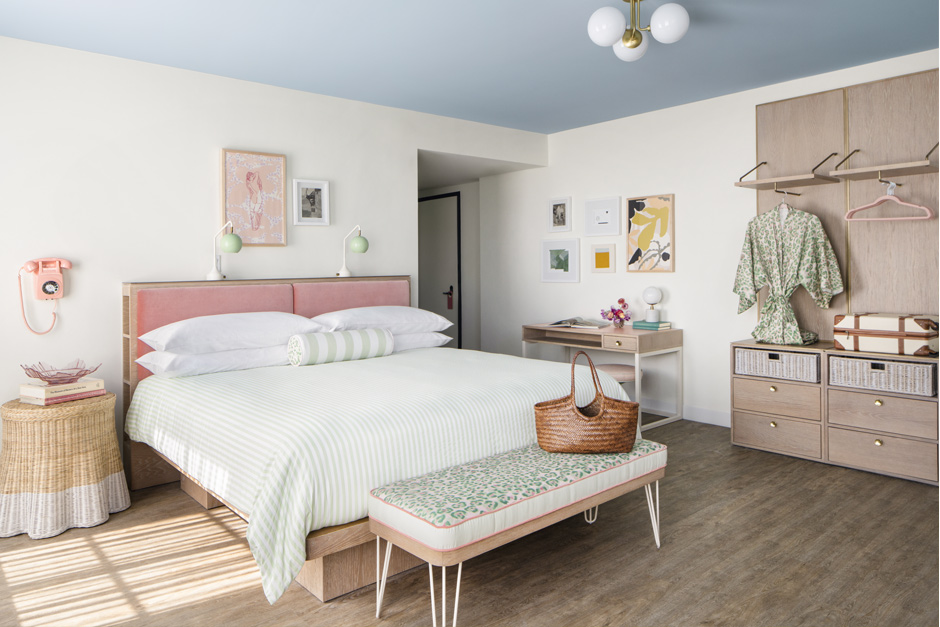 The Goodtime Hotel dengan segala keunikannya, hadir untuk menjawab tren masyarakat saat ini. Di mana bersenang-senang tidak hanya di dunia nyata, tapi juga di dunia maya. Sesuai namanya, Dave Grutman dan Pharrell Williams ingin para tamu mendapatkan "goodtime" di The Goodtime Hotel.