'Floor Fair Tales' by Moire Rugs presenting its collaboration with 10 various designers. Here are remarkable rugs by leading interior designers : Sammy H. Syamsulhadi & Eko Priharseno
Sammy H. Syamsulhadi – Modern Interpretation of Ethnic Pattern & A Modern Take on Traditional Spirit.
If there is one thing that is certain, it's Sammy Hendramianto Syamsulhadi's deep love for Indonesian cultures. The designer who established his own studio in 2015, Sadha Harsa Sradha (SHS), is well known for his over two-decade of work in Hadiprana design company. Sammy is more than proficient with commercial product development and highly experienced in H accent.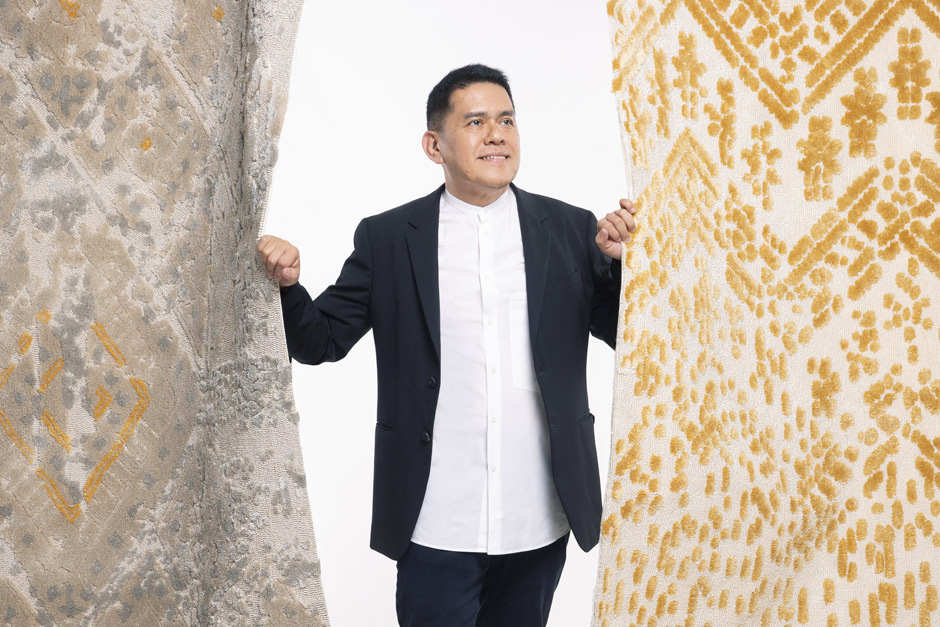 Sammy Hendramianto Syamsulhadi
Through his elegant and expressive designs, Sammy has paved the ways to many Indonesian-inspired creations such as batik, songket, and Dayak patterns. Such traditional patterns continue to motivate Sammy to further explore the details, shapes, colors and textures that all merged into elegant and sophisticated design compositions. In his collaboration with Moire, Sammy is given the opportunity, freedom and challenge to explore his love of songket to a whole new medium dimension, namely carpet.
Presenting songket in his designs is not a new thing for Sammy, but carpet is definitely one entirely different medium with its own sets of challenge, particularly in understanding the material characteristics and hand-tufted effects on visual expression and color representations. Songket has always been a personal item that has a special place in his heart. Sammy also loves how songket effectively expresses the elegance in his designs. For his carpet creation, he prioritized neutral shade when using Halaban songket from West Sumatra.
Combining the soft colors, Sammy played with the varieties in songket as an appreciation to shapes, colors and textures needed to build a fully-characterized visual effect on his carpet. While neutral hue is picked as the focus, the design on his carpet still possesses an artistic touch which further highlights the interior design components. Sammy's carpet is not merely a layer on flooring, but also binds the existing interior elements and complements an area' expression.
A collaboration between Sammy and Moire, the carpet design exudes delicate and neutral styles. It is impressive in details and color gradations which pinpoint the traditional essence in one wonderfully artistic modern structure. Moreover, this collaboration item can facilitate a multitude of interior design ideas, from classic to modern. It works as an element that easily blends, but still speaks of meaning and builds personal dialogue with the room's character and atmosphere.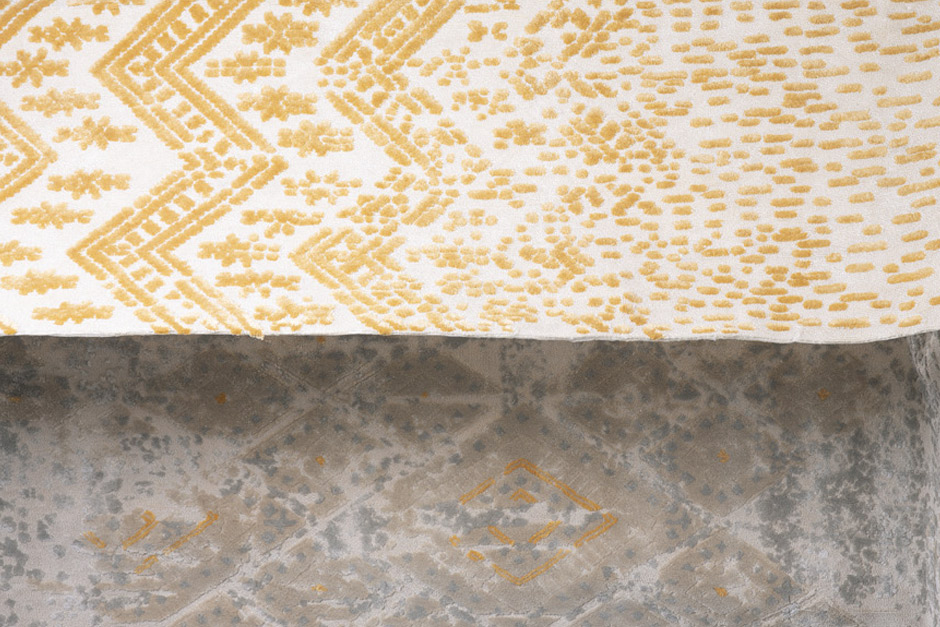 Material : Viscose | Dimensions : 200 cm x 300 cm | Technique : Cut pile & Loop pile
Eko Priharseno – Spark The Energy of Indigo.
Creativity holds many faces and has the ability to flow to different work mediums. The creative energy of Eko Priharseno is one that is constantly burning and doesn't stop at his creations for Aedi Design, the studio he founded in 2004. As a creative soul, Eko is not only known as an interior designer, but also for his creative work in graphic design, mural, furniture, DJ and many more.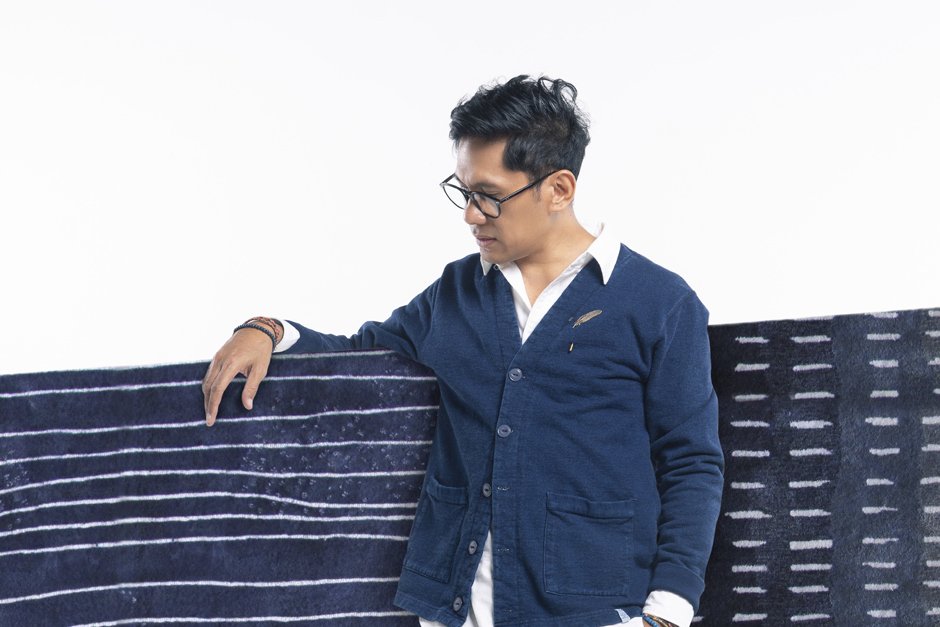 Eko Priharseno
Collaborating with Moire in carpet designing is a chance that he's been looking forward to, since carpet is an interior element with a vital position and is irreplaceable in his own interior designs all this while. To him, carpet is not merely a floor cover, but helps define an area, acts as an accent, and works as a defining element in creating a room filled with the right character and mood.
The freedom given to him in this collaboration was another interesting thing for Eko Priharseno who loves to play with colors, patterns and shapes. He understands that carpet designs have a different language in details and knows how to manipulate and actualize his imagination of a randomly-stacked carpet. This simple inspiration is what created a refined taste in design as Eko continued to explore the denim expression and indigo color.
The indigo color makes for its own charm in Eko's carpet design. The visual is fine and eye-catching, yet feels calm with an energy in its presence. The clashing effect from the randomly-stacked carpet has successfully created a unique build in design. Eko Priharseno has managed to present beauty from his unkempt expression in a modern, contemporary and highly dynamic context.
The challenging design and production process in his collaboration with Moire has made this carpet design special. Not only in terms of thread and color selection which required extra attention and taste, but also surface contour. This is an experience to completely enjoy a carpet of two-dimensional beauty and three-dimensional effects or influences. When your foot touches the surface, you'd feel a mix of comfortable and unique contour. All of which represents the design character of Eko Priharseno that is modern, clean and contemporary with strong lines.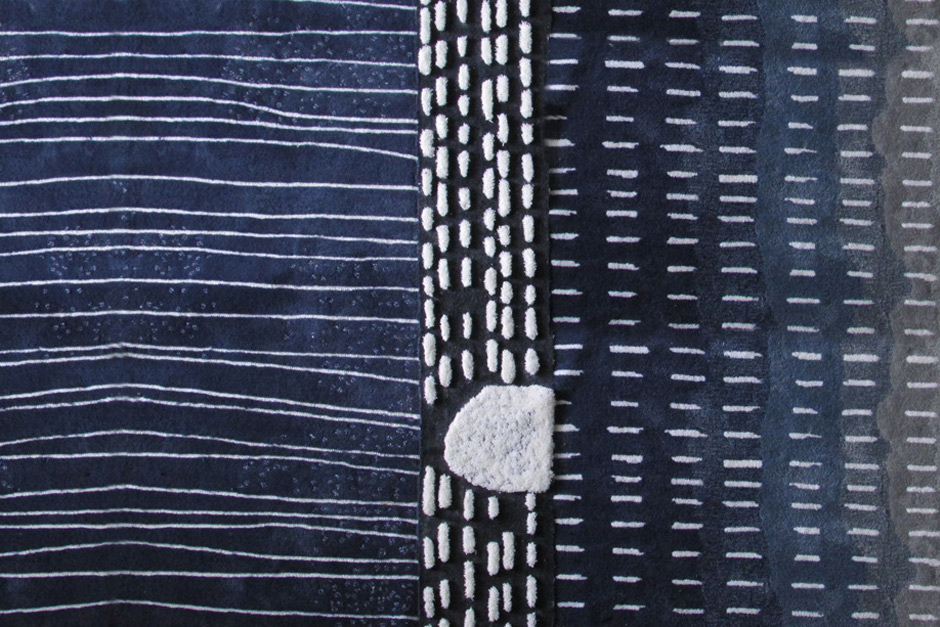 Material : Viscose & Wool | Dimensions : 200 cm x 350 cm | Technique : Cut pile, Loop pile & Emboss