'Floor Fair Tales' by Moire Rugs presenting its collaboration with 10 various designers. Here are remarkable rugs by leading interior designers : Hidajat Endramukti & Ronald Humardani
Hidajat Endramukti – Local Accent in De Stijl World.
De stijl is Dutch for "the style", a name of the Netherlands artistic movement started back in 1917. Backed by big names behind it, such as Piet Mondrian and Theo van Doesburg, this movement had quite an influence to the international design styles back in the era. This term was also used to refer to the work of artists during 1917- 1931. In Indonesia, the influence of this artistic movement can be found in several pre-independence buildings which basically served pure abstracts and minimization to achieveform and essential colors in designs.
For Hidajat Endramukti who is well known for his work in high-end living, such as The Shalimar Boutique Hotel, and Restaurant de Soematra, de stijl gives a fluid flexibility in terms of patterns and styles exploration. Ideas that are formed during his interaction process with de stijl are what motivated Hidajat Endramukti to dig further the carpet design in his collaboration with Moire.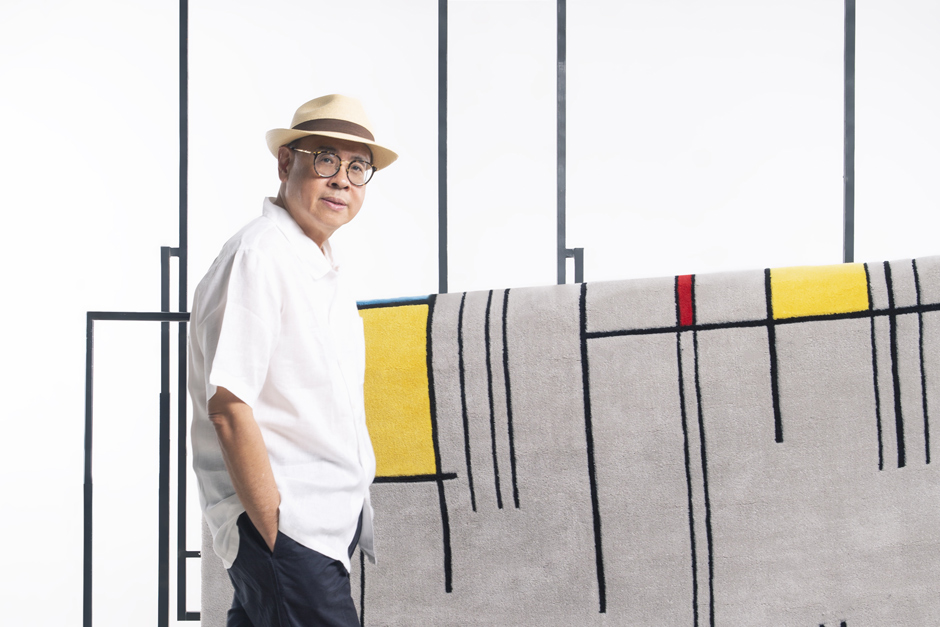 Hidajat Endramukti
During his career with Endramukti Design which he initiated since 1990, Hidajat is no stranger to exploring carpets and even designing them, since it was hard to find ideal carpets in Indonesia. Whereas he has always regarded carpets as an important element that helps fill a room otherwise it lacks a content. An interior composition must include a carpet that not only fits in terms of colors and shapes, but also in perception and nuance that support the existence of other interior elements.
His design in Moire collaboration is different, as it was not to fulfill the need of a dictated interior design, but rather a carpet that can embrace other design characters. Hidajat Endramukti approached the project from an international-meets- local in a de stijl artistic process. The surface, colors, lines that were minimized in essence of international style was then merged with batik pattern as the accent.
These two contrasting elements work successfully in Hidajat's design through his skillful intuition, experience, and taste that he had honed in color compositions, textures, materials and even lines as well as the existence of local patterns in different context. The result strikes a visual balance and touch that is artistic, warm and filled with characters. The accent of local patterns in a de stijl design is subtle enough, but still works as the complementing and enforcing the visual expression of the carpet. It is a collaboration that speaks of unique values and rich in characters from Hidajat Endramukti and Moire for a multi-spectrum interior composition.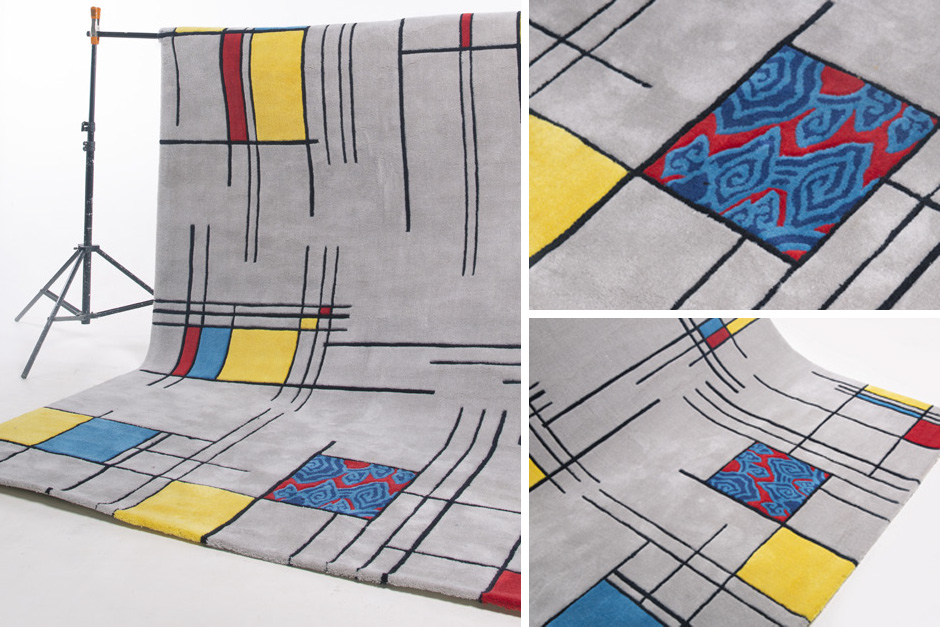 Material : Wool | Dimensions : 200 cm x 300 cm | Technique : Cut pile & High Carving
Ronald Humardani – A reflection of life.
Expanding an idea into design exploration is a process of self enjoyment for many designers. New pointers, fresh perspectives and understandings are just a few of the things that can make a designer excited and full of anticipation in transforming ideas into excellent details. For Ronald Humardani, all of that is a wholehearted and personal interaction which results never fail to enrich his soul and creativity.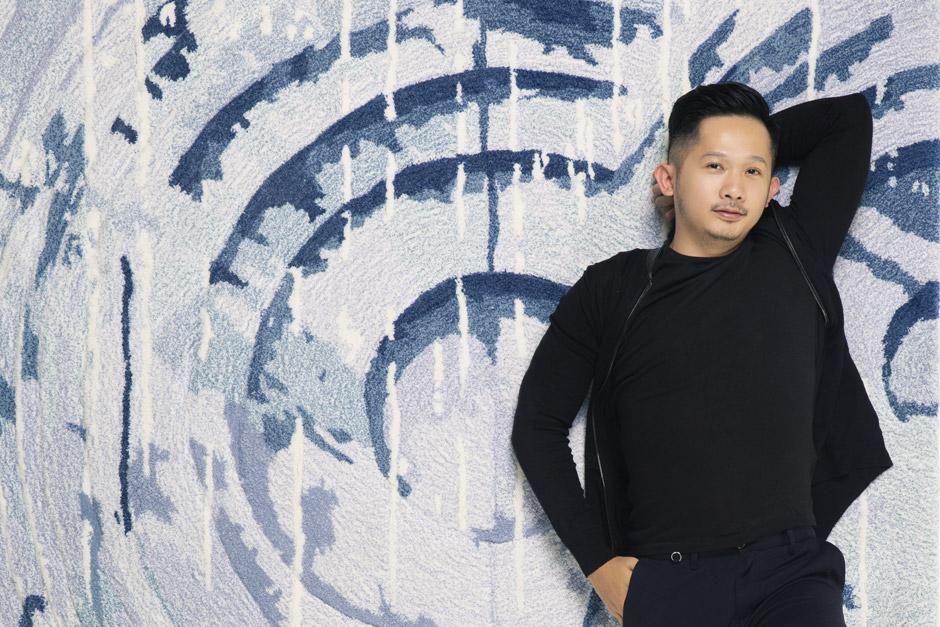 Ronald Humardani
Many prestigious interior designs of premium living and the furniture gallery of Registry in Surabaya are the reflection of Ronald's sharp skills in paying attention to his surrounding before translating to his work. From all the interior elements needed to be included, carpet holds a special place in his design. More than just a supporting element of visual accent, Ronald utilizes carpets to embrace all interior elements which are used as a unity in meaning and feeling that evokes those in the room.
Each room needs a different design touch and it all dials back to the needs and activities that the room must facilitate. This is where Ronald once again put in the carpet element to give the perception of area marker by positioning it as more crucial compared to the rest of the room. For that reason, this collaboration chance with Moire is an important one for Ronald.
As an interior designer who always observes and receives inspirations from many sources in his daily activity, Ronald feels that life is a limitless source of ideas. He sees it as ripples of water which consist of repetition but also dynamic movements that go hand in hand with the ticking clock. Through this life dynamic, each individual can find the character that beams in interactions and dialogues with the world around him/her.
Ronald worked on this idea which he then developed into exploration of lines, shapes, colors and the combine effect resulted from the hand-tufted technique, as well as the finishing. Through Moire production who always pays attention to detail, Ronald Humardani can create an expression of designs just as his wish. He employed repetitions and dynamics in his carpet design as the expression that holds all elements in a room. His carpet design may be subtle, but it is made to bind and strengthen all the compositions in the room in an elegant and expressive taste.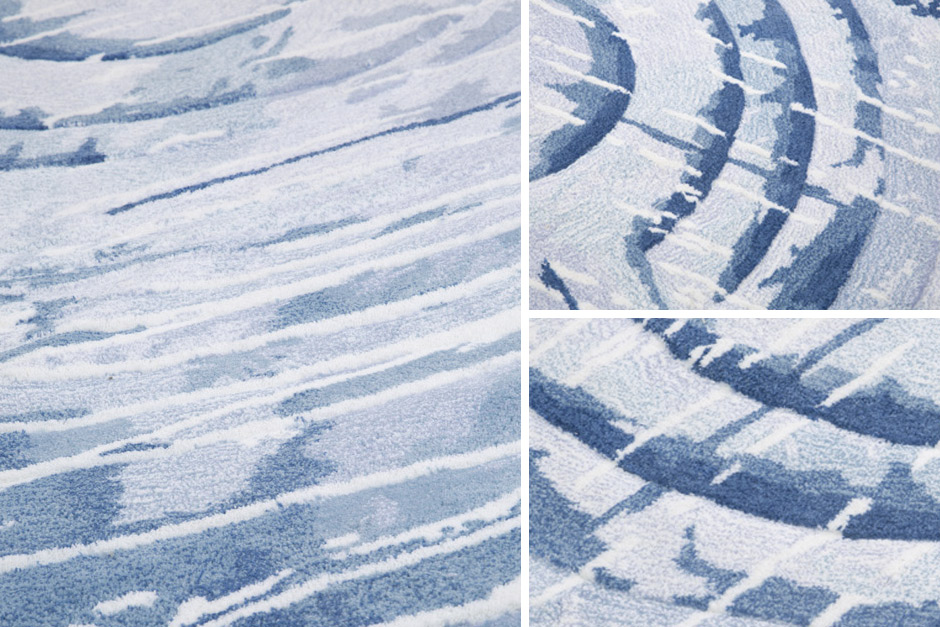 Material : Wool | Dimensions : 200 cm x 300 cm | Technique : Cut pile & Carving