'Floor Fair Tales' by Moire Rugs presenting its collaboration with 10 various designers. Here are remarkable rugs by leading interior designers : Francine Denise Tjoitang & Sandy Karman
Francine Denise Tjoitang – The imaginary journey into the paddy field. Glorious paddy field in an abstract.
A journey enriches life, opens the mind, and inspires us with the motivation to work, investigate and explore various ideas and possibilities in a design process. For Francine Denise Tjoitang who began his own design firm back in 2015, traveling never fails to inspire and often leaves an imprint etched to her heart.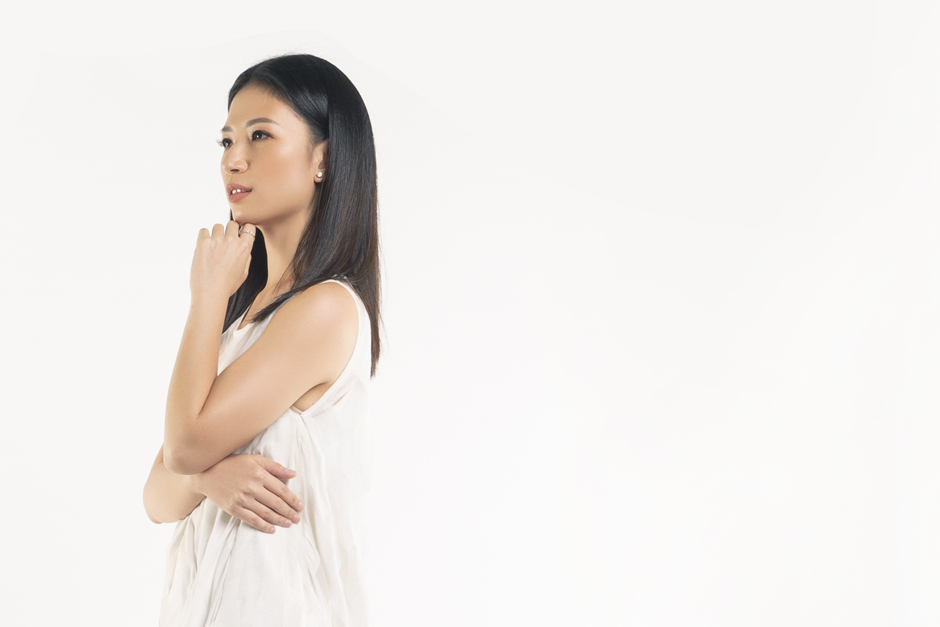 Francine Denise Tjoitang
Her desire to continually explore those inspirations was finally materialized through this collaboration with Moire in carpet designing. Francine has placed carpets as one of the important things in her interior designs. As an interior designer who loves sketching interior living, Francine feels happiest when her clients or owners can enjoy the warmth and togetherness of their homes with family members. For her, carpets not only function as a floor cover but also lend a touch of warmth and comfort to the overall room composition.
Moreover, carpets can help mute the noise in a room and connect furniture with other interior elements. Other materials may replace the mat or area marker function of a carpet, but the warm and comfortable effect through footstep is yet to be substituted with other materials. Through her collaboration with Moire, Francine Denise Tjoitang rose up to the challenge in presenting how spirited and proud she feels about Indonesia.
During her trip to Jatiluwih, Tabanan and Tegalalang, Ubud, Francine was so impressed with the stretch of padi fields and rice terracing which have always been strongly identified with Indonesia and South East Asia. These jewels have always served as the wisdom and civilization of our local culture. Not only are those stretches of golden yellow fields make for a beautiful sight, but each detail has its own interesting intricacies. While not everything seems outstanding, but when presented as a whole, the view creates a picturesque visual that is more than awe-inspiring to many.
Francine then poured her inspiration into the design with an abstract approach, but still imbued with visual identity in essence which feels familiar. In her process, she felt that the beauty through reality may not match that of the eyes. Hence, she continued to transform it into a visual composition that is not only artistically pleasing, but also comes with a personal connection. Aware of the need to include all imperfections and distortions that are present in the nature, Francine Denis Tjoitang believes that she can still deliver beauty, much like her carpet design from the collaboration with Moire.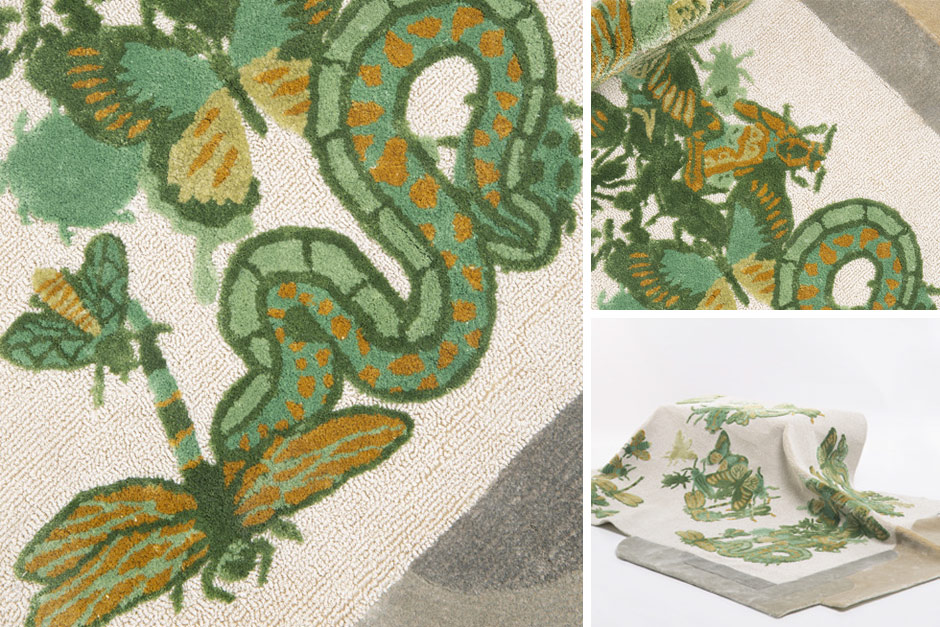 Material : Viscose | Dimensions : 285 cm x 210 cm | Technique : Cut pile, Loop pile & Emboss
Sandy Karman – Flowing lines of nature.
For a graphic designer, art is the freedom of creativity. Graphic designs are known to abide by certain functions, arrangements, and limitations, making it different than other line of designs in term of interpretations. Sandy Karman is one of the most artistic graphic designers who have poured his arts in many mediums other than just paper, including ceramic, marble, mdf, carpet and more.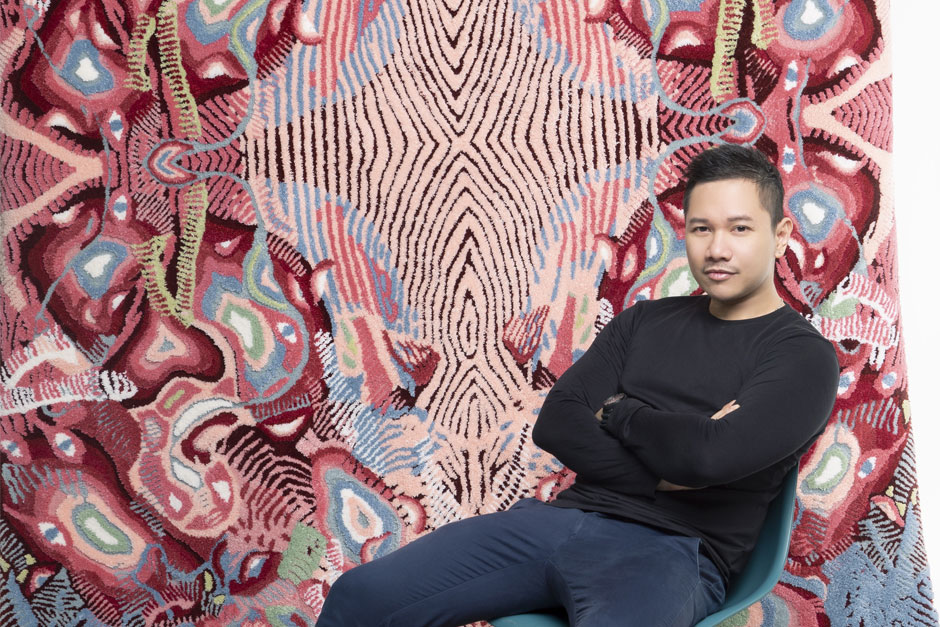 Sandy Karman
For Sandy, carpet is a medium that functions as a cover but must have a specific quality that pays attention to certain artistic factors in the design. It can work as a canvas and build contrast with furniture or other interior elements, but also may be hung to be enjoyed as a piece of artwork with patterns and effects to influence the nuance of a room.
The collaboration with Moire was a highly interesting chance for the designer who is the first Indonesian who successfully displayed his poster design at Paris La Fête du Graphisme, The Graphic Art Festival in Paris. The freedom given to Sandy in this project has allowed him to explore colors, textures, and shapes, as well as dynamics. Inspired by the colorful and intricate tapestry, Sandy's design is about creating the same flavor of art through handtufted carpets.
The lines in tapestry flowed as one familiar language that Sandy has known so well. He then expressed it in a design that was inspired by the deserts. The combination of lines and colors reached an exceptional aesthetic in an attractive form of composition with a strong character. "Dance of the Desert Coral" brings the visual of desert stones through the power of graphic designs which plays on the color of brown dunes and a touch of red turquoise. His second design, "Sound of Blossoming Peony" was inspired by the peonies and dominated by soft pink colors.
As a graphic designer who pays attention to details in colors and texture, Sandy Karman and Moire have been through the process of thread selection quite intensively, all for the sake of the most elegant and impressive final products. These carpet designs are produced with absolute care and attention, so that they not only appear beautiful when viewed from certain distance, but also display details in lines of colors which run together through our imagination to the nature. These designs are work of art which flows and speak in dialogue with your imagination.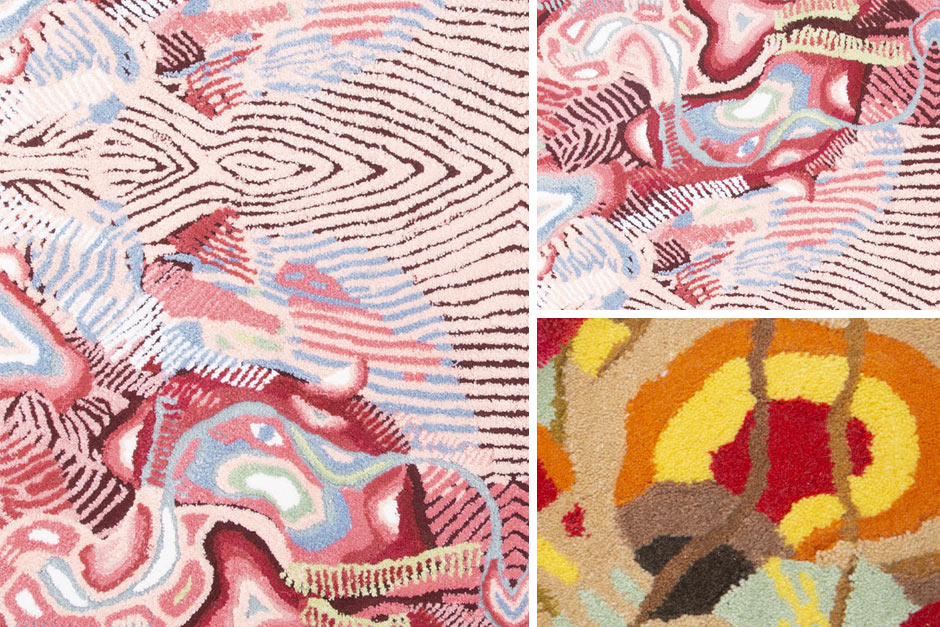 Material : Wool | Dimensions : 200 cm x 300 cm & 120 cm x 170 cm | Technique : Cut pile & Emboss