'Floor Fair Tales' by Moire Rugs presenting its collaboration with 10 various designers. Here are remarkable rugs by leading interior designers : Domisilium Studio & Alvin Tjitrowirjo
Domisilium Studio – A new experience of playfulness.
The quest to find and seek a carpet that matches an interior design always holds many stories. Soft materials in a carpet has the ability to be become an irreplaceable interior element that builds a friendly and intimate mood of a room, hence, a lot of us want to find the most ideal one for our room. As this process usually happens during the last phase in design, it is often hindered with many limitations such as colors, sizes and patterns. This becomes a process that requires serious thoughts, is time consuming and exhausting.
Santi and Hamphrey founded Domisilium Studio in 2009 and have since delivered designs for residences, offices and commercial properties such as hotels and restaurants. GO-JEK Headquarter, Artotel Jogja Hotel, Marriott Yogyakarta, Restoran Kayu-Kayu, and many more are just a few of their recent and exciting portfolio. During their career, Santi and Hamphrey have experienced countless stories about the search for the most ideal carpets in their projects.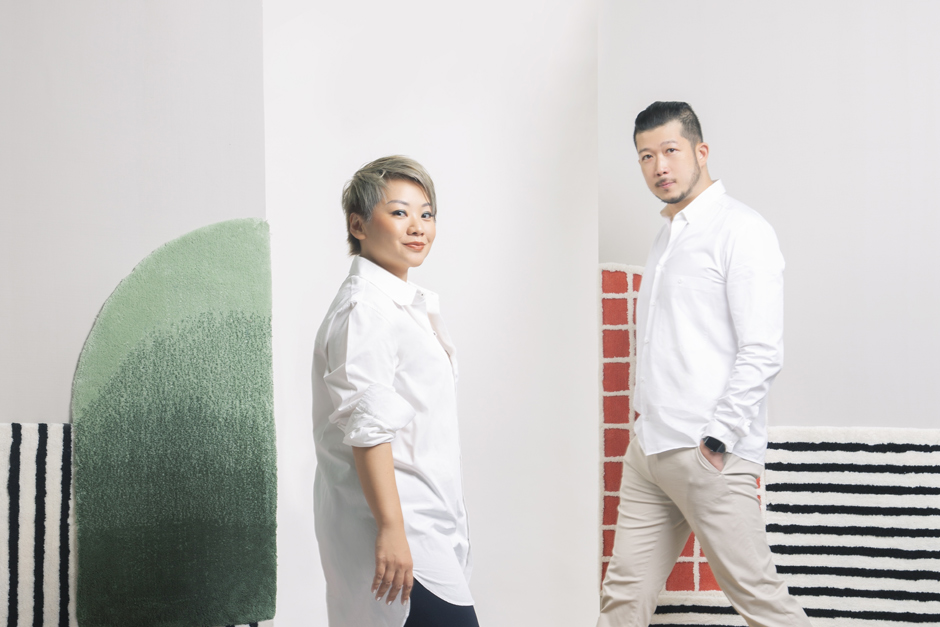 Santi Alaysius & Hamphrey Tedja (Domisilum Studio)
Their designs are explorative and always put forward fresh ideas which make them stand out. This time, through DMDIO which is the mini alter ego of Domisilium Studio, they both tried to find the essence of carpet which then became the fun solution to limitless creation as well as answering the classic problem of finding the most perfect carpet.
With "Playfulness" as the concept proposed by Santi Alaysius and Hamphrey Tedja in the collaboration between DMDIO and Moire, this experience has became an oasis for the conception of a carpet. All this time, the search for carpet is not only challenged by design and quality, but also pricing and the need of interior designs which is prone to changes as time passes.
This carpet design is an invitation to play along in creating one style with no limit. Divided into smaller modules, this is a way for the carpet to still appear in its variety while only changing the exploration in arrangements. Moreover, the modular carpet design is highly flexible in determining the desired size. The fun and dynamic design is made for carpet owners who are ready to participate interactively. Changing the arrangement or adding other module is some of the things that you can do to create different carpet looks.
The usual carpet selection which required deep consideration and seriousness can be more interesting with this design. The modular concept is indeed not common, but works as its strength in character. With a variety of different arrangements, the modular carpet does not only function as a cover, but also becomes a multi-function interior item. Other than giving warmth, marking an area and forming a friendly and intimate room, this carpet design successfully gives a satisfaction in interaction and presentation of visual attraction that is dynamic and refined. It's absolutely a fun and new experience one must not miss.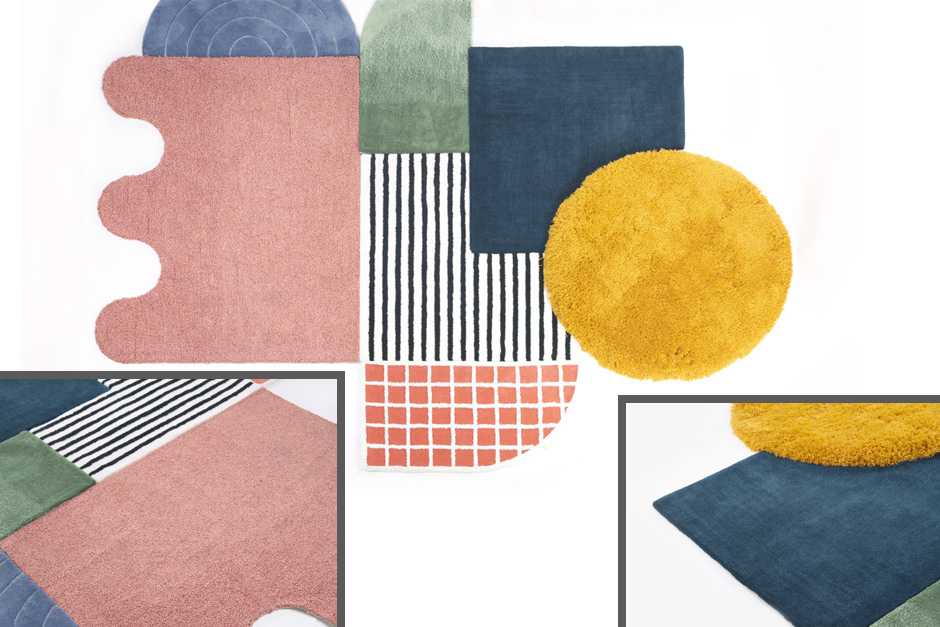 Material : Viscose & Wool | Dimensions : 415 cm x 250 cm | Technique : Cut pile, Loop pile, Emboss & Shaggy
Alvin Tjitrowirjo – Sharing and relaxing.
Alvin Tjitrowirjo is popularly known in the world of product designs, both in Indonesia and international scene. Almost annually, Alvin displays his work in international exhibitions such as Maison&Objet Paris followed with positive response. He is also one of the few Indonesian designers who have collaborated with international furniture brands such as Moooi.
Alvin Tjitrowirjo
Since 2006, Alvin has established a design firm Alvin T and run under the same brand for his furniture design collection. With product design as his background, Alvin has also worked with interior for commercial purpose such as Potterhouse, Collete&Lola, Cake A Boo, Ottoman's Coffee, and plenty more. Product design has indeed become the expression of his love toward the exploration of Indonesia's wealth in culture through a modern contemporary visual structures. His work medium is not limited only to product, but has also extended to space and interior.
In his collaboration with Moire, Alvin saw how the local culture is yet to have a place for a carpet function that is more active or beyond just a cover and room enhancer – something close to a picnic mat that doesn't just coat a space but also facilitates a togetherness that is interactive and joyful amidst the refreshing nature. This inspired Alvin to fluently translate and present acarpet in the shape and detail that speaks of modern and current design.
To deliver a new function for his carpet design, Alvin felt the need for it to fulfill the comfort factor in a way that it has never been before. Adding two sets of backrests of different height will make for a more relaxed and comfortable seating. This design is a way to enjoy the interaction on carpet actively so that the mood becomes more personal and dynamic.
Using wood material, Alvin focused on the natural color and skipped the dipping and chemical treatment method to work as the base. It was also inspired by the dual tone of grass by applying the hand-tufting technique to create different contour effects. The expression of this refreshing pattern was then combined with two backrests in nude and terracotta shades. Both are detachable and can be moved as one pleases. His design is indeed extraordinary and may evoke other ideas for the users or designers who use this carpet in their interior
Alvin Tjitrowirjo not only poured his ideas into one modern and contemporary carpet design in this Moire collaboration, but also selected details which only used very small amount of chemical content, as well as optimizing carpet functions as something warm, interactive and intimate. With Alvin's carpet, let's share stories, interactions, and relaxing sessions on a carpet that is artistic, modern and fresh.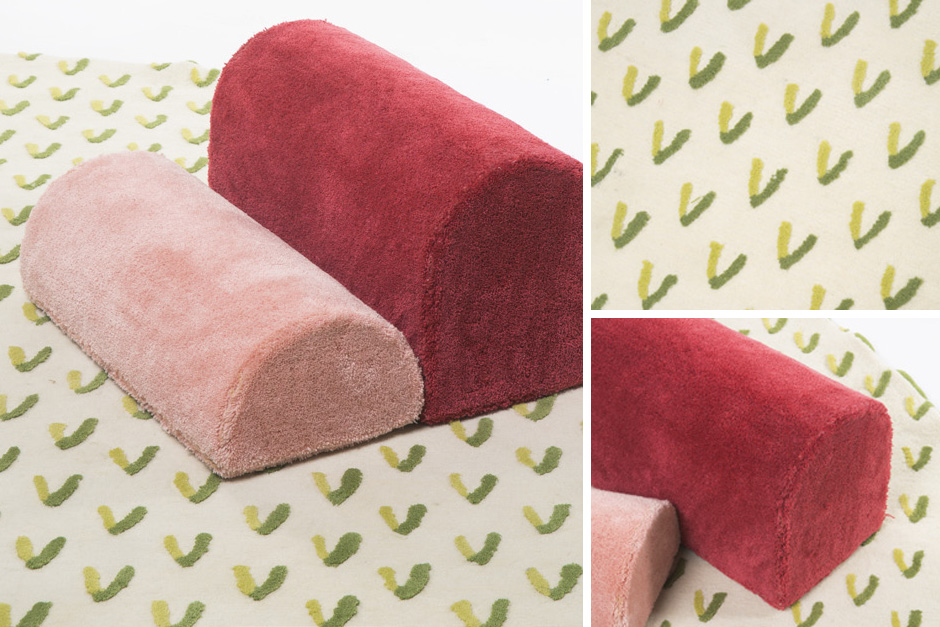 Material : Wool | Dimensions : Diameter 300 cm x 300 cm & 300 cm x 200 cm | Technique : Cut pile & Emboss