'Floor Fair Tales' by Moire Rugs presenting its collaboration with 10 various designers. Here are remarkable rugs by leading interior designers : Didi Budiardjo & Thomas Elliott
Didi Budiardjo – Enchanted French garden.
Paris will always have its personal charm on Didi Budiardjo. After all, this fashion designer had had the chance to live and study in the world-beloved city of fashion previously. For him, the cityscape of Paris is famed for its artistic and elegant intricate details, particularly the buildings and gardens. One of the most famous garden in Versailles was designed by Andre le Notre, a landscape designer who was very close to King Louis XIV of his era.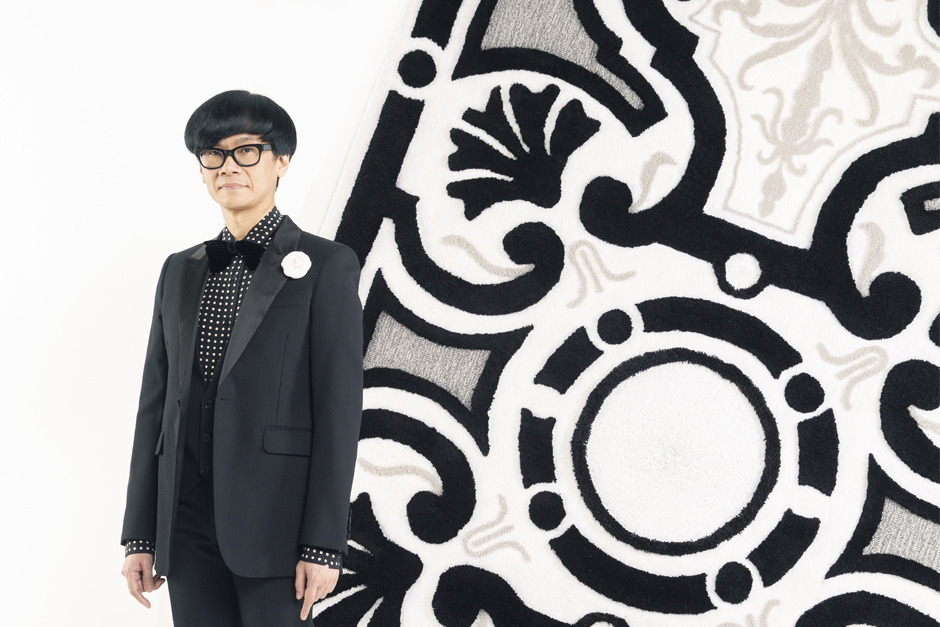 Didi Budiardjo
Andre le Notre was not only a visionary, but his work displays a visual strength with impressive details that are filled with characters and elegance of French kingdom in its time. This was the inspiration for Didi in exploring a planning map from Andre le Notre's design into his own in Moire collaboration.
He worked to transform the carpet medium beyond the two dimensional floor covering. The contour effect, combined hand tufted technique, and color selection became effective elements in Didi's creation of a premium and elegant design which offers a depth of carpet experience that is exclusive and refined.
Inspired by the irresistible French garden, Didi Budiardjo put in neutral colors of black, grey and cream through a transformational process in presenting a 3D effect that imitates the real object. Several Andre le Notre's designs in water fountains also made an appearance by the application of iron on Swarovski crystals – all picked based on its close resemblance to water expression.
As a fashion designer with over 25 years of experience, Didi Budiardjo treated the carpet designing process as he does his other meticulous fashion masterpiece, all for the sake of creating these impressive details. The demand for quality was further perfected by adding on 11.000 premium grade iron on Swarovski crystals to decorate the carpet and represent the French water fountains. A challenge only made possible by the excellent production team of Moire.
Didi Budiardjo's carpet design can still work as a mat, but the creative process behind it is a creation of masterpiece which relied on high creativity and fine taste. As his own aesthetic achievement, the carpet with iron on Swarovski crystals is a new luxury that will always be more than just a carpet. This is a work of an artistic interior design that speaks, charms, impresses and appreciates the definition of elegance supported by other interior elements.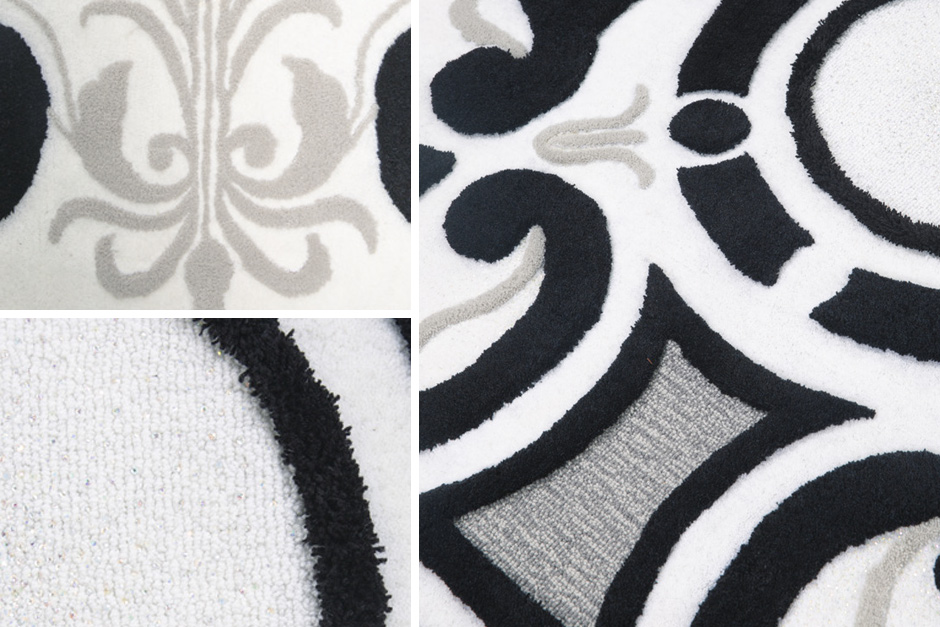 Material : Wool |Swarovski | Dimensions : 200 cm x 300 cm | Technique : Cut pile & Emboss
Thomas Elliott – A recollection of nature. Layers of nature.
Thomas Elliott's fondness to the world of architecture began very early in the age of 8. His early interest has given him a habitual attitude in observing as well as being attracted to lines and details, which proven to be the source of energy that fuels 's creativity and ideas development. As an architect with over 25 years of experience in Indonesia as well as the owner of Paramita Abirama Istasadhya (PAI Design) design consultation company, Thomas has always enjoyed using design as a dynamic vessel of interactions and dialogues.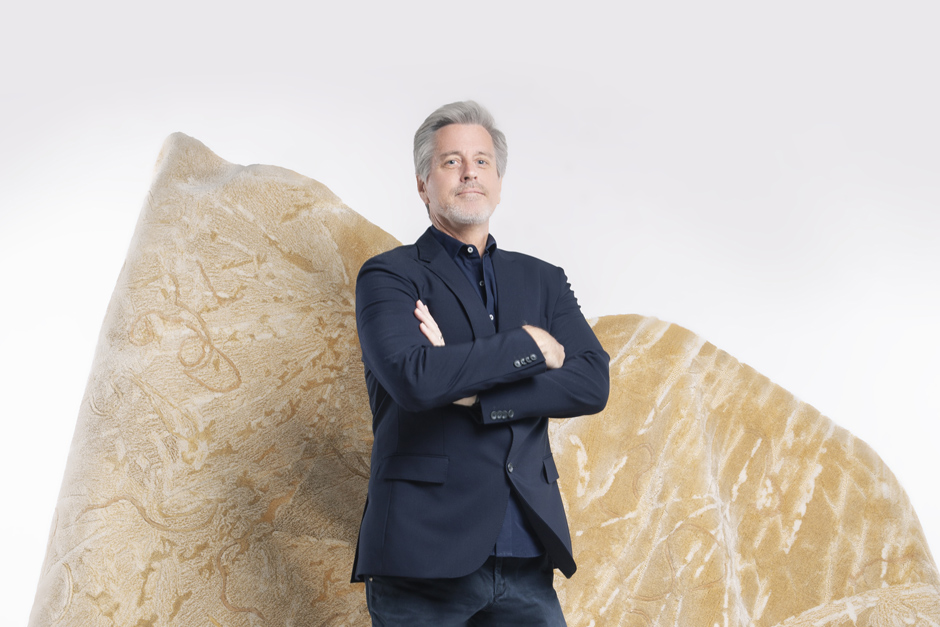 Thomas Elliott
Using this collaborative chance with Moire in carpet designing, he aspired to be much freer, more personalized and imaginative. Renowned in his many high-end classy living and several hotel properties, such as Grand Mahakam and Hermitage, Thomas is no stranger to the carpet design process. He is highly familiar with projects that demand special skills, yet this Moire collaboration was interesting in its own way since Thomas was not limited to specific need and content of a project.
He set his heart on bringing up his childhood memory in one fall when in America. As the leaves fell near winter, little Thomas was so absorbed in the beauty of nature, showers of colorful foliage, busy insects going about and a thin layer of ice that reflected the vision around him through a certain perspective. This vivid memory held such visual power of the natural layers made through the changing seasons in nature.
Personal as it may seem, Thomas Elliott used this picturesque memory as his unique and interesting inspiration. He aspired to deliver a visual impression on the emotionally- moving layers of nature through a carpet design. Using the warm earthy colors of fall such as brown, yellow, red and golden, this carpet is versatile and flexible enough to blend in various designs such as modern or classic.
The element of carpet for Thomas Elliott is one where all other components are well arranged. Functioning beyond a floor cover, Thomas puts carpet as an artistic piece with satisfying quality. He also noticed how carpets represent a strong personal interaction due to a barefoot tradition, which means that a carpet's texture and softness has an immediate effect to skin contact as a part of the mood and beauty of an interior design.
Selecting a carpet material that is soft to touch, determining the ideal colors, and ensuring the design matches that of his nature inspiration is one long and pleasurable production process in his collaboration with Moire. The result is one carpet that is not only aesthetically-qualified but also as a way to convey and share his story of the changing time. And just like the nature, his creation complements the room in the most subtle way despite the depth of its visual beauty.
Material : Viscose | Dimensions : 200 cm x 300 cm | Technique : Cut pile, Loop pile & Carving