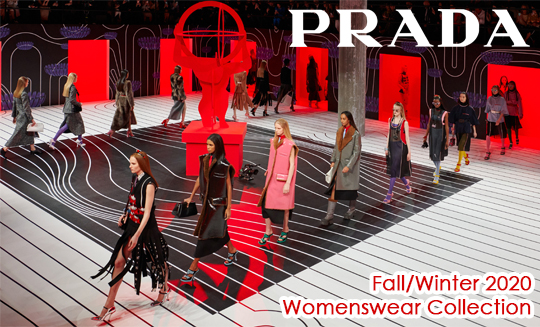 presented by

Prada Fall/Winter 2020 Womenswear Collection
Published by Sugar & Cream, Monday 25 May 2020
Text by Farida Esti, Image courtesy of Prada
Tools of glamour, Uniforms of Beauty
"A consideration of the strength of women, an emphasis on an inherent authority found in that which is intrinsically feminine." Menjadi wanita kuat namun juga feminin? Why not? Berdasarkan pemikiran tersebut, Miuccia Prada menciptakan koleksi busana wanita Fall/Winter 2020, sebagai bentuk perayaan untuk para wanita. Selama ini definisi feminin identik dengan lembut, rapuh, dan sensual. Di sini Prada tertantang untuk memberi makna baru akan feminin secara paradoks menjadi sesuatu yang gagah atau kuat.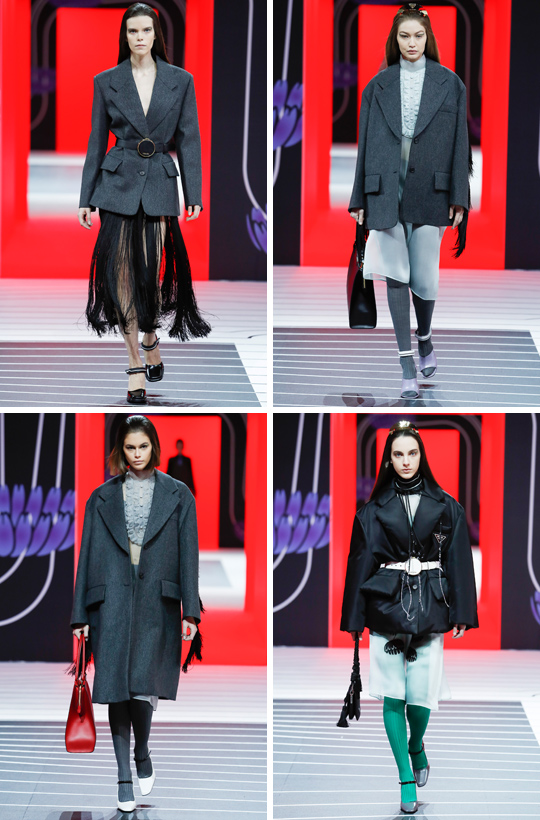 Kekuatan itu bisa ditemukan melalui kombinasi beberapa elemen glamor dalam pagelaran ini. Seperti minaudières, cermin saku, purse, dan perhiasan, yang dipadu padankan dengan busana berbahan nylon. Bunga yang merupakan simbol dari wanita nampak masih menjadi motif pada beberapa busana. Kehadiran mantel bulu menambah sisi glamor dengan penggunaan bulu imitasi yang dibuat shearling atau dibiarkan menjuntai. Mantel dibuat bervolume dengan tambahan nylon di pundak membentuk siluet jam pasir berkat ikat pinggang yang dikenakan model, terkesan gagah namun tetap feminin.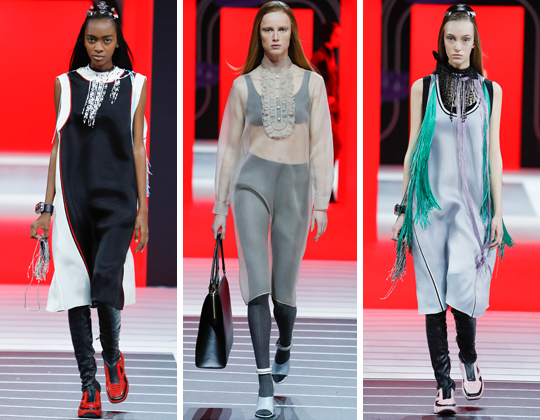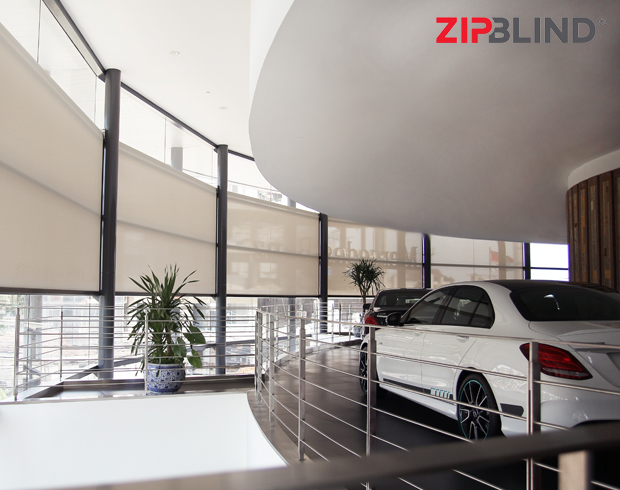 Presented by Zipblind
Prada menampilkan jaket ala tahun 40-an dengan rok aksen rumbai yang terlihat seperti carwash skirt. Tampilan jaket sederhana dipadankan dengan kemeja dan dasi merah. Koleksi ini juga menghadirkan sportswear yang disandingkan dengan mantel, jaket, kemeja, sweater, dan rok. Secara keseluruhan koleksi ini menggunakan material kain yang sama dengan koleksi Fall Winter pria, namun Prada nenambahkan corak santai pada dress serta detil rumbai dan manik-manik yang melimpah.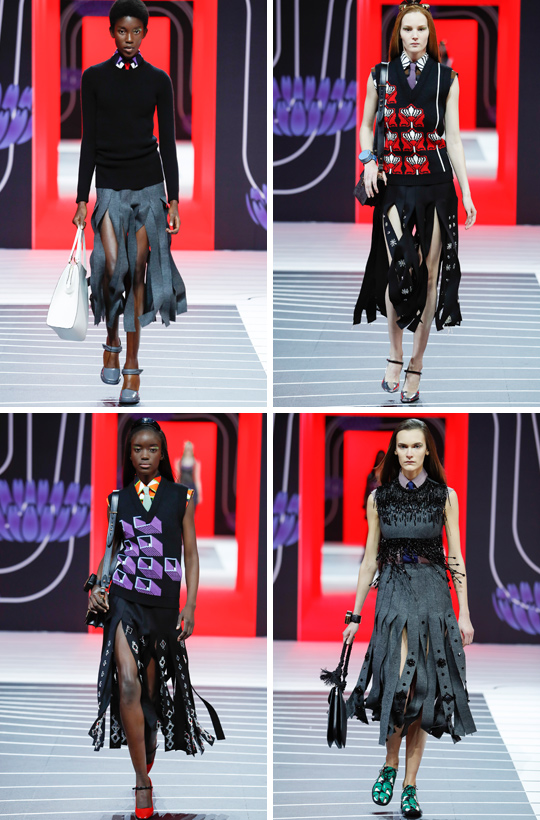 Koleksi Prada Fall Winter 2020 womenswear memancarkan aura yang kuat didukung oleh setting panggung yang tak kalah kuat. Mirip dengan setting panggung koleksi busana pria Fall Winter 2020 yang sama-sama dikerjakan oleh AMO. Grand hall Deposito diubah menjadi set piazza imajiner yang memberi energi abstrak dari area publik. Pada dinding terdapat pola bunga geometis yang berada di antara façade bangunan Viennese Secessionist. Di tengah arena terdapat patung Atlas, model yang lalu lalang di area tersebut terlihat seperti hendak pergi ke acara penting.