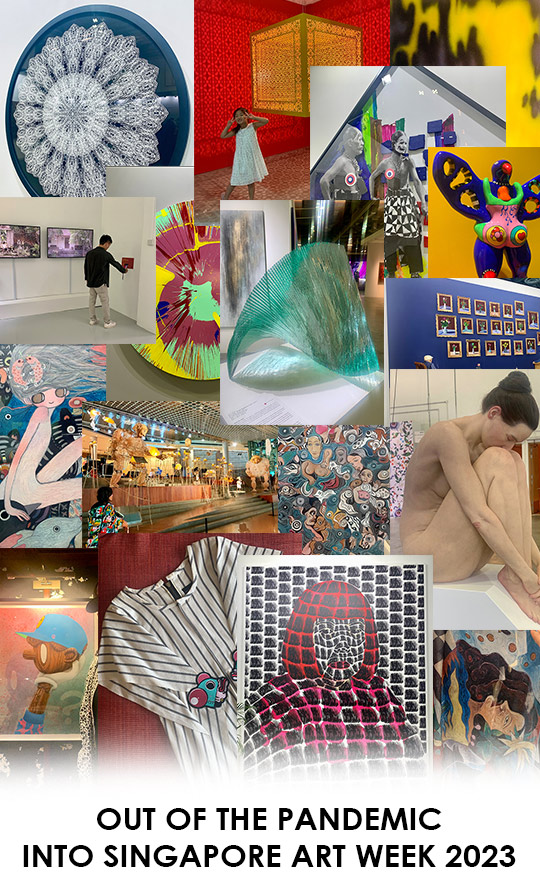 presented by

OUT OF THE PANDEMIC, INTO SINGAPORE ART WEEK 2023
Published by Sugar & Cream, Thursday 16 February 2023
Text and Images by Lynda Ibrahim
Art Singapore (Art SG)
2023 started strong for Singapore with major public events and the return of visitors it was hard to book a hotel room in January. The pandemic has considerably eased, the economy is getting busier, the mood is rosy.
Singapore Art Week (SAW) 2023 was unfurled across the city-state, creating an exciting journey for art afficionados worth their map and fancy walking shoes. From commercial hotspot Orchard to downtown office area and outdoor setups like Gillman Barracks, art was to be found.
The newest addition to SAW was Art SG, a 4-day art fair held on two floors of Marina Bay Sands' expo wing. Over a hundred galleries from different parts the world, including Indonesia, participated. Paintings, sculptures, multimedia installations, also public discussions.
The artworks? I'm no art critic and I never obtained a formal art education. I learned as I went along including while attending art fairs. But I do enjoy art, and the art lover in me enjoyed what I saw at Art SG, including discovering artists I didn't know before.
Beyond established names such as Damien Hirst, Robert Indiana, David Hockney, Erwin Wurm, Yayoi Kusama and Takashi Murakami, there were quality works by Aya Takano, Sam Jinks, Liam Gillick and Chiharu Shiota. Indonesian readers may well be familiar with Shiota's works currently featured at Jakarta's Museum MACAN, and might recall Wurm's works being referenced by fashion designer Mel Ahyar in 2017 (insert link: Spring Started In Style And Substance | Sugar & Cream | A Beautiful Life Deserves a Beautiful Home (sugarandcream.co) )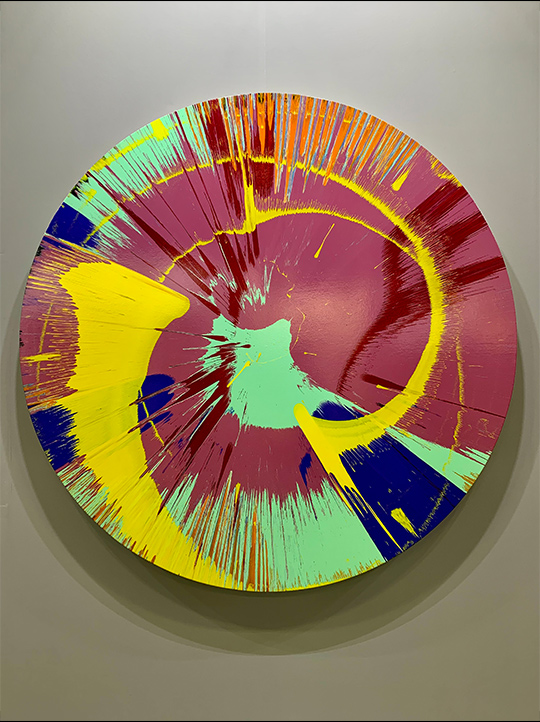 A work by Damien Hirst, Cardi Gallery, Art SG.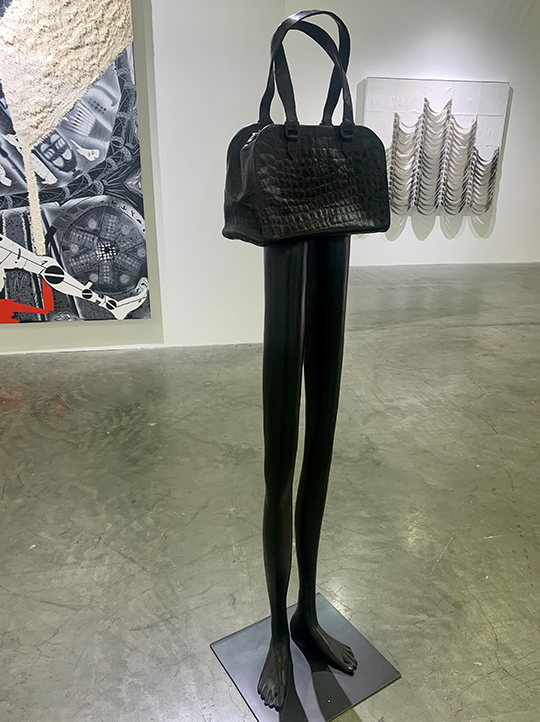 A bronze sculpture by Erwin Wurm, Lehmann Maupin Gallery, Art SG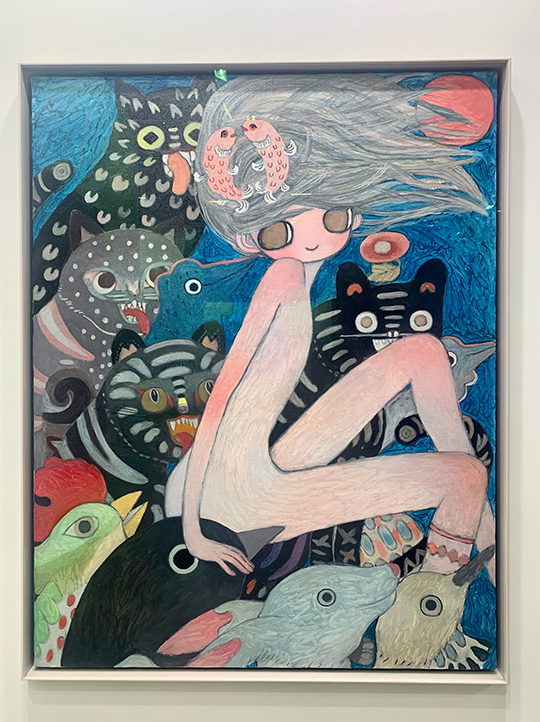 Painting by Aya Takano, Perrotin Gallery, Art SG
Niyoko Ikuta's exquisite hand-cut laminated sheet glass made me want to revisit my Physics textbooks to figure out the technique employed. Hockney's 3D large painting was such a trip that I returned a few times to relive the experience the amused gallerist probably thought I'd never seen a 3D object before.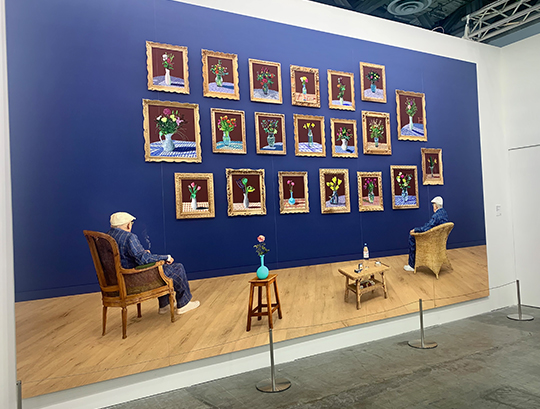 Photographic drawing by David Hockney, Gray Gallery, Art SG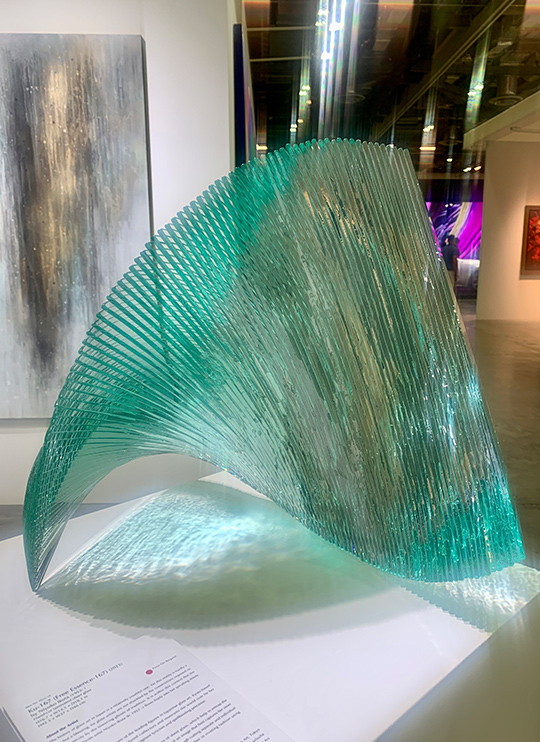 Sheet glass work by Niyoko Ikuta, Lighthouse Kanata, Art SG
Jinks' lifelike sculpture of a seated nude woman using silicone, ground pigment and real human hair attracted so much attention because the artist realistically portrayed veins, nails, and the unevenness of skin. The gallerist and I were joking about how perfect the sculpture would be as a real woman if she were also sporting some cellulite and as I ducked to check, I was startled to find how perfect it really was because, to put it subtly, the sculpture had hair where hair typically would be on adult women's body.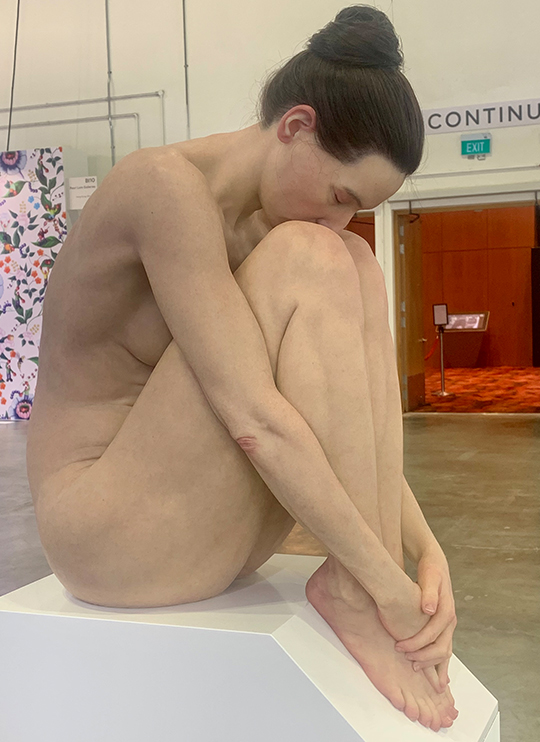 Sculpture by Sam Jinks, Sullivan + Strumpf Gallery, Art SG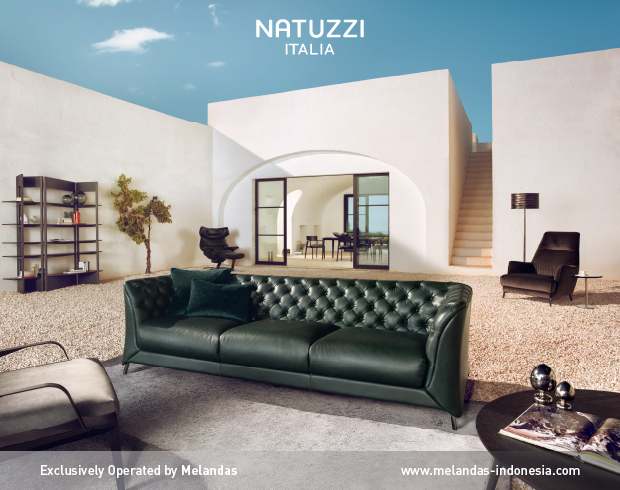 Presented by Melandas Indonesia
Moreover, I was delighted to discover Chun Kwang Young's work using Korean Mulberry paper, Bui Cing Khanh's poignant message on carved wood, Anila Quayyun Agha's striking metal installation, Mit Jai Inn's layered oil on panel, Lothar Hempel's layered panels featuring Javanese wayang characters, Hiroto Kitagawa's fierce manga sculptures, Yinka Shonibare's flower girl mannequin, Pimaree Sanpitak's breast series, Karen Knorr's stylish photography of Udaipur Palace I remembered from my New Year's trip years ago, and Benrei Huang's adorable bunnies timed perfectly for the Lunar New Year.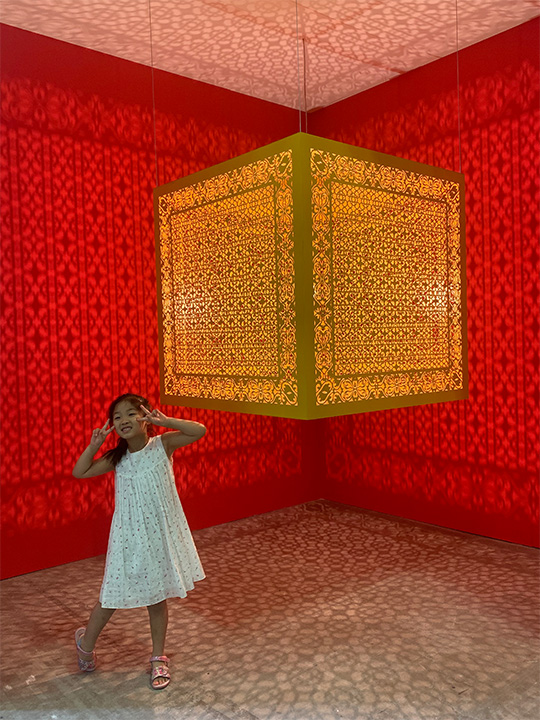 A metal installation by Anila Quayyum Agha, Sundaram Tagore Gallery, Art SG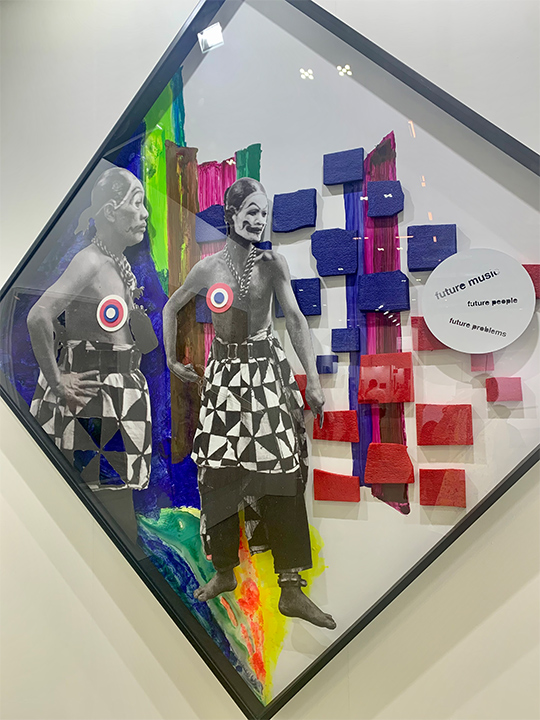 Work by Lothar Hempel, Galeria Casado Santapau, Art SG
Indonesian contemporary art, which has been rising on international stage is recent years, was also well represented. Through Indonesian and foreign galleries, Art SG visitors could find works from renowned artists such as Erizal AS, Made Djirna, Entang Wiharso, Eddy Susanto and Eko Nugroho to favorites like Uji Handoko, Indieguerillas, iwan Effendi, Rosit Mulyadi and Herru Yoga. Iwan's mural has adorned the Esplanade corridor since 2016, while the installation of Papermoon Puppet, which Iwan founded with his wife, is currently on display by the Esplanade's atrium.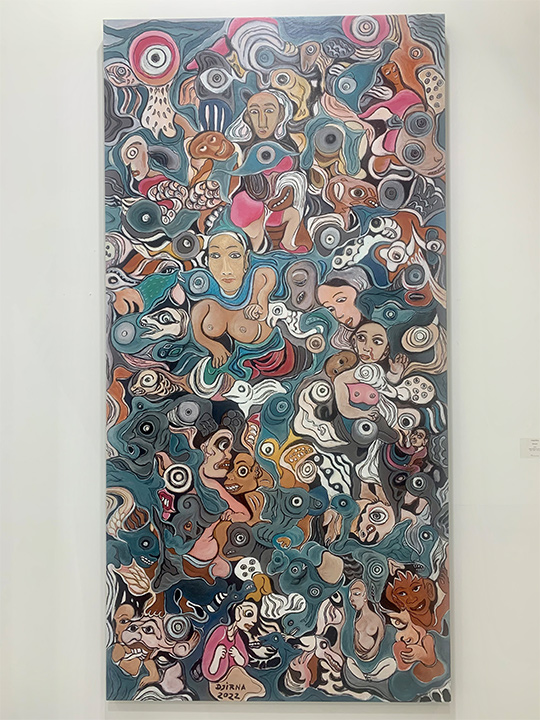 Painting by Made Djirna, Mizuma Gallery, Art SG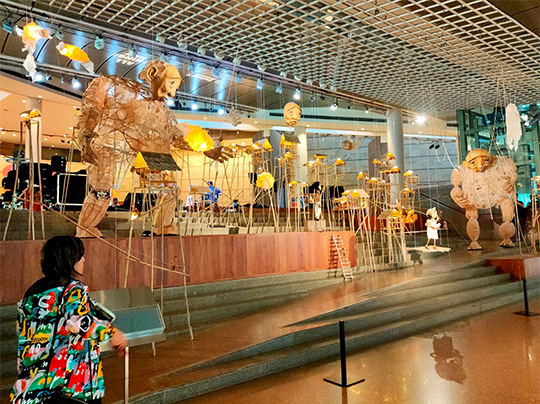 Installation by Papermoon Puppet, Esplanade Theatre, Singapore
For my own learning, I was delighted to discover Mujahidin Nurrahman's delicate paper hand-cut works, one of which according to gallerist Andonowati was acquired by a Singaporean collector for a resort in Japan, and to make acquaintance of the bubbly Ida Lawrence with her clever play on words and colors.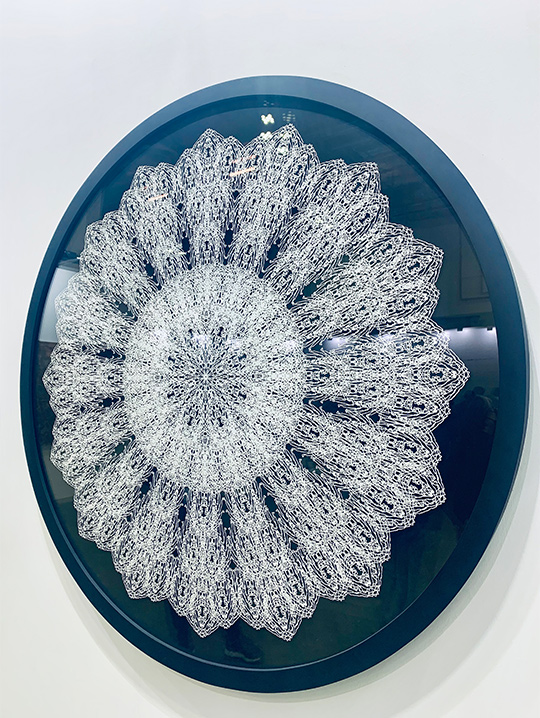 Work by Mujahidin Nurrahman, ArtSociates Gallery, Art SG
Magnus Renfrew, the Art SG cofounder with extensive experience of managing prestigious art fairs, sees Asian contemporary art entering mainstream art conversations and being collected by international institutions. Collectors are waking up to the quality of Asian contemporary art and getting more aware that it is not a monolith, Renfrew acknowledges. Speaking on the second day of the fair, Renfrew notes galleries have indicated good sales, something he also attributes to the post-pandemic pent-up demand.
Specifically on Indonesian contemporary artists, Renfrew finds the works incredible and one of the strongest in the world. Citing some of his favorite Indonesian artists and their styles, Renfrew hopes Art SG fuels more curiosity and serves to raise profiles of Indonesian artists as they deserve wider audience.
Beyond Art SG, Indonesian artists marked a few other premises. The duo Indieguerillas holds a solo exhibition at Mizuma Gallery by Gillman Barracks, attracting young art lovers with dynamic graphics, witty symbolisms and loud colors. Admitting not particularly paying attention to art trends, Indieguerillas currently focuses on measuring what their art has brought to the society through dialogues and participation in Murakabi, a Yogyakarta-based community founded by artistic minds interested in environmental issues and access of art to the masses. A famed member of this community is fashion designer Lulu Lutfi Labibi, with whom Indieguerillas did a popular capsule collection in 2017.
An art merchandise by Murakabi, as well as other notable Indonesian artists such as Eddie Hara, Nasirun and Stereoflow, packed Mizuma Gallery shop at relatively affordable prices.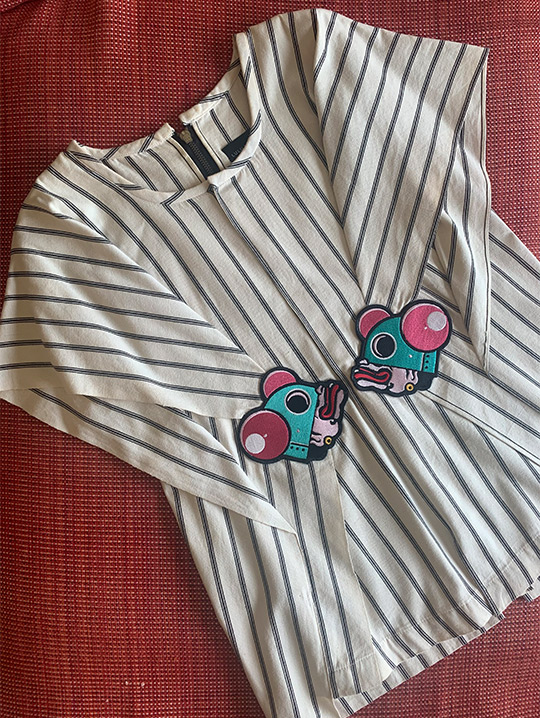 Lurik top Lulu Lutfi Labibi x Indieguerillas (2017), private collection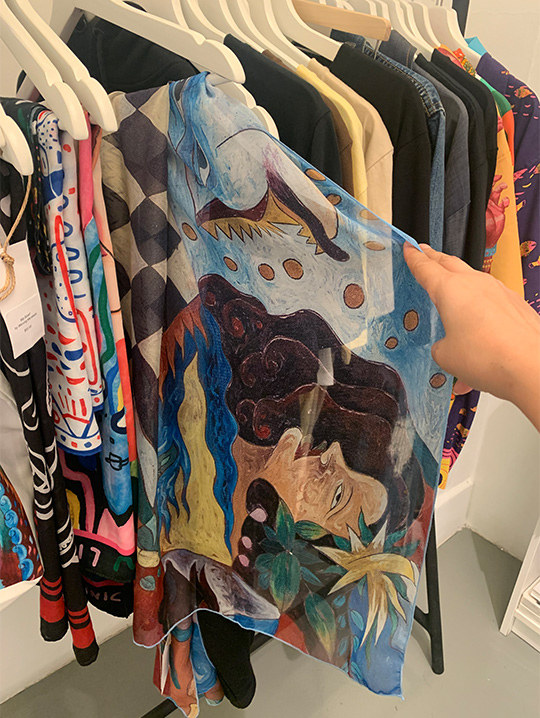 Scarf Nasirun x Ima Bunga, Mizuma Gallery, Singapore
A few minutes walking down the hill, one would find Balinese artist Citra Sasmita. Firmly entrenched behind Bali's worldwide smiling image as the Island of Gods is its rigid social structure and life-binding impact on its women. Discussed briefly by Elizabeth Gilbert through the Wayan character in her bestselling memoir "Eat, Pray, Love", Citra elevated the discourse via a captivating multimedia installation at Yeo Workshop in Gillman Barracks. As I listened to the haunting Balinese chant and took a closer look at how she drew her female characters, I could imagine the internal struggle Citra must've overcome to produce the works and the pressure she is probably facing now after they're out.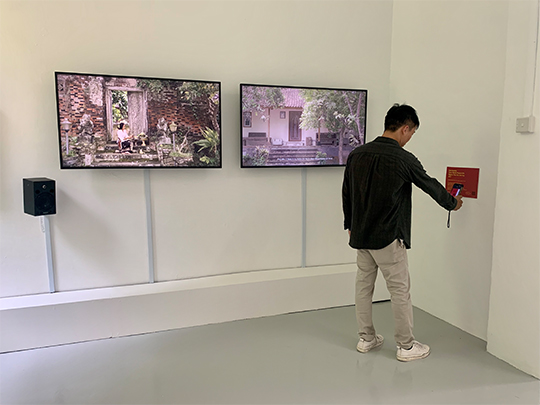 Multimedia installation by Citra Sasmita, Yeo Workshop, Singapore
A club at Chinatown's revitalized section was where Phillips Contemporary Auction House chose to fete a Los Angeles based artist, Brett Crawford. Working with imaginary creatures on figurative paintings, he almost gleefully dances with pop culture. Crawford graciously spent time explaining to me why for this pop-up exhibition he chose an adult version of Pinocchio—a character known for childhood shenanigan. Alluding to his own challenging childhood and colorful adulthood, it's apparent to me the artist sees himself as once adventurous Pinocchio who now must navigate mundane adulthood while trying to retain a dose of playfulness and warmth. Judging from the evening's packed party and recorded sale, the art afficionados in Singapore received him warmly.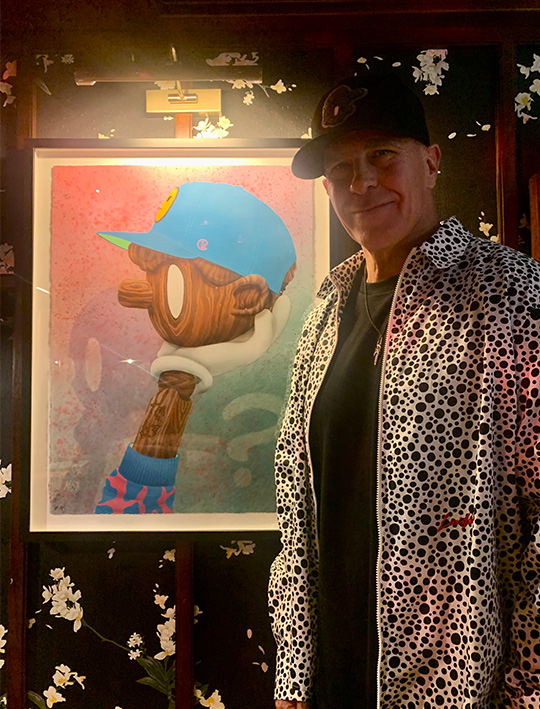 Brett Crawford and his work, Phillips Auction pop-up exhibition, Singapore
Over by the downtown office area, there is also art. Sphere, a communal space offering gym, spa and a small lounge displayed on its corridor walls artworks from Indonesian rising star Didin Jirot and notably, by the window for passersby to enjoy, a large canvas by Iabadiou Piko. A pleasant man excitedly speaking about art and the concept behind Sphere, Bowen You also explained the new trend among young Singaporean collectors to display their collections at public or communal spaces for many to enjoy, as opposed to the old practice of keeping it at private residences.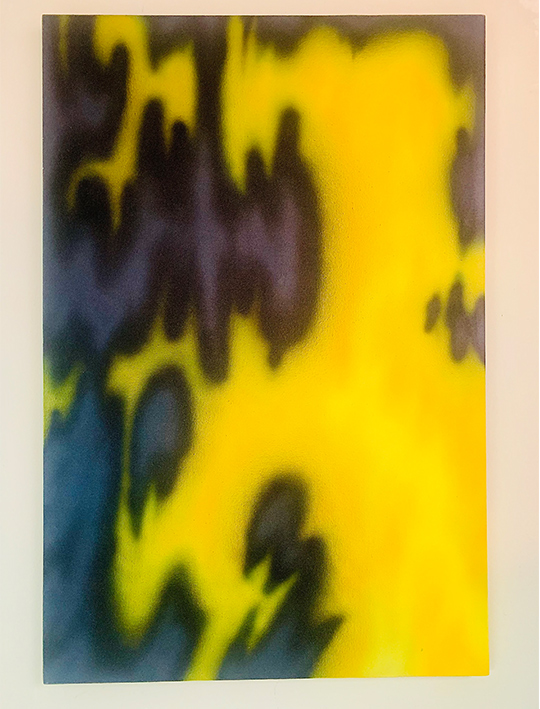 Painting by Didin Jirot, Sphere, Singapore
Even by Orchard, tucked between glitzy boutiques, art awaits. I was particularly happy to discover Niki de Saint Phalle at Opera Gallery, albeit a few decades too late. A part of 1960s Nouveaux Realistes, de Saint Phalle explored the question of equal gender representation through female forms in lighthearted and whimsical sculptures she named Nanas. She was presented alongside Yayoi Kusama, who's enjoying an enormous presence thanks to the newly launched collaboration with Louis Vuitton. Literally a stone's throw away from Kusama's giant yellow pumpkin at Opera Gallery is a Louis Vuitton boutique awash with polka dot pumpkins and handbags. At Art SG, not only collectors sporting the Vuitton x Kusama 2023 capsule collection, a giant UV print of Kusama by Thomas Bayrle greeted visitors near entrance.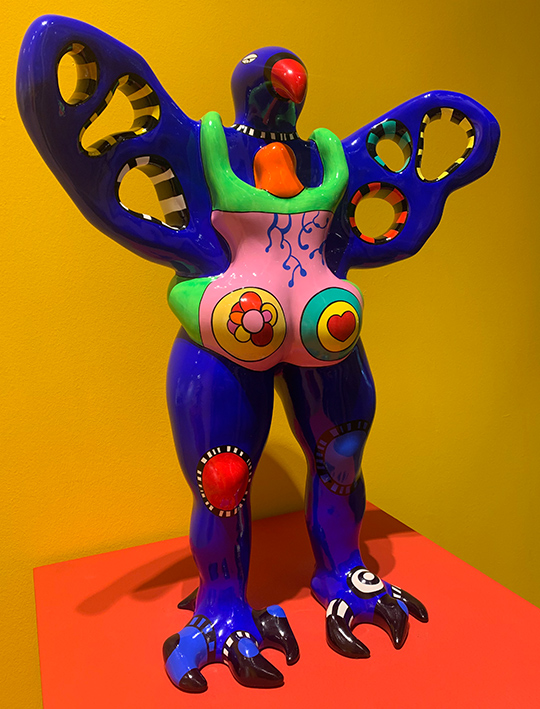 Sculpture by Niki de Saint Phalle, Opera Gallery, Singapore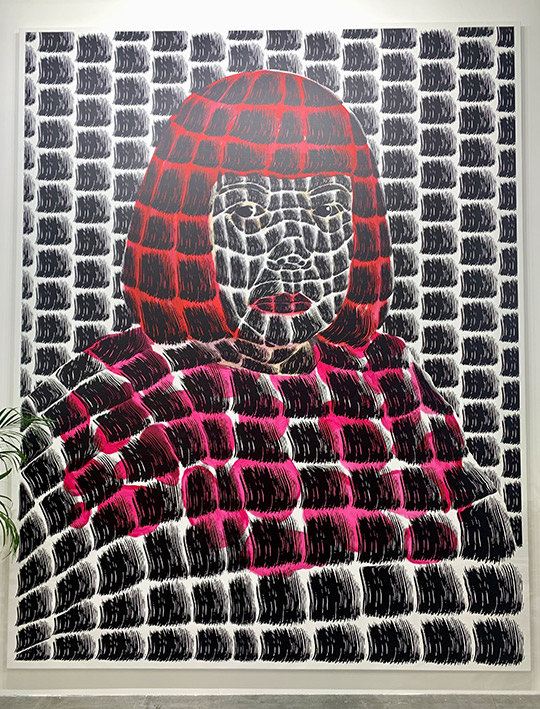 Work by Thomas Bayrle, Neuge Riemsxhneider Gallery, Art SG
The citizens' purchasing power, the country's self-position as a business hub, and the compactness of the city-state really make it easy to conduct large scale events and for the public to attend. During our interview, Renfrew himself cites Singapore being a bustling hub as a major factor behind Art SG. When asked if Indonesia, with all its artistic talents and citizen numbers, could serve as a stage for art fairs the scale of Art SG, Renfrew returns to his point about the infrastructure availability and logistical easiness that Singapore provides. The point which, for all my nationalistic streak, I must agree with. But that's a topic for another time. Right now, let's enjoy the art served during Singapore Art Week. (text by Lynda Ibrahim)