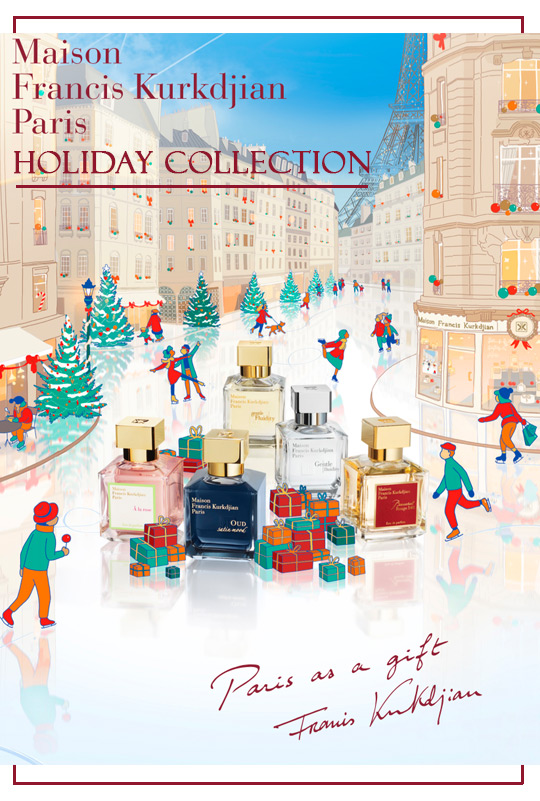 presented by

MFK HOLIDAY COLLECTION
Published by Sugar & Cream, Tuesday 21 December 2021
Text by S&C, images courtesy of Maison Francis Kurkdjian Paris
"Paris As A Gift"
Time to sparkle in this holiday Season! MFK (Maison Francis Kurkdjian) invites us to look back on our childhood and recollect our memories and dreams. Francis Kurkdjian and MFK presents the MFK Holiday Collection. The collection brings life the spirit of Holidays by inviting us to follow an ice skater's journey from Paris to London, New York, Shanghai, Moscow and back to the City of Lights.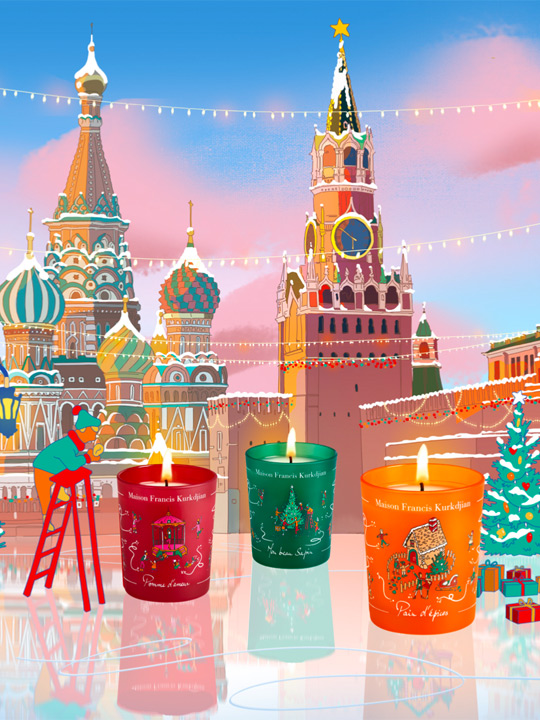 This winter, MFK's ice skater warms our hearts with his scented wonders, leaving us a glimpse of 'Paris as a gift".
Here are the collections: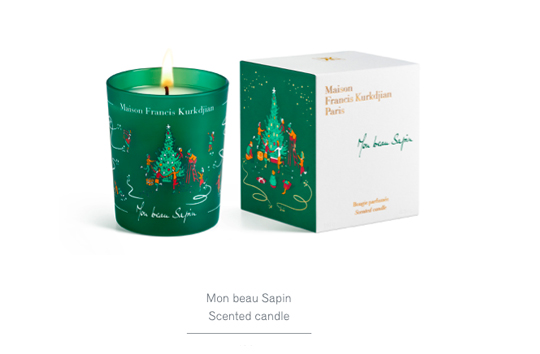 Mon Beau Sapin Scented Candle
Imagine taking a winter stroll in a snowy forest thanks to the iconic Mon beau Sapin scented candle, dressed in a new and festive finery. Its exquisite, lacquered decor embodies the magic of the Holidays, while its woody and slightly resinous fragrance evokes the traditional tree.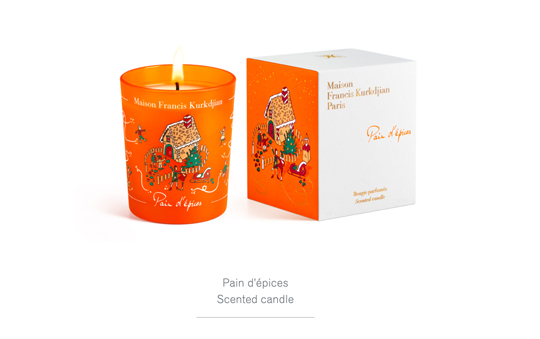 Pain d'épices Scented Candle
At the edge of the forest a charming gingerbread house awaits, promising sweet treats and childhood delights. Discover the new Pain d'épices scented candle, whose gourmand fragrance, with notes of orange, honey, cinnamon and anise invites you to indulge without moderation.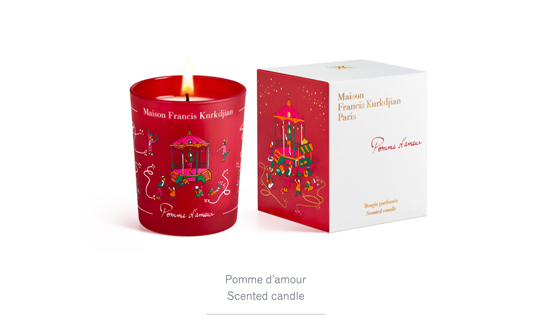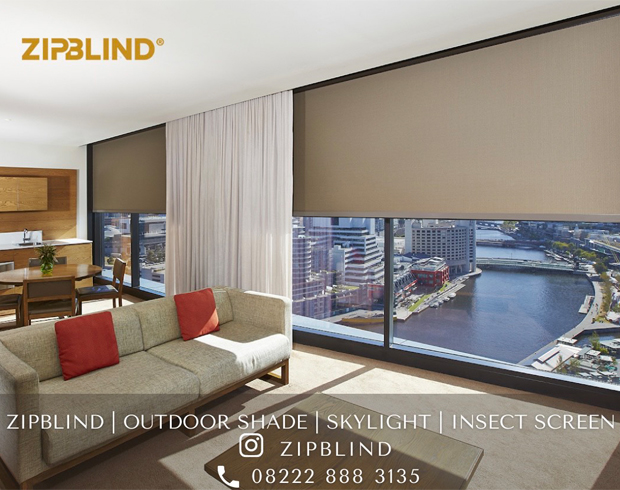 Presented by Zipblind
Pomme d'amour Scented Candle
Lastly, enjoy the bustling atmosphere of a funfair and savor a juicy, generously caramel- coated candy apple. Enjoy this familiar fragrance with the Pomme d'amour scented candle, another new creation by Maison Francis Kurkdjian.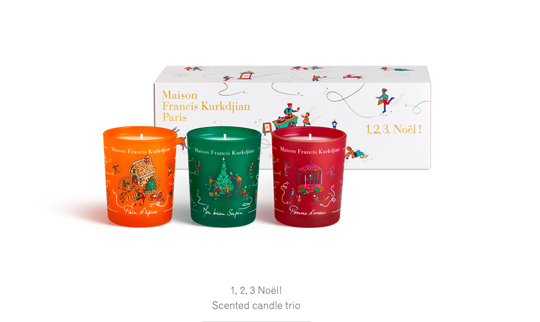 *all three limited scented candles are also available in 1,2,3 Noël! Pack.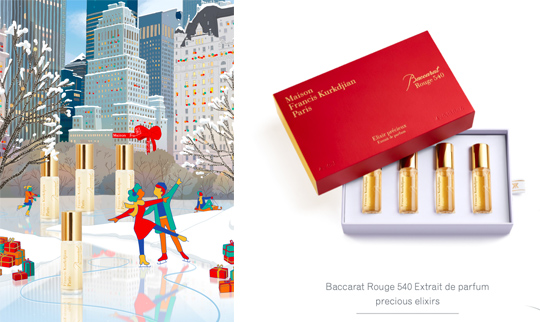 Baccarat Rouge 540 (Roll-on)
MFK can't be separated from Baccarat Rouge. The Baccarat Rouge 540 extrait de parfum exudes its floral, amber, woody sillage in a new, sensual texture and format. Presented as a roll-on in an elegant, travel-friendly case, this precious elixir was designed to glide onto the skin. Apply inside the wrists and elbows, at the nape of the neck or on the cleavage, where its rich and silky texture will melt into the heat of the skin, for maximum diffusing power.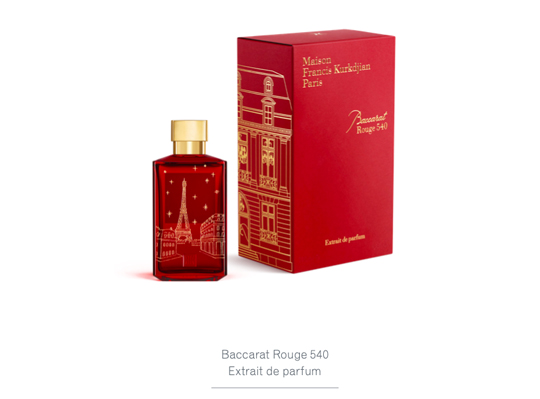 Baccarat Rouge 540 (Limited-edition extrait de parfum, 200ml)
In this 300-piece limited-edition, Baccarat Rouge 540 extrait de parfum is adorned in a new attire, delicately hand-engraved in a Parisian workshop. Eight hours of work were necessary to craft this golden decor, which pays homage to Paris. Here, creative talent and know-how have combined into a unique Baccarat Rouge 540 extrait de parfum.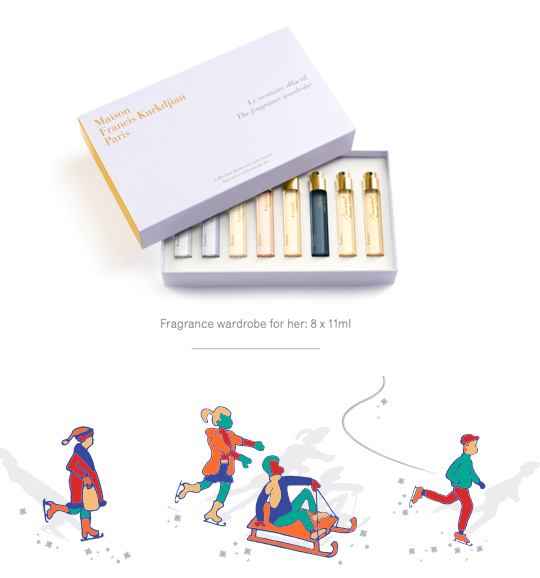 The New Fragrance Wardrobe for Her and Him
Each set of the fragrance wardrobe for Her or Him is composed of eight iconic fragrances including scents from the new Cologne forte Collection, which conjures up unexplored destinations steeped in color, light and freshness.
The Fragrance Wardrobe for her includes:
Aqua Celestia Cologne forte, Aqua Universalis Cologne forte, Aqua Vitae Cologne forte, gentle Fluidity Gold, OUD satin mood eau de parfum, Amyris femme eau de parfum, Baccarat Rouge 540 eau de parfum, Baccarat Rouge 540 extrait de parfum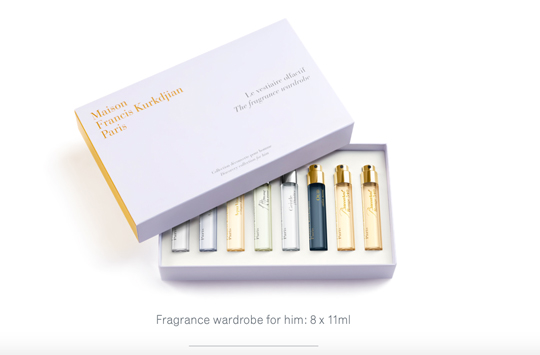 The Fragrance Wardrobe for him includes:
Aqua Celestia Cologne forte, Aqua Universalis Cologne forte, Aqua Vitae Cologne forte, Gentle fluidity Silver, l'Homme À la rose, OUD satin mood extrait de parfum, Baccarat Rouge 540 eau de parfum, Baccarat Rouge 540 extrait de parfum