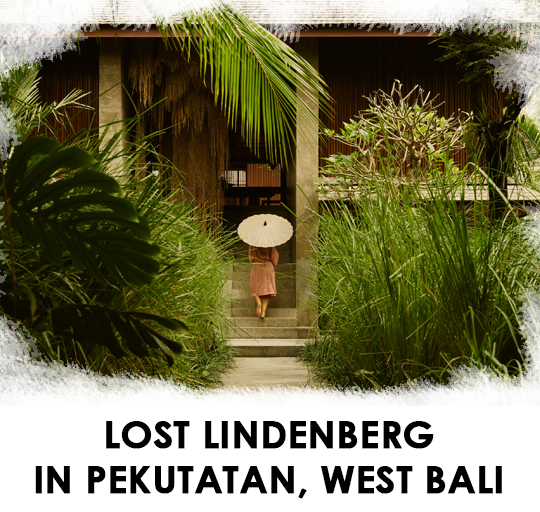 presented by

LOST LINDENBERG IN PEKUTATAN, WEST BALI
Published by Sugar & Cream, Tuesday 12 July 2022
Images courtesy of Lost Lindenberg
New Guest Collective With Its Own Surf Spot Opens
The drive along Bali's coast, amongst honking moped drivers, past roadside Warungs (street food stands), palm forests and crashing waves, is captivating. On arrival in Peku- tatan, a quiet village road lined with temples and frangipani trees leads to a clearing and, as if out of nowhere, a huge, brightly illuminated wall of neon signs appears, advertising holiday pleasures in giant letters. It would look more at home in Las Vegas than it does in Bali. There's a small, secret door built into it, so plain that it's easy to miss. Open it, and enter a lush green jungle, a narrow path weaves between tropical plants before reaching a landscape of treehouses. We are at LOST LINDENBERG, a new guest collective far removed from Bali's garish mass tourism.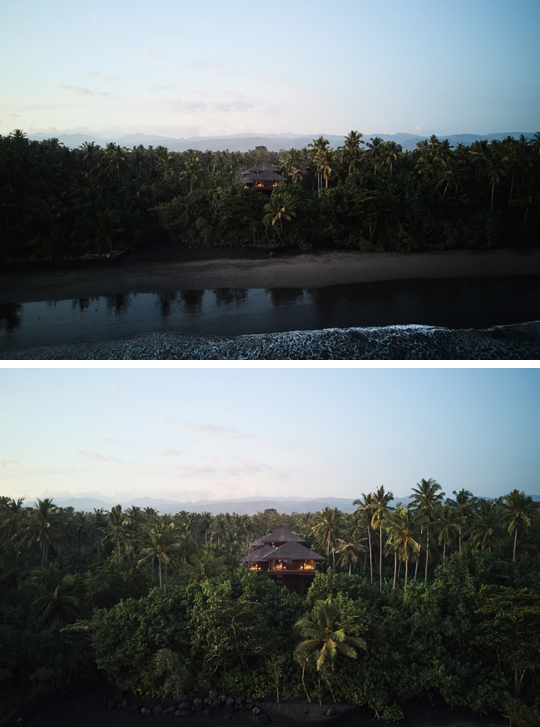 Surfing waves at sunrise against a backdrop of pristine black lava sand; enjoying peace and quiet in the open-plan communal spaces; practising yoga under the pergola; enjoying bonfires on the beach, self-harvested coconuts in the turquoise pool or an aroma massage in the jungle spa; in the evenings, sumptuous plant-based dinners at the restaurant and the sharing of stories.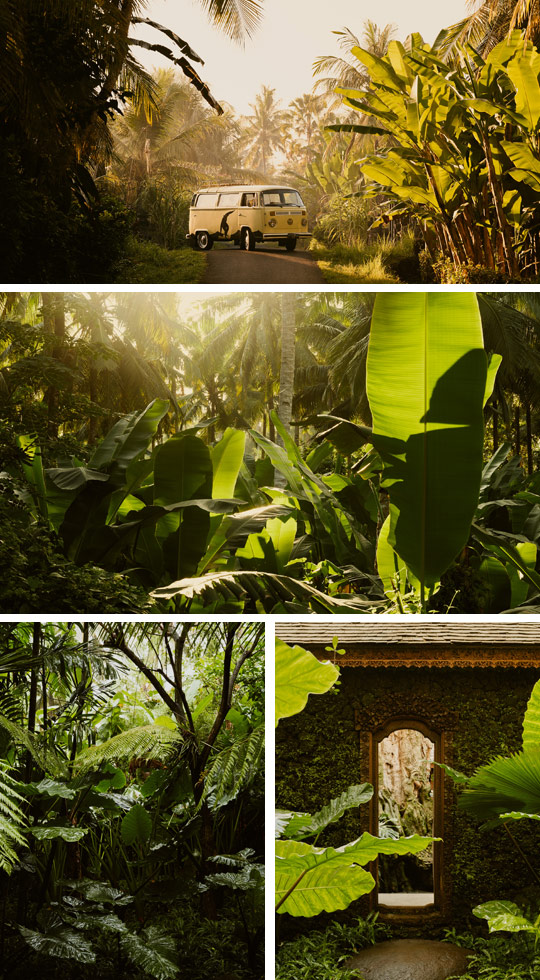 From 15th of July 2022, all this will be possible at LOST LINDENBERG, the fifth project, and the first in Indonesia, from the young Frankfurt hospitality company, LINDENBERG. Just as with their previous concepts, LOST LINDENBERG focuses on the collective experience of the guests, who are invited to spend their time together in the property's communal areas. Retreat is offered in each of the eight lovingly-designed rooms, which are elevated high amongst the treetops of the West Balinese palm jungle, set on a long and pristine, glistening black lava sand beach.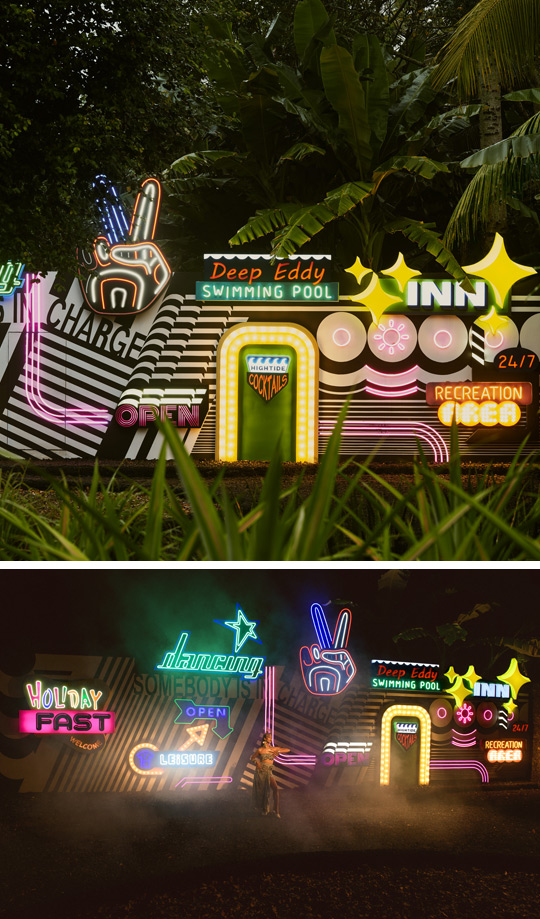 "The inspiration for this concept was the magic, this sweet, warm melancholy of the loca- tion, the black lava sand and the fantastic waves. Not just another rattan-clad honeymoon hotel, but instead, the courage to settle by a wild sea, to embrace surfing while at the same time satisfy the need for urbanity. LOST was born out of a chance visit and has become a place of longing, a new home for us and anyone else who fancies coming along." – Denise Omurca, Managing Director, LINDENBERG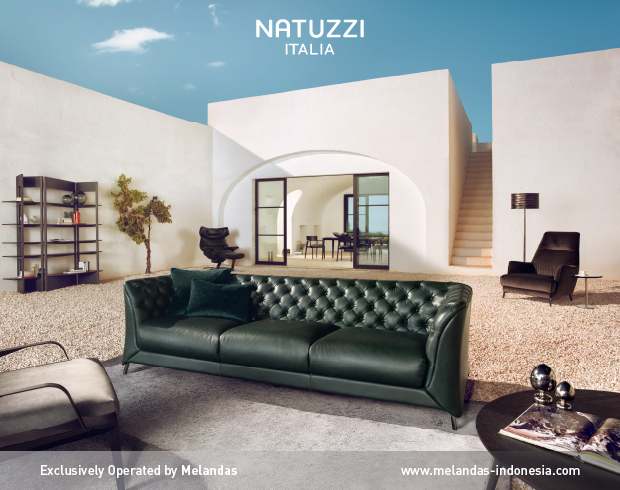 Presentasi by Melandas Indonesia
LOCATION
LOST LINDENBERG is part of the Pekutatan community, a small Hindu village on Bali's west coast that is largely untouched by tourism. A hidden retreat surrounded by temples, ruled by nature and sacred spirits – and only a stone's throw from the famous Medewi Surf Point.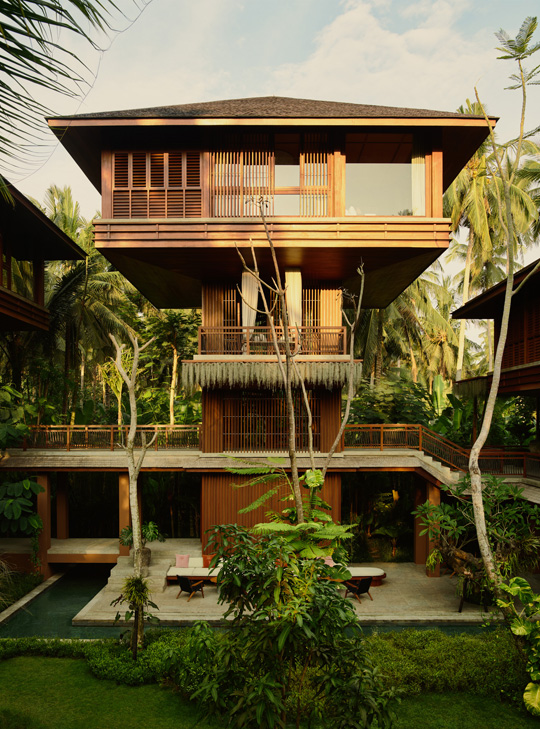 ROOMS
There are eight rooms of two different types. Guests can catch a glimpse of the waves from each of the treehouses, but the two Ocean Panorama Suites, which sit in front row position, look directly out to sea; the six Jungle Panorama Suites offer views of the jungle and temples. The 45m2 suites are all furnished with contemporary art, sustainable linen bedding, custom made Gaya ceramics, air conditioning and spacious bathrooms.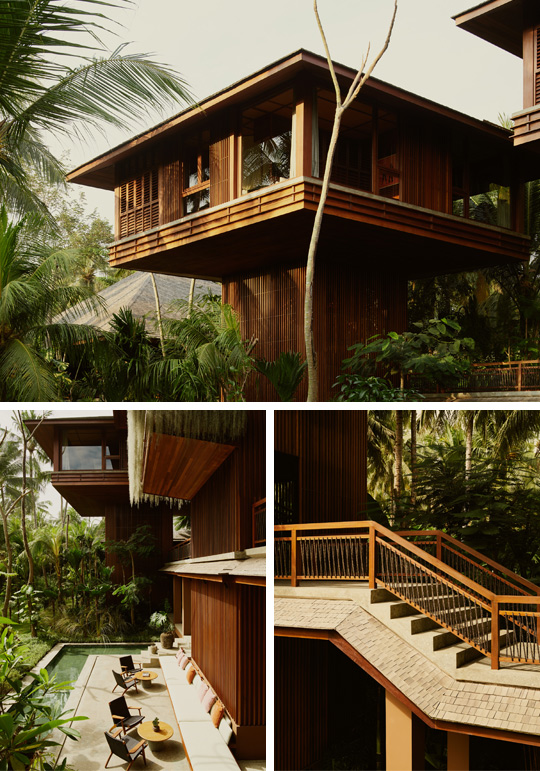 SURF
Home to Bali's longest wave, Medewi Surf Point attracts surfers of all levels, and surfing is an essential element of staying at LOST. The hotel's own LOST BEACH is still a little known surf spot, and included in the room rates are surf sessions with local instructors. Boards made in-house in collaboration with Pyzel Surfboards are available for hire.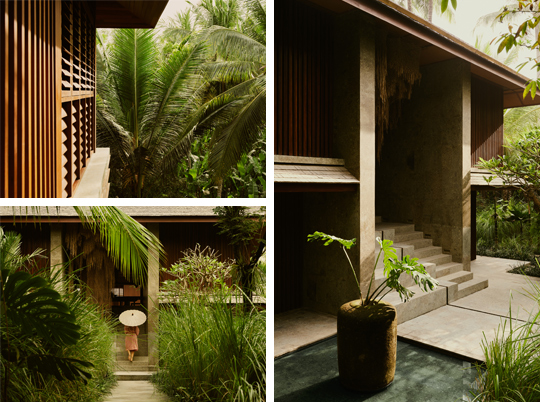 RESTAURANT & BAR
The solid, seven-metre-long wooden table, where guests meet for conversations and opulent meals, is the heart of LOST LINDENBERG. The culinary concept here celebrates nature with its seasonal and local flavours and offers a plant-based approach to Balinese home cooking with western influences. All ingredients are cultivated at LOST or sourced from nearby organic permacultures. Choose from the likes of homemade granola, tropical fruits and coconut French toast for breakfast, and sumptuous rice plates with a variety of spicy sambals (chilli pastes) for dinner. The poolside bar serves classic long drinks, local kombuchas and seasonal cocktails.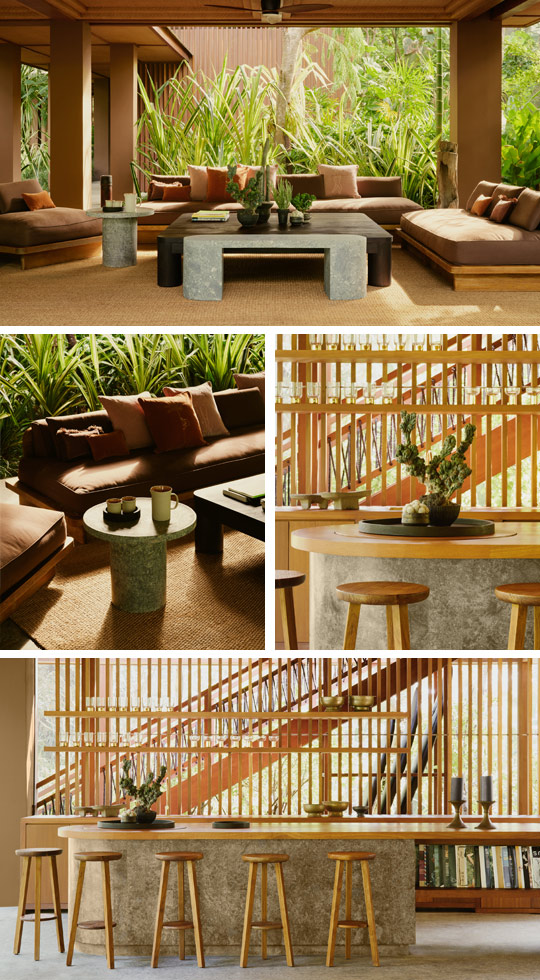 SPA
The small spa is located in LOST's jungle. Built in the style of a gladak, the traditional wooden houses originally used for storing crops, the site is now a place of tranquillity. Balinese massages smooth muscles strained by the surf; treatments are inspired by local rituals and aromatherapy, filling the spa with scents of chamomile, lavender, lemongrass and bergamot.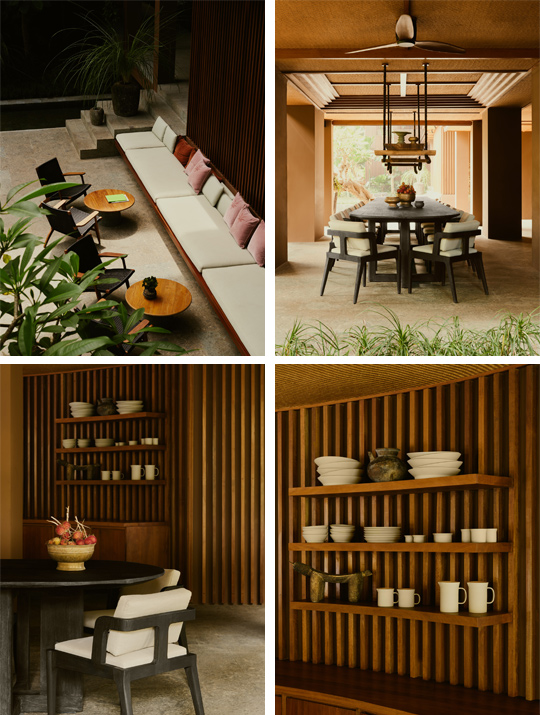 ARCHITECTURE
Alexis Dornier and Studio Jencquel are responsible for LOST's architecture. "The main idea was to create an unusual, dreamy experience in the midst of a mystical jungle. We imagined spaces and walkways high off the ground. Constructed beside tall coconut trees, the staggered towers provide a glimpse of the sea in front. The towers are con- nected by a so-called highline, an elevated walkway pointing towards the sea. We wanted to give the feeling of walking in a different world, of resting on a floating ship, elevated and safe, with the wild jungle at your doorstep. Grouped close together, the towers form a quasi village in the trees, a small floating society. LOST is designed with great attention to detail, with examples of the traditional contrasted by exaggerations. The predominant material is sustainably-sourced wood in various patterns and directions, the floors are covered with Bali green stone, and brass is used as an accent in the whole composition. With LOST we move in a dream world, somewhere between fiction and reality." – Alexis Dornier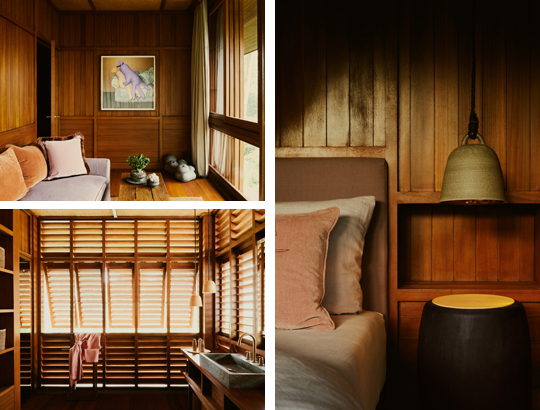 INTERIOR
The interior concept as well as additional architectural elements are designed by Studio Jencquel. "The interiors are warm and cosy, as if they want to embrace us, integrating linen fabrics, lava stone, tropical hardwood, burnt teak and river stones. The colours and materials are locally sourced. The wooden blinds in the bathroom blur the line between outdoors and indoors, letting the sea breeze in while providing a sense of protection from the hot sun. Panoramic windows allow us to spot boats passing by on the horizon. The furniture, the lamps, the ceramic tableware and almost all the accessories in this project were custom designed by Studio Jencquel. The underlying theme of melancholy and darkness is strongly felt throughout: a neon scar on my sweet melancholy." – Max Jencquel, Studio Jencquel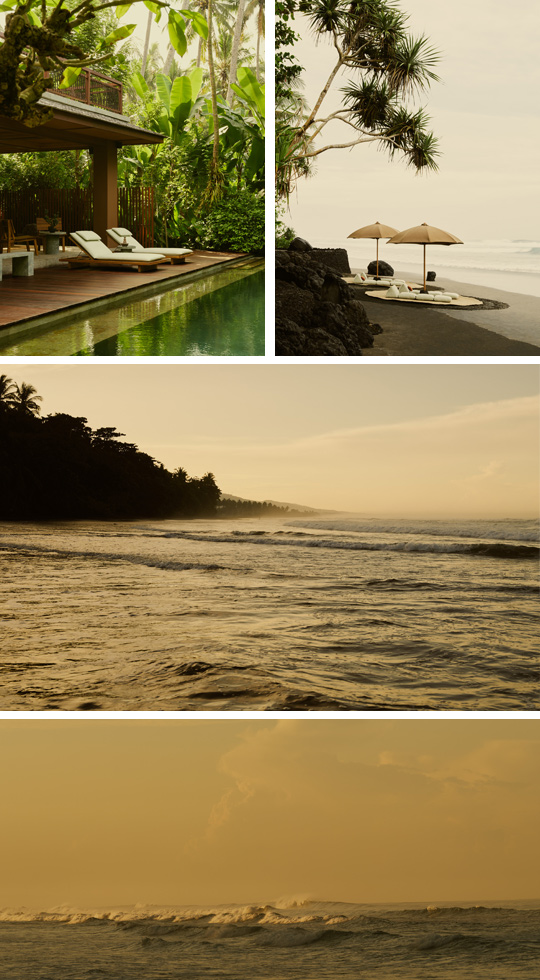 LANDSCAPE ARCHITECTURE
"The landscape design is an extension of the architectural footprint (or vice versa). The highline connecting the towers is actually the continuation of a path that begins in the garden, penetrates the buildings and ends at the black lava sand beach. The path begins at the entrance past the neon installation and leads us first through a tropical forest. The variety of plants here is huge: heliconias, ferns, Bodhi trees, banana trees, Banyan trees, Majapahit trees, Baobab trees, Pule trees, bromeliads to name but a few. Inside the forest, we encounter moments such as a mossy rock turned fountain, a bench for meditating by a shrine, an enclosed garden where guests can listen to and read poetry by Artur Becker, and an enormous Pule tree in the middle. Beyond the forest, the path continues on to grasslands, a vast area close to the reception that extends to approximately the middle of the property and in which one can find every grass species available here on Bali. The landscape changes as we move from one zone to the next, and rainwater is channelled into swales of river rock that look like streams (or rivers in the rainy season). There is a sacred spring and, next to it, a large, carefully placed river rock set between two lava stone temples. Bougainvillaeas and fragrant "lady of the night" are planted generously around the dining and lounge areas. Tower trees are planted next to the tall buildings to appease the size and dimensions of the architectural giants and make them appear somewhat smaller. Finally, a hidden path leads to the beach through a forest of pandan trees." – Max Jencquel, Studio Jencquel
ART
The curation and use of artistic works constitutes an essential part in all of LINDENBERG's concepts. The art at LOST LINDENBERG plays with the eclecticism between Indonesian tradition, nature and urban lifestyles. To this end, the LINDENBERG team sourced local Indonesian antiques from all eras, such as vases, baskets and statues. These items contrast with contemporary photographs by, among others, Indonesian artist Prawobo and British photographer Annie Collinge. In the entrance area, the thick tropical jungle is interrupted by a neon sign installation by renowned Frankfurt artist and Golden Lion winner, Tobias Rehberger.
"The bewildering collection of colourful messages represents the noisy world that most visitors probably want to escape from and certainly were not expecting to find here in the jungle on Bali's west coast. My installation is intended as a staged transition, a final, almost ritual farewell to the hustle and bustle that visitors can literally leave behind when they discover the hidden entrance and step through the secret opening in the wall into the tranquil paradise of LOST LINDENBERG." – Tobias Rehberger, artist
SUSTAINABILITY AND SOCIAL RESPONSIBILITY
LOST LINDENBERG operates as far as possible in an environmentally friendly, low-waste manner. Solar panels supply the property with energy, and fruits and vegetables from LOST's own permaculture are used in the restaurant. All products such as soaps and toilet paper, are produced regionally and fairly; litter is collected in weekly beach clean-ups; and the restaurant – like all LINDENBERG projects – is entirely plant-based (free of animal products). In order to contribute to the local community, LINDENBERG founded LOST BUNCH, an educational programme with local surfers that supports, encourages and opens up new prospects for children and young adults in Medewi. Many of these young people are passionate about surfing, but have no access to educational institutions. The programme combines surfing lessons with classes in subjects such as English, sustainability and hospitality with the hope of opening up more opportunities to them in the future. Further information: @LOSTBUNCH 
THE FACTS
Address: Jl. Ngurah Rai, Pekutatan, Kec. Pekutatan Kabupaten Jembrana, Bali, Indonesien
Opening date: 15TH of July 2022
Company: PT. LOST LINDENBERG INDONESIA
Brand: LINDENBERG
Management: Denise Omurca, Nils Jansen
Operational partner: May Hotels, Jan Seelen, Sensorial Management Group, Stijn van Leeuwen
Architectural team: Alexis Dornier & Studio Jencquel Interiors and landscaping: Studio Jencquel
Construction management: Bali Construction
Number of rooms: 8
Communal areas: Lobby with shop, restaurant, bar, pool and lounge, workout/yoga area, sundeck, beach deck, spa
Total size: 8.440 m2
Services offered: Surf trips and courses, excursions to surf spots and other destinations in the VW bus, spa therapy, yoga courses, regular beach events with campfire, weddings, Secret River hikes, diving trips, traditional ceremonies.
Products: Gaya Ceramics, David Pompa Lamps, Pyzel surfboards, Heveya Matratzen, Parley sunglasses, in-house surf wear collection, in-house soaps from Republic of Soap.
Images courtesy of Lost Lindenberg
New Guest Collective With Its Own Surf Spot Opens

Perjalanan menyusuri pantai Bali di antara pengendara motor, melewati warung-warung yang mengepulkan asap, kebun-kebun kelapa, dan ombak yang berdebur, sungguh sangat menghibur. Sesampainya di Pekutatan, terbentang jalan pedesaan nan tenang yang dijejeri kuil-kuil dan pohon-pohon kemboja menuju ke sebuah tanah terbuka. Seketika terpampang sebuah dinding neon raksasa bersinar cerah, dengan huruf-huruf berukuran besar mengiklankan asyiknya liburan, membuat orang-orang mungkin mengira ia tengah berada di Las Vegas, bukan Bali. Sebuah pintu rahasia kecil terpasang di sana, tersembunyi, sehingga gampang terlewatkan. Pintu ini membuka akses ke hamparan hutan yang hijau merimbun. Sebuah jalur kecil meliuk di antara tanaman-tanaman tropis, menuju sebuah lanskap rumah pohon. Kita sampai di LOST LINDENBERG, sebuah Kolektif Tamu baru, jauh dari pariwisata massal Bali yang menyilaukan.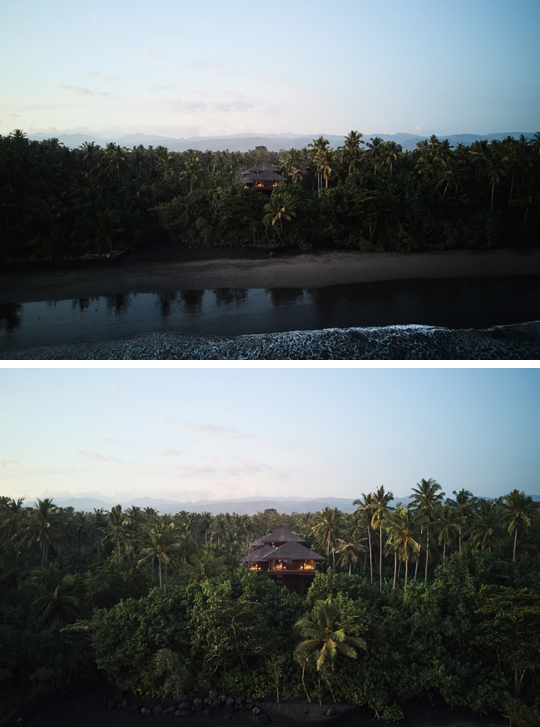 Berselancar mengarungi ombak saat matahari terbit dengan latar belakang pasir lava yang belum tersentuh, bersantai di ruang umum terbuka, yoga di bawah pergola, api unggun di pantai, kelapa yang dipanen sendiri di kolam sewarna pirus, pijat aromaterapi di spa- hutan, serta makan malam dan berbincang-bincang di restoran berbasis bahan pangan nabati di malam hari.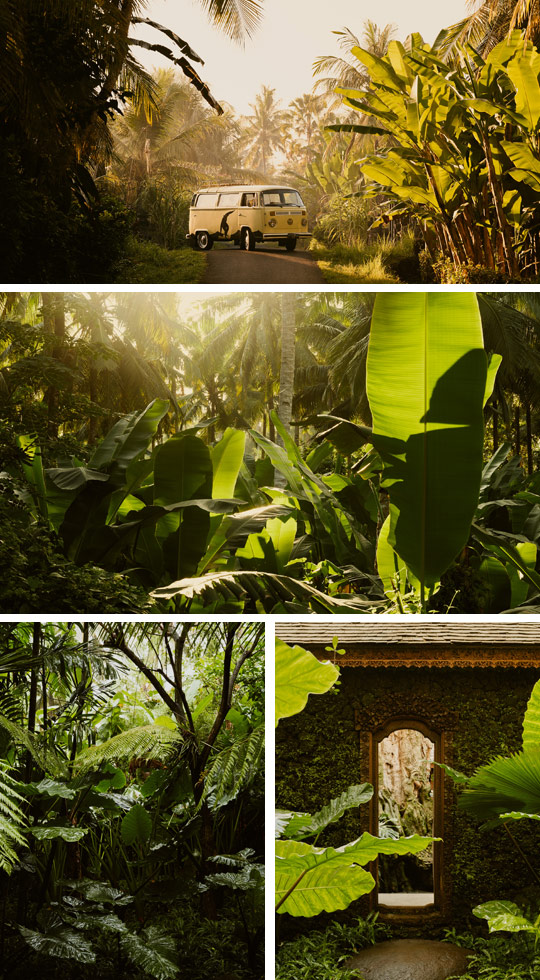 Semua ini bisa dilakukan di LOST LINDENBERG mulai tanggal 15 Juli 2022. Ini merupakan proyek kelima LINDENBERG, perusahaan perhotelan yang baru berdiri dari Frankfurt dan merupakan yang pertama di Indonesia. Seperti pada konsep-konsep sebelumnya, LOST LINDENBERG berfokus pada pengalaman bersama para tamu, yang diundang untuk meluangkan waktu bersama di tempat-tempat komunal. Retret ditawarkan di delapan kamar menara yang dirancang dengan apik di tengah puncak pohon di hutan kelapa Bali Barat, terletak di pantai pasir lava hitam berkilauan yang belum tersentuh.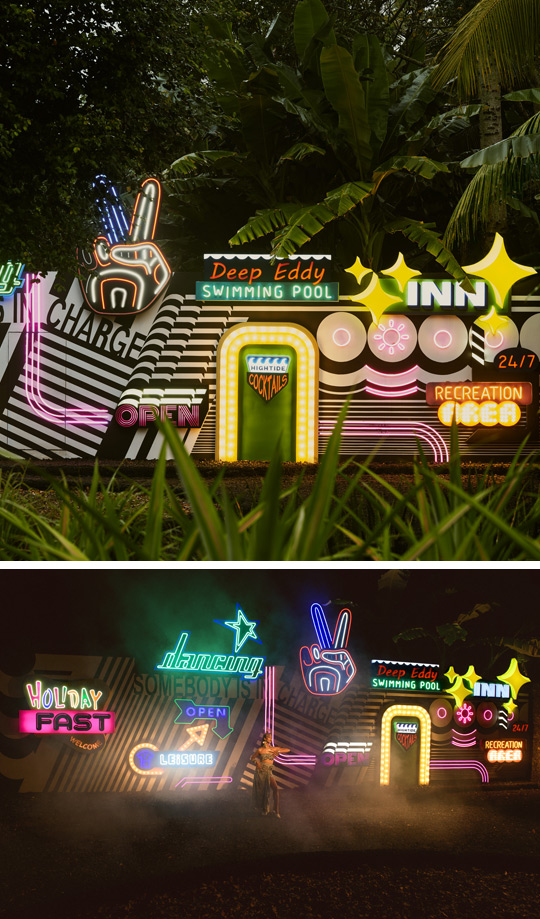 "Aura, rasa melankolis manis-hangat tempat ini, pasir lava hitam dan ombak yang fantastis merupakan inspirasi untuk konsep kami. Bukan sekadar hotel berperabot rotan untuk berbulan madu. Melainkan keberanian untuk menetap di tengah lautan liar, untuk berselancar menghadapinya, sembari memenuhi hasrat akan ke-urban-an. LOST lahir dari sebuah perjalanan tak-sengaja dan telah menjadi tempat yang dirindu, rumah baru bagi kami dan semua orang yang ingin ikut serta."–Denise Omurca, Direktur Pengelola LINDENBERG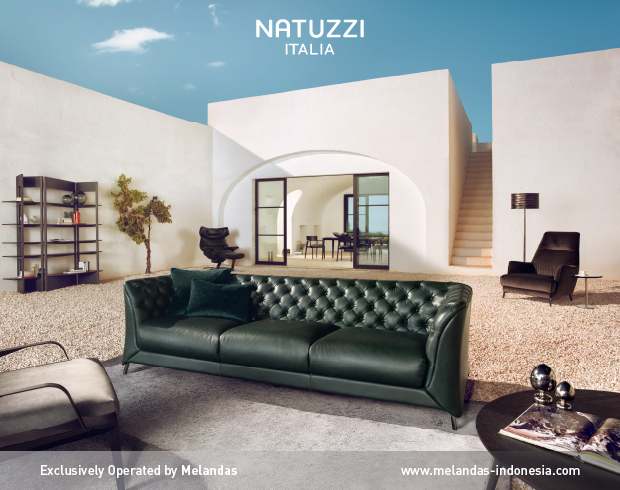 Presentasi by Melandas Indonesia
LOKASI
LOST LINDENBERG merupakan bagian dari komunitas Pekutatan, sebuah desa hindu kecil pada pesisir Bali barat yang sebagian besar belum dijamah pariwisata. Sebuah suaka tersembunyi yang dikelilingi kuil-kuil, dikuasai alam dan roh suci. Hanya berjarak selemparan batu dari LOST terdapat spot selancar Medewi yang terkenal.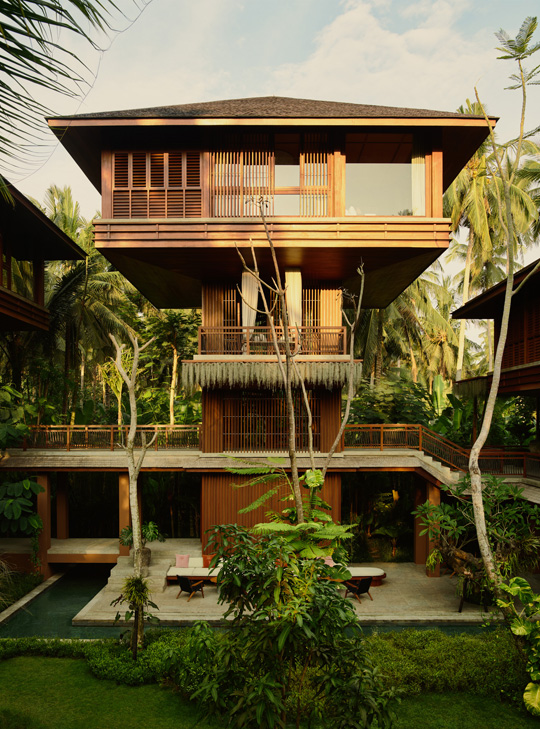 KAMAR
Kedelapan kamar terbagi dalam dua tipe: Dua Suite-Panorama-Laut dengan pemandangan langsung dan sangat dekat dengan laut, juga Suite-Panorama-Hutan dengan pemandangan ke hutan dan kuil-kuil. Suite seluas 45 m2 ini dilengkapi karya seni kontemporer, linen ramah lingkungan, Keramik-Gaya yang dibuat khusus, AC, kamar mandi yang luas, dan pemandangan yang indah. Dari setiap kamar tamu dapat memandang ombak.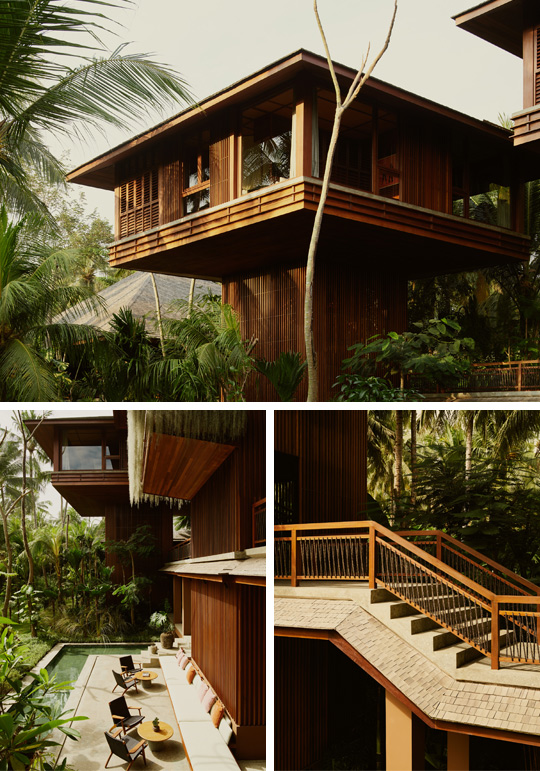 BERSELANCAR
Elemen esensial saat mengunjungi LOST adalah berselancar. LOST BEACH milik kami merupakan spot berselancar yang belum diketahui umum. Sesi berselancar dengan instruktur lokal sudah Termasuk dalam tarif kamar. Papan buatan sendiri berkolaborasi dengan Pyzel Surfboards tersedia untuk disewa. Spot Selancar Medewi menarik peselancar dari segala level dengan ombak terpanjang di Bali.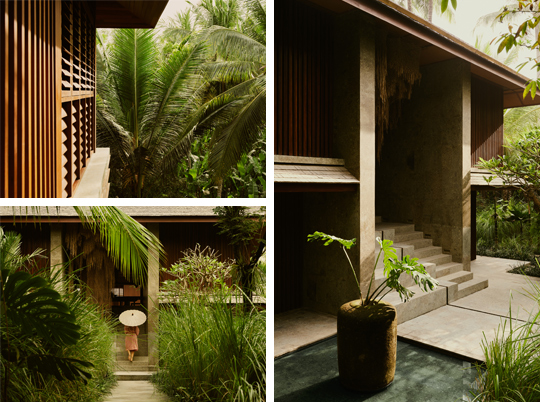 RESTORAN & BAR
Meja kayu masif sepanjang tujuh meter merupakan jantung LOST LINDENBERG. Di sini para tamu bertemu untuk berbincang dan menyantap hidangan yang berlimpah. Konsep kuliner merayakan alam dengan cita rasa musiman dan lokal. Sebuah pendekatan berbasis bahan pangan nabati terhadap masakan rumahan Bali dengan pengaruh Barat. Semua bahan berasal dari budi daya sendiri atau dari permakultur organik terdekat. Granola buatan sendiri, buah-buahan tropis dan roti bakar kelapa untuk sarapan, hidangan- hidangan nasi mewah dengan berbagai sambal pedas untuk makan malam. Di bar di tepi kolam renang disuguhkan minuman dingin klasik, kombucha lokal, atau koktail musiman.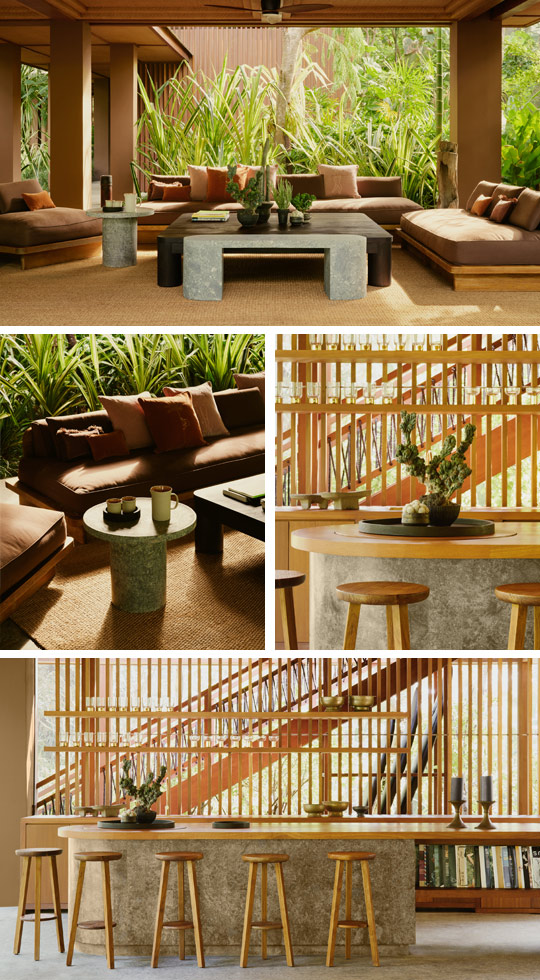 SPA
Di hutan LOST terdapat beberapa Spa Gladak kecil (pondok kayu historis). Dibangun dengan gaya pondok kayu tradisional yang dulunya digunakan untuk penyimpanan hasil panen, sekarang menjadi sumber relaksasi. Pijatan khas Bali menenangkan otot-otot yang tegang setelah berselancar. Perawatan tersebut terinspirasi dari ritual dan aromaterapi lokal serta menyelimuti spa dengan wewangian kamomil, lavender, serai, dan jeruk bergamot.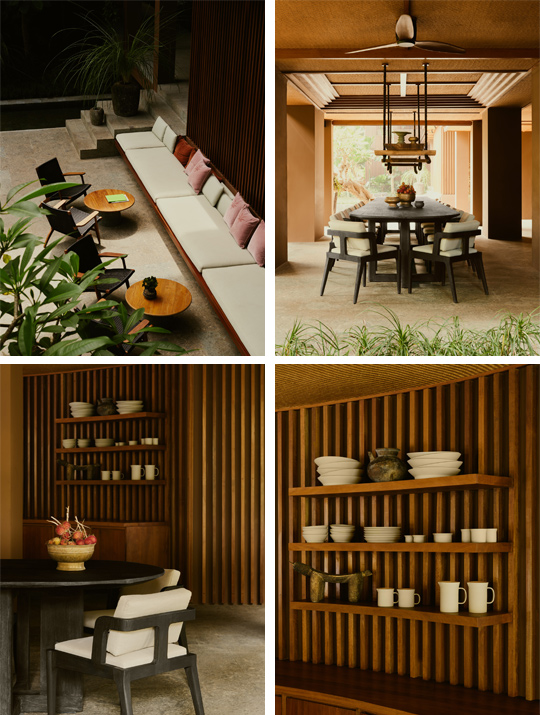 ARSITEKTUR
Untuk arsitekturnya, Alexis Dornier dan Studio Jencquel-lah yang bertanggung jawab. "Ide utamanya adalah menciptakan pengalaman luar biasa layaknya mimpi di tengah sebuah hutan mistis. Tinggi di atas tanah terdapat kamar di menara yang berdiri di antara puncak pepohonan, dengan pemandangan tak terhalang ke arah lautan. Menara-menara saling terhubung oleh "Highline", sebuah jalan yang ditinggikan yang menghadap ke laut. Kami ingin memberikan perasaan beristirahat di atas kapal yang mengapung, tinggi dan aman, dengan hutan liar di depan pintu Anda. Dikelompokkan berdekatan, menara membentuk sebuah desa di pepohonan, sebuah perkumpulan masyarakat kecil yang mengawang-awang. LOST didesain dengan sangat memperhatikan detail, dengan bagian- bagian tradisional yang dikontraskan secara berlebihan. Bahan bangunan utama adalah kayu hasil budi daya berkelanjutan dengan berbagai pola dan arah. Lantainya dilapisi Bali Green Stone", dengan kuningan sebagai bahan ketiga yang memberi aksen bagi keseluruhan komposisi. Dengan LOST, kami ingin bergerak di dunia mimpi – di antara Fiksi dan Realita."  – Alexis Dornier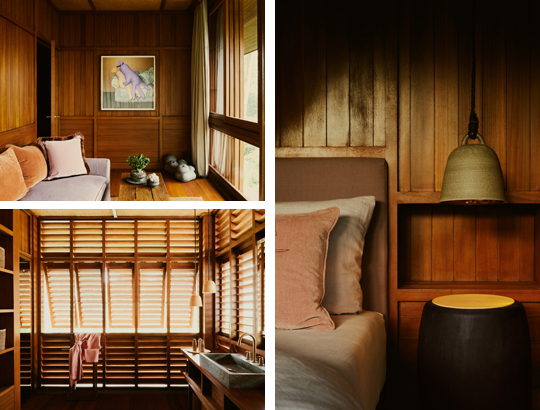 INTERIOR
Konsep interior beserta semua elemen pelengkap arsitektur dibuat oleh Studio Jencquel. "Interiornya hangat dan nyaman, seakan-akan ingin memeluk kita. Kain linen, batu lava, kayu keras tropis, jati yang dibakar, batu sungai – semua ini dapat ditemukan pada koordinat ini. Warna dan bahan berasal dari daerah sekitar. Tirai kayu pada kamar mandi mengaburkan batas antara luar ruangan dan dalam ruangan, membiarkan angin laut masuk sambil memberikan perlindungan dari matahari yang panas. Melalui jendela panorama kita dapat mengintip kapal-kapal yang melintas di cakrawala. Perabot, lampu, piring keramik, dan hampir semua aksesori pada proyek ini didesain sendiri oleh Studio Jencquel. Tema mendasar, yaitu melankolis manis dan kegelapan, kental terasa: Luka neon pada melankolis manisku." – Max Jencquel, Studio Jencquel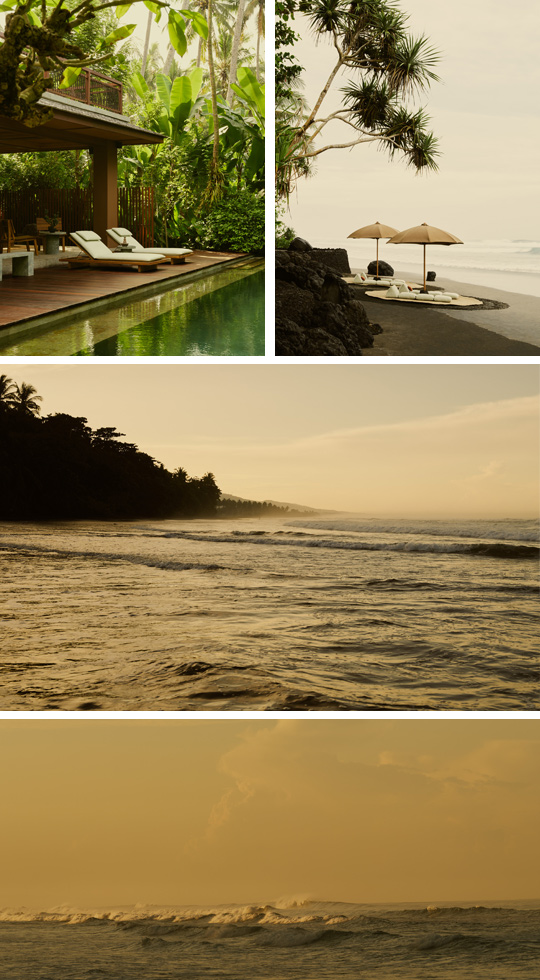 ARSITEKTUR LANSKAP
"Desain lanskap mewakili ekstensi jejak arsitektural (atau sebaliknya). Jalur Highline, yang menghubungkan menara-menara, sebenarnya merupakan lanjutan jalan yang berawal dari taman, menembus bangunan, dan berakhir di pantai pasir lava. Jalan ini berawal dari pintu masuk instalasi neon dan selanjutnya menuntun kita melalui sebuah hutan tropis. Tanaman di sini sangat beraneka ragam: Helikonia, pakis, pohon bodhi, pohon pisang, beringin, majapahit, pohon baobab, pohon pule, bromeliad, dll. Lebih masuk ke dalam hutan kita akan menjumpai momen-momen istimewa, seperti batu yang diselimuti lumut, yang disusun menjadi sumur, bangku untuk bermeditasi pada sebuah pura, Hortus Conclusus tempat para tamu mendengarkan dan membaca puisi karya Artur Becker, dan pohon pule besar di tengahnya. Di luar hutan ini, jalan berlanjut ke padang rumput, area luas di dekat resepsionis yang membentang di tengah properti, di sini Anda dapat menemukan semua spesies rumput yang dapat ditemukan di Bali. Lanskap berubah saat kita berpindah dari satu zona ke zona berikutnya, dan air hujan disalurkan ke palung batu sungai yang terlihat seperti kali (atau sungai di musim hujan). Di properti ini terdapat sebuah mata air suci dan di sebelahnya terdapat batu kali besar yang ditempatkan dengan hati-hati di tengah dua pura batu lava. Bugenvil dan tanaman solanaceae yang harum banyak ditanam di sekitar area makan dan lounge. Pohon-pohon menjulang ditanam di sebelah bangunan tinggi untuk melunakkan massa dan ukuran raksasa arsitektur dan membuatnya tampak lebih kecil dibanding pepohonan besar. Sebuah jalan tersembunyi mengarah ke pantai di tengah-tengah hutan tanaman pandan." – Max Jencquel, Studio Jencquel
SENI
Kurasi dan penggunaan karya-karya artistik mewakili bagian esensial dari semua konsep LINDENBERG. Seni di LOST LINDENBERG bermain dengan eklektik antara tradisi Indonesia, alam, dan gaya hidup perkotaan. Untuk tujuan itu, tim LINDENBERG mengumpulkan barang-barang antik Indonesia di tempat, seperti vas, keranjang, juga patung dari semua zaman. Karya-karya ini kontras dengan foto-foto kontemporer oleh, antara lain, seniman Indonesia Prabowo dan fotografer Inggris Annie Collinge. Di area pintu masuk, hutan tropis diseling oleh instalasi lampu neon dari seniman Frankfurt terkenal dan pemenang Golden Lion, Tobias Rehberger.
"Kumpulan pesan warna-warni yang membingungkan mewakili dunia bising yang mungkin ingin dihindari oleh sebagian besar pengunjung, yang tentu saja tidak menyangka akan menemukannya di sini di hutan di pantai barat Bali. Instalasi saya dimaksudkan sebagai transisi bertahap, semacam ritual perpisahan terakhir dari hiruk-pikuk yang secara harfiak dapat ditinggalkan ketika mereka menemukan pintu masuk tersembunyi dan memasuki pintu rahasia di dinding ke suaka relaksasi LOST LINDENBERG."  – Tobias Rehberger, seniman
KEBERLANJUTAN & TANGGUNG JAWAB SOSIAL
LOST LINDENBERG sebagian besar beroperasi dengan cara yang ramah lingkungan dan miskin limbah. Panel surya memasok energi ke properti, sayur dan buah-buahan hasil permakultur sendiri digunakan di restoran, semua produk, seperti sabun dan tisu toilet, diproduksi secara regional dan adil, sampah dikumpulkan saat "pembersihan pantai" mingguan dan restoran – seperti semua proyek LINDENBERG – sepenuhnya berbasis nabati, yaitu tanpa produk hewani. Untuk berkontribusi ke komunitas lokal, didirikanlah LOST BUNCH dari LINDENBERG. Ini merupakan program edukasi bersama para peselancar lokal untuk mendukung, mendorong, dan membuka sudut pandang baru bagi anak-anak dan pemuda-pemuda di Medewi. Banyak kaum muda ini sangat tertarik untuk berselancar, tetapi tidak memiliki akses ke lembaga pendidikan. Program ini menggabungkan kursus berselancar dengan mata pelajaran seperti bahasa Inggris, Keberlanjutan, dan Keramahtamahan, dengan harapan untuk membuka masa depan dengan lebih banyak peluang bagi mereka. Informasi lebih lanjut: @lostbunch
THE FACTS
Address: Jl. Ngurah Rai, Pekutatan, Kec. Pekutatan Kabupaten Jembrana, Bali, Indonesien
Opening date: 15TH of July 2022
Company: PT. LOST LINDENBERG INDONESIA
Brand: LINDENBERG
Management: Denise Omurca, Nils Jansen
Operational partner: May Hotels, Jan Seelen, Sensorial Management Group, Stijn van Leeuwen
Architectural team: Alexis Dornier & Studio Jencquel Interiors and landscaping: Studio Jencquel
Construction management: Bali Construction
Number of rooms: 8
Communal areas: Lobby with shop, restaurant, bar, pool and lounge, workout/yoga area, sundeck, beach deck, spa
Total size: 8.440 m2
Services offered: Surf trips and courses, excursions to surf spots and other destinations in the VW bus, spa therapy, yoga courses, regular beach events with campfire, weddings, Secret River hikes, diving trips, traditional ceremonies.
Products: Gaya Ceramics, David Pompa Lamps, Pyzel surfboards, Heveya Matratzen, Parley sunglasses, in-house surf wear collection, in-house soaps from Republic of Soap.