Menghadap Sungai Thames di London, restoran Yen mengajak pengunjung untuk larut menikmati hidangan soba istimewa nan otentik dalam naungan arsitektur dan interior menawan khas Negeri Matahari Terbit.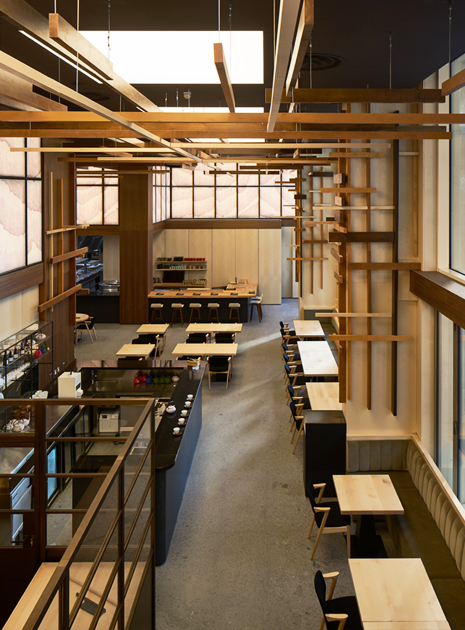 View of the dining room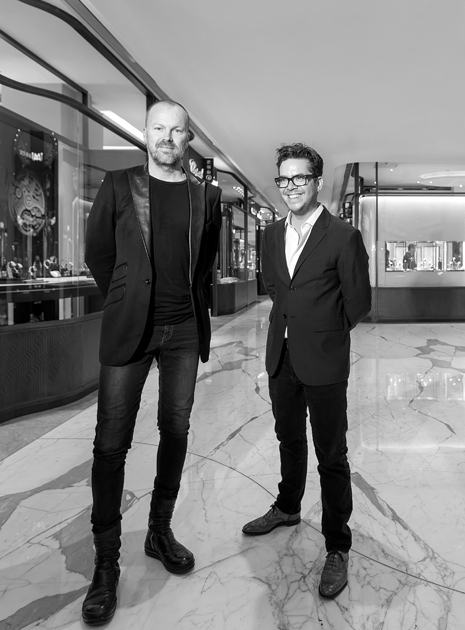 Simon Mitchell and Torquil McIntosh, Founders of Sybarite
Yen London mengikuti jejak kesuksesan sister restaurant yang berlokasi di St Germain de Près, Paris. Di sini, pengunjung dijamu oleh seni menghidangkan soba persembahan Maruno Hidenori dan Katsuki Sakurai yang jebolan ternama "Master of Soba", Mr Takahashi Kunihiro di Yamanashi, Japan.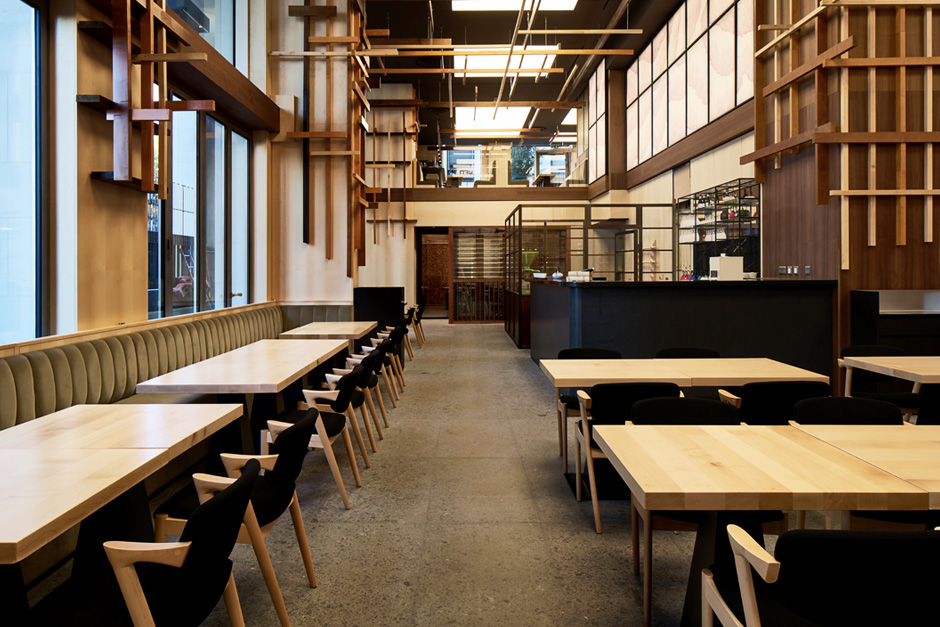 Selain indra pengecap, indra visual memperoleh suguhan tersendiri. Sybarite Architects (didirikan oleh arsitek Simon Mitchell and Torquil McIntosh) menerima tantangan dari Onward Holdings Co. Ltd., perusahaan fashion Jepang yang portofolionya meliputi Joseph dan Jil Sander, untuk bereksplorasi dengan material, nuansa desain, dan teknik konstruksi Jepang.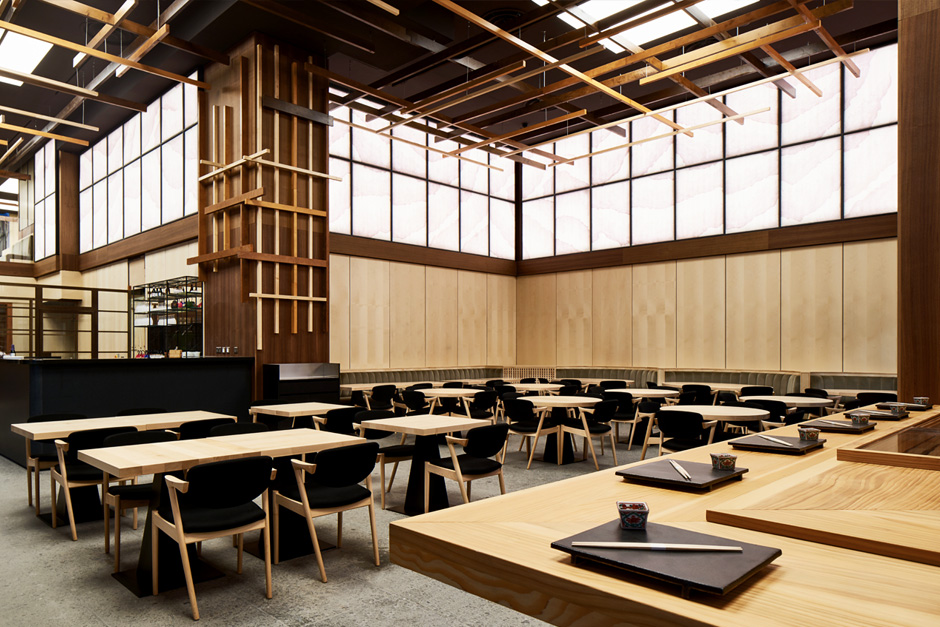 Restoran ini memiliki luas kurang lebih 450 m² dengan daya tampung sekitar 109 orang, termasuk kapasitas 18 orang di ruang makan privat, dan juga sebuah sushi counter.
Sushi Counter with yellow cedar timber
Langit-langit yang tinggi memperkuat kesan meruang dan juga pencahayaan. Struktur pepohonan yang terinspirasi dari hutan bambu menciptakan efek kanopi pohon. Penggunaan kayu maple diimplementasikan dalam berbagai ketebalan dan corak di sekitar pilar serta langit-langit.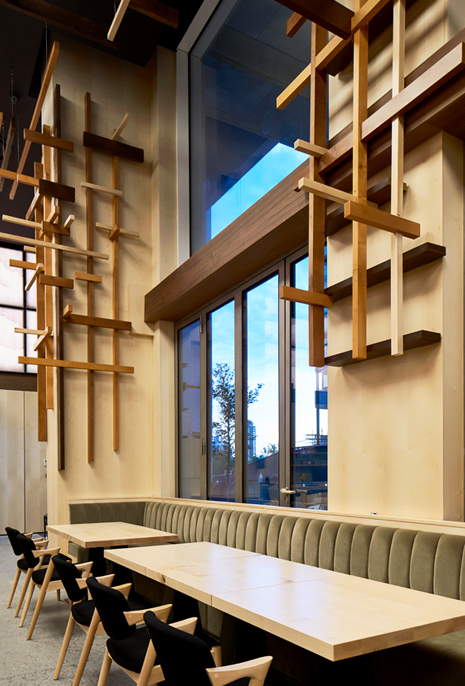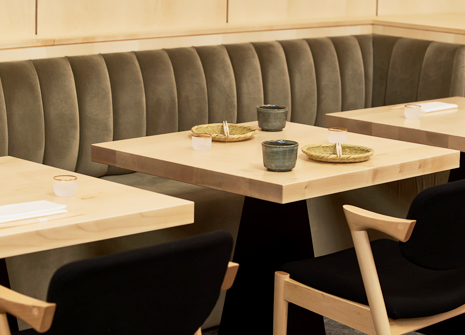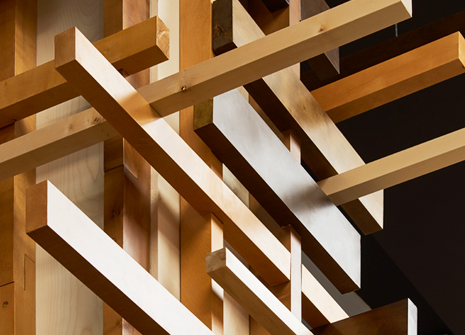 Sebuah elemen desain yang tampil menohok adalah tangga kayu melayang yang menghubungkan area masuk ke area makan utama di bawahnya. Digarap secara cerdas dengan konstruksi baja tersembunyi yang menciptakan struktur kokoh. Setiap bagian kayu dipahat dari sebuah balok maple dengan metode kerajinan tangan.
"We're thrilled to have the opportunity to deliver a design that respects and celebrates traditional Japanese craftsmanship whilst creating a contemporary and timeless backdrop to host the capital's next restaurant destination."
Simon Mitchell, co-founder, Sybarite
"We are excited to bring such a unique offering to London, in a particularly exciting new development.  We hope that the restaurant will become a hub of high-quality Japanese food with a great atmosphere and drinks list to match." 
Cristoforo Santini of Yen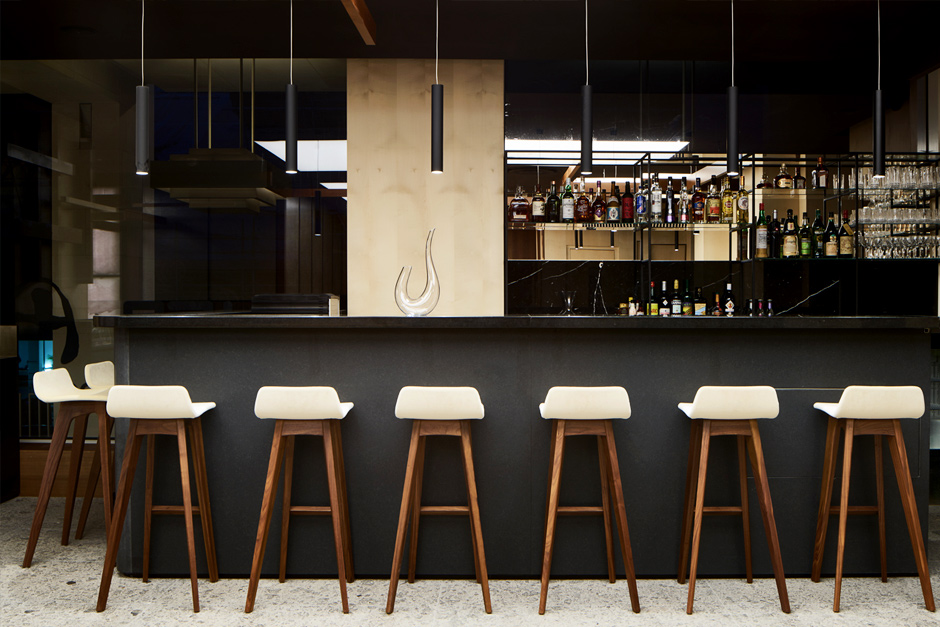 The Bar
Sushi counter terbuat dari kayu cedar kuning yang banyak digunakan di Jepang, mulai dari struktur rumah hingga shoji. Di level mezanin, layar jendela berperforasi dari maple diaplikasikan di area masuk untuk memberikan tingkat privasi yang lebih tinggi.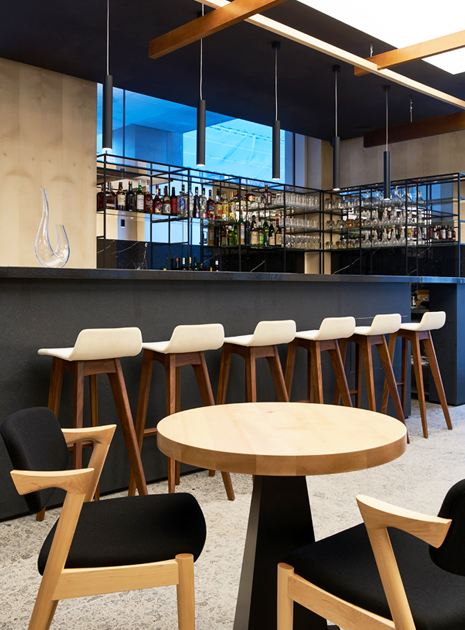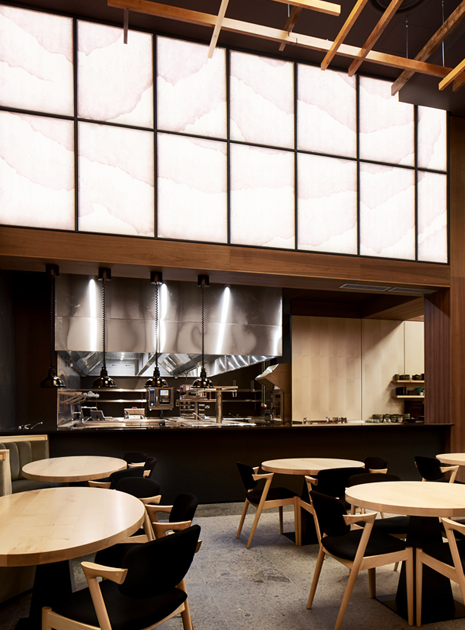 Sementara di ruang makan privat, pencahayaan atmosferik menyajikan keanggunan komposisi kertas pada langit-langit goutenjou. Lantainya didesain untuk mengadopsi tatami tradisional dengan menggunakan flooring dari anyaman vinil dari label Bolon.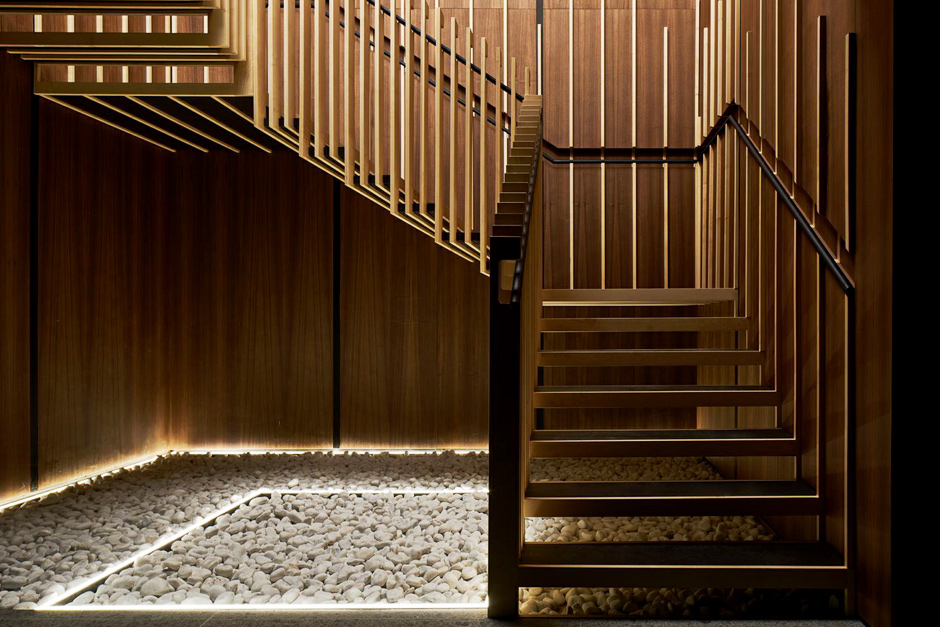 A Lightweight Floating Timber Staircase
Ruang privat dan mezanin menghadirkan wallpaper lukisan tangan dari Misha, yang dipilih berkat tekstur dedaunan yang kian menegaskan konsep hutan kayu.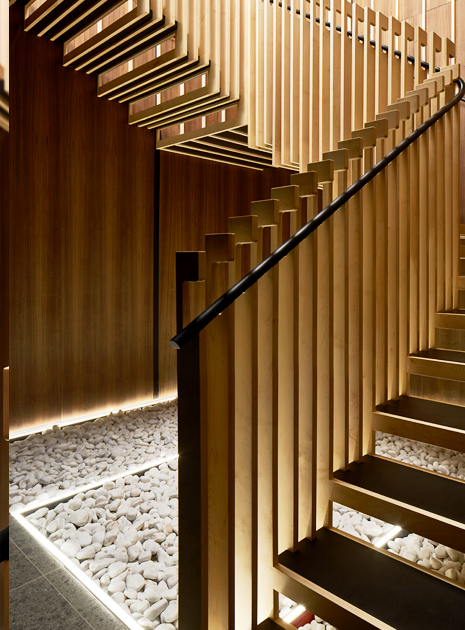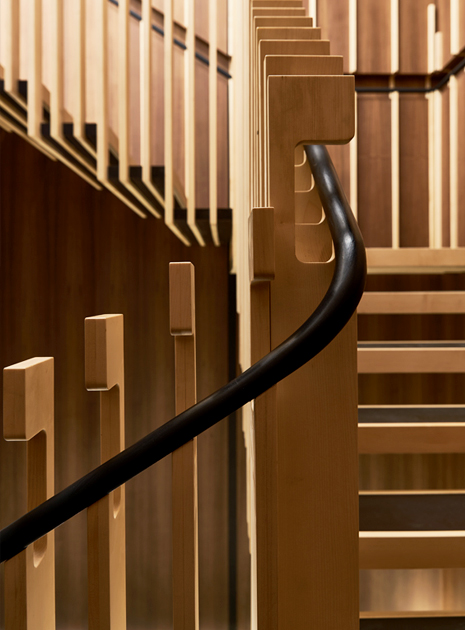 Each timber section was carved from a single block of maple timber using artisanal carpentry methods.
Additional Info :
About Sybarite
Sybarite is a London-based architecture and design practice that was founded in 2002 by architects Simon Mitchell and Torquil McIntosh who met at Future Systems. Their vision was to set up a studio that provided a full design service for retailers worldwide – to incorporate architecture, interior design, branding and retail strategy. Sybarite's work is bespoke, distilling the DNA of a brand to convey its character through design.
Now in its 16th year, Sybarite has worked with some of the world's leading luxury retail brands including Joseph, Marni and Alberta Ferretti, as well as retail operators such as SKP in China.  The practice designs timeless, innovative and future-proof designs that enrich the retail experience.
YEN
Address : 190 Strand, 5 Arundel Street, London, WC2E3DX
Web : www.yen-london.co.uk
Floor Area : 450 m2
Capacity   : 109 Seats including an 18-seat private dining room and a sushi counter.
Speciality : buckwheat soba noodles
Opening hours:
Breakfast:        8am-12pm
Lunch:             12-3pm
Dinner:             6-11.30pm
The bar is open all day