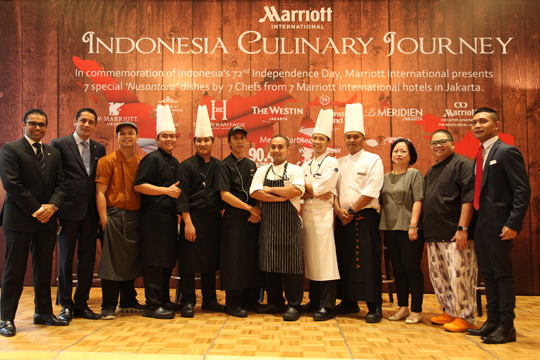 JW Marriott – Indonesia Culinary Journey 2017
Published by Sugar & Cream, Monday 07 August 2017
An Adventure of Taste : 10-20 August 2017
Demi lebih meningkatkan eksistensi kuliner Tanah Air di kancah internasional, Marriott International mempersembahkan Indonesia Culinary Journey 2017 demi memanjakan lidah Anda menikmati ragam masakan Nusantara juga sebagai peringatan Hari Kemerdekaan Republik Indonesia ke-72.


Nasi Goreng Kambing by Chef Nurrohman – Marriott Executive Apartments, The Mayflower Jakarta
Bertemakan keragaman kuliner Indonesia, tujuh hotel dari Marriott International di Indonesia, tujuh chef pemenang dengan menu andalannya terpilih melalui proses seleksi ketat kompetisi koki internal yang diadakan di setiap hotel.  Sebanyak 7 masakan Nusantara nan lezat siap menemani Anda selama promosi berlangsung mulai tanggal 10 – 20 Agustus 2017 di Sailendra Restaurant, Hotel JW Marriott Jakarta dengan harga Rp 338.000++ per orang.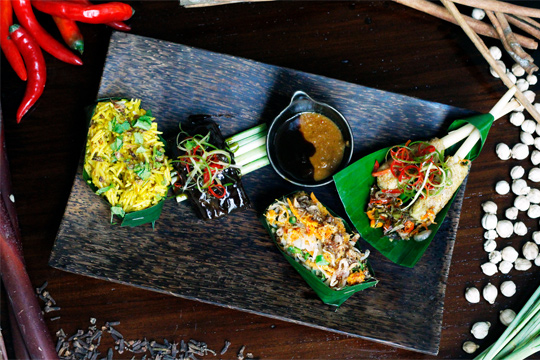 Taste of Indonesia by Chef Chef Eka Arti Setiadi – The Hermitage
Pada acara media gathering yang berlangsung tanggal 2 Augustus lalu di JW Marriott Jakarta, para journalis dipersilahkan mencicipi setiap hidangan andalan dari setiap pemenang. Setiap hidangan pemenang memang memilki keunikan rasa dengan penampilkan yang tidak kalah siap menggoda emosi kita untuk mencicipinya secara langsung. Acara ini juga turut dihadiri oleh Kritikus Kuliner Senior Odilia Winneke, Koki Selebriti Chef Ragil dan Adeza Hamzah, Cluster Director of Marketing Communication JW Marriot Hotel Jakarta, yang dengan sangat senang memberikan arahan lebih mendalam untuk para koki pemenang.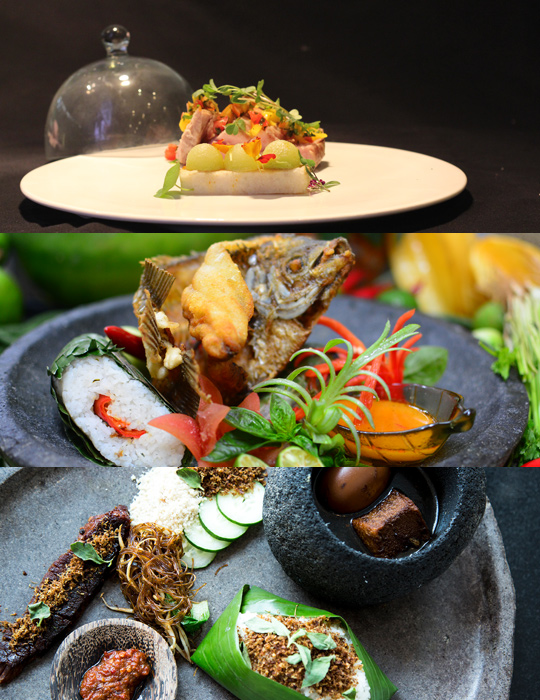 Tuna Saus Mangut – Keraton at The Plaza, Ikan Pecak Betawi – Sheraton Grand Jakarta Gandaria City Hotel, dan Nasi Ulam Komplit – Chef The Westin Jakarta
Menu andalan pemenang yang disajikan meliputi Nasi Goreng Kambing oleh Chef Nurrohman, Nasi Ulam Komplit dari Chef Kevin Saputra, Tuna Asap Saus Mangut dari Chef Candra Sudirgo, Kluwek Semur Daging Sapi dari Chef Syaifulloh, Taste of Indonesia dari Chef Eka Arti Setiadi dan Ikan Pecak Betawi dari Chef Sahrul Anwar.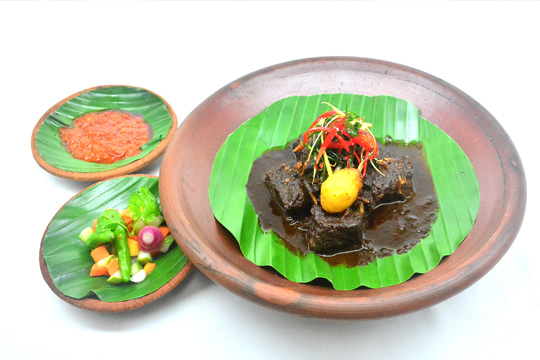 Kluwek Semur Daging Sapi by Chef Syaifullah – Le Meridien Jakarta
Sebagai bintang dalam kompetisi ini ialah Nasi Tutug Oncom Gepuk Sambal Kecombrang oleh Chef Ridwan Maulana yang dinobatkan oleh para juri sebagai pemenangnya. Semua hidangan dijamin memiliki rasa yang otentik dipresentasikan dengan sajian a la bintang lima.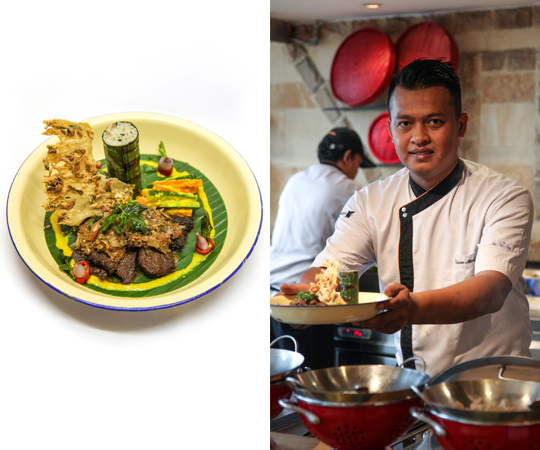 Nasi Tutug Oncom Gepuk Sambal Kecombrang by Chef Ridwan Maulana – JW Marriott Hotel Jakarta
"Memang sudah saatnya bagi kuliner Nusantara untuk menunjukan kelezatannya kepada dunia," – Chef Ridwan Maulana.
Info lebih lanjut atau reservasi hubungi Sailendra Restaurant di +6221 57988888