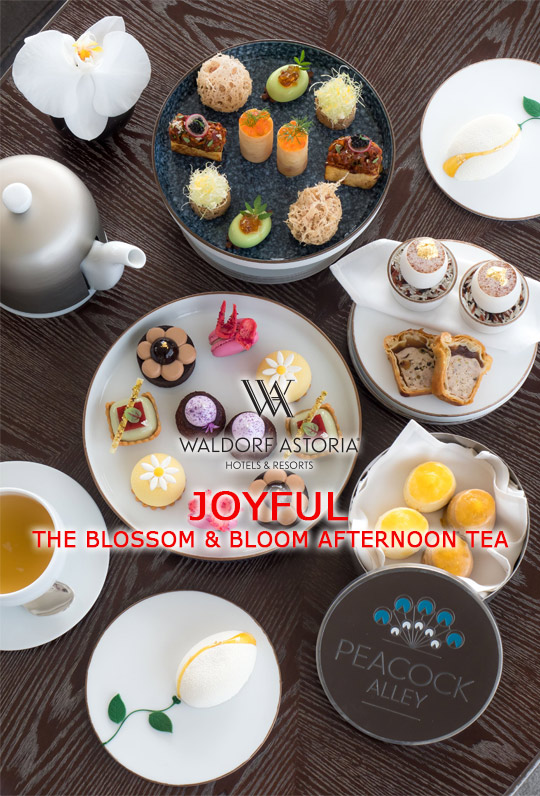 presented by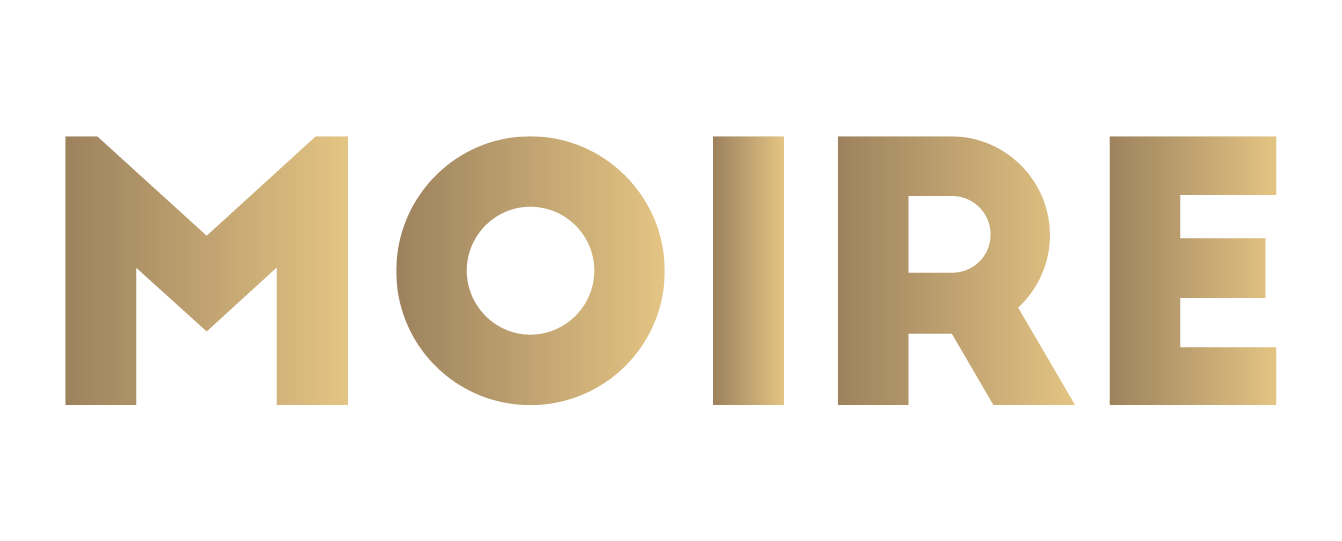 WALDORF ASTORIA BANGKOK – JOYFUL THE BLOSSOM & BLOOM AFTERNOON TEA AT PEACOCK ALLEY 
Published by Sugar & Cream, Tuesday 12 October 2021
Text by Dira Rohmatun, images courtesy of Waldorf Astoria Bangkok
Fine Savory and Sweet Pastries for Sharing with A Good Friend, by Chef Duo Toddi and Andrea
Jika Anda sedang berkunjung ke Bangkok jangan melewati sajian Afternoon Tea Set teranyar di Peacock Alley, Waldorf Astoria Bangkok. Diracik oleh executive sous-chef Chalit (Toddi) Kobaukaew dan executive pastry chef Andrea Noli, Waldorf Astoria Bangkok menghadirkan the Blossom & Bloom Afternoon Tea terbaru dengan kue-kue gurih dan manis yang lezat sambil menyeruput secangkir teh hangat.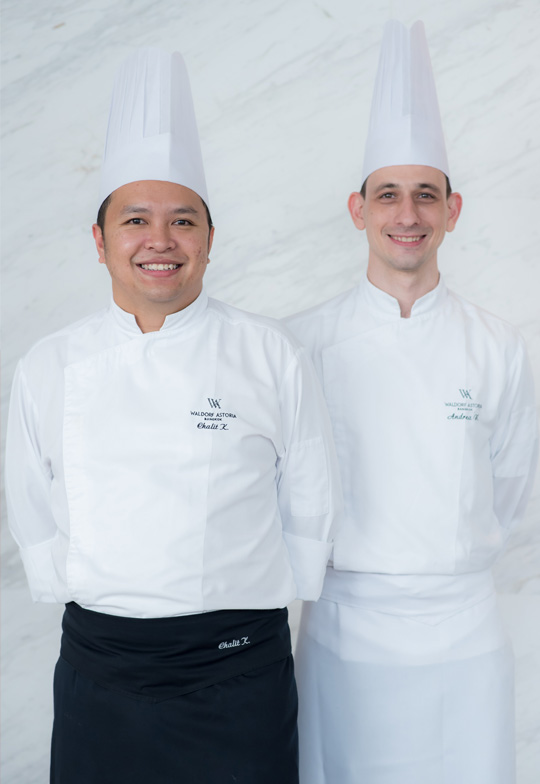 Executive sous-chef Chalit (Toddi) Kobaukaew dan Executive pastry chef Andrea Noli
Afternoon Tea Set ini menawarkan paket untuk dua orang yang disajikan setiap hari dalam seminggu selama pukul 13.00-17.00. Menyajikan beragam pilihan sandwich lezat yang memuaskan, kue-kue gurih dan manis, scone panggang dengan krim beku dan selai lokal, teh Mariage Frères, atau kopi yang akan memanjakan indera perasa.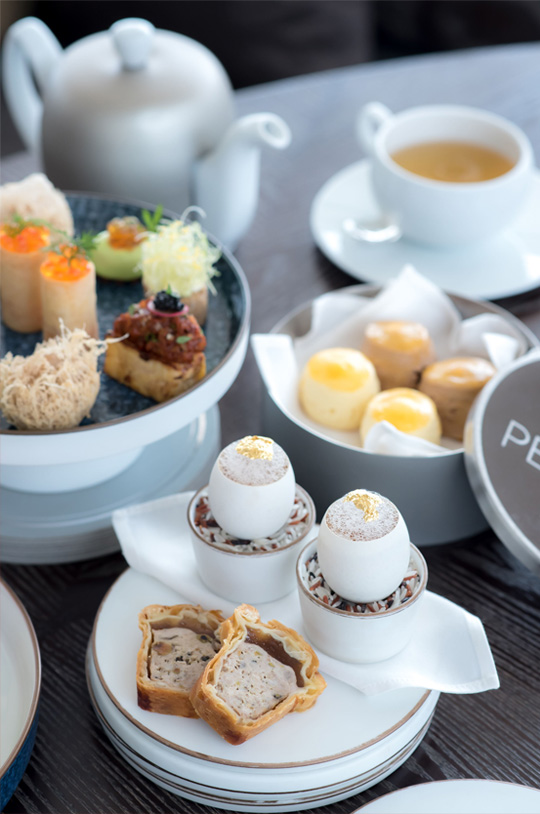 Berbicara tentang inspirasinya di balik the Blossom & Bloom Afternoon Tea, chef pastry eksekutif Italia Andrea Noli berkata: "Ketika rekan-rekan Italia saya di Eropa mulai menikmati kehidupan sehari-hari yang normal sekali lagi, saya mengatakan kepada tim saya di sini bahwa situasi kita juga akan mulai membaik dan bahwa suatu hari, kita juga akan bersantai, tersenyum dan menikmati kehidupan kita sehari-hari. Mengalami pandemi telah memperkuat dan memotivasi tim di sini, dan energi itu menjadi inspirasi saya untuk menciptakan the Blossom & Bloom Afternoon Tea. Ini untuk mengekspresikan keceriaan yang dapat dibagikan dan dinikmati dengan teman baik atau orang yang dicintai".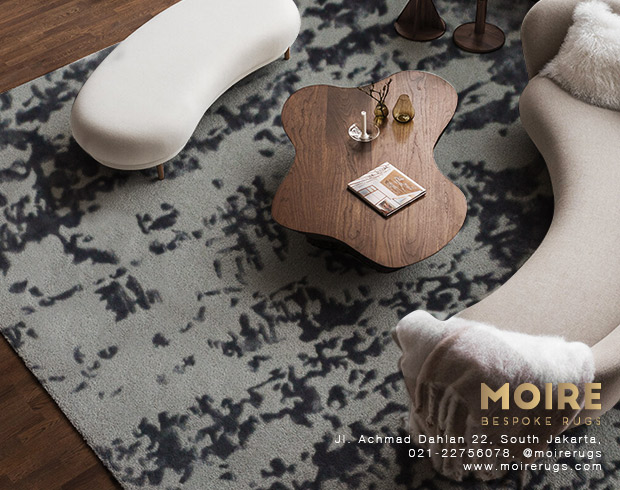 Presented by MOIRE Rugs
Sejumlah hidangan lezat ditampilkan oleh Chef Toddi dengan memadupadakan sentuhan kuliner Prancis dengan bahan-bahan lokal Thailand dan kreativitas yang menghasilkan menu-menu gurih seperti Smoked Wagyu Beef Tartar, Brioche, Horseradish, Caviar; Smoked Salmon, Cheese Gel, Salmon Roe, Ginger Pickled, Bagel; Foie Gras, Granny Smith Compote, Apple Cider, dan Pistachio. Hidangan yang menjadi highlight-nya ialah satu piring yang menampilkan resep keluarganya dari Mini Pâté En Croûte, dan Royal Project Egg Chawanmushi, Dashi Foam, Ginko Seed.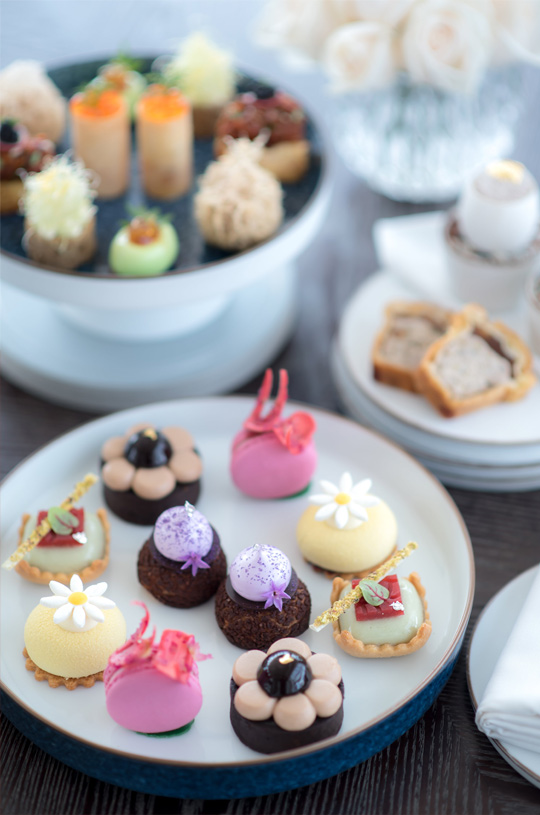 Sementara Chef Andrea bersama timnya membuat kue-kue manis dari paduan buah dan teh, yang menonjolkan keseimbangan sempurna antara rasa manis alami dan pahit yang akan memanjakan langit-langit mulut. Ia pun menamai setiap kue manis dengan bunga yang berbeda, seperti Lavender & Pear Choux, Chamomile & Blackberry Cake, Orange Blossom Chocolate Tartelette, Jasmine, Cherry and Lemon Flower Mousse.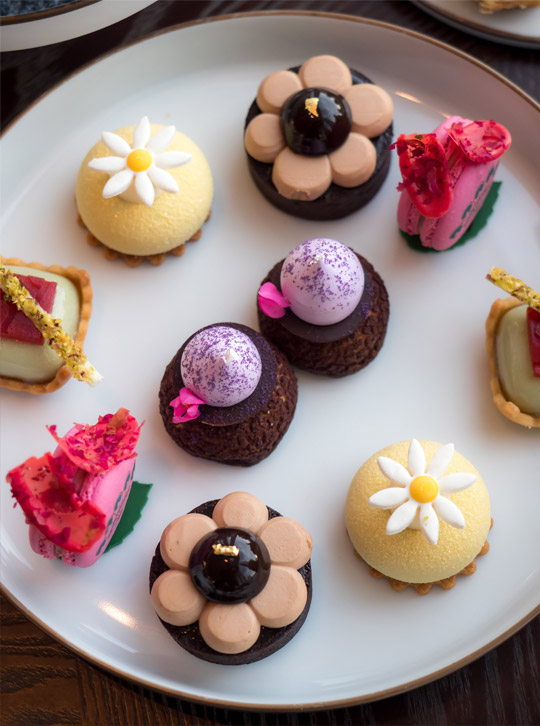 Terasa menggiurkan bukan? Anda dapat menikmati the Blossom & Bloom Afternoon Tea seharga THB 2.200++ (atau THB 2.590 net) untuk dua orang.
Untuk informasi dan pemesanan lebih lanjut, silakan hubungi +66 (0) 2 846 8888, email: bkkwa.fb@waldorfastoria.com atau LINE @WaldorfAstoriaBKK