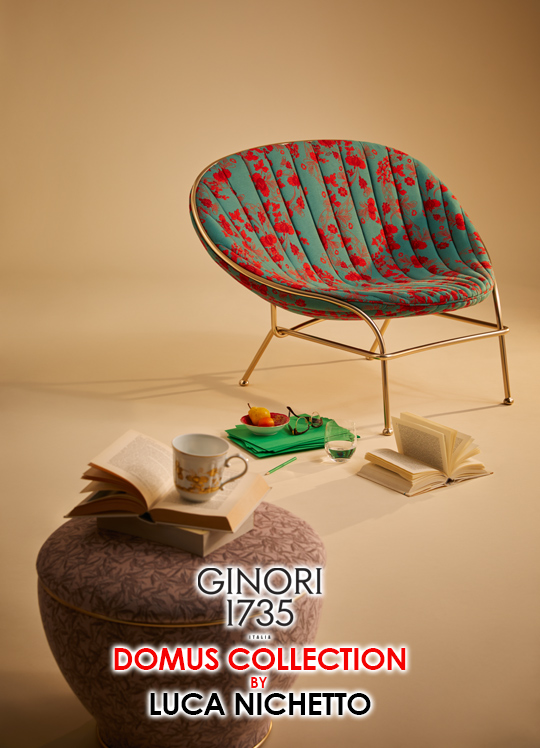 presented by

GINORI 1735 – DOMUS COLLECTION BY LUCA NICHETTO
Published by Sugar & Cream, Friday 16 June 2023
Images courtesy of Ginori 1735
Domus, The First Ginori 1735 Home Collection
From the refined elegance of porcelain and from daring experimentation, the first Ginori 1735 Home Collection has emerged: namely Domus, a collection of lamps, furnishings and fabrics to mark the Company's debut in interior design.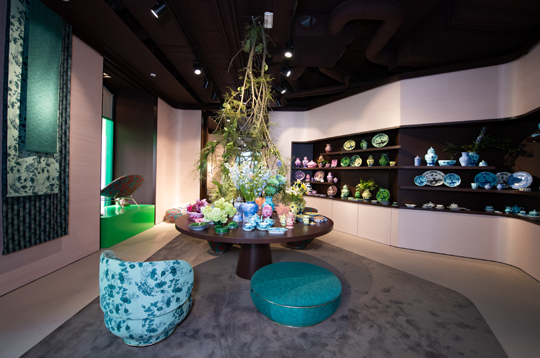 Working with expert craftsmen and prestigious partners Barovier&Toso and Rubelli, chosen for the skill and creative sensibility they share, Domus is embarking on an unparalleled new venture, because porcelain is not simply a material – it is also an attitude, an edginess, a desire, leading Ginori 1735 towards a heterogeneous lifestyle.
Designed by Luca Nichetto, Domus represents a perfect combination of contemporary design, traditional Italian craftmanship and the highest quality materials, resulting in an exclusive and prestigious furnishing experience. They are "statement pieces" that stand out for their visual impact and that, due to their originality, innovative design and unusual combination of materials, become protagonists of the environment in which they are placed.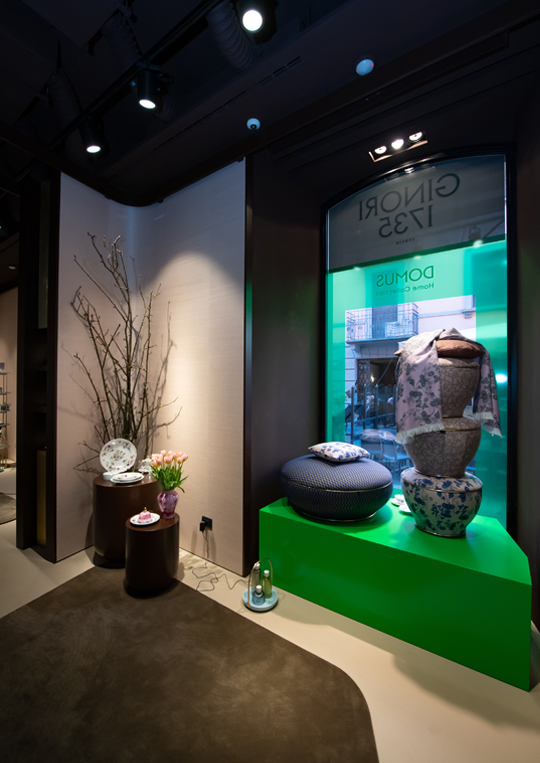 The new Domus home collection interprets Ginori 1735 culture, which combines study and creativity, craftsmanship and innovation, proving the brand's ability to be a hub of cultural development, and offering a new concept of luxury in everyday life – a concept characterised by experience, inclusivity, mixed meanings and diverse worlds. Every single item in the collection interprets the rituals of our time, and is perfectly styled to give pleasure either at home or in the hospitality sector. The collection is entirely made in Italy where artistic craftsmanship increases the product's value by its evidence of uniqueness and exclusivity.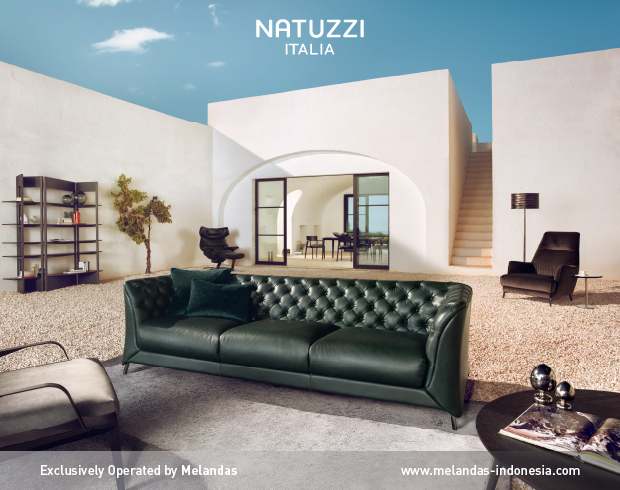 Presented by Melandas Indonesia
LaVenus lounge chair, the Dulcis armchair and pouf, the LaTour cabinet, the Optique coffee table are the interior designs proposed by Luca Nichetto, closely following the typical Ginori 1735 style, which has always been at the crossroads of different languages and approaches. The lighting elements of the Trinitas and Sideris table lamps and the Conterie floor lamp are produced in collaboration with Barovier&Toso, using extraordinary craft techniques. Jacquard fabrics (Oriente Italiano, Sagitta, Saia and Ondori), with their nod to famous decorations at the Manifattura are the result of an eclectic mix of art, fashion and design, created thanks to the collaboration with Rubelli.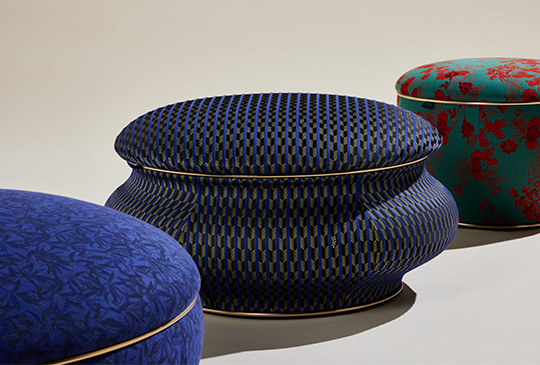 GINORI – DOMUS
Completing the Domus collection are lead-free crystals and cutlery, marrying fellowship with functionality at the table, and thus making the mise en place unique.
DOMUS: furnishings
LAVENUS
LaVenus lounge chair is inspired by the art of Botticelli, where beauty and immortality are seen in the Birth of Venus, with the god resting on a shell of magical enchantment. Today, LaVenus brings this same shell into our homes, moulded with skilful hands by top Italian upholsterers, who create unique pieces that are beyond compare. A steel wire, bent by hand and with a semi-matte gold sheen, endows the seat with ergonomic elegance. The symbol of a new Renaissance, LaVenus is the modern version of a timeless myth.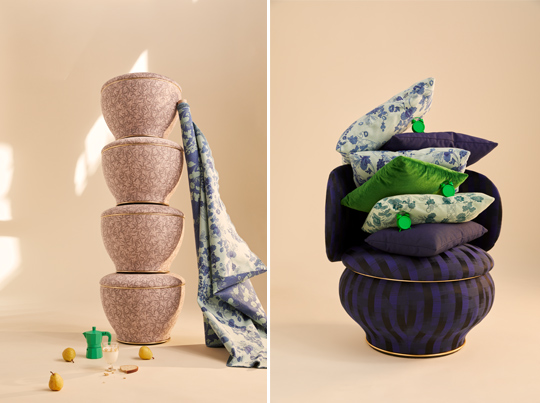 GINORI – Early Morning 
DULCIS
Dulcis poufs are made entirely by hand to promote harmony through textiles and comfortable, sinuous forms, and are available in three different dimensions. Dulcis draws its inspiration from the wedding favours present in the historic archives of Manifattura Ginori 1735. The Dulcis swivel chair is a natural development from the pouf. Joyful as well as functional, it adapts perfectly to dining, lounge and living areas, but without forfeiting the elegance of its soft and generous forms.
LATOUR
LaTour is an elegant freestanding shelf inspired by the figure of a waiter skilfully moving between obstacles without ever stumbling or tripping over. The structure is made of hand-forged cast steel using a skilled casting technique and with a semi-opaque gold galvanised finish, matching the porcelain shelves that are hand-painted in white, pink and blue: these are removable and can also be used as trays.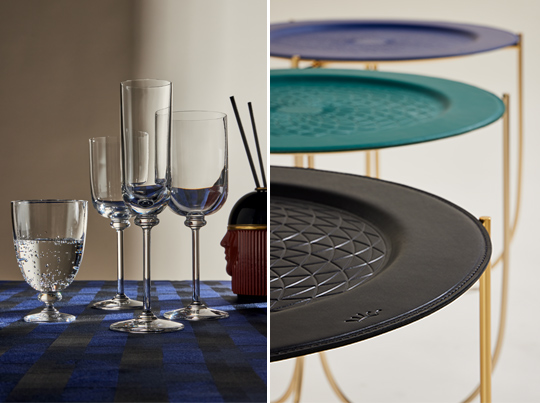 GINORI – DOMUS
Functional and aesthetic, they blend with one another to form a perfect object of design, either as an item of furniture or a set of display shelves which embody art, beauty, ingenuity and, with their fine craftsmanship, are beautiful to look at.
OPTIQUE
In the Optique design, the look is all-important; the gaze is the main player in every element. Tables, of different shapes and heights, create an illusion, almost as if they were magical and wondrous.
The motif, hot-pressed by hand in fine grain leather and inspired by the floor of the baptistry at San Giovanni in Florence, intoxicates and charms the gaze, creating an almost hypnotic effect, as if a spell has been cast.


GINORI – Work At Home | Friends At Home
The Optique structure, of bent steel, resembles an overturned arch in a church, but with a modern touch and semi-opaque gold colouring it is resplendent as the sun. The table top is removable, but not only that – it can also be used as a centrepiece or a tray, making Optique unique, practical and versatile, able to fascinate and surprise, always and everywhere.
DOMUS: the lamps created in collaboration with Barovier&Toso (read here)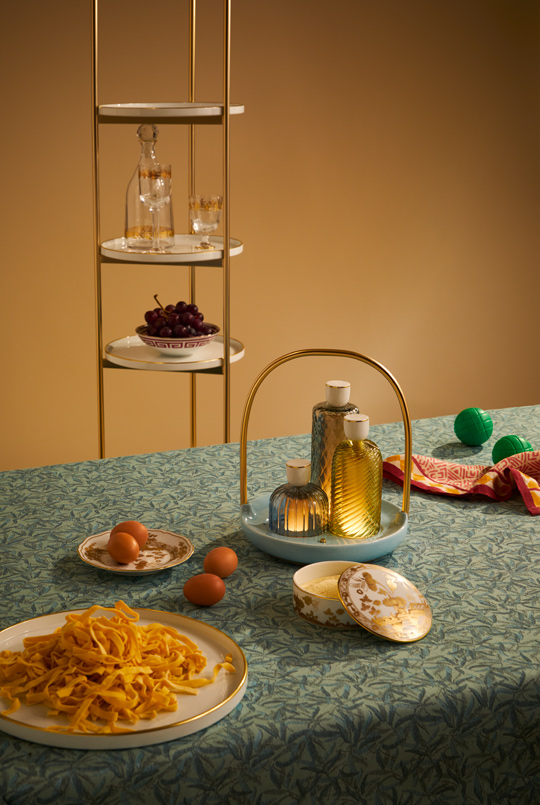 Holiday