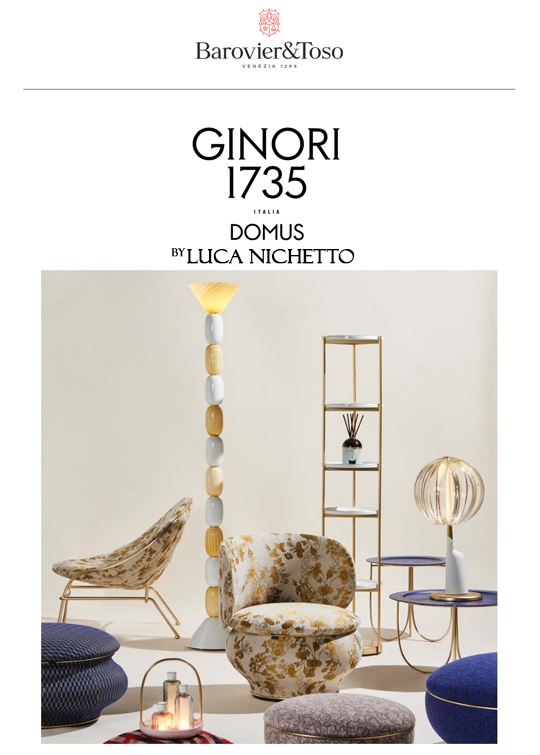 presented by

BAROVIER&TOSO X GINORI 1735 – DOMUS COLLECTION BY LUCA NICHETTO
Published by Sugar & Cream, Monday 24 April 2023
Images courtesy of Barovier&Toso, Ginori 1735
A Fusion Between Contemporary Design, Traditional Italian Craftsmanship And The Highest Quality Materials
The first Ginori 1735 home collection was born from the grace and purity of porcelain and the audacity to experiment: Domus, the collection of lamps, furnishings, fabrics, designed by designer Luca Nichetto, marks the debut of the Maison in interior design. Created in collaboration with expert craftsmen and important partners, Barovier&Toso and Rubelli, chosen for their mastery and common creative sensitivity, Domus traces a new and unmistakable path, because porcelain is not just a material, but an attitude, a tension, a desire that leads Ginori 1735 towards a transversal lifestyle. The Domus collection represents a perfect fusion between contemporary design, traditional Italian craftsmanship and the highest quality materials, which translate into an exclusive and prestigious furnishing experience. The new home collection decodes the Ginori 1735 culture made up of study and creativity, craftsmanship and innovation. Every single piece in the collection is an interpreter of the rituals of our time, perfectly suited to give pleasure to the home and to hospitality. A totally made in Italy collection where the artistic workmanship increases the value of the product, highlighting its uniqueness and exclusivity.
Trinitas
Trinitas is based on the Renaissance concept of three becoming one, the foundation of universal beauty. In Trinitas each component of the object blends together to create an aesthetic harmony. The Trinitas lamp is portable, rechargeable and adapts with simplicity and elegance to any environment, also making it ideal for completing a mise en place. Three mouth-blown Venetian crystal elements come together on a porcelain tray supported by a gold-plated semi-opaque metal arch. The ballotòn, rigadìn and rigamenà textures present on the crystals pay homage to the Murano tradition. Available in three colors with adjustable light intensity, Trinitas is entirely handmade, making each piece unique and unrepeatable.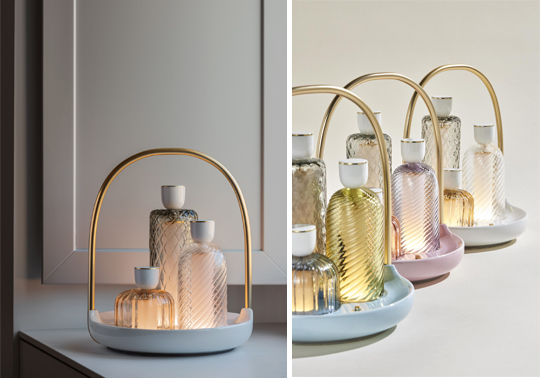 Trinitas

Presented by Interni Cipta Selaras
Sideris
Touch the sky with a finger: Galileo Galilei centuries ago dared to point the telescope upwards to measure the immensity of the sky, making revolutionary discoveries. The Sideris reading lamp is a tribute to Galileo's courage. The porcelain base, available in gold or platinum, supports a hand-blown Venetian crystal sphere preciously made with a double layer of gold or silver leaf. From the meeting of these unique elements a luminous revolution is born, a functional and decorative object that transforms a timeless gesture into a table lamp.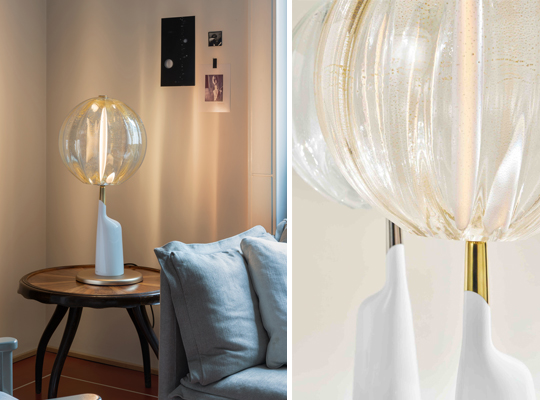 Sideris
Conterie
The Conterie floor lamp draws inspiration from the porcelain jewels of the Ginori 1735 Manifattura historical archive. Its structure is composed of precious hand- crafted porcelain beads and mouth-blown Venetian crystal with different textures, the result of three different craftsmanship, ballotòn, rigadìn and rigamenà. The light diffuses softly from the Murano glass cone, which takes up the symmetrical shape of the porcelain base. Like a necklace that illuminates the wearer's face, Conterie is able to illuminate the home with its delicate light.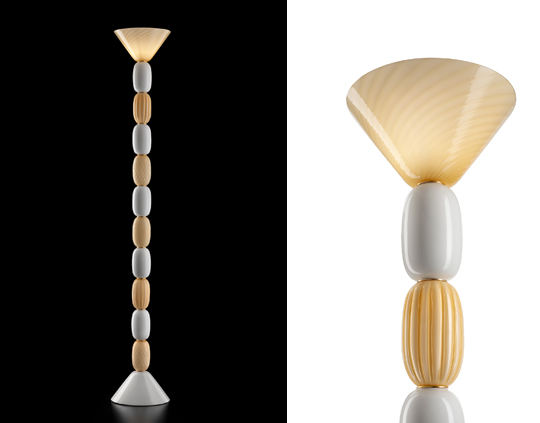 Conterie