S.Project – Salone del Mobile.Milano 2019
De Castelli has doubled its exhibition space at the Salone with an installation that presents its full range of furniture collections and surfaces last April at Salone del Mobile.Milano 2019. The remarkable size of the exhibition offered a broader view of its new experiments with metal, embodying the potential of design and presenting its ability to develop custom solutions in collaboration with architects, designers and other brands.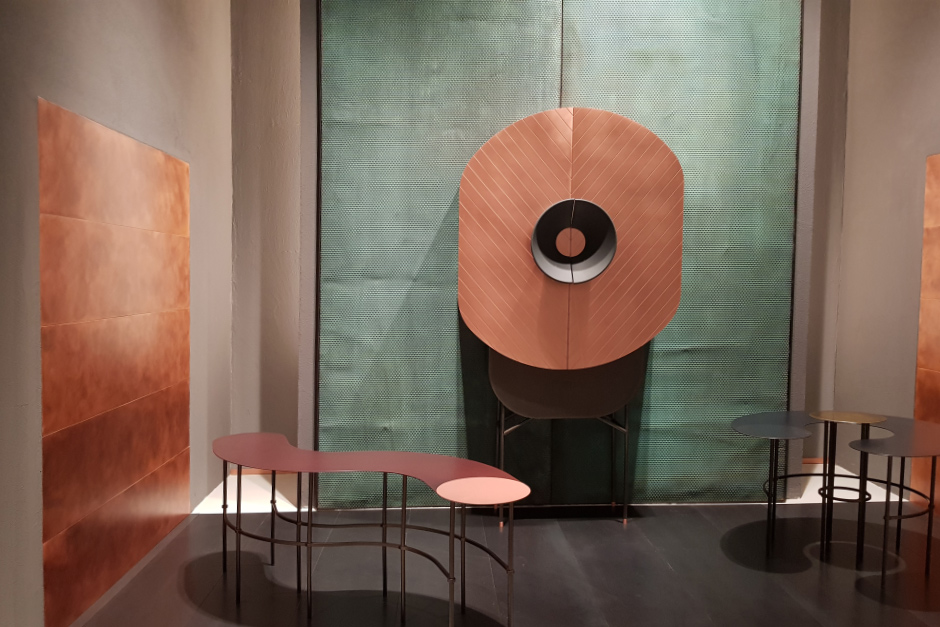 Amongst the collection, De Castelli launched 4 new items for 2019 :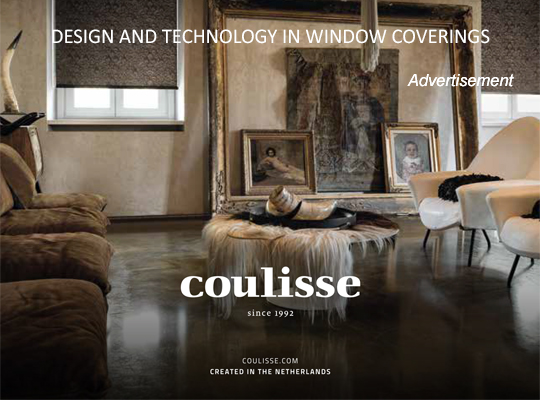 Presented by Coulisse
Modular Alchemy side tables, designed by Stormo
Alchemy is an ancient art whose main goal was to convert humble metals to precious ones, using an esoteric language to give materials a metaphysical quality. The Alchemy collection was inspired by this magic science, resulting in changeable compositions of tables that come together in immediate formal chemistry. Chromatic variations emphasise the expressivity of the materials and the concave shape of the bases refracts the luminosity of stainless steel, contrasting with the textural geometries of the copper, brass and DeLabré iron tops.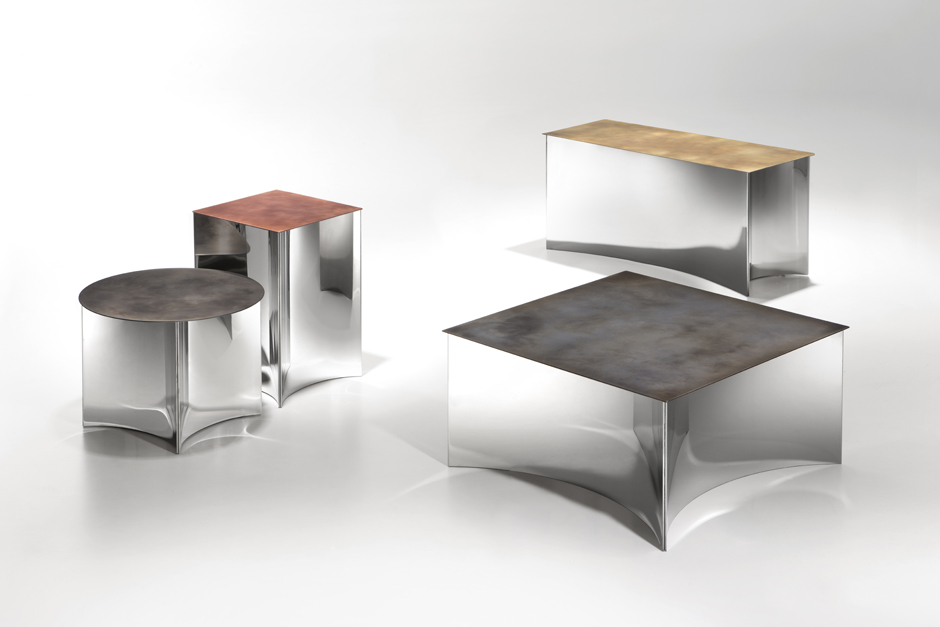 Finishes: Base Polished Steel | Top DeLabré Copper, Brass and Iron
The slender modular Babele bookcase, designed by Martinelli Venezia Studio
Aspirations of higher knowledge find three-dimensional representation in the striking verticality of this tower bookcase, stripped of all non-essential elements. The svelte modular structure, available in two diameters and in free-standing or wall-mounted versions, was inspired by Athanasius Kircher's legendary depiction of the Tower of Babel, also conceptually linked to the giant library of the same name described in the story by J.L. Borges.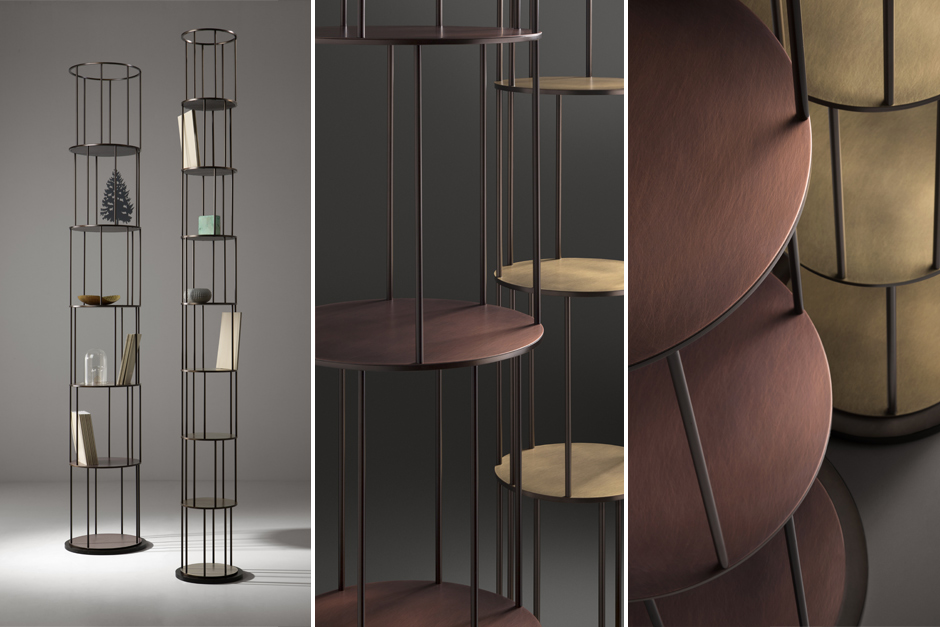 Finishes: structure in DeLabré B Iron, Orbitale DeLabré Brass | shelves in Orbitale DeLabré Copper, Orbitale DeLabré Brass, DeSalt Brass, Brushed Copper, Brushed Brass, DeLabré B Iron
The Pandora chest of drawers, designed by Martinelli Venezia Studio
This drawer unit alludes to the archetypal shape of a vase. Like a modern treasure chest, Pandora was crafted to store – and thus "hide" – all kinds of objects. In its different versions, from one to six drawers, this piece is versatile enough to be transformed, as you like, into a storage table, bedside table or full chest of drawers, used in varied spaces, from the bathroom to the bedroom or living room. A mysterious, impressive object, Pandora surprises when the drawers, invisible when closed, are revealed.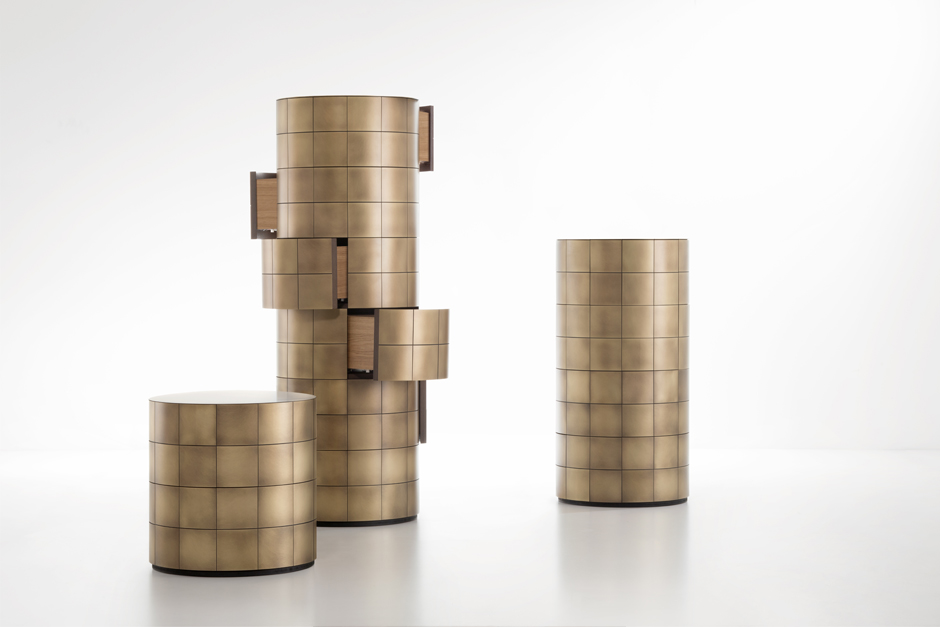 Finishes: Orbitale DeLabré Brass, Orbitale DeLabré Iron, Orbitale DeLabré Copper, Brushed Copper, Brushed Brass, DeLabré B Iron, Polished Stainless Steel, DeLabré Brass, DeLabré Copper
TAKO designed by R&D De Castelli, 2019
Clean volumes for a console with quite simple lines, emphasising the nobility of the metals that clad the large faces of the drawers. Available both in a hanging and free-standing version, Tako evokes the delicate decoration anointed by the DeErosion finish, for a vaguely-Japanese inspired pattern that filters light, modulating its reflections.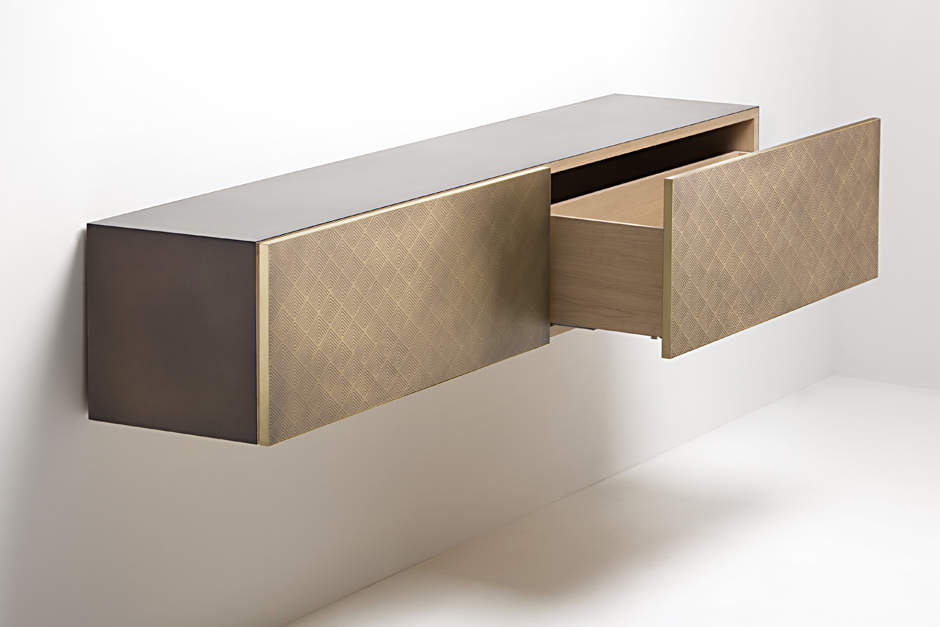 Finishes: structure - DeLabré B Iron | top - DeErosion on Brass, Copper, Iron