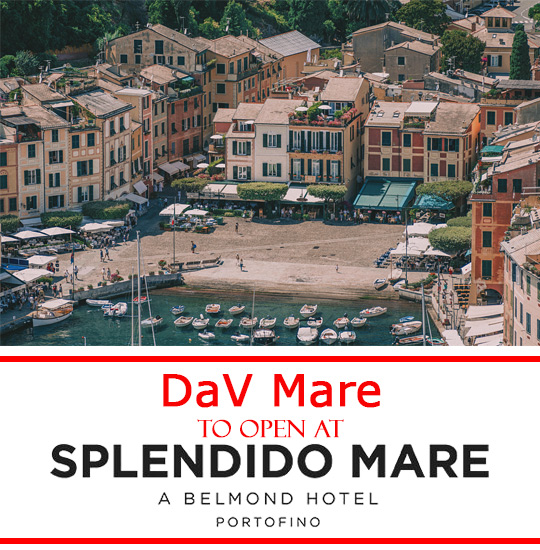 presented by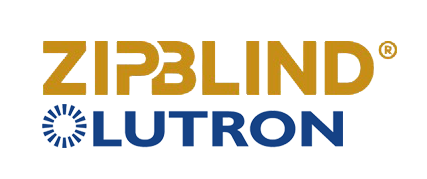 DaV Mare to Open at Splendido Mare, Belmond Hotel, Portofino
Published by Sugar & Cream, Friday 26 March 2021
Text by Dinda Bestari,  Image courtesy of Belmond
DaV Mare Slated to Open on 16th April 2021
Explore and travel for the best retreats in Italy, especially in Portofino one of the must-visit destinations in the world! Alasan mengapa Portofino menjadi salah satu destinasi favorit ketika berlibur ke Italia, karena Belmond Hotel di Portofino mengumumkan pembukaan restoran baru, DaV Mare di Splendido Mare. Kemitraan Belmond dengan Da Vittorio Group memperkaya keunggulan gastronomi di pesisir timur Liguria, menggabungkan hospitality Belmond yang legendaris dengan keterampilan kuliner luar biasa dari keluarga Cerea.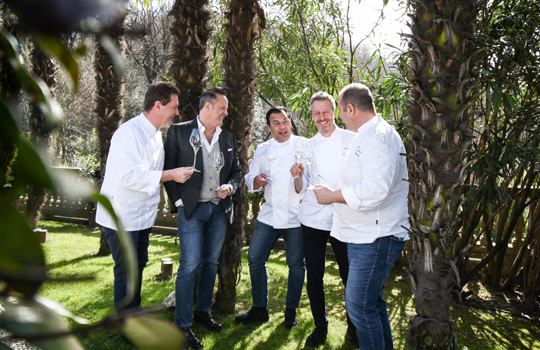 Chicco Cerea, Francesco Cerea, Roberto Villa, Paolo Rota, Bobo Cerea
'The Mare' dibuka kembali pada 16 April 2021 setelah renovasi total, dengan restoran DaV Mare yang mengusung konsep teras terbuka, dan diatur untuk menjadi jantung dari Piazzetta di Portofino. "Kami sangat senang bisa bermitra dengan Da Vittorio Group untuk pembukaan DaV Mare.  Dengan pasangan yang tepat dalam menafsirkan suasana relaks namun sophisticated di dalam Splendido Mare serta menawarkan pengalaman bersantap santai, didukung dengan visi dari keluarga Cerea  – terutama karena reputasi mereka yang tak tertandingi –  semuanya begitu sempurna. Bersama-sama kami ingin menjadikan DaV Mare tempat yang paling diinginkan untuk bertemu dan berkumpul, bersama teman dan keluarga dengan berbagi hidangan luar biasa yang diracik oleh tim berbakat'', jelas Robert Koren, SVP EMEA, Belmond.

TASTE OF THE MARE
DaV Mare merupakan restoran dengan bahan-bahan musiman dari sumber lokal terbaik, seperti ikan dan makanan laut lainnya. Semuanya fresh karena berasal dari Teluk Portofino, yang menjadi bahan utama dalam menu, sehingga  bercita rasa tradisional daerah seperti 'cappon'. Kemudian disajikan dengan interpretasi ulang  secara kreatif. Hidangan internasional yang terkenal dari Restoran Da Vittorio seperti 'Paccheri all Vittorio', hidangan pasta yang dibuat dengan saus tomat yang lezat. Atau kreasi terbaru mereka termasuk Risotto dengan Pesto, dan Santa Margherita Ligure Shrimp.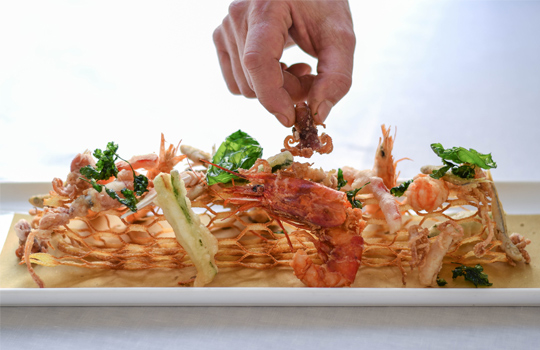 Great mixed fry with fruits and vegetables

Restoran ini akan buka untuk sarapan, makan siang, dan makan malam serta kopi pagi. Serta suguhan malam 'Aperitivos', ketika matahari terbenam di atas pelabuhan ikonis. Yang menarik perhatian adalah pelayanan kamar 24 jam, untuk 14 kamar dan suite di Splendido Mare, dengan memberikan pilihan untuk bersantap santai di teras pribadi yang ditemani pemandangan memukau.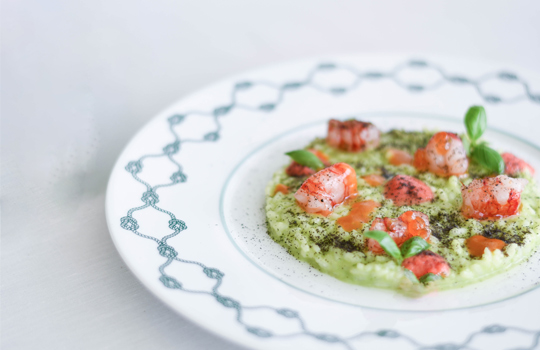 Creamed risotto with pesto, prawns and tomato emulsion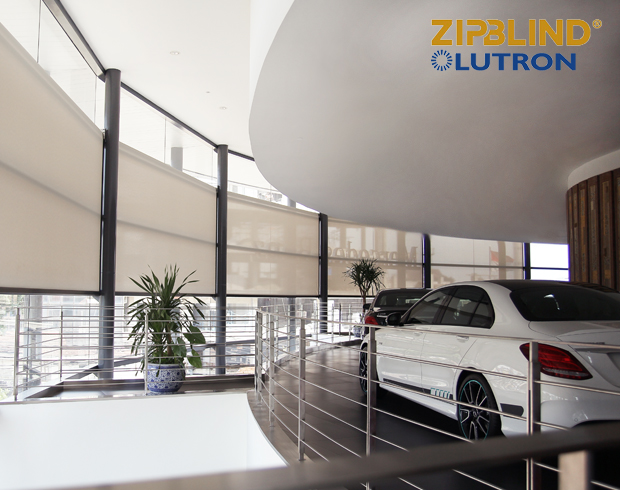 Presented by Zipblind
CHEF'S AT THE HELM
Executive Chefs, Enrico, Roberto Cerea, dan Paolo Rota, menggabungkan keahlian kuliner dan kreativitas mereka dengan Roberto Villa, Executive Chef di Splendido Mare dengan pengalaman dan pengetahuannya di dunia kuliner selama puluhan tahun.  Bersama-sama mereka menggunakan  bahan-bahan terbaik, menggunakan teknik memasak sederhana demi meningkatkan rasa, dan dengan penekanan slow food principles – kebiasaan makan masyarakat Italia.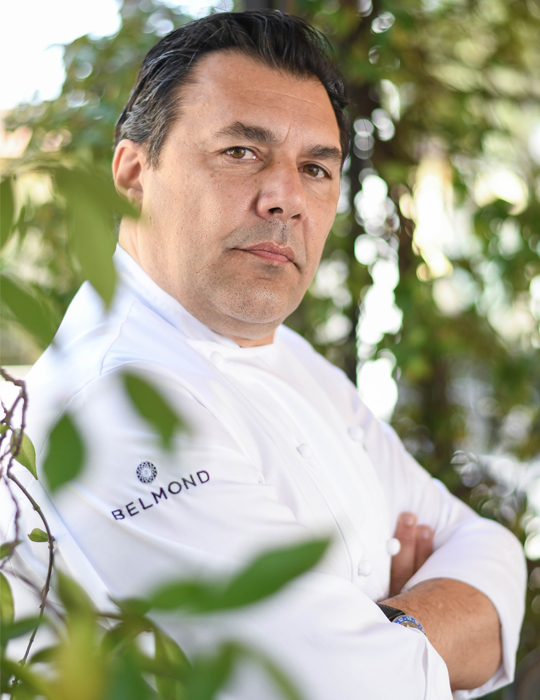 Executive Chef Roberto Villa
LET'S MEET AT THE MARE
Yang membuat Dav Mare begitu 'berharga' ialah interiornya didesain oleh Festen Architecture. Festen merancang 14 guest house  menawan di Splendido Mare, yang mencerminkan relaxed sophistication dari keseluruhan tema bangunan. Inspirasinya adalah berawal dari pelabuhan nelayan sederhana dipadukan dengan pesona ikonis tahun 1950 – an, semua ini dirancang untuk membuat para tamu merasa nyaman namun tetap merasakan suasana historis dari hotel. Memanfaatkan lokasi utama di pusat Piazzetta, area indoor dan outoor restoran DaV Mare,  menawarkan layanan sempurna dengan tempat yang 'mengundang' untuk meluangkan waktu ditemani masakan lezat sambil dikelilingi oleh keindahan alam Portofino, dan tentunya dipengaruhi oleh semangat La Dolce Vita.