This article previously published 21 may 2016
In the hands of Alexander Lamont, all kinds of furniture, lamps, and accessories demonstrate a strong organic and sculptural feel. By making the most of luxurious materials such as shagreen, straw marquetry, lacquer, bronze, gesso, and parchment, Lamont further emphasizes the significance that lies in each of his creations.
Shale Vessels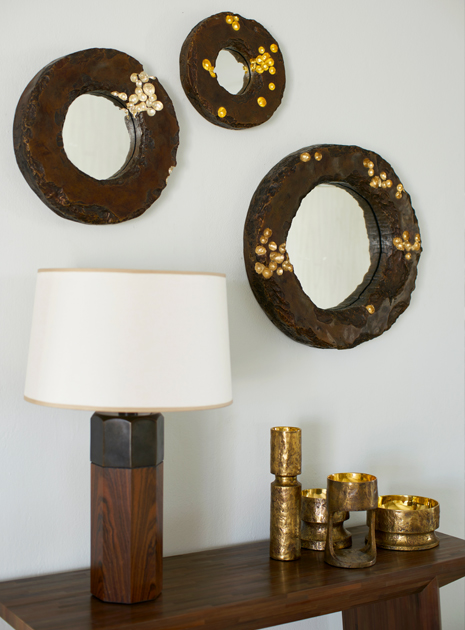 Showroom Interior at the Workshop
Inspiration for the British designer comes from many sources: from an object of the past, architecture, sculpture and jewellery. "I do not sit down to design products. Ideas emerge from the meeting of my experiences and the materials themselves," said Lamont.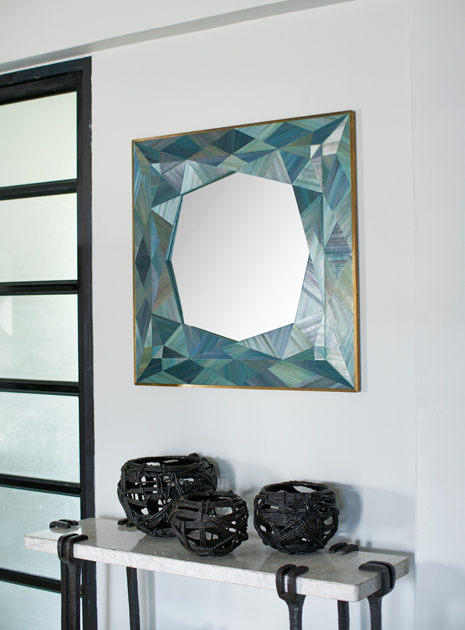 Gemstone Mirror Aqua Straw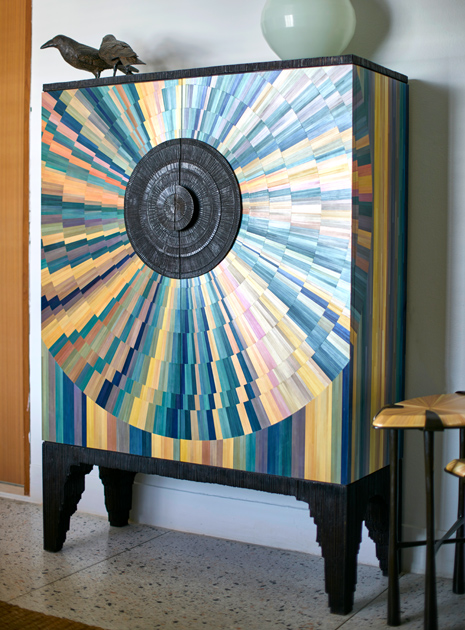 Agata Cabinet
His current creations delve deep within the roots of travel and sensory experience; such as scent and touch. Using materials that were handled by skillful hands, makes these products have their own story in the making and exude a particular energy.
Inspired by the vitality, depth, and substance of shagreen, lacquer, parchment, and straw marquetry, Lamont brought in a number of experts from Europe to Thailand in order to train a team of artisans in the matter of craft techniques. The result is various creations blending European decorative arts and the Asian craft traditions. Through a process of refinement and innovation, it is obvious that a deep respect is shown towards the materials and methods of craftsmanship, all the while being complementary to the design aesthetic.
Since setting foot in Thailand in 1999 and starting to create using wax bronze, raku ceramic glaze, and silver in Chiang Mai, up until opening a flagship store in Central Embassy, Bangkok, in 2014 and expanding to Japan, China, and Miami, Alexander Lamont's journey is marked by a number of milestones – one of which is the prestigious UNESCO Award of Excellence for Bronze Hammered Bowls.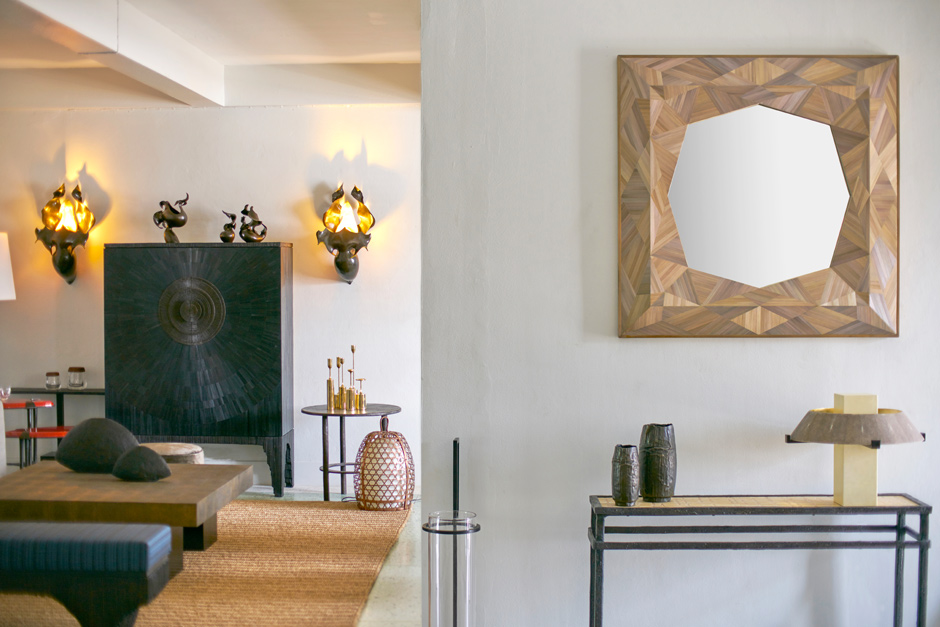 Showroom Interior at the Workshop
Vault Bench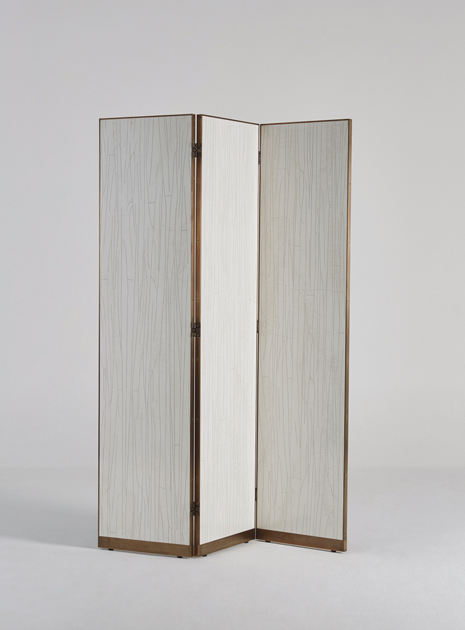 Cannes Screen Antique Ivory Gesso
The Workshop
The Alexander Lamonthttp://www.alexanderlamont.com/ workshop based in Bangkok accomodates a craftsmanship studio that processes shagreen, parchment, lacquer, eggshell, gesso, straw marquetry, gold leaf, and bronze finishing. Aside from that, this workshop is also working on other beautiful materials in Bangkok such as glass, ceramics, and "yan li pao" or wicker baskets, by preserving as well as innovating the methods and traditional techniques through design and experimentation.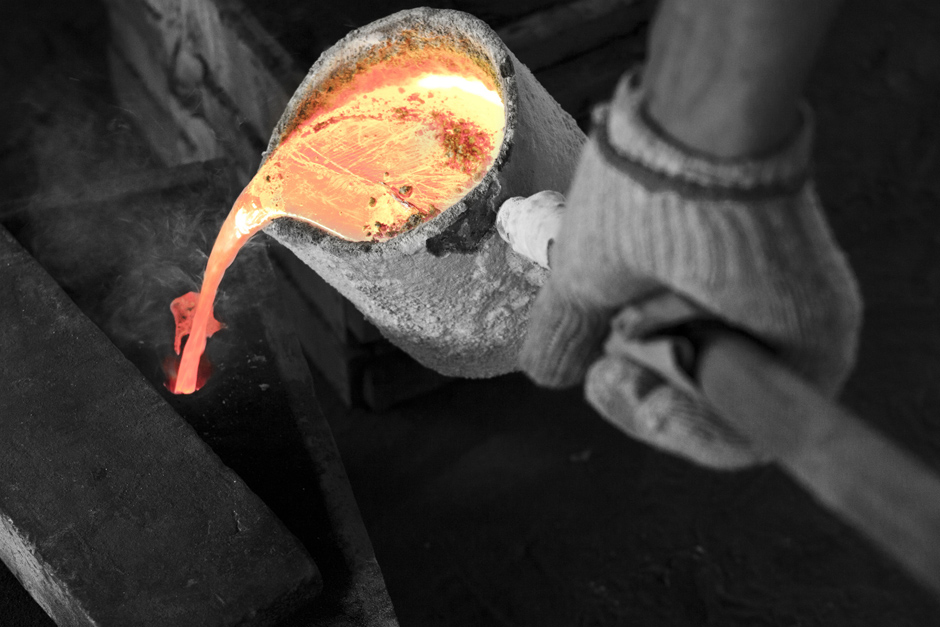 bronze
The Collections
Couture
This is a limited collection consisting of furniture, lamps, and artwork. Every product is an expression of Lamont's dedication towards complicated craftsmanship, rare material, and imminent aesthetic taste. One of them is reflected through the artworks for walls and floors that are inspired by natural phenomenon. Whale bones are mixed with bronze in order to maintain the beauty of its original shape. A group of koi fish is displayed in the form of sculpture with remarkable detail. Tropical plants are also mixed with bronze, presenting an attractive play of lights through the textured surface.
Editions
Every object of the Editions collection exudes undisputed power in its personality aesthetic, such as the vessel carvings and inlaid candlestick of pure gold and boxes wrapped in red lacquered shagreen. This collection also offers trays, lanterns, and lamps that spread uniqueness overall.
Gold Leaf
Scholar's Gift
In 2012, Alexander Lamont introduced his first gift collection, Scholar's Gift, that was inspired by the possessions of academics during the Ming Dynasty in China. For this particular collection, Lamont collaborated with Japanese designer, Ryosuke Harshima. Every object is produced from valuable materials such as silver, crystal rocks, Pekinese glass, and gold leaf.
Le Mur
Alexander Lamont puts forward the advantages of craftsmanship on vertical surfaces. To enrich the ranks of furniture collection, lamps, and accessories, Lamont launched a series of wall coverings; Le Mur, in two types of material that became his trademark: straw marquetry and shagreen. Both of these two iconic materials present a play of colour, texture, and lights.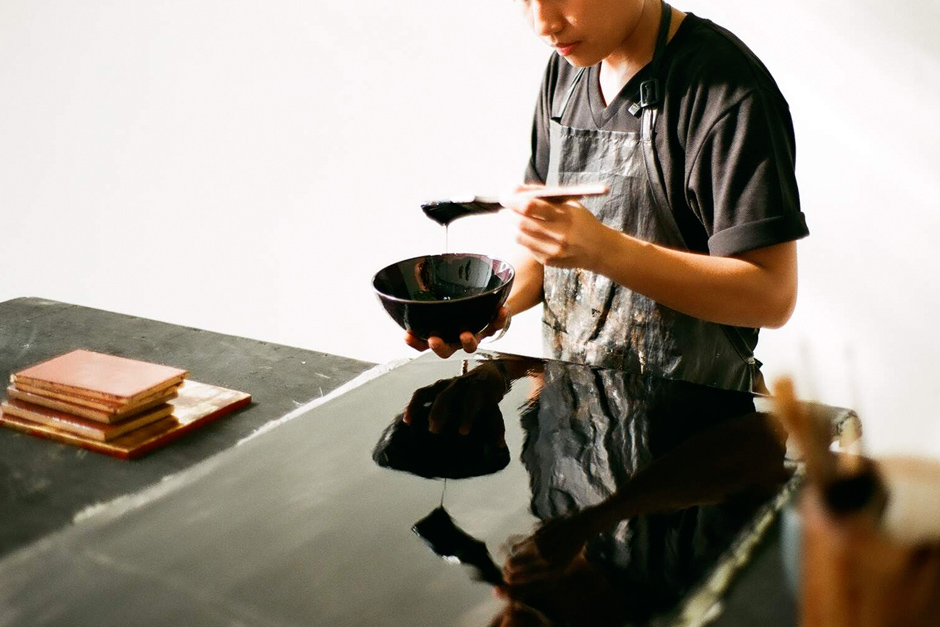 Lacquer
Alexander Lamont tells us about his love of Thailand, his impression towards Jaya Ibrahim, and the designer he admires.
Your works blend East and West; European decorative arts and Asian craft traditions. Please explain more about it.
At the root of my work is a love of things made by hand. From the simplest folk art to the most sophisticated Chinese, Japanese and European decorative arts to the paintings of Cy Twomby and Mark Bradford. What they have in common is the presence of the human hand – it is the human mind, hand and eye that bring each piece to life. I don't find that my pieces can be explained through simple terminology such as East and West but rather they are the results of a deep creative process which draws from the nature of the materials themselves and also from my experiences – especially sensory and visual experiences. I make things from my imagination that I want to bring to life – that tell a story of origin, tradition, character, resonance wherever that arises from.
What made you move to Bangkok and established your career in this city?
I came to Thailand because I already loved the country and had always wanted to live here. Thailand had a powerful effect on me when I came here as a child and I believe that many of those early experiences have been important to my work. The reality of working here was quite different from those early, magical experiences. However I saw the potential in Thailand's craft traditions and in the natural gift and pride that many people in Thailand have in working with their hands. By combining traditional Thai and Asian craft with craft traditions and methods from Europe and Japan, and training artisans to work with them, we have created a unique phenomenon: an atelier with many important craft traditions alive under one roof. Sometimes I wonder whether this could have been achieved anywhere else.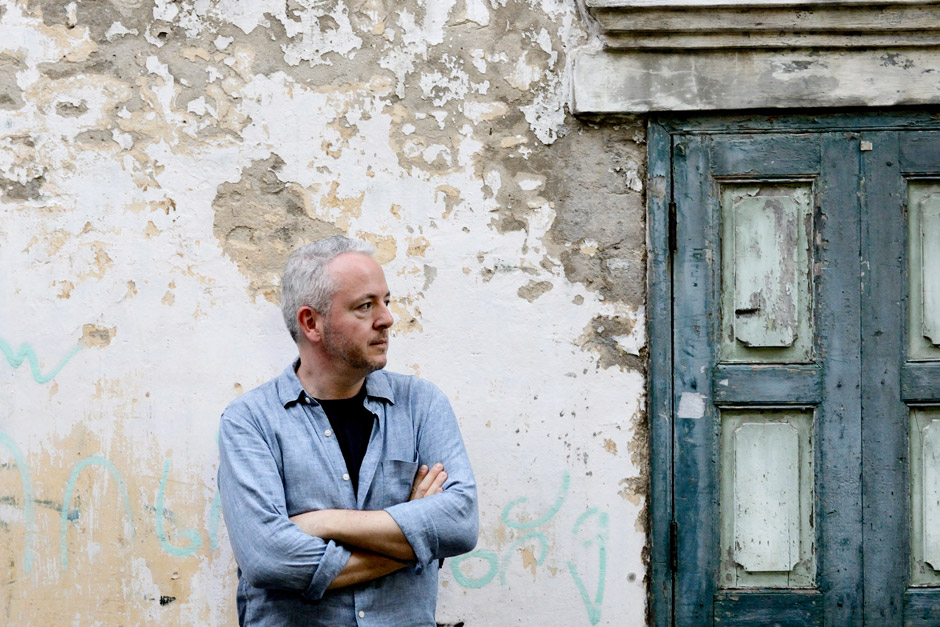 Alexander Lamont
You have been working with a wide array of materials. What are your favorites among them? And why?
The material I am most passionate about is always the next one I want to work with – I love the journey of discovery and exploration.
You have worked with world-renowned designers, one of them is the late, great Indonesian designer, Jaya Ibrahim. How was it working with him? Any interesting stories and moments?
I regularly visit important designers around the world. Talking with them is an affirmation of what I am doing because they are people who like to think that they have seen everything. Then I show them shagreen lacquered white on white or eggshell on paper – both used in our new collection – and their mouths drop. They are seeing ancient surfaces that have been completely re-interpreted to work in contemporary interiors. I worked with Jaya Ibrahim in the early days of the business. I recall him appearing like a Javanese prince blended with an English gentleman. I worked with him on Aman and other projects and found his borrowing of Chinese themes very beautiful – perhaps best of all in the Setai Miami where he asked me to design accessories and sculptural elements.
Is there any particular object, or event, or experience that currently inspire you deeply?
The creative process is a deep and complicated journey in my experience and it is sometimes difficult to know where influences and inspirations are coming from. Generally speaking though I find a great deal of inspiration in the idea of layers – and of how time and the everyday use of an object passed down over generations works on the object's surface and spirit to produce a uniquely beautiful aura and patina. When I encounter antique objects or natural phenomena like ancient rocks and trees I see the lifespan of that object in the material itself. I often seek to achieve something of that spirit in my pieces.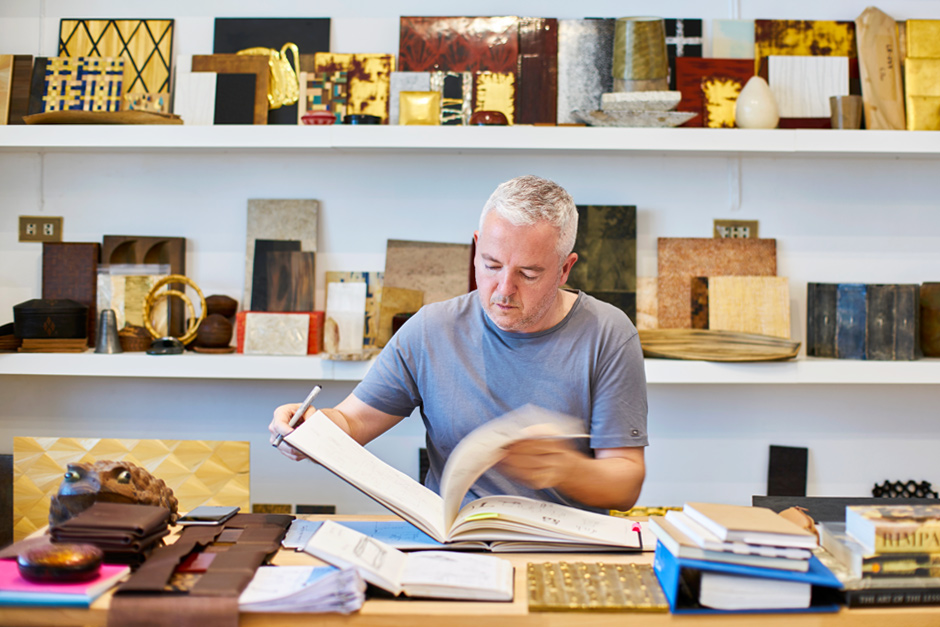 Alexander Lamont
Your 2016 collection is the largest you ever released. What is the message you would like to convey through the collection?
This is an important collection for me and is the result of many months' work and review with a strong design and development team. There is no single message to my collection and I view my work as an artist – each piece is born of a process that might begin with certain ideas but finishes in a distant place. For this collection I began surrounded by ideas of punk, fetish and decay – my studio walls were covered with these images. So these origins have influenced the collection in the way I have treated my materials and sometimes in the way the pieces are constructed. These ideas may reside within the piece but they are not written large in a literal way because the design work refines and edits and simplifies to find the distillation point at the end of the path. In the end, every piece will take on a life of its own with an individual character regardless of what I may have desired it to become. A further layer away is the viewer whose response comes from their personal experiences and appetites. And finally, the owner of the piece who lives beside it, will have time to explore and see it reveal itself and change over time.
All-time favorite design object that makes you wish you were its designer?
13th century Kamakura period female Shinto spirit in the San Francisco Asian Arts Museum would be my favourite object to live with www.khanacademy.org
Object would be the Chiffonier Anthropomorphe by André Groult in the Musée des arts Decoratifs, Louvre, Paris, opac.lesartsdecoratifs.fr
This ladies chest is a wonderful piece of cabinet-making as it manages to exude the female form while using the material shagreen very sensitively.
Your design hero?
Cy Twombly – for the violent and audacious beauty within his work. He saw beauty in unruly things before others did and is an example of how contemporary art can change everything.
What will be the future of design, according to you?
I am hoping that there are driver-less electronic cars across SE Asia most of all. No traffic and far less pollution!
Di tangan Alexander Lamont, furnitur, lampu, dan aksesori tampil dengan kuat dalam cita rasa organik dan sculptural. Memberdayakan ragam material mewah seperti shagreen, straw marquetry, lacquer, bronze, gesso, dan parchment, Lamont menggarisbawahi keistimewaan yang terkandung dalam setiap kreasinya.
Shale Vessels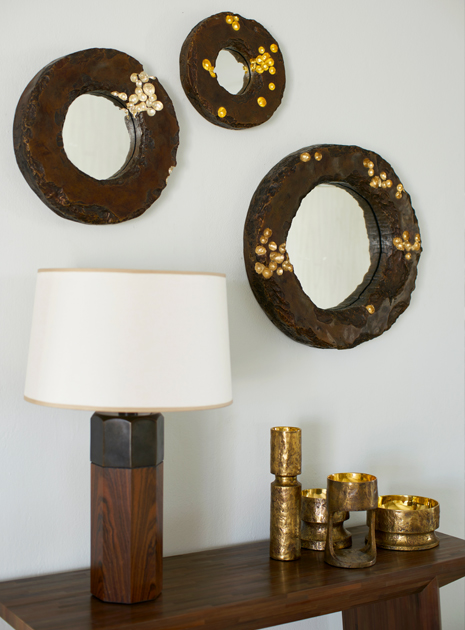 Showroom Interior at the Workshop
Inspirasi menghampiri sang desainer asal Inggris ini dari berbagai penjuru; benda masa lalu, alam, arsitektur, karya pahat, dan perhiasan. "Dalam hal mendesain produk, saya tidak melakukannya hanya dengan duduk saja. Ide-ide bermunculan dari berbagai pengalaman yang saya peroleh dan juga material," ungkap Lamont.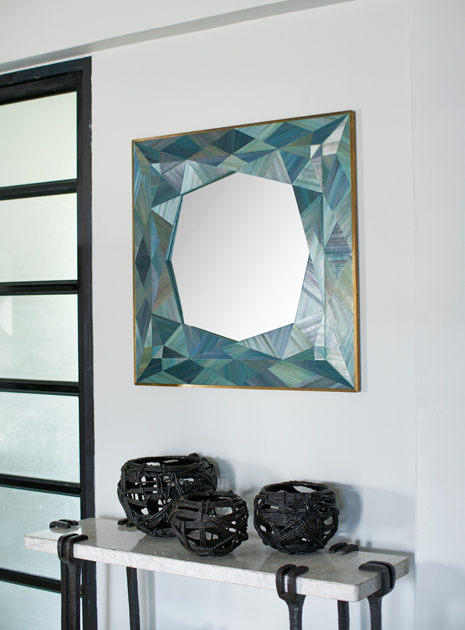 Gemstone Mirror Aqua Straw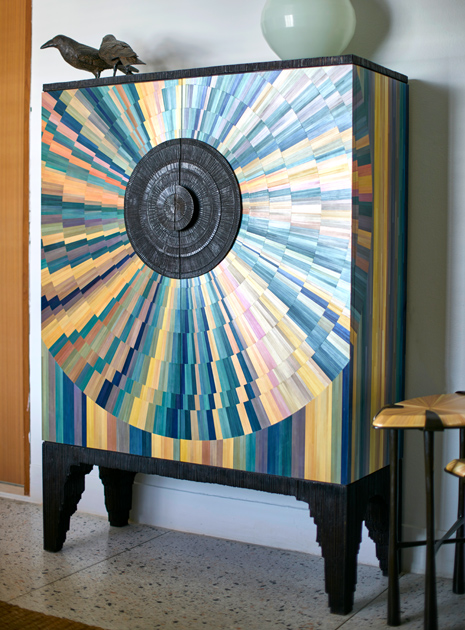 Agata Cabinet
Karya-karya yang ia hasilkan saat ini memiliki akar yang menancap dengan dalam pada pengalaman perjalanan maupun yang bersifat sensorik; aroma dan sentuhan. Karya-karya tersebut menggunakan material yang dikerjakan dengan ketrampilan tangan, sehingga memiliki cerita tersendiri dalam prosesnya dan meluapkan energi tertentu.
Tergugah oleh vitalitas, kedalaman, dan substansi dari shagreen, lacquer, parchment, dan straw marquetry, Lamont memboyong sejumlah pakar dari Eropa ke Thailand untuk melatih tim perajin dalam hal teknik kerajinan tangan. Hasilnya adalah kreasi-kreasi yang membaurkan seni dekoratif Eropa dan tradisi kerajinan tangan Asia. Melalui proses refinement dan inovasi, respek yang mendalam terhadap material dan metode kerajinan tangan melaju beriringan serta saling melengkapi dengan estetika desain.
Sejak menjejakkan kaki di Thailand pada tahun 1999 dan mulai berkreasi di Chiang Mai dengan wax bronze, keramik raku glaze, dan perak, hingga membuka flagship store di Central Embassy, Bangkok pada tahun 2014 serta terus berekspansi ke Jepang, Cina, dan Miami, perjalanan Alexander Lamont telah menorehkan sejumlah milestone, salah satunya adalah penghargaan UNESCO Award of Excellence untuk Bronze Hammered Bowls.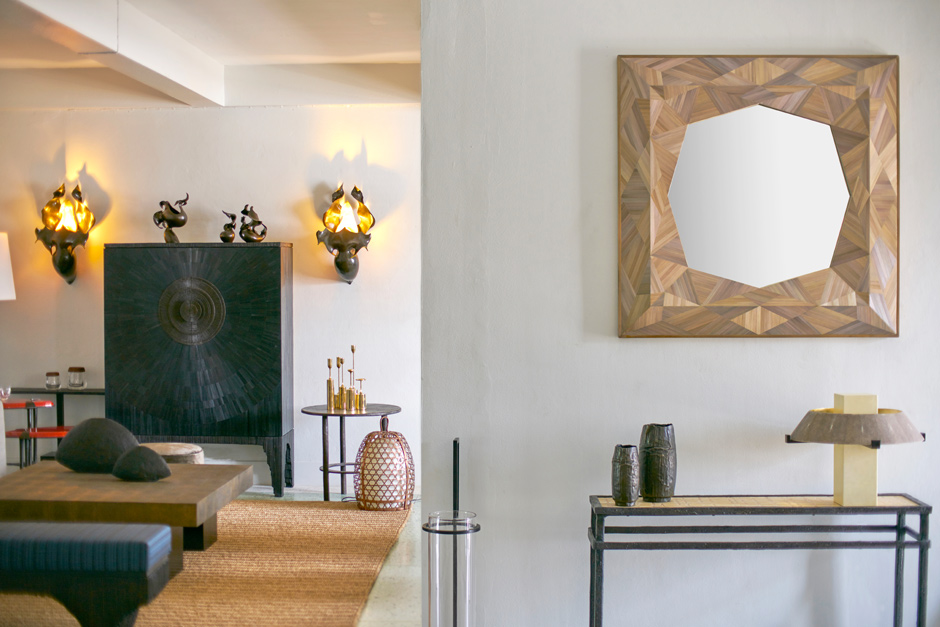 Showroom Interior at the Workshop
Vault Bench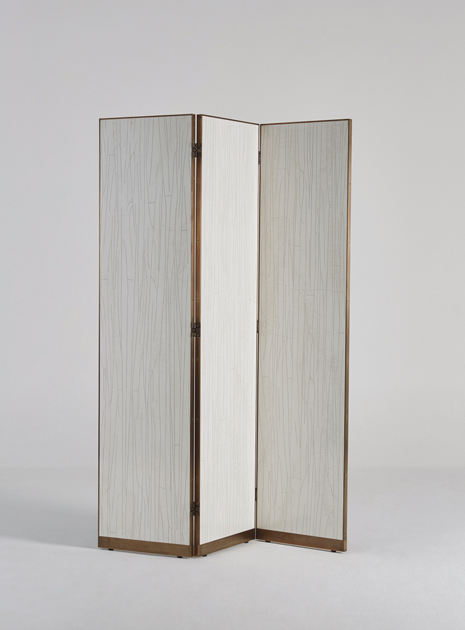 Cannes Screen Antique Ivory Gesso
The Workshop
Workshop Alexander Lamont yang berbasis di Bangkok mewadahi studio kerajinan tangan yang mengolah shagreen, parchment, lacquer, eggshell, gesso, straw marquetry, gold leaf, dan bronze finishing. Selain itu, workshop ini juga menggarap material-material cantik lainnya yang ada di Bangkok seperti kaca, keramik, dan 'yan li pao' atau keranjang anyaman, dengan melestarikan sekaligus menginovasi metode dan teknik tradisional melalui desain dan eksperimentasi.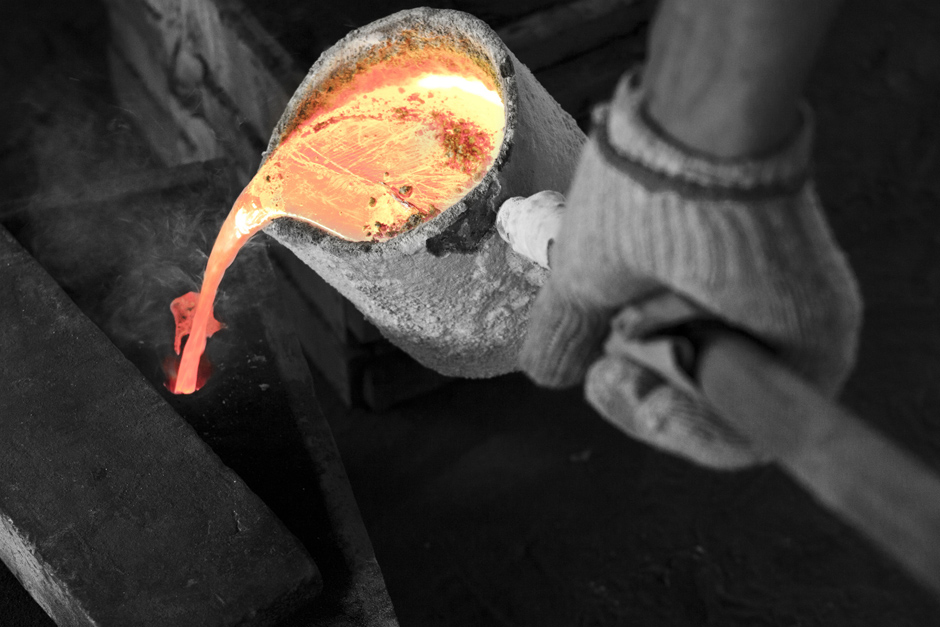 bronze
The Collections
Couture
Ini merupakan koleksi terbatas yang terdiri dari furnitur, lampu, dan karya seni. Setiap produk adalah ekspresi dari dedikasi Lamont terhadap keahlian tangan yang sangat rumit, material langka, dan cita rasa estetika yang menjulang. Salah satunya terefleksikan melalui karya seni untuk dinding dan lantai yang terinspirasi dari fenomena alam. Tulang ikan paus diolah dengan perunggu untuk mempertahankan keindahan bentuk aslinya. Sekelompok ikan koi ditampilkan dalam rupa pahatan dengan detail yang mengagumkan. Dedaunan tumbuhan tropis juga diolah dengan perunggu, menyajikan permainan cahaya yang atraktif melalui bagian permukaan yang bertekstur.
Editions
Setiap objek dari koleksi Editions memancarkan kekuatan yang tak terbantahkan dari personalitas estetika yang diembannya, seperti bejana ukiran dan tempat lilin bertatahkan emas murni, serta kotak-kotak yang terbalut dalam shagreen merah yang dipernis. Koleksi ini juga menawarkan nampan, lentera, dan lampu yang keseluruhannya menebar keunikan.
Gold Leaf
Scholar's Gift
Pada tahun 2012, Alexander Lamont memperkenalkan koleksi hadiah pertamanya, Scholar's Gift, yang terinspirasi dari benda-benda kaum akademisi di masa dinasti Ming di Cina. Untuk koleksi ini, Lamont berkolaborasi dengan desainer Jepang, Ryosuke Harashima. Setiap objek dihasilkan dari material-material bernilai seperti perunggu, batu kristal, kaca Peking, dan gold leaf.
Le Mur
Alexander Lamont menghadirkan keunggulan ketrampilan tangan pada permukaan vertikal. Untuk memperkaya jajaran koleksi furnitur, lampu, dan aksesori, Lamont melansir rangkaian pelapis dinding, Le Mur, dalam dua material yang menjadi ciri khasnya: straw marquetry dan shagreen. Kedua material ikonik ini menghadirkan permainan warna, tekstur, dan cahaya.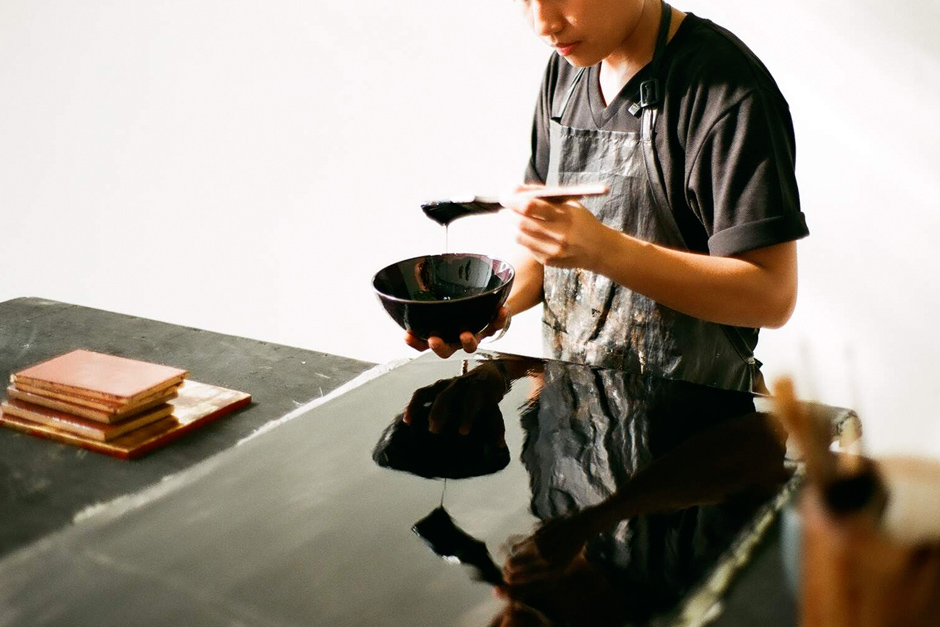 Lacquer
Berikut petikan wawancara dengan Alexander Lamont tentang kecintaannya terhadap Thailand, kesannya tentang Jaya Ibrahim, dan sosok desainer yang dipujanya.
Karya-karya Anda mengawinkan unsur Timur dan Barat; seni dekoratif Eropa dan tradisi kerajinan tangan Asia. Bisa Anda jelaskan lebih lanjut mengenai konsep, alasan, dan tujuannya?
Hal paling mendasar dari karya saya adalah sebuah kecintaan akan hasil pekerjaan tangan. Mulai dari kesenian rakyat paling sederhana, seni dekoratif sarat sofistikasi dari Cina, Jepang, dan Eropa, hingga lukisan Cy Twomby dan Mark Bradford. Kesamaan dari karya-karya mereka adalah peranan tangan manusia – pikiran, tangan, dan mata manusia yang mewujudkan karya-karya menjadi nyata. Saya melihat, kreasi saya tidak dapat dijelaskan dengan terminologi sederhana seperti Timur dan Barat. Kreasi-kreasi tersebut adalah hasil dari sebuah proses kreatif mendalam, terinspirasi dari asal material-material itu sendiri dan juga dari berbagai pengalaman saya – terutama yang bersifat sensorik dan visual. Saya ingin menghidupkan apa yang berada di imajinasi saya menjadi bentuk nyata – menceritakan kisah tentang asal, tradisi, karakter, dan resonansi yang bisa datang dari mana saja.
Apa yang membuat Anda memutuskan untuk menetap di Bangkok dan membangun karir di kota tersebut ?
Saya datang ke Thailand karena saya sudah terlanjur jatuh cinta dengan negara tersebut dan selalu memiliki keinginan untuk tinggal di sini. Thailand menancapkan kesan yang kuat ketika saya datang ke sini semasa kecil, dan saya percaya, pengalaman-pengalaman di usia dini memiliki peranan penting dalam proses saya berkarya. Realitas yang saya hadapi dalam hal berkarir di sini cukup berbeda dibandingkan pengalaman-pengalaman magis yang saya peroleh semasa kecil tersebut. Meski demikian, saya melihat potensi pada tradisi kerajinan Thailand serta bakat alami maupun kebanggaan yang dimiliki orang-orang Thailand melalui ketrampilan tangan mereka. Dengan mengombinasikan kerajinan tradisional Thailand dan Asia dengan tradisi dan metode kerajinan Eropa dan Jepang, serta melatih para perajin, kami menciptakan sebuah fenomena unik: sebuah studio dengan banyak tradisi kerajinan penting yang hidup dalam satu atap. Terkadang saya bertanya-tanya, apakah hal ini bisa terjadi di tempat lain.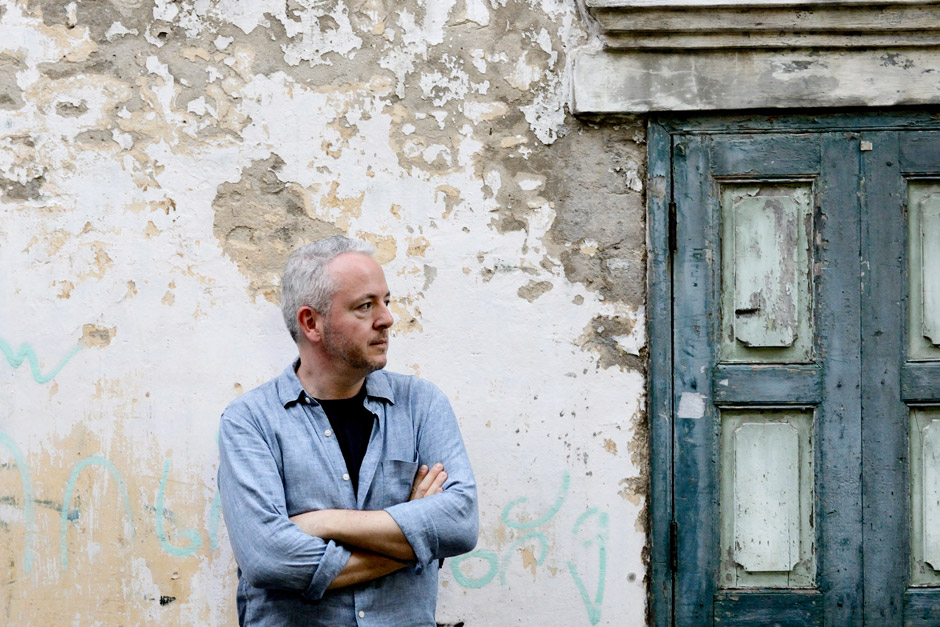 Alexander Lamont
Anda bereksplorasi dengan berbagai macam material. Apa yang menjadi favorit Anda?
Material yang selalu membuat saya begitu bersemangat adalah yang ingin saya kerjakan selanjutnya – saya menyukai sisi petualangan dari penemuan dan eksplorasi.
Anda telah berkolaborasi dengan sejumlah desainer terkemuka dunia, salah satunya adalah seorang desainer kebanggaan Indonesia, Jaya Ibrahim. Ada cerita dan momen menarik saat bekerja sama dengannya?
Secara teratur saya menemui para desainer penting di seluruh dunia. Berbicara dengan mereka adalah sebuah pengesahan atas apa yang saya lakukan karena orang-orang tersebut memiliki pikiran bahwa mereka telah melihat segalanya. Kemudian ketika saya memperlihatkan shagreen lacquered white on white atau eggshell on paper – keduanya digunakan dalam koleksi terbaru saya – mereka pun terkagum-kagum. Mereka menyaksikan bagian permukaan kuno yang direinterpretasi secara total untuk dapat beradaptasi dengan interior kontemporer. Saya bekerja dengan Jaya Ibrahim di masa-masa awal perjalanan bisnis saya. Penampilannya terlihat layaknya perpaduan antara seorang pangeran Jawa dan bangsawan Inggris. Saya berkolaborasi dengannya untuk Aman dan proyek-proyek lainnya. Interpretasi Jaya terhadap tema-tema Cina sangat cantik, seperti yang bisa terlihat di Setai Miami dimana Jaya meminta saya untuk mendesain aksesori dan elemen-elemen ukiran.
Apakah ada objek, kejadian, atau pengalaman tertentu yang saat ini begitu menginspirasi Anda?
Proses kreatif adalah sebuah perjalanan yang dalam dan rumit. Terkadang sulit untuk mengetahui dari mana datangnya pengaruh dan inspirasi. Secara garis besar, saya menemukan banyak inspirasi dari gagasan akan lapisan-lapisan. Bagaimana elemen waktu dan penggunaan sehari-hari dari sebuah objek menempa permukaan maupun spirit dari objek tersebut, sehingga menghasilkan aura dan patina yang indah serta unik. Ketika saya menemukan objek-objek antik atau fenomena alam seperti batu dan pohon kuno, saya melihat perjalanan kehidupan objek tersebut. Kerap kali saya berupaya mencapai spirit seperti itu melalui karya-karya saya.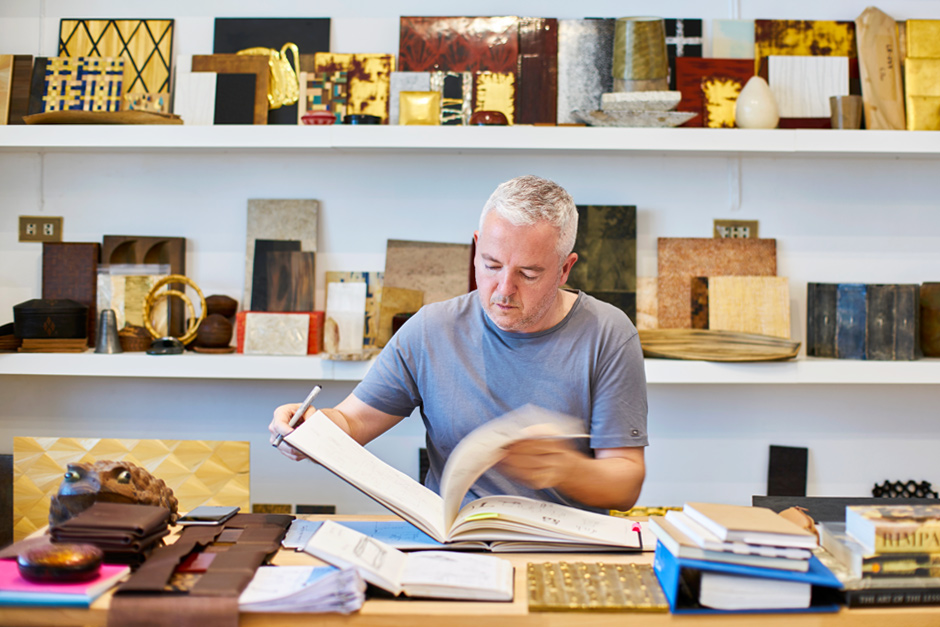 Alexander Lamont
Koleksi tahun 2016 adalah yang terbesar yang pernah Anda lansir. Apa pesan yang ingin Anda sampaikan melalui koleksi ini?
Ini adalah suatu koleksi yang penting bagi saya dan merupakan hasil dari kerja keras dan peninjauan kembali yang memakan waktu berbulan-bulan, didukung oleh desain dan tim pengembangan yang kuat. Tidak ada pesan tunggal yang ingin disampaikan melalui koleksi saya. Dan saya melihat apa yang saya hasilkan adalah sebuah karya seni – setiap produk terlahir dari sebuah proses yang bisa berawal dari ide-ide tertentu, namun diselesaikan di sebuah tempat yang jauh. Untuk koleksi tahun 2016 ini, saya mengawalinya dengan mengepung diri saya dengan ide-ide mengenai punk, fetish, dan kerusakan – dinding studio saya dipenuhi oleh visual-visual tersebut. Hal inipun mempengaruhi koleksi dalam hal cara saya memperlakukan material dan bagaimana karya dikonstruksikan. Ide-ide tersebut bisa saja bersemayam dalam kreasi-kreasi yang saya buat, namun tidak tertulis secara literal, karena proses desain memperbaiki dan menyederhanakan untuk menemukan titik ekstraksi pada tahap akhir. Setiap kreasi memiliki nyawa dengan karakter tersendiri, terlepas dari keinginan saya untuk menjadikan kreasi itu seperti apa. Lapisan persepsi berikutnya adalah audiens yang merespon berdasarkan pengalaman dan selera pribadi. Dan lapisan terakhir adalah, sang pemilik dari kreasi tersebut yang hidup berdampingan dengannya, ia akan memiliki waktu untuk mengeksplorasi, menyaksikan kreasi itu mengungkap dirinya, dan berubah dari waktu ke waktu.
Objek desain favorit sepanjang masa yang membuat Anda berharap Andalah sang desainernya?
Karya pahat berupa ruh Shinto perempuan dari periode Kamakura di abad 13 yang berada di Asian Art Museum, San Francisco, adalah objek favorit saya. Objek favorit lainnya adalah Chiffonier Anthropomorphe oleh André Groult yang berada di Musée des Arts Décoratifs, Louvre di Paris. Lemari untuk perempuan ini adalah sebuah kreasi kabinet yang memukau dengan adaptasi bentuk tubuh wanita dan penggunaan material shagreen yang sangat sensitif.
Design hero Anda?
Cy Twombly – atas keindahan yang sengit dan berani dalam karya-karyanya. Dia mampu melihat keindahan dalam hal-hal penuh kekacauan, dan menjadi sebuah contoh bahwa seni kontemporer dapat mengubah segalanya.
Menurut Anda, masa depan desain akan seperti apa?
Saya berharap nantinya akan ada mobil-mobil elektronik tanpa sopir di seluruh kawasan Asia Tenggara. Tidak ada kemacetan dan polusi yang jauh berkurang!