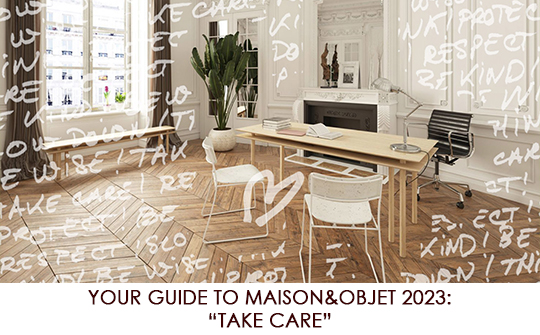 presented by

YOUR GUIDE TO MAISON&OBJET 2023: "TAKE CARE"
Published by Sugar & Cream, Monday 16 January 2023
Images courtesy of each respective design/label
January 19-23: The Premier Event For Design, Decoration, And Lifestyle Professionals
The next edition of Maison&Objet is fast approaching on January 19-23
Here's your guide to the must-see experiences!
Raphael Navot, Designer of the Year (Hall 7)
For each show, Maison&Objet announces a recipient of its esteemed Designer of the Year Award. This is intended to recognise and celebrate the work of a designer who demonstrates exceptional talent and skill in the international design and decoration scene.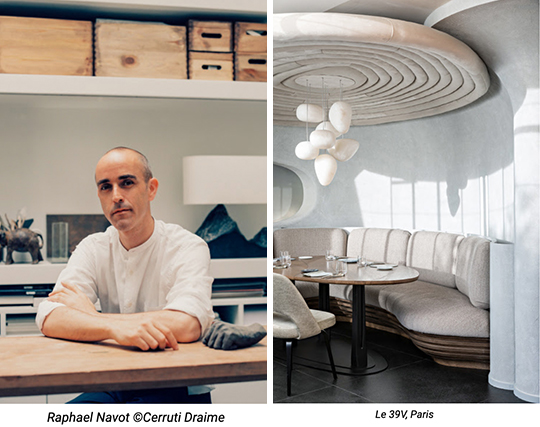 Raphael Navot
The Israeli architect-designer will be honored and present "Apothem Lounge," an original project inviting us to enter an immersive installation of lights and textures representing visual emotions.

Presented by LeChateau Living
The designer will create an unexpected scene in this comfortable circular space where he has given free rein to his imagination.
Read more about Raphel Navot here
Philippe Starck x Andreu World (Hall 7, E107)
Philippe Starck will debut a new collection he designed for Andreu World. A special press presentation will take place Friday, January 20, from 9 am-12 pm.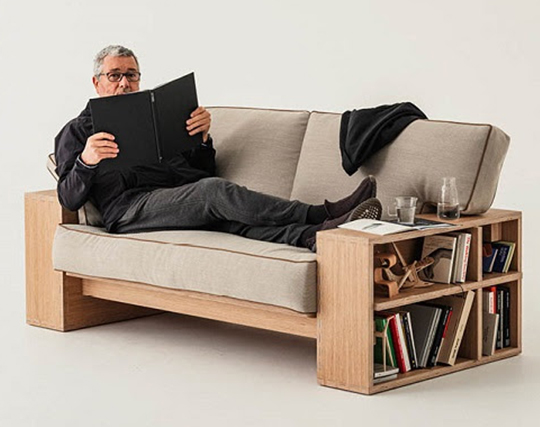 Philippe Starck
Rising Talent Awards,Spain is in the spotlight! (Hall 6)
It is always interesting to observe emerging talents especially those who have been selected by well-known designer, Jamie Hayon.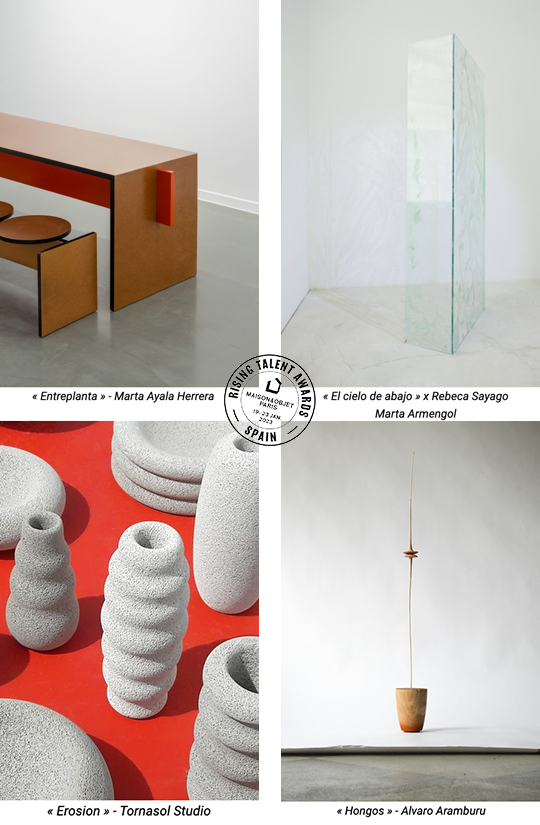 Rising Talent Awards
This edition of the show features six young designers, brilliant representatives of a new generation driven by passion, sustainability, and innovation, who've been honored by a prestigious jury chaired by Jaime Hayon.
In their dedicated space on the mezzanine of Hall 6, visit and discover the winners' work: Marta Ayala Herrera, Max Millà Serra, Miguel Leiro, Tornasol Studio, Marta Armengol, Alvaro Aramburu, and the experimental and sensitive approach of the Craft talent, Josep Safont.
British Capsule, Focus on British design (Hall 7)
Time to explore the present of British design with the latest creative inspiration at Maison&Objet. British design is a mix of impertinence, boldness, and simple lines. To celebrate the new signatures that set the pace of this creative inspiration, Maison&Objet will welcome Bethan Laura Wood, Lee Broom, Altrock Surfaces, Eley Kishing & Floor Story, Lucy Kurrein, and Thomas Hancock. The shared space is full of iconic pieces, landmark collaborations, and current projects. "British Capsule" curated by talent scout Jimmy MacDonald, founder of the London Design Fair.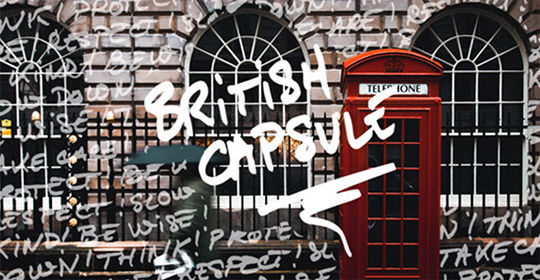 British Capsule
Talents So French! (Hall 7)
After a successful initiative in September 2022, Talents So French is back to support the profiles of emerging designers in France who are embarking on the adventure of self-producing. This economic model is still not widespread in Europe.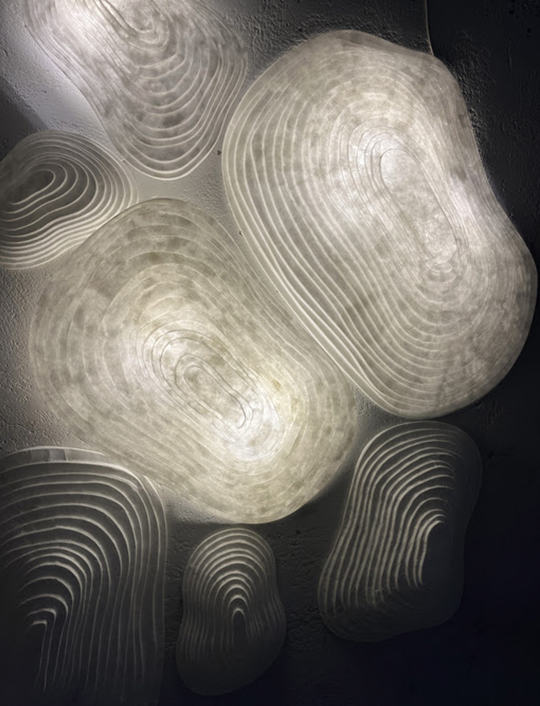 Talents So French!
Innovative vision, creative process, and inspiring collaborations meet the emerging talents that make the essence of the French touch: Cédric Breisacher, Elise Fouin, Grégory Lacoua, and Victoria Wilmotte.
HAUTE FACTURE in partnership with the French furniture industry (Hall 7)
Finally, we are able to observe French excellence in a group presentation!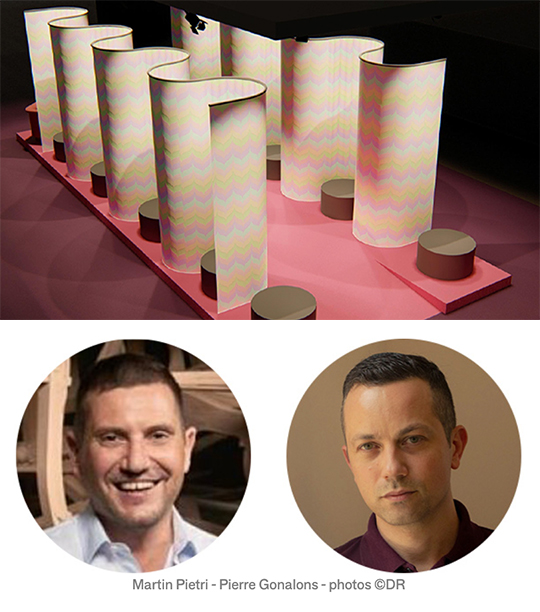 HAUTE FACTURE
16 French luxury companies with exceptional know-how present original furniture, lighting, and objects, combining haute couture craftsmanship and French creativity.
Like a fashion week catwalk inspired by the 1970s, the "Haute Facture – Haute Fréquence" exhibition, under the artistic direction of Martin Pietri & Pierre Gonalons, honors the excellence of these brands where the craftsmanship is reinvented to offer creations with new finishes and inspiring designs..
What's New? (Halls 2,4,7)
Discover the 2023 best-sellers of the year 2023 – Trends by François Bernard, François Delclaux and Elisabeth Leriche
Three spaces with three themes, with a selection of new products or flagship products aligned with the trend and the theme of the season, "TAKE CARE", brilliantly orchestrated by our trend hunters.
François Bernard interprets this theme through the power of original materials to anchor us in a positive sensory experience with his "Grounded" space (Hall 4). François Delclaux takes us on a journey in his night train, a symbol of "Slow Hospitality" (Hall 2), as a refuge from the acceleration of the world. With "In The Air" (Hall 7), Elizabeth Leriche invites us to take a breath. Her vision of care in a world where ecological and climatic risks set the tone is that of a light-hearted but fully conscious and eco-responsible parenthesis.
Laurence Carr Inc x Confederation of Danish Industry presents "Circularity in Action"
Curated by Laurence Carr, designer and Maison&Objet ambassador, "Circularity in Action" highlights Danish furniture brands and their innovative approach to circular design in an immersive, artistic and playful exhibition. In the first immersive space, the visitor discovers real examples of waste and how it can be reimagined as materials for the future. In a second space, Laurence Carr presents a selection of sustainable Danish brands in a light and airy atmosphere.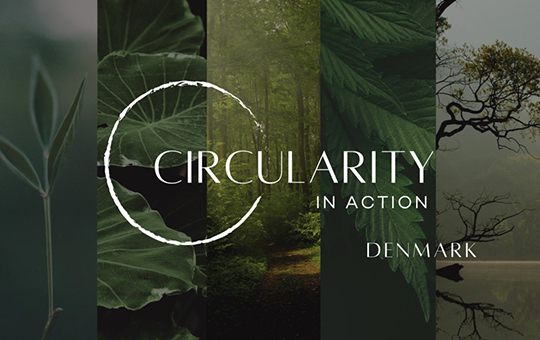 Laurence Carr Inc x Confederation of Danish Industry presents
The world of Jean-Charles de Castelbajac (Hall 7)
"I see my multifaceted work as an archipelago, each project is an island with its own personality, linked to the others by the ocean of my style. I like to explore the DNA of the French brands I collaborate with. My artistic gesture inhabited by colors and meaning breathes into the know-how another dimension inhabited by history, mingled with modernity, creating a hybrid element, poetic and transformed, characteristic of my universe."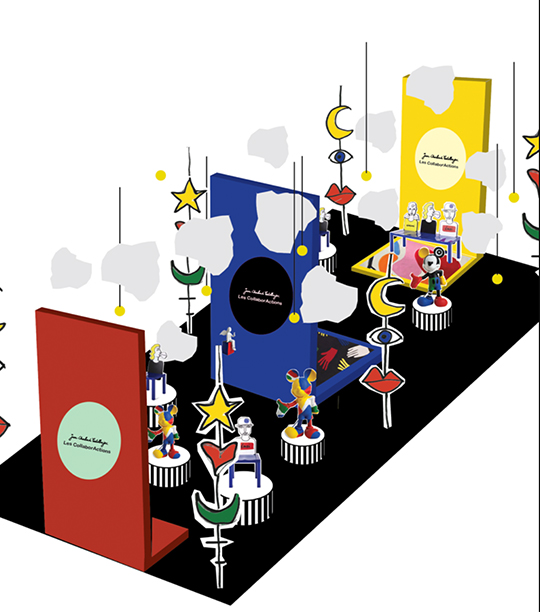 The world of Jean-Charles de Castelbajac
The Jean-Charles de Castelbajac x Maison&Objet installation presents different emblematic facets of this approach, the foundation of the "Castelbajac" style.
Future on Stage (Hall 6)
Launched in September 2022, Future on Stage is a program that selects young innovative companies that are future stars in design, decoration, and lifestyle.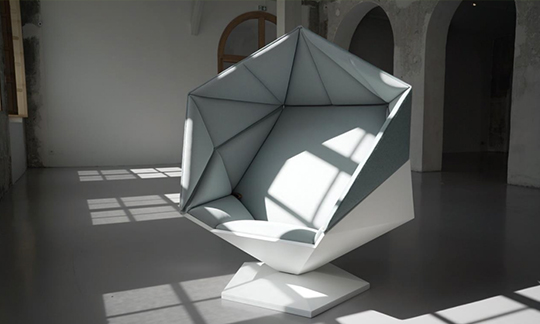 Future on Stage
The six jurors were invited to decide on the three winning brands of the Future On Stage Springboard, which will be revealed in January. The recipient of this edition are
• GWILEN, founders Yann Santerre and Mathieu Cabannes
• NOPPI, founders Alexandre Guyenne and Gaël Hiétin
• SAS Minimum, founders Marius Hamelot and Jim Pasque
Maison&Objet in the city: The Vibrant Heart of Parisian design
It's time for soirées in the city ! The evening of Thursday, January 19th will kick off the openings for the Parisian participants in Maison&Objet In The City. This will offer a chance for you to visit the finest addresses by night, and, especially, to get together. Ask for your VIP Pass! Its QR code will include a list of all the week's evening festivities and will provide you with unlimited access to all the cocktail parties!
Log in to your smartphone's store and search for the MAISON&OBJET app. Or flash the QR code in front of you, you will be automatically redirected to the download page of the M&O PARIS app from the store compatible with your phone. The MAISON&OBJET app is free.
Here are few notable labels that you may be interested to visit:
1. Alexander Lamont: Galerie Nicolas Deman – 12 rue Jacques Callot (Paris 6)
2. Saint-Louis: Saint-Louis Showroom – 13 Rue Royale (Paris 8)
3. Christian Lacroix Maison: Showroom Christian Lacroix – 21 avenue George V (Paris 8)
4. Fabrice Juan x Tai Ping – 3 place des Victoires (Paris 1)
5. ELDVARM – 13 rue Bonaparte (Paris 6)
6. THG Paris: Showroom THG Paris – 152 boulevard Haussmann (Paris 8)
7. Villeroy & Boch: V&B Showroom – 21 Rue Royale (Paris 8)
8. Atelier Mathieu: Antique Furniture store – 2 Rue Royale (Paris 8)
9. de Gournay: Showroom – 15 Rue des Saints-Peres (Paris 6)
10. Dior Maison: Dior Paris 30 Montaigne – 30 avenue Montaigne (Paris 8)