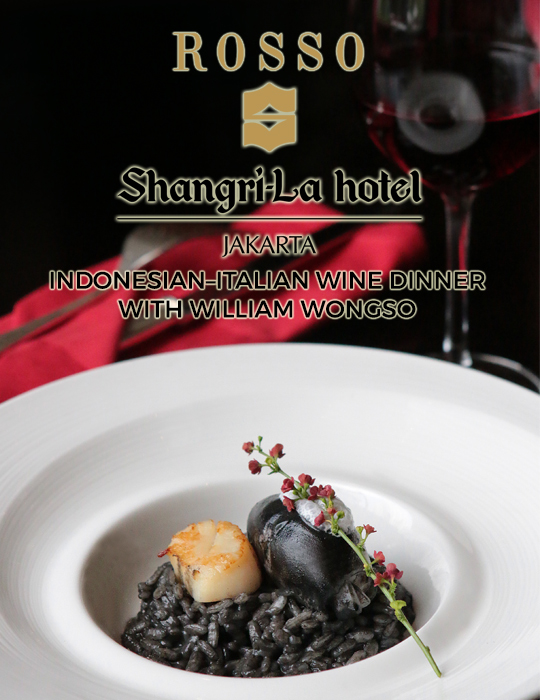 Indonesian-Italian Wine Dinner
Published by Sugar & Cream, Thursday 05 July 2018
Text by Annisa Zahra
Rosso Presents Wine Dinner with William Wongso
Rosso, restoran Italia Shangri-La Hotel, pada tanggal 6 Juli 2018 mengundang pecinta kuliner untuk menikmati santap malam wine dinner bertemakan Indonesia-Italia. Menu yang akan disajikan adalah perpaduan dua cita rasa Indonesia dan Italia, yang dikelola secara khusus oleh pakar kuliner Indonesia, pemilik restoran, pembawa acara televisi, dan penulis buku masak William Wongso dengan juru masak Rosso Chef Gianfranco Pirrone. Masakan yang kaya akan rasanya disajikan dengan pilihan wine berkelas dari Ferrer Family Wines.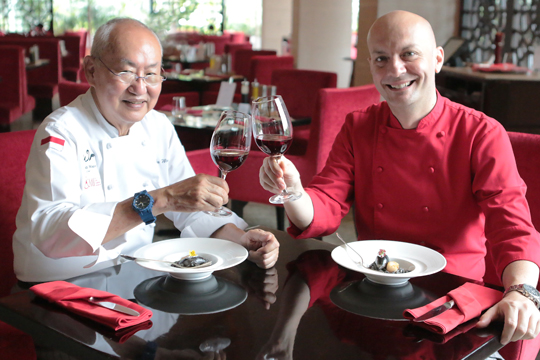 William Wongso & Chef Gianfranco Pirrone
Santap malam wine dinner ini adalah salah satu rangkaian acara kuliner dari kampanye hotel 'Taste of Indonesia'. Masakan ini akan dibuat dengan bumbu dan bahan lokal Indonesia disertai dengan teknik memasak otentik Indonesia yang dikombinasikan dengan masakan Italia untuk membuat santapan yang unik.
Makanan pembuka yang akan dihidangkan adalah Gogu Asinan Jakarta (Moluccas Tuna Ceviche with Jakarta Pickled Fruit Salad) dengan Segura Viudas Brut Cava, Catalonia, NV, Spain dan sup hangat Zuppa di Pesce (Grilled Shrimp, Mussel, Squid, Octopus, Clam dan lobster Bisque) dengan 2016, Solar Viejo, Viura dan Chardonnay, Rioja DOCA, Spain.
Rosso juga akan menyajikan Rissoto Cumi Item Pekalongan (Black Spiced Squid dan Scallop Rissoto with Spirulina Sauce) yang dipasangkan dengan 2015, Solar Viejo, Tempranillo, Rioja DOCA, Spain.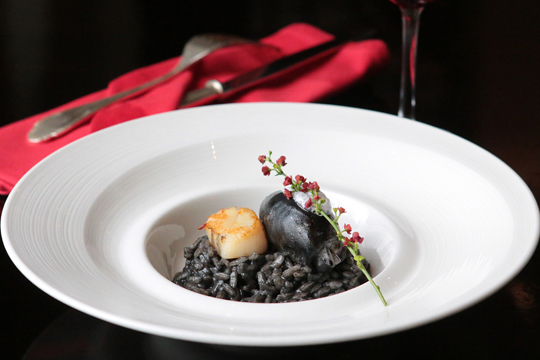 Untuk menu utama selanjutnya, akan disajikan Gulai Itik Foie Gras Daun Siongkong (Duck Breast dan Foie Gras, Cassava Leaves dan Curry Angel Hair) dipasangkan dengan 2014, Mas de Subira, Crianca, Prio rat DOQ, Spain dan Filleto di Agnello e Cannelloni Agli Spinaci (Herb-Crusted Lamb Loin dan Porcini Mushroom with Spinach Cannelloni) dipasangkan dengan 2010, Morlanda, Vi de Guarda, Priorat DOQ, Catalunya Spain.
Untuk mengakhiri malam dengan rasa yang manis para tamu dapat menikmati Tertella di Banana e Gelato Alla Vaniglia (Banana Chocolate Tarte, Piedmont Hazelnut Shortbread, Javanese Vanilla Ice-Cream) dengan NV, Segura Viudas Demi Sec, Catalonia, Spain.
Makan malam istimewa ini akan tersedia secara ekslusif pukul 6 sore dengan harga Rp 888.000++ per orang.