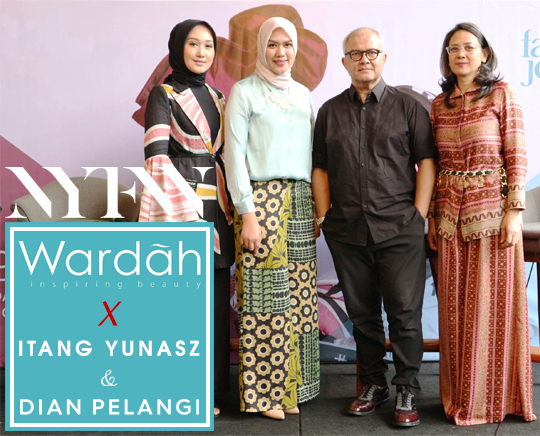 Wardah x Itang Yunasz & Dian Pelangi at New York Fashion Week 2019 The Shows
Published by Sugar & Cream, Friday 01 March 2019
Text by Auliya Putri, Images Courtesy of Wardah
Indonesian Diversity
Melalui Wardah Fashion Journey, label kosmetik halal Indonesia ini tak pernah henti dalam mendukung industri fashion Indonesia. Wardah menggandeng desainer Indonesia untuk ikut berpartisipasi dalam pagelaran internasional New York Fashion Week 2019 The Show yang telah diadakan pada tanggal 7 Februari 2019 lalu. Kedua desainer tersebut ialah Itang Yunasz dan Dian Pelangi yang akan membawakan pakaian modest wear bertemakan 'Indonesian Diversity'.
Berita ini disampaikan melalui jumpa pers yang diadakan pada tanggal 21 Februari 2019 di 100 Eatery & Bar, Century Park Hotel – Senayan.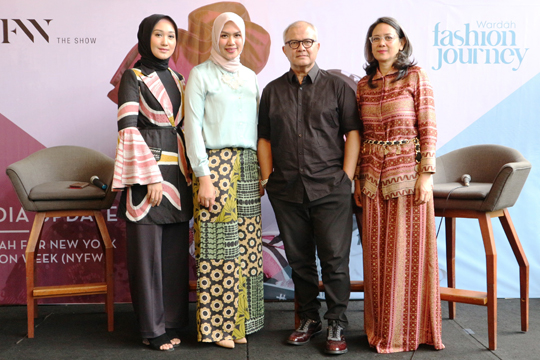 Dian Pelangi, Elsa Maharani, Itang Yunasz, Amy Wirabudi
Dalam panggung NYFW 2019 The Show ini, masing-masing desainer menampilkan 12 busana dengan gaya khas masing-masing. Itang Yunasz dengan tema 'Tribal Diversity' yang terinspirasi oleh gaya hidup dan semangat kebebasan kaum hippies di tahun 1970an. Dimana gaya bohemian ditampilkan secara dominan dalam gaun panjang yang dipadukan dengan sentuhan outer dan blouse berpola tenun ikat dari Sumba.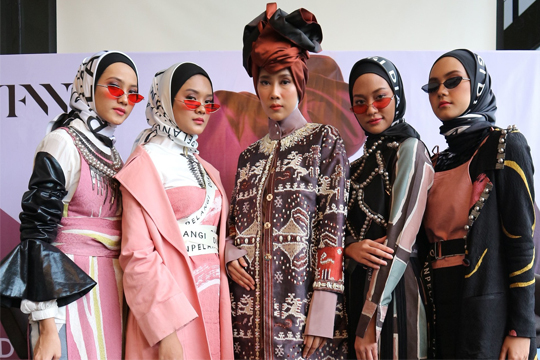 Sedangkan Dian Pelangi masih setia dengan 'modest street style' nya menyajikan koleksi berjudul #Socialove yang terinspirasi oleh kota New York. Dian memasukan unsur sporty, modern, dinamis, kedalam pakaiannya yang Ia padukan dengan gaya hijab yang chic. Koleksi ini pun dimunculkan dalam banyak warna hitam dan pink, dengan gaya pengikat logo Dian Pelangi sebagai tambahan aksen.
Kedua desainer inipun memakai make-up look yang berbeda, misalnya saja Itang Yunasz yang memakai Jakarta Make-up Look dengan karakter tegas dan berani. Dimana riasan ini ditunjukan dengan riasan mata yang tajam dan warna bibir dalam earthy tone. Sedangkan Dian Pelangi memakai New York Make-up Look yang lebih menonjolkan warna coral sebagai warna dominannya.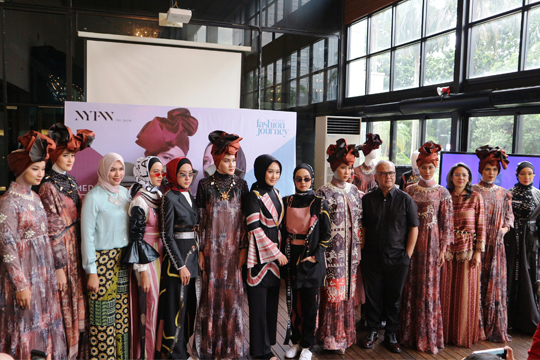 "Wardah bangga bisa hadir di panggung mode internasional. Tidak hanya untuk memperkuat posisi kami sebagai brand kosmetik terdepan, tetapi juga ingin membuktikan bahwa produk kosmetik lokal pun dapat bersaing. Kami berharap melalui program Wardah Fashion Journey dan pengalaman yang didapat oleh desainer dapat menjadi semangat dan motivasi berharga bagi desainer untuk terus berkarya." ujar Elsa Maharani, Manager Public Relations Wardah.