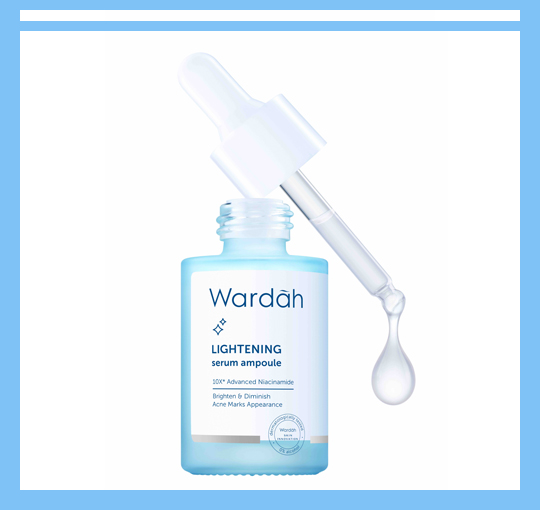 presented by

Wardah – The New Lightening Serum Ampoule
Published by Sugar & Cream, Wednesday 07 July 2021
Text by Dira Rohmatun, images courtesy of Wardah
Advanced Niacinamide – 10x Kekuatan Mencerahkan
Salah satu penyebab wajah cepat kusam adalah terlalu seringnya kita menggunakan gadget. Seperti diketahui, memandang layar gadget terlalu lama menyebabkan kulit wajah dapat terpapar sinar blue light. Blue light memiliki energi tinggi yang mampu menembus ke kulit lebih dalam dibanding sinar UV. Dampak negatifnya selain membuat kulit kusam juga mengakibatkan penuaan dini. Oleh karena itu, untuk melindungi kulit wajah para perempuan secara maksimal, Wardah meluncurkan produk skin care terbarunya bernama Wardah Lightening Serum Ampoule dengan format serum yang lebih mutakhir yaitu Advanced Niacinamide.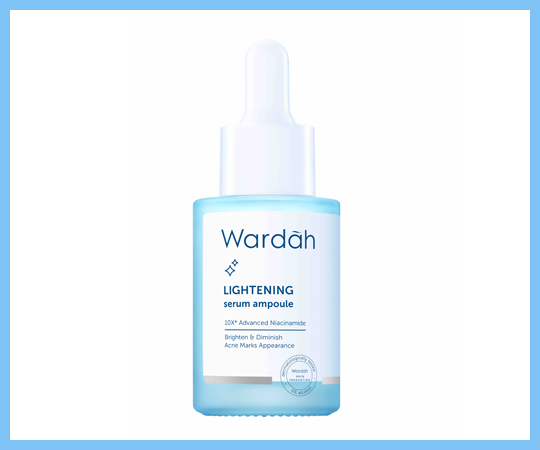 Lightening Serum Ampoule 30ml
Kandungan yang menjadi tren di industri kecantikan kini banyak digemari oleh orang-orang karena terbukti memiliki manfaat besar untuk menangani berbagai masalah kulit wajah. Manfaat paling umumnya adalah untuk melembabkan dan mengatasi noda hitam bekas jerawat di wajah. Ditambah dengan memiliki rejimen perawatan kulit sehari-hari, hal ini dapat memberikan hasil yang maksimal. Oleh karena itu, Wardah menghadirkan Serum Ampoule Advanced Niacinamide dengan kemurnian lebih dari 99%. Kandungan dari Serum Ampoule ini mampu memberikan hasil yang lebih mencerahkan, proteksi lebih terhadap blue light sinar dari gadget yang dapat memberikan efek negatif ke kulit, dan optimal dalam menyamarkan noda hitam bekas.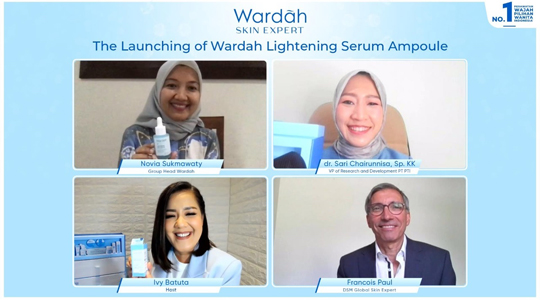 Novia Sukmawaty, dr. Sari Chairunnisa, Sp.KK, Ivy Batuta, Francois Paul
"Sebagai merek kecantikan pilihan nomor 1 wanita Indonesia, Wardah memiliki kekuatan inovasi melalui tim research & developmentnya. Didukung oleh data riset yang lengkap, Wardah memberikan bahan baku yang spesifik sesuai dengan kebutuhan kulit sehingga dapat memberikan hasil dari Lightening Serum Ampoule ini dengan kualitas terbaik, aman, dan halal. Pada umumnya niacinamide mengandung pengotor atau nicotinic acid yang apabila jumlahnya dipakainya cukup banyak, dapat menyebabkan iritasi dan kemerahan pada kulit. Tetapi high-grade niacinamide dalam Serum Ampoule ini memiliki kemurnian tinggi agar dapat memberikan hasil optimal pada kulit," ujar Novia Sukmawaty, Group Head Wardah.


Presented by Interni Cipta Selaras
Produk Serum Ampoule dari Wardah telah melalui proses uji yang menyeluruh dan aman, dengan 10x advanced niacinamide, dan 0% alkohol dapat digunakan oleh semua jenis kulit wajah. Untuk memastikan kualitasnya, Wardah pun telah berkolaborasi dengan global expert dari Swiss yang memiliki riset terlengkap dan local expert yang mengerti kulit wanita Indonesia. Telah diuji secara dermatologi dengan hasil non-acnegenic dan non-comedogenic. Sehingga tak perlu diragukan lagi manfaatnya.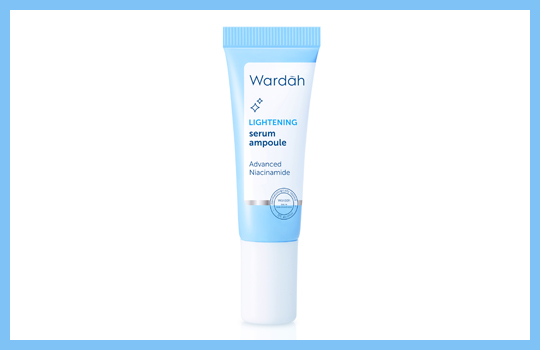 Lightening Serum Ampoule 8ml
"Wardah Lightening Serum Ampoule menjadi produk yang tepat dalam melindungi wajah dari sinar blue light. Advanced Niacinamide dapat mencegah penggelapan kulit dengan menghambat pigmen gelap untuk mencapai permukaan kulit," kata dr. Sari Chairunnisa, Sp. KK, Vice President of Research and Development, PT Paragon Technology & Innovation.