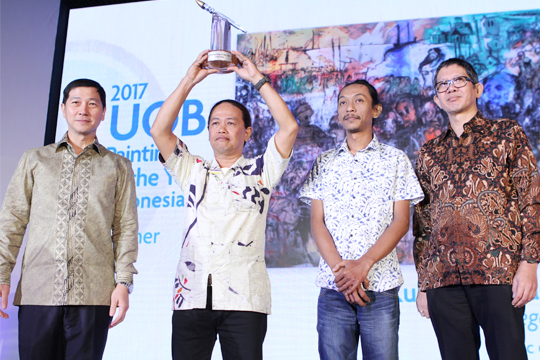 UOB Indonesia Painting of The Year 2017 – 'Kegelapan'
Published by Sugar & Cream, Monday 06 November 2017
Text by Auliya Putri, Images Courtesy of UOB Indonesia
When Darkness Speaks More Truth Than Light
Kukuh Nuswantoro telah dinobatkan menjadi pemenang dalam ajang seni bergengsi UOB Indonesia Painting of The Year 2017. Melalui karya seni lukis berjudul 'Kegelapan', Kukuh berhasil membawa namanya menuju kawasan Asia Tenggara untuk mewakili Indonesia dalam kompetisi UOB Southeast Asian Painting of The Year. Melalui lukisan ini Kukuh menceritakan kisah dari kondisi peradaban modern yang sedang terjadi saat ini. Dimana dunia sedang berjalan menuju abad kekacauan dan terjadi banyak konflik. Memandang sisi gelapnya dunia yang membuat kita mempunyai perasaan campur aduk saat melihatnya.
Selain Kukuh, tepuk tangan meriah ditujukan juga ke Alvian Anta Putra dari kategori Emerging Artist dan memenangkan penghargaan UOB Most Promising Artist of The Year untuk hasil karya lukisan berjudul 'Discussion'. Melalui lukisannya, Alvian memperlihatkan teknologi yang makin membuat manusia jauh dari dunia nyata namun lebih mendekatkan kepada dunia maya.
Kevin Lam, Presiden Direktur UOB Indonesia mengungkapkan kekagumannya atas banyaknya seniman Indonesia baru dan berbakat dengan hasil karya yang luar biasa. Ia berharap untuk semakin terjalinnya timbal balik antar karya seni dan penikmatnya sehingga mampu membawanya ke dalam jaringan yang lebih luas. Dimana karya seni dapat lebih di apresiasi dan dihargai oleh masyarakat.
Seluruh karya dari pemenang UOB Painting of The Year 2017 bisa Anda saksikan langsung hingga 26 November 2017 di UOB Plaza, Jalan M.H Thamrin Jakarta. Atau bila Anda sedang berada di Singapura juga bisa berkunjung ke UOB Art Gallery, UOB Plaza 1 – 80 Raffles Place, Singapore 048624 dari 16 November 2017 hingga akhir Januari 2018.