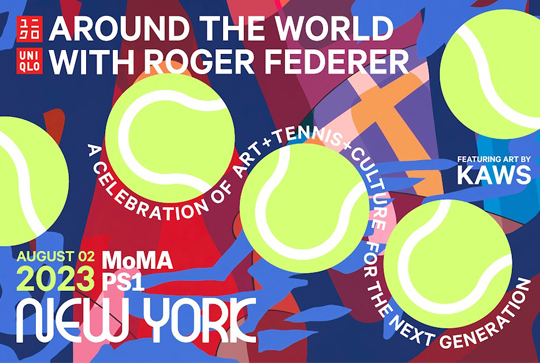 presented by

UNIQLO LUNCURKAN AROUND THE WORLD WITH ROGER FEDERER
Published by Sugar & Cream, Tuesday 15 August 2023
Images courtesy of UNIQLO
Kolaborasi Bersama Roger Federer dan Kaws yang Merayakan Tenis, Seni, dan Budaya
Sebagai perusahaan ritel, UNIQLO tidak hanya berfokus pada fashion tetapi juga membantu kaum muda di seluruh dunia menjadi yang terbaik melalui olahraga dan kreativitas, yang ditunjukkan dalam UNIQLO Next Generation Development Program. Dan di tahun ini, Program Pengembangan Generasi ini dimulai dengan mengadakan acara Around The World with Roger Federer di MoMA PS1 yang berlangsung di Queens, New York pada 2 Agustus 2023 – yang bertujuan untuk mendukung anak-anak Kings County Tennis League.
Meskipun dikenal sebagai pemain terhebat sepanjang sejarah olahraga tenis, prestasi terbesar Federer masih menantinya di masa depan. Langkahnya dimulai dengan acara Around The World with Roger Federer – sebuah perayaan komunitas yang unik akan tenis, seni, dan budaya dalam suasana pesta yang menyenangkan serta diiringi musik, seni, dan hal-hal positif bagi semua orang.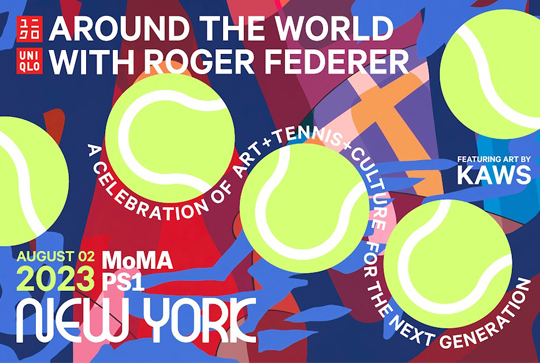 Seperti berbagai acara lainnya dalam UNIQLO Next Generation Development Program, Around The World with Roger Federer akan menawarkan kesempatan langka bagi para petenis junior untuk bertemu dan belajar dari atlet kelas dunia. Dalam acara ini, mereka akan bergabung dengan Kings County Tennis League, yang merupakan sebuah organisasi yang menggabungkan tenis dan pendidikan untuk membantu anak-anak di perumahan umum di New York mencapai potensi mereka. Lapangan tenis berukuran penuh akan menempati halaman MoMA PS1 dan dihiasi dengan karya seni dari seniman terkenal KAWS sebagai bentuk dukungan untuk misi Around The World with Roger Federer. Roger sendiri akan memandu sesi pelatihan dan pendampingan untuk membantu mengembangkan kemampuan anak-anak di lapangan serta berdiskusi tentang karakteristik seorang atlet profesional dan pemimpin komunitas.
Acara ini juga menampilkan instalasi seni kolaboratif yang dibuat secara langsung. Seorang seniman lokal New York akan menciptakan mural raksasa dengan bantuan kreatif langsung dari para peserta dan tamu. Setelah selesai, karya seni tersebut akan ditandatangani dan diberikan kepada Kings County Tennis League, sebagai hadiah untuk mendukung upaya mereka dalam memberdayakan generasi muda dari komunitas yang kurang beruntung di NYC melalui olahraga tenis.


Presented by Interni Cipta Selaras
"Next Generation Development Program dari UNIQLO berfokus pada pengembangan dan inspirasi generasi muda di mana pun melalui para duta dan mitra. Bersama dengan Roger Federer, KAWS, MoMA, dan MoMA PS1, serta para mitra kami, acara Around The World with Roger Federer menjadi kesempatan besar bagi kami untuk dapat terus mengubah kehidupan generasi muda serta memperluas dampak kami melalui berbagai cara baru yang menarik. Kami mengajak beragam komunitas di seluruh dunia untuk bergabung dengan Roger Federer dan berbagi semangatnya yang luar biasa terhadap tenis, seni, dan budaya," ujar Koji Yanai, Senior Executive Officer Fast Retailing Group.
Roger Federer mengungkapkan, "Saya sangat tidak sabar untuk menjadi bagian dari peluncuran acara Around The World with Roger Federer dari UNIQLO pada tanggal 2 Agustus. Saya percaya bahwa pengaruh yang kita berikan kepada generasi muda merupakan investasi bagi masa depan kita, dan saya senang bahwa rangkaian acara ini dapat memberikan kesempatan seperti ini."
Setelah peluncuran di bulan Agustus di New York, Around The World with Roger Federer akan segera mengunjungi kota-kota menarik lainnya di seluruh dunia, dengan seri berikutnya akan diadakan di akhir tahun ini di benua yang berbeda. (DR)