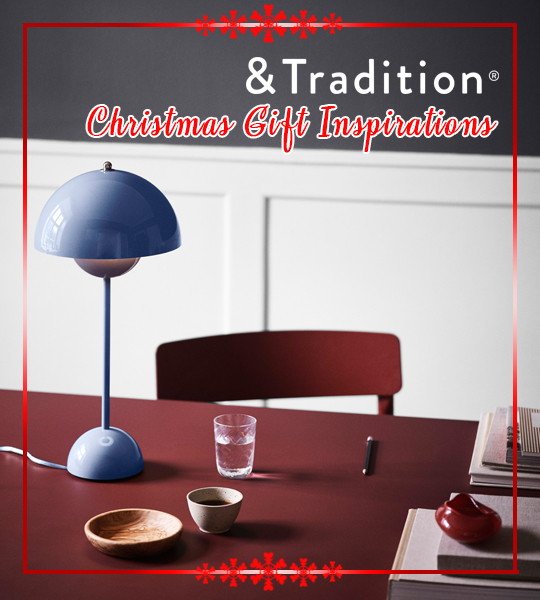 presented by

&Tradition's Christmas Gift Inspirations
Published by Sugar & Cream, Tuesday 10 December 2019
Text by Dinda Bestari Image courtesy of &Tradition
Function, Comfort, and Beauty
Dengan Natal dan tahun baru di depan mata, it's the gift-giving season. No worries! Sugar & Cream memberikan sedikit inspirasi lima lampu ikonis dari &Tradition yang tidak hanya cocok untuk hadiah menarik bahkan dapat 'menerangkan' hunian Anda!
1. Setago by Jaime Hayon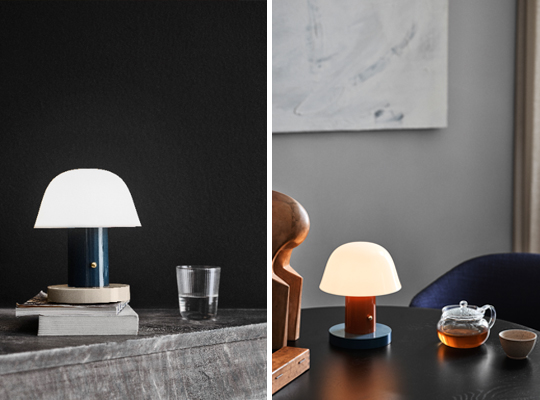 Setago by Jaime Hayon
Didesain untuk &Tradisi oleh desainer ternama asal Spanyol, Jaime Hayon, Setago Portable Table Lamp dirancang dengan fleksibilitas dan penuh gaya. Mengambil namanya dari, 'Seta', berasal dari Bahasa Spanyol untuk 'jamur', bentuk struktur lampu ini menciptakan sumber cahaya mungil yang dapat diposisikan dengan sempurna di seluruh rumah. Tanpa terbebani oleh kabel listrik, bagian portabel dapat dengan mulus bergerak dari kamar ke kamar, memberikan bias cahaya yang menawan.  Tersedia dalam berbagai warna indah, dengan dimmer kuningan yang sophisticated, Setago menambah sentuhan keanggunan halus untuk ruangan apa pun.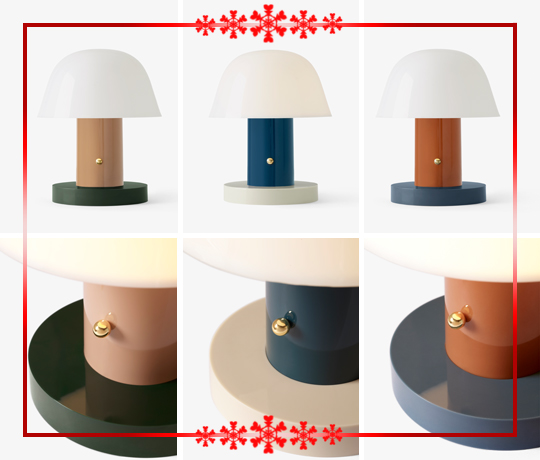 Setago by Jaime Hayon – Nude Forest, Twilight Sand, dan Rust Thunder
2. Milk by Norm Architects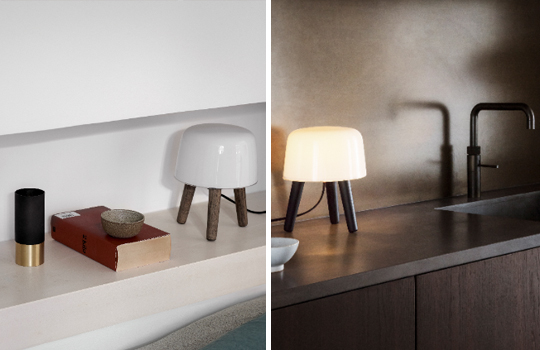 Milk by Norm Architects

Kasper Rønn & Jonas Bjerre-Poulsen, dua desainer dari Norm Architects – mendesain lampu Milk dengan mengambil inspirasi dari bentuk stool yang digunakan oleh petani saat memerah susu. Lampu berstruktur sederhana ini (tiga kaki kayu ek yang mendukung gelas Opal atas) memiliki cita rasa Nordik dan sentuhan modern Skandinavia tentang kesederhanaan dan fungsionalitas. Lampu Milk merupakan bagian dari katalog &Tradition ini mampu menghasilkan cahaya lembut yang dapat ditempatkan di semua sudut rumah demi terciptanya suasana hangat.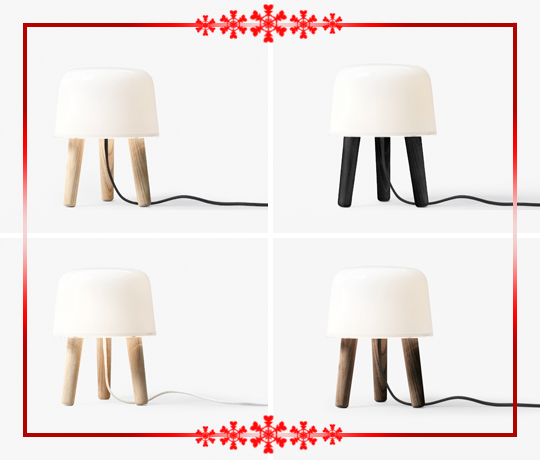 Milk by Norm Architects – Black, Black Cord, Smoked Olied Ash, dan White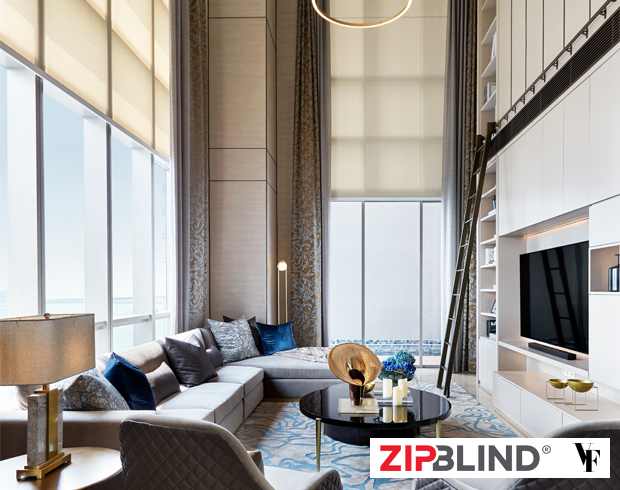 Presented by Zipblind & Vivianne Faye
3. Utzon by Jørn Utzon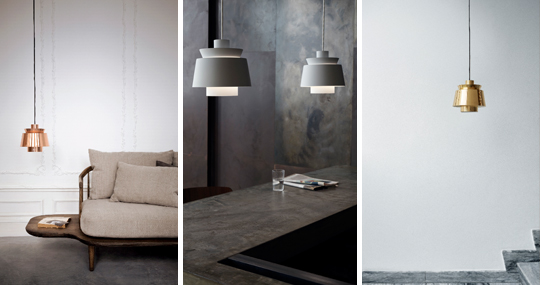 Utzon by Jørn Utzon

Lebih dari satu dekade sebelum Jørn Utzon merancang Sydney Opera House yang terkenal, ia menempatkan daya tarik masa kecilnya mengenai kapal atau yang berhubungan dengan laut ke dalam rancangan lampu gantung ini. Lampu Utzon memadukan kehalusan garis-garis kapal dengan sumber cahaya. Pilihan warna krom atau metalik mengingatkan kita pada deburan ombak dan cahaya utara.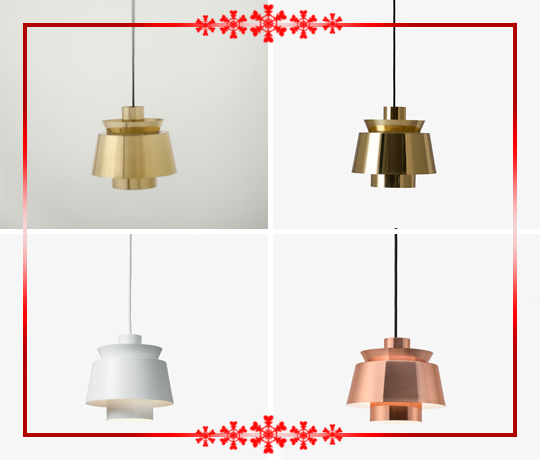 Utzon by Jørn Utzon – Soft, Brass, White, dan Copper
4. Flowerpot by Verner Panton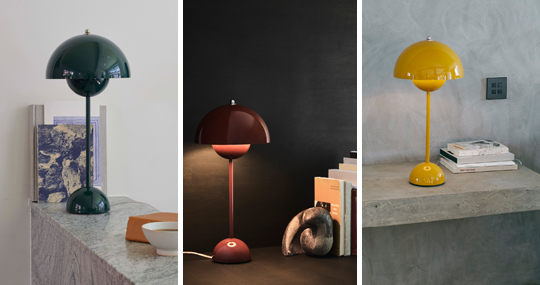 Flowerpot by Verner Panton

Lampu Flowerpot ikonis rancangan Verner Panton, dengan desainnya yang playful menangkap kepekaan semangat gaya pop yang terkenal pada era 1960-an.  Terbentuk dari dua warna berpotongan hemispherical yang terbuat dari baja yang 'digambar' dalam warna berikut: matt putih, matt abu-abu muda, matt hitam, mustard, putih, krem ​​merah, cokelat merah, hijau tua, biru muda, abu-abu krem, lapisan kuningan, lapisan tembaga, dan lapisan stainless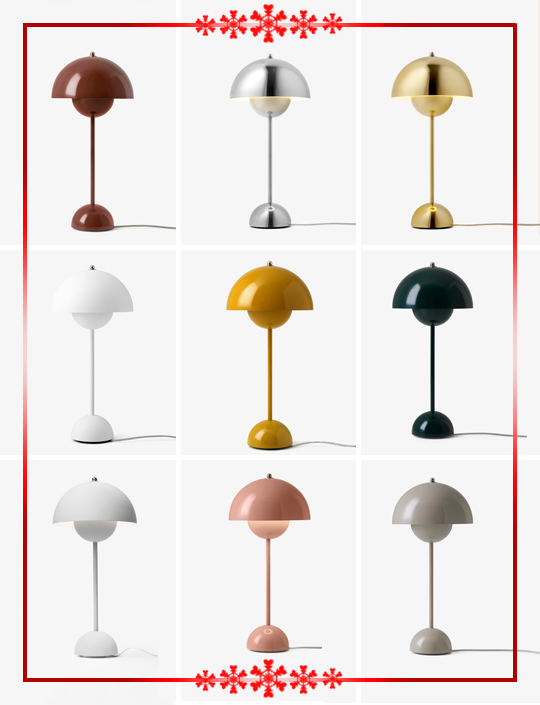 Flowerpot by Verner Panton – Red Brown, Polished Stainless Steel, Polished Brass, White, Mustard, Dark Green, Gray, Beige Red, dan Grey Beige

5. Bellevue by Arne Jacobsen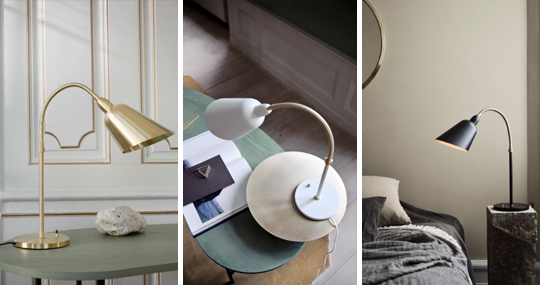 Bellevue by Arne Jacobsen

Dengan lampu Bellevue, arsitek dan perancang asal Denmark, Arne Jacobsen menggabungkan minimalisme modernisme dengan fungsionalisme Bauhaus. Lampu meja Bellevue merupakan maha karya awal dari Arne Jacobsen. Didesain pada 1929, sebagai bagian dari entri Jacobsen untuk kompetisi "House of the Future". Bentuknya yang unik dan timeless menjadi bagian dari koleksi &Tradition hadir dalam berbagai warna dan bahan kontemporer.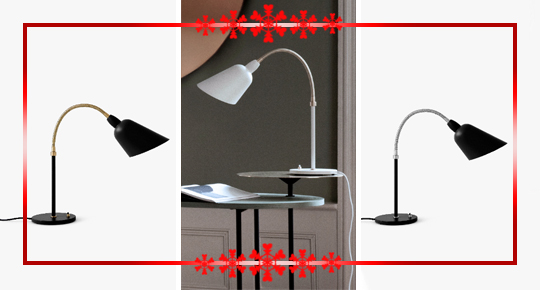 Bellevue by Arne Jacobsen – Black, White, dan Black Steel