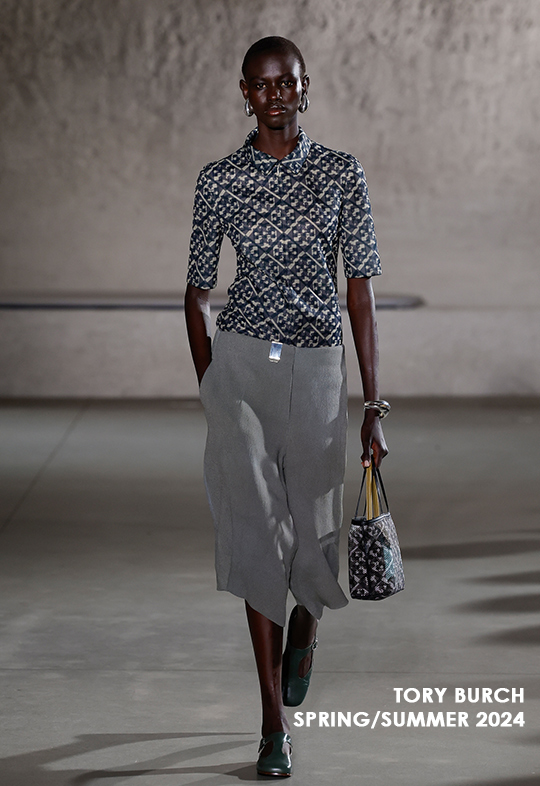 presented by

TORY BURCH SPRING/SUMMER 2024
Published by Sugar & Cream, Friday 13 October 2023
Images courtesy of Tory Burch
A Dynamic Collection
"In a chaotic world, we thought about what 'effortless' means now. Clothing that frees up space in your mind. For Spring/Summer 2024, it is defined by modular tailoring, feather-weight materials, and dynamic layers that build structure and volume without bulk. We evolved our signatures and experimented with new shapes, like micro-mini goddess dresses. Sculptural blazers and tunics with plunging U-necks mirror the aerodynamic curve of accessories. Handbags are molded to rest on the hip, sunglasses wrap around the face, and shoes are constructed entirely of round edges. This collection is designed to be lived in, to move with you, and to instill a sense of lightness and optimism." – Tory Burch –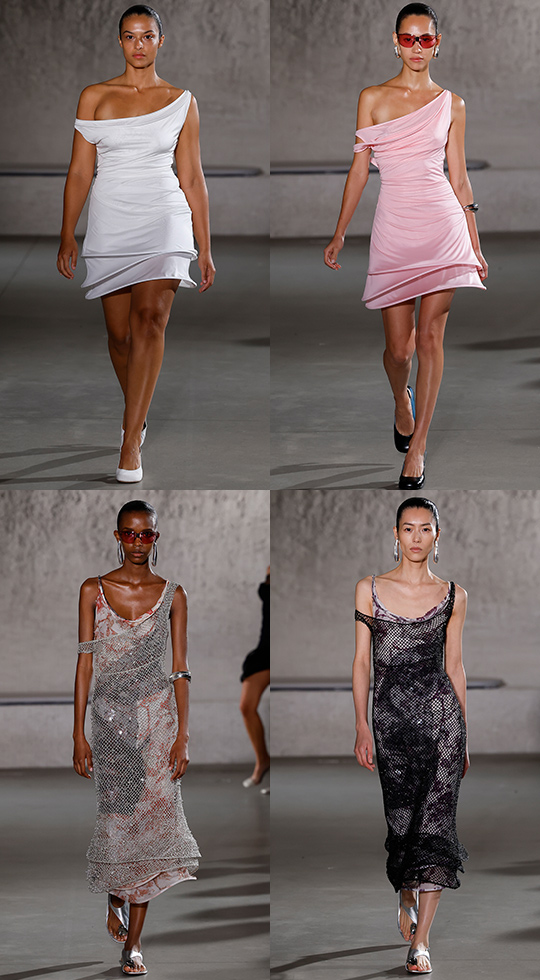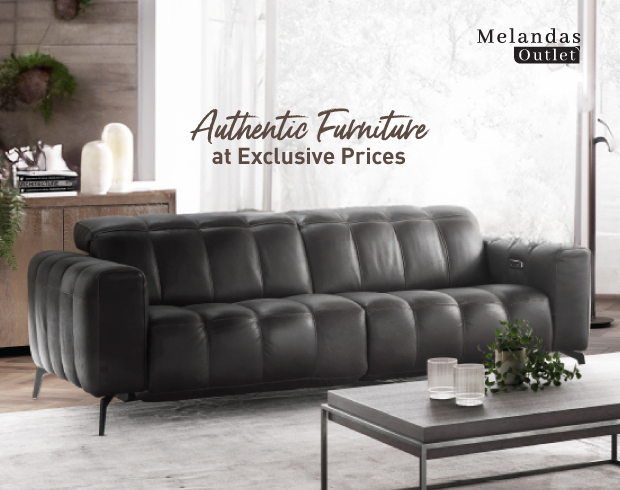 Presented by Melandas Indonesia
Pada Tory Burch SS 2024 kali ini, Anda akan menemukan sentuhan penuh perhatian yang mengubah siluet bersih dan rapi. Lengan berpotongan pada blazer dan tunik melengkung memperlihatkan sedikit kulit yang memungkinkan pergerakan yang lancar. Gaun dan rok dewi dibungkus dan 'dipelintir' untuk menampilkan sosok alami daripada membentuknya. Tory Burch kembali menggunakan crinoline, yang secara historis membatasi tubuh perempuan. Rancangan wired knits telah diringankan dan diberi elastisitas, menjadikannya lentur dan versatile.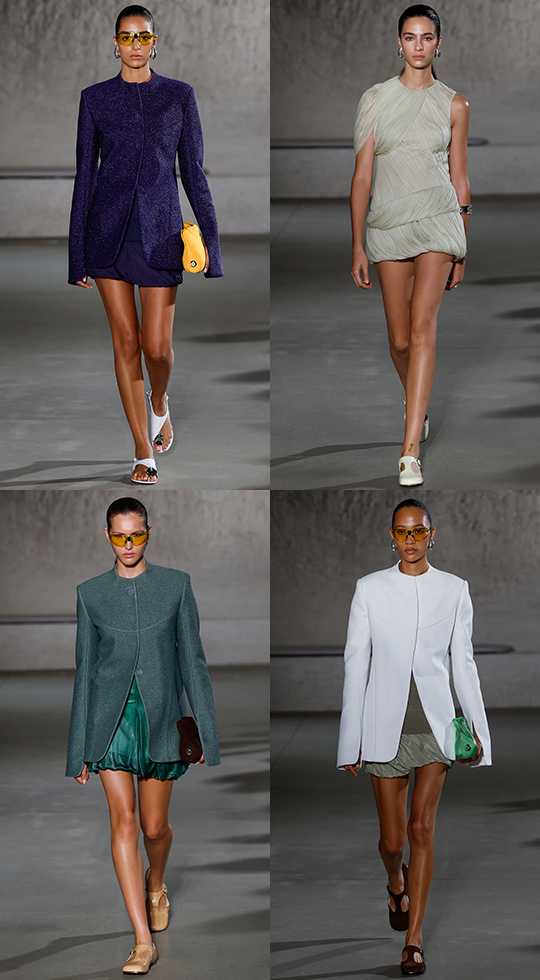 Material yang digunakan untuk koleksi terbaru ini begitu airy dan loose, seperti organza, nylon taffeta, crochet, dan jersey hingga bonded neoprene, stretch crepe, serta shimmery jersey tailoring,  yang diciptakan agar terasa hampir tidak berbobot. Permainan atau jalinan kain sering kali dimanipulasi sehingga menghasilkan volume, bukan struktur atau bantalan. Sebuah anorak dan gaun mini berleher U dari shantung katun-sutra 'dihancurkan' dan ditekan dengan panas hingga menjadi bentuk yang lembut namun tidak sempurna.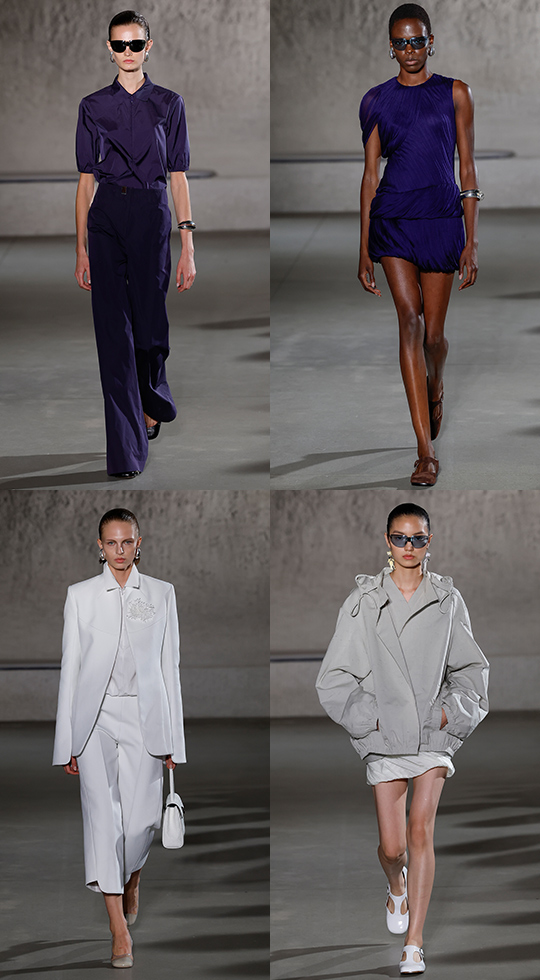 Tory Burch SS 2024 dimulai dengan serene palette of emerald, deep ink, black, dan cool shades of gray serta beige. Hampir setiap tampilan bersifat monokromatik atau bernada mencerminkan keinginan akan ketenangan. Semburan optik putih, anyelir, dan lemon merupakan tambahan intuitif, memberikan sentakan energi positif.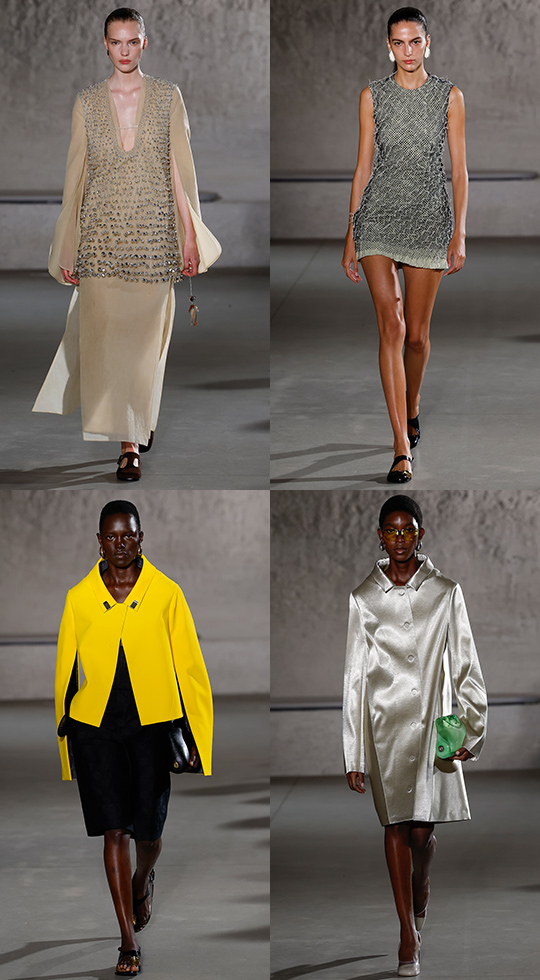 Dan mengapa pertunjukan runway Tory Burch SS 2024 disuguhkan sangat indah karena begitu memesona dan sarat akan histori? Terima kasih kepada The Gilder Center for Science, Education, and Innovation di American Museum of Natural History . Sayap baru yang lapang dan menakjubkan ini dibangun oleh arsitek Studio Gang, Jeanne Gang, yang dikenal karena pendekatannya yang sadar lingkungan. Diiringi oleh pertunjukkan musik diproduseri oleh Wladimir Schall, yang juga menggubah "Sadness" oleh Enigma, "Sinnerman" oleh Nina Simone, dan "Tusk" oleh Fleetwood Mac.