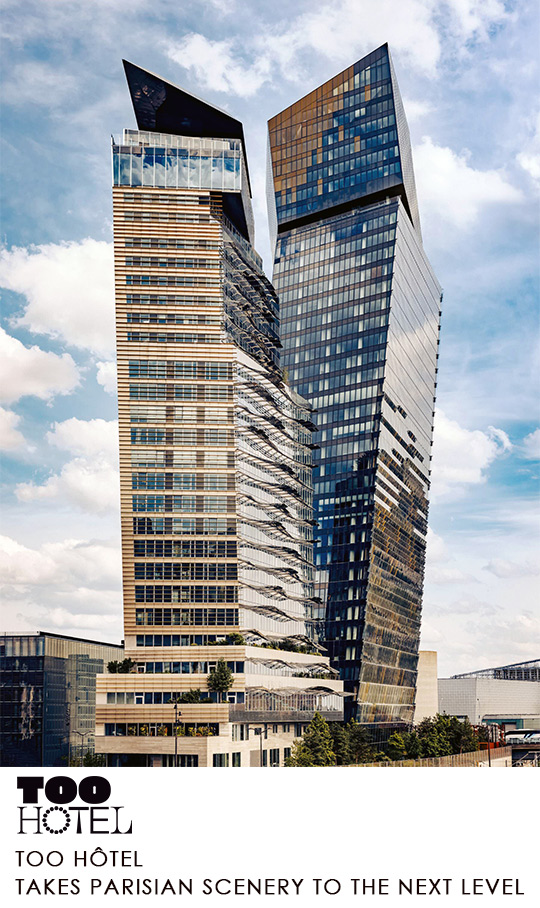 presented by

TOO HÔTEL TAKES PARISIAN SCENERY TO THE NEXT LEVEL
Published by Sugar & Cream, Friday 03 February 2023
Images courtesy of TOO Hôtel
A New Hotel Concept for Paris with Breath-taking Views
Too Hôtel, oleh Laurent Taïeb, bertengger di puncak gedung pencakar langit Tours Duo Jean Nouvel di distrik ke-13 yang semarak di Paris. Properti hotel bintang empat terbaru yang terletak di "awan" ini menawarkan kamar dengan pemandangan Paris yang spektakuler, Sungai Seine, Menara Eiffel, dan semua keajaiban Ibu kota Prancis lainnya yang tak terhitung jumlahnya. Too Hôtel juga menawarkan restoran panorama, sky bar dengan teras yang luas, dan 'spa in the sky' dengan jacuzzi terbuka.

" TOO Hôtel strives for simple yet extraordinary pleasures. It offers a heavenly and unique break from earthly cares, and is perched so high up you get the feeling Paris is all yours." –  Laurent Taïeb, founder of the TOO Hotel –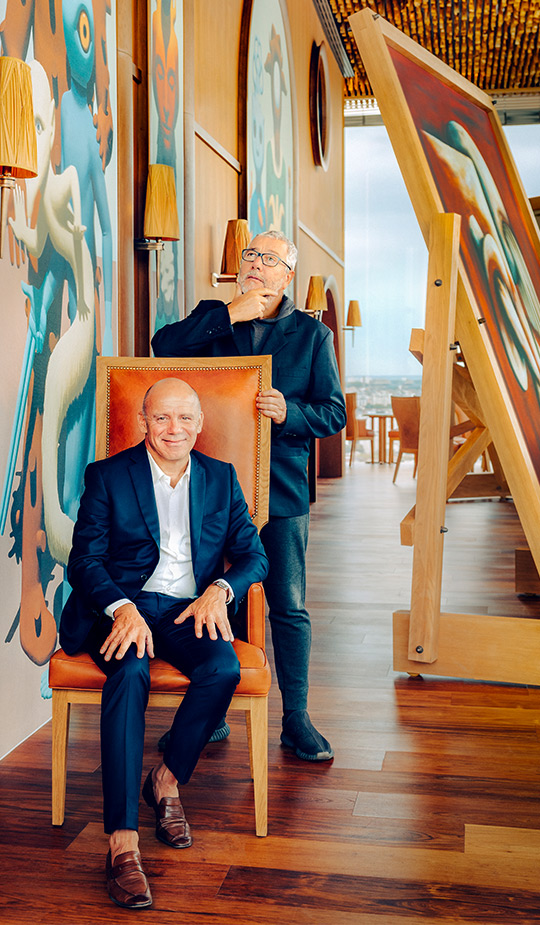 Laurent Taïeb & Philippe Starck
The Hotel
Semua 139 kamar dan suites TOO Hôtel menawarkan pemandangan indah di Paris. Kesenangan di hotel ini terletak pada pengalaman unik yang ditawarkannya dengan membawa Anda naik, jauh di atas Ibu Kota Prancis, ke mana pun Anda memandang. Ada langit, dan saat matahari mengikuti jalurnya, dan dengan ceria 'membelai' ruang nyaman hotel modern yang diimpikan yang dirancang khusus oleh desainer ternama, Philippe Starck.  Interior yang memesona termasuk tempat tidur yang sengaja dibuat miring ke arah pemandangan terbaik, memungkinkan para tamu untuk menikmati pemandangan kota yang paling legendaris sejak mereka bangun.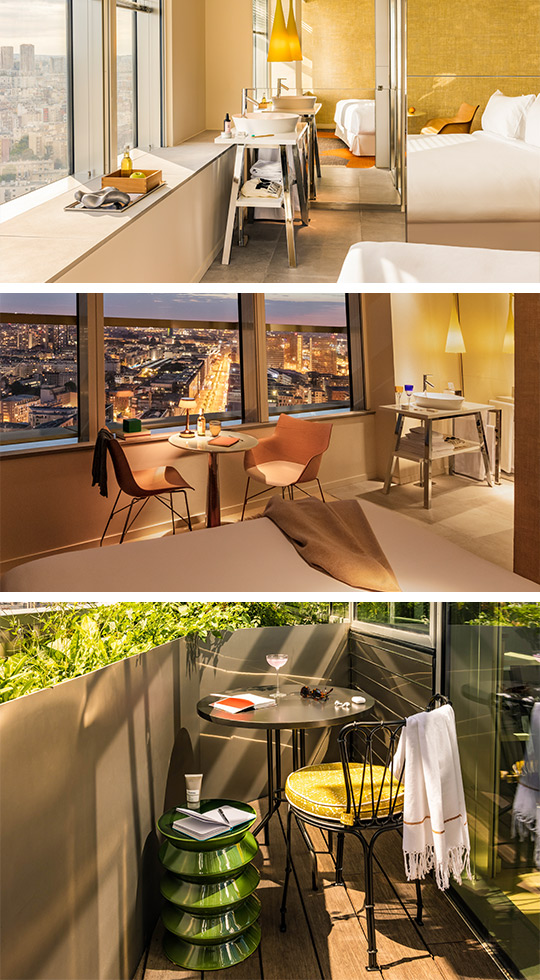 "It's the story of a palace floating in the sky above Paris, bursting with energy, dreams, love, wishes, intelligence, and laughter. The evening begins in Paris, but by the end, you could almost be in another of the world's great cities." – Philippe Starck, Artistic Director & Interior Architect –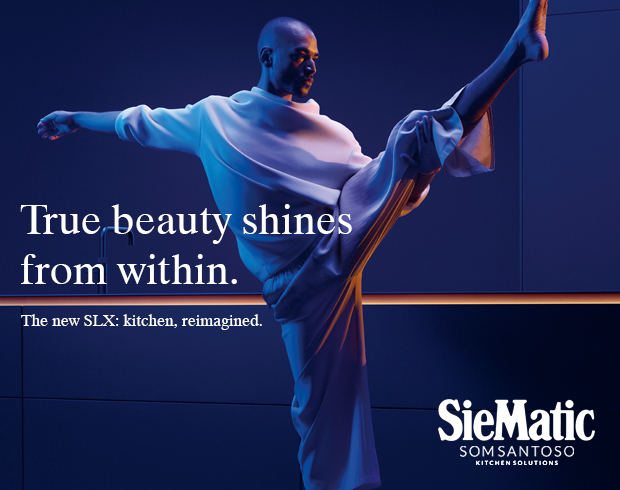 Presented by Som Santoso
TOO Restaurant
Terletak di dalam "kubus kaca" langit-langit emas yang berkilauan di atas hotel, TOO Restaurant menyuguhkan masakan dunia yang menggiurkan dengan sentuhan modern dari 'sun-up to sunset'. TOO Restaurant menghadirkan waktu yang seakan berhenti karena indahnya  di atas kota lampu. TOO Restaurant yang dikelola oleh Chef Benjamin Six, dengan bantuan banyak koki berbakat, menyajikan kepada Anda masakan dunia yang terinspirasi, kontemporer, dan halus dalam tatanan dekorasi yang spektakuler. Memadukan rasa, dan rangkaian kemewahan. Anda disuguhkan dengan pemandangan 'matahari' yang menghidupkan Notre-Dame, Seine, dan Montmartre sepanjang hari dari panoramic restaurant ini yang terletak di "kubus kaca" yang bertengger di ketinggian 100 meter. TOO Restaurant menawarkan istirahat surgawi, dari matahari terbit hingga terbenam sepanjang tahun. Nikmati sarapan di atas 'awan', makan siang di langit, atau makan malam di bawah bintang-bintang dan rasakan pesona bertengger begitu tinggi sehingga Anda merasa Paris adalah milik Anda sepenuhnya.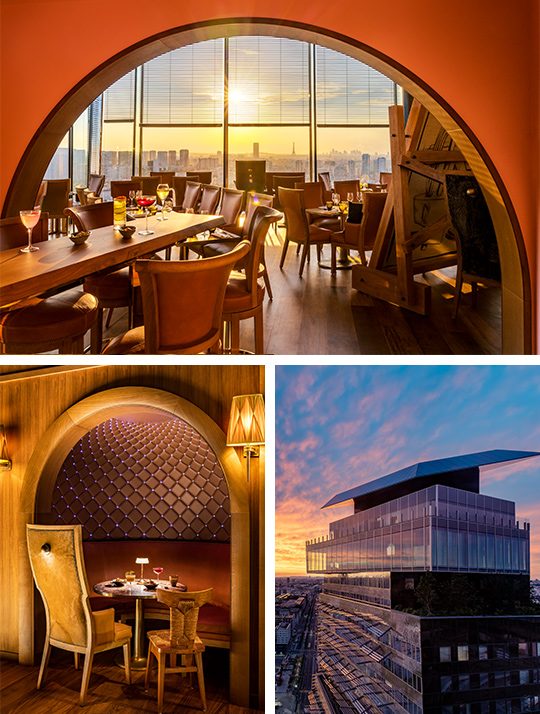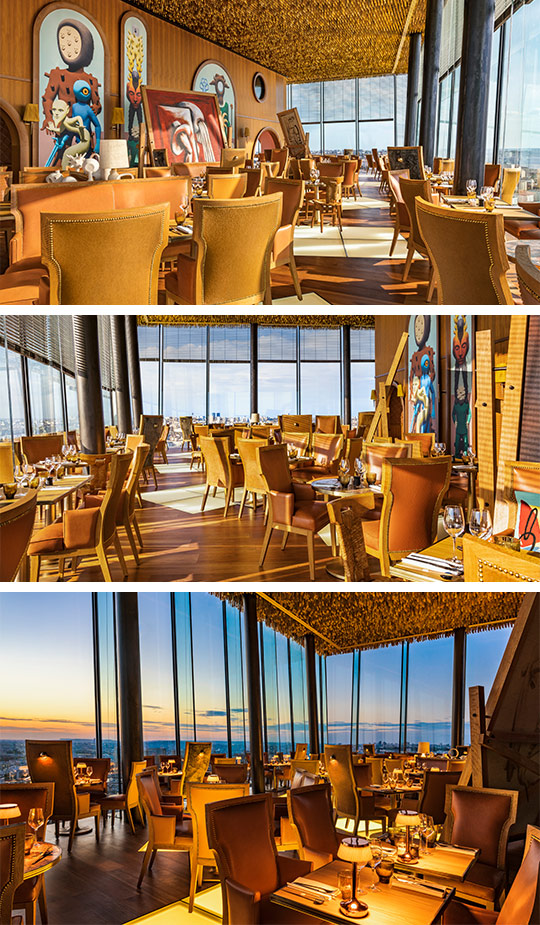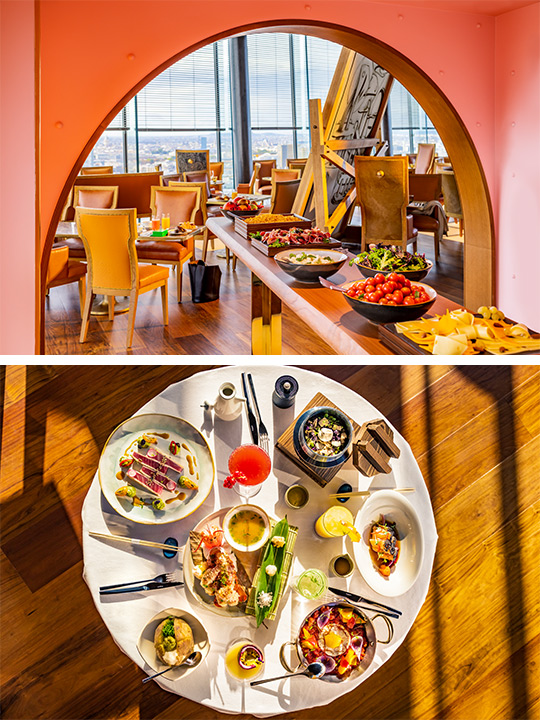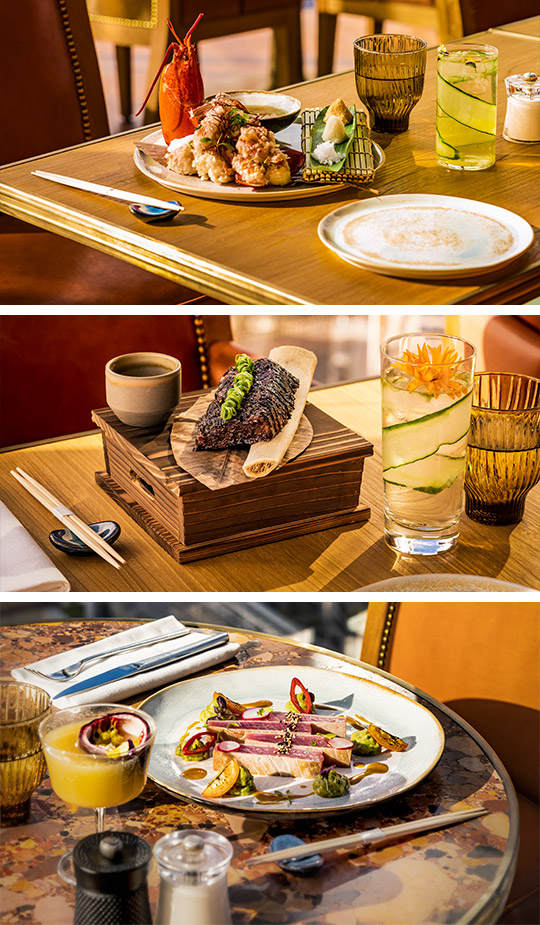 TOO TacTac Skybar
Dengan pemandangan Menara Eiffel, sungai Seine, dan semua keajaiban Paris, TOO TacTac Skybar menjadi salah satu bar atap tertinggi di kota lampu ini. Nikmati Paris dalam semua kemegahannya yang penuh warna pada waktu yang berbeda sepanjang hari dari teras bar yang luas. Satu-satunya, misterius, dan bersemangat, TOO TacTac Skybar mengundang Anda untuk menyesap koktail dan berbagi hidangan dengan rasa eksotis sambil menikmati pertunjukan langsung, set DJ, dan pesta berbasis tema. TOO TacTac Skybar membuat malam yang menyenangkan di mana keajaiban mimpi bercampur dengan lampu kota yang menari. Rasakan puncak dunia di TOO TacTac Skybar yang semarak dan semarak, yang menghadap ke Paris, menembus awan pada ketinggian 120 meter yang memusingkan. Duduklah di ruang dalam ruangannya yang indah atau di luar di terasnya yang luas dan menentang gravitasi, dan temukan pertunjukan warna yang memesona saat matahari melengkung melintasi langit kota.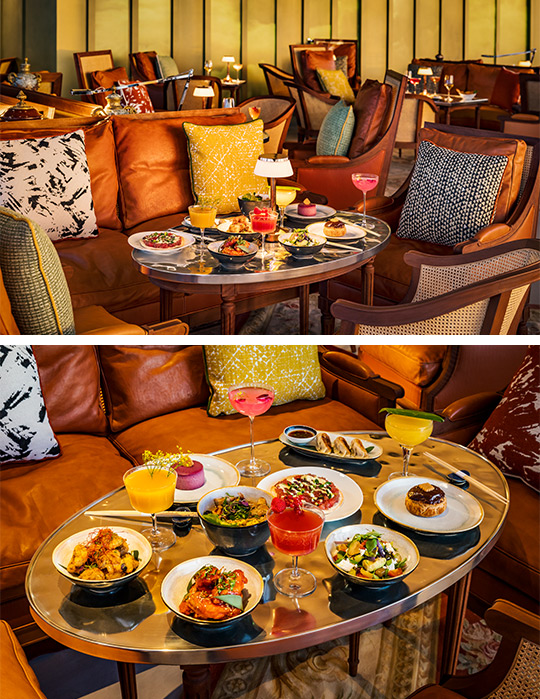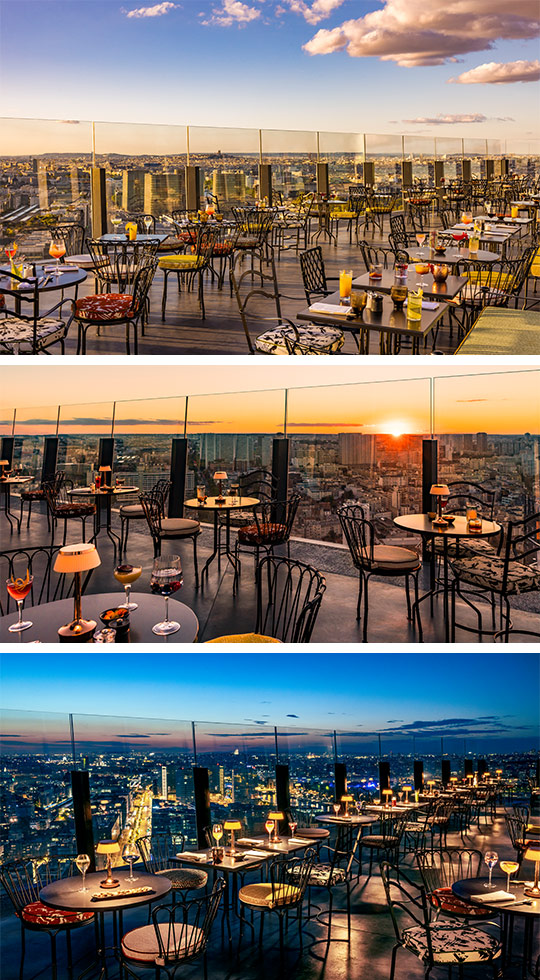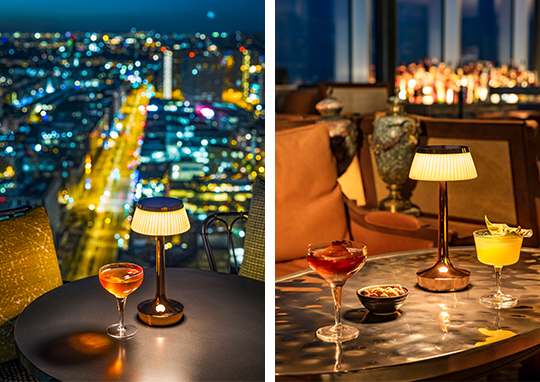 TOO Chill
Sebagai ruang wellness dan fitness satu-satunya di Paris, spa TOO Chill menawarkan relaksasi yang tak terlupakan, dengan sauna kayu cedar yang indah dan kabinnya di mana Anda dapat menikmati pijatan untuk dua orang sambil menyaksikan matahari terbit . Mengapa tidak bersantai di jacuzzi terbuka sepuluh orang yang menakjubkan, bertengger di teras rindang di lantai 17? TOO Chill menawarkan pemandangan matahari terbit dan Sungai Seine yang unik dan mewujudkan keindahan tempat itu. (DB)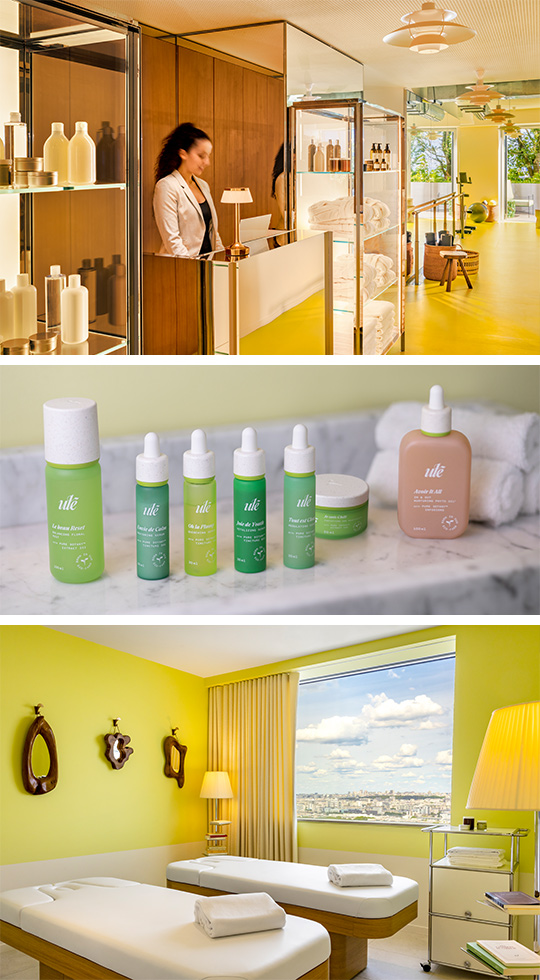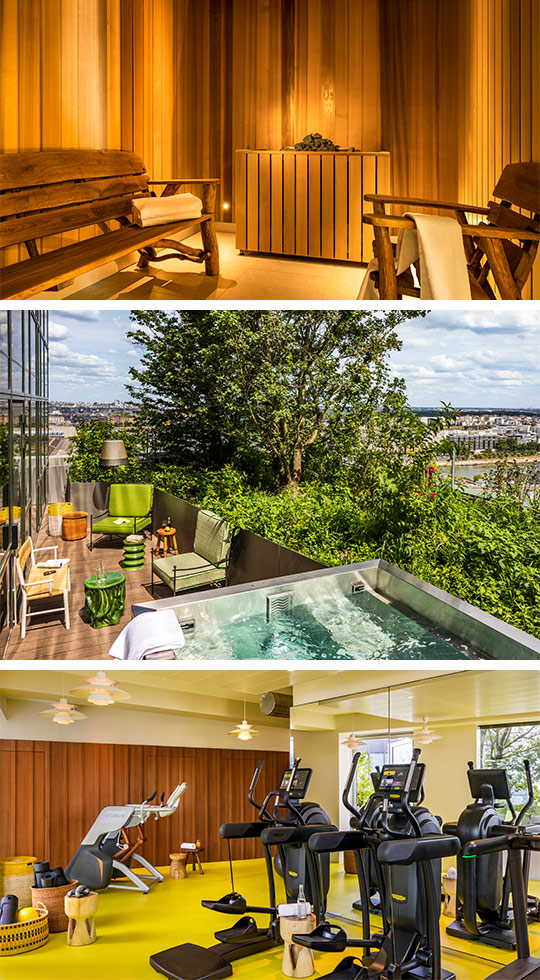 TOO Hôtel
65 rue Bruneseau, 75013 Paris
contact@toohotel.com /+33 (1) 789 079 90