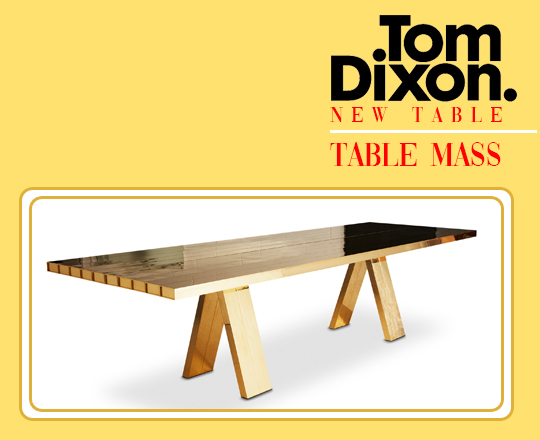 Tom Dixon's New Table – Table Mass
Published by Sugar & Cream, Wednesday 03 June 2020
Text by S&C, Images courtesy of Tom Dixon
A Super Polished Brass Table Made In UK
Semangat sisi kreatif sang desainer ternama Tom Dixon terus menawarkan ide-ide pembaruan yang tak terduga dengan koleksi terbarunya. Kali ini mengaji bahan metal kuningan berubah menjadi sebuah meja terbilang monumental dan masif, bercahaya (memantulkan cahaya) yang keseluruhannya terbuat dari kuningan. Meja didapuk dengan nama 'Table Mass', dipastikan memancarkan pantulan cahaya dimanapun berada.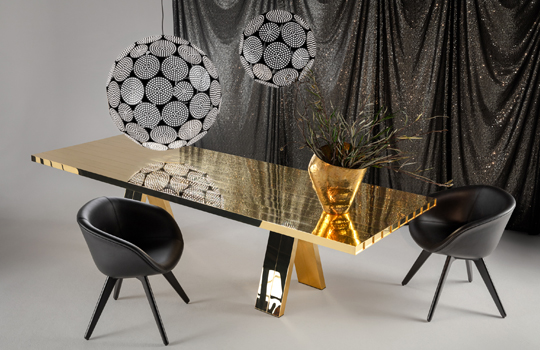 Tom memang cerdik melihat lebih jauh potensi sebuah bahan dan mengubahnya menjadi objek desain yang menggoda dengan menonjolkan bahan tersebut sebagai daya tarik yang lebih. Meja kuningan bukan hal baru. Namun, Tom turut meramunya dalam proses industri (ekstrusi tabung persegi panjang) yang memungkinkan produksi Table Mass dapat disesuaikan ukurannya. Tom menawarkan bentuk kontemporer yang terlihat 'simple glam'. Bentuk kakinya turut menyiratkan detil konfigurasi yang dirancang menyesuaikan konfigurasi tabung persegi panjang.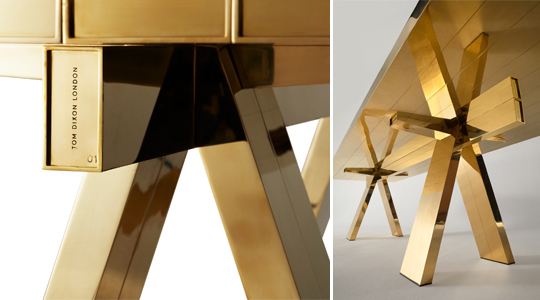 Tom says: 'We wanted to create something super-basic in terms of construction so that it's very reduced, minimal and logical. Yet simultaneously it's the opposite in aesthetics, in that it is extremely precious and desirable.'

Tabel Mass memang bukan table domestik biasa. Sebuah meja penuh keberanian yang memantulkan pedaran emas membuat ruang menjadi lebih hidup secara instan.