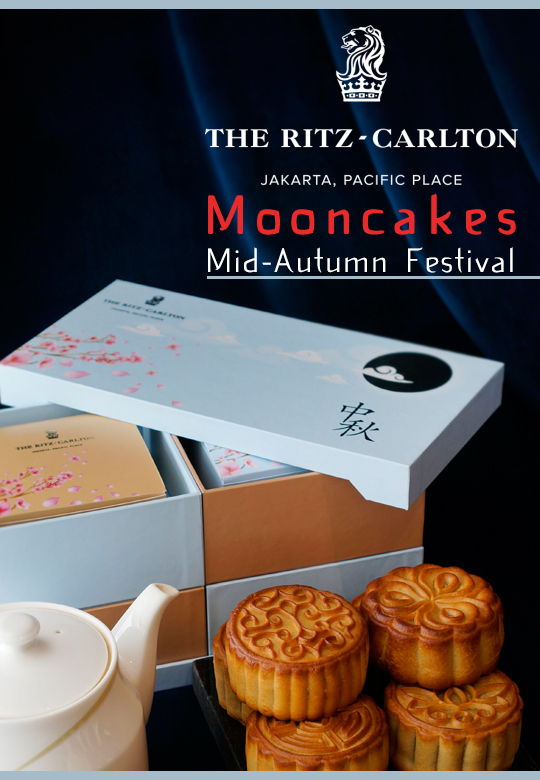 The Ritz-Carlton Jakarta, Pacific Place – Mooncakes Festival for the Mid-Autumn Festival
Published by Sugar & Cream, Wednesday 12 September 2018
Text by Dira Rohmatun, images courtesy of The Ritz-Carlton Jakarta, Pacific Place
From Traditional to Durian Yolk Lotus
Semaraknya menyambut perayaan Festival Mid-Autumn, berbagai hotel bintang lima berlomba menampilkan Kue Bulan terbaik mereka, tidak terkecuali The Ritz-Carlton Jakarta, Pacific Place.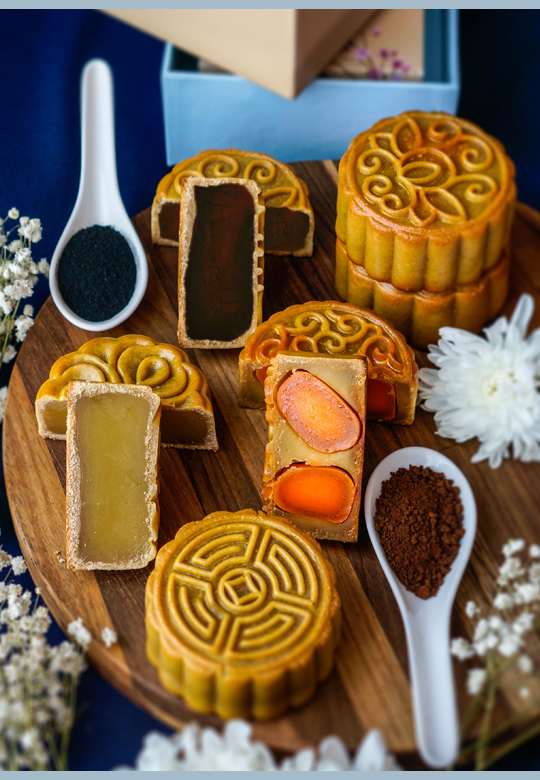 Di bawah arahan juru masak handalnya Chef Ken Lee, memperkenalkan varian rasa dari sajian klasik Kue Bulan panggang yang lezat hingga cita rasa yang eksotis.
Mungkin yang paling ditunggu-tunggu para pencinta kuliner tentunya rasa teristimewa dari buah Durian.
Kue Bulan yang berisi Durian Yolk Lotus ini menjadi salah satu sajian andalan dari The Ritz-Carlton Jakarta, Pacific Place. Terbuat dari pasta biji teratai dan durian segar, Kue Bulan ini memiliki aroma durian yang khas dengan tekstur lembut yang mengundang indera perasa untuk mencicipinya. Bagi pencinta Mooncake dan durian, ini tentunya momen yang ditunggu-tunggu.
Anda dapat memesan Mooncake ini di Restoran PASOLA dan wedding showroom di The Ritz-Carlton Jakarta, Pacific Place hingga 24 September 2018 mendatang.
Selain rasa durian, The Ritz-Carlton Jakarta, Pacific Place juga menyuguhkan varian klasik Mooncake yang menggoda lainnya seperti wijen hitam (Black Sesame), campuran aneka kacang Five Nut Mix, teh hijau (Green Tea), kacang merah (Red Bean), dan biji teratai (Lotus seed). Seluruh varian dapat disajikan polos maupun dengan kuning telur asin, menyesuaikan pilihan selera Anda.

Mooncake cantik ini hadir dalam paket berisi empat Kue Bulan dengan harga sekitar Rp. 498.000-, per box. Selain itu, Anda juga dapat membeli satuan seharga Rp. 118.000-, per kue. Soal kemasan, paket Kue Bulan ini akan dibungkus cantik dengan kemasan yang artistik bernuansa kayu dan berwarna biru muda, sehingga dapat dijadikan hadiah istimewa untuk diberikan keluarga atau kerabat terdekat.