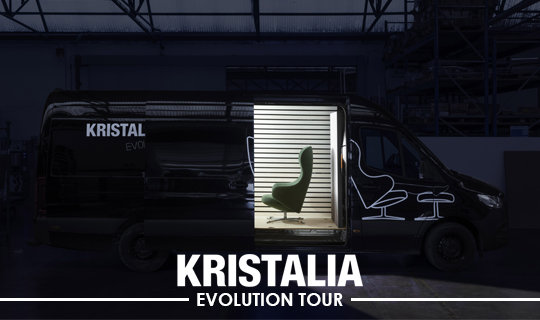 presented by

THE FASCINATING KRISTALIA EVOLUTION TOUR
Published by Sugar & Cream, Tuesday 12 October 2021
Text by Dinda Bestari, Image courtesy of Kristalia
Design Approach with Rhythm Music
Who wants to experience the thrill of coming back to life with something inspired by music? You will feel the excitement how Kristalia presents bespoke an exciting tours tailor-made for you!
Jenama asal Italia, Kristalia, melakukan 'langkah' inovatif  yang kali ini terinpirasi oleh musik, dengan menyalakan"lampu" EVOLUTION TOUR yang belum pernah terjadi sebelumnya untuk memberikan sedikit kesenangan di tengah 'hambatan' karena pandemi. Melalui  regrouping, reinventing, dan memperbaharui dalam "new normal",  Kristalia selalu berinovasi dan evolusi terhadap desain dan teknologi seakan menjadi DNA dalam jenama.
"Jazz is not just music, it's a way of life, it's a way of being, a way of thinking" – Nina Simone –
Anda dapat melihat video teaser-nya di sini

Dan Kristalia melakukan pendekatan desainnya dengan ritme (musik jazz) ini, melalui desain yang diinterpretasikan layaknya gaya hidup (lifestyle).  Yang juga berperan dalam menyatukan masyarakat (people) untuk mendobrak 'hambatan'  dalam keadaan saat ini dengan berimprovisasi, berinovasi, serta membangkitkan interaksi antar budaya melalui pemberdayaan. Melalui tour kreatif, Kristalia menampilkan produk ikonis dan terbarunya seperti Dua Relax, Dua Swivel Trestle, Dua Cantilever, Mem Soft, Rama Wood Stool, Palco, be-Easy Slatted Bench, Brioni Lounge, Elephant Table dan Mustache-MIAB.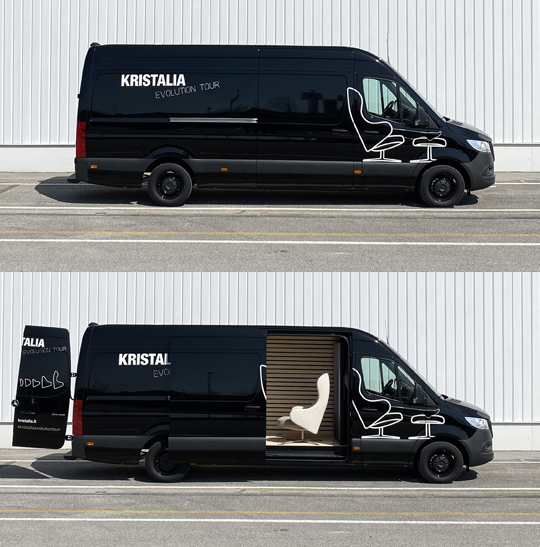 Pada akhir April tahun ini, Kristalia melakukan tour dengan VAN untuk melintasi Eropa dengan konsep/tema "go and embrace" kepada para pelanggan di area lokal, ruang pamer, toko, maupun studio profesional mereka sendiri. Hal ini menjadi tur yang yang menarik karena dipesan lebih dahulu untuk pelanggan Kristalia. Mereka akan merasakan sensasi seakan hidup kembali melalui pengalaman nyata, yang berbeda dengan tur virtual biasa dialami dalam beberapa bulan terakhir.

Presented by Interni Cipta Selaras
'Bintang' panggungnya akan menjadi hal baru dalam katalog baru jenama: "Feel at Home (more than ever) vol. 2" dan "Feel Outdoorsy", yang dapat ditemukan dan dirasakan oleh pelanggan Kristalia. Bentuk konkrit dan minimalis yang juga fungsional dan 'merangkul', mood board yang menginspirasi, serta new finishing touch –  merupakan hasil dari penelitian yang mendalam dan cerdas oleh Kristalia –  dapat diapresiasi di tiap tahapan tur ini. 'Melodi' produk yang dibuat oleh desainer ternama internasional dan irama-irama kilometer dari VAN akan bergabung menjadi dialog autentik untuk menciptakan pengalaman pelanggan yang intens dan orisinal.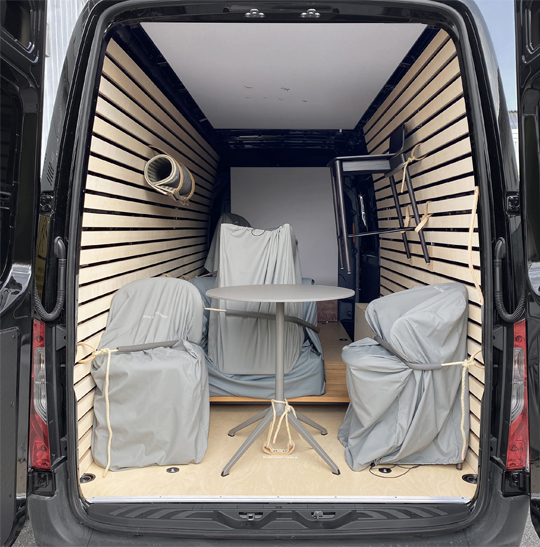 Lokasi yang tidak biasa – terinspirasi oleh masa lalu ketika produk dimuat ke truk pengangkut untuk ditujukan kepada pelanggan di area lokal – akan melibatkan pelanggan dalam pengalaman multi-indera dalam ruang fisik. Hal ini seakan merangkul serta menyelaraskan dengan value dari jenama, yang telah dirancang dan dikuratori dalam detail terbaik oleh arahan artistik tim Kristalia bekerja sama dengan jenama MD House.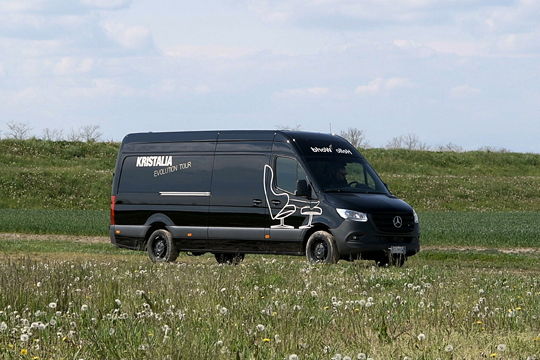 Untuk mengetahui ''playlist" produk yang dibawa Kristalia dalam tur, Anda dapat mengikuti  #kristaliaevolutiontour pada profil sosialnya. Soundtrack perjalanan telah dikuratori oleh ClubKristalia.