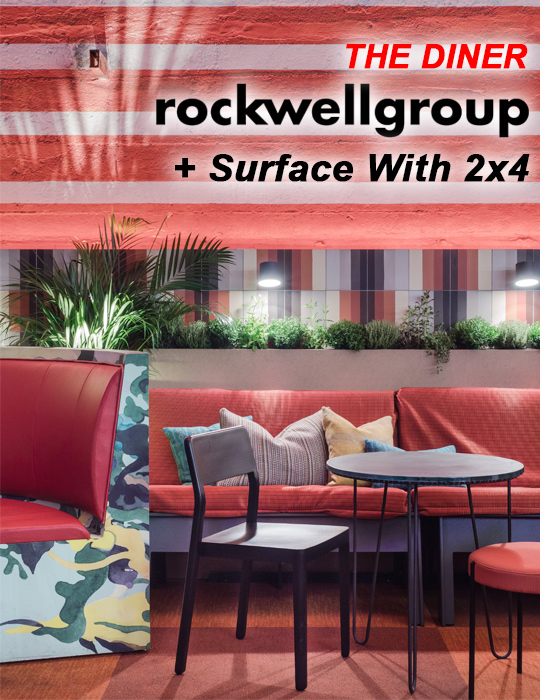 The DINER by David Rockwell + Surface With 2×4
Published by Sugar & Cream, Monday 21 May 2018
Text by S&C, photography by Michele de Candia
Salone del Mobile 2018 – A Pop Up American Dining Experience
Berpartisipasi dalam ajang Milan Design Week 2018 di Milan bulan April lalu dan sekaligus merayakan 25 tahun perjalanannya, majalah terkemuka Surface berkolaborasi dengan arsitek David Rockwell (Rockwell Group) dari New York dan studio desain 2×4 untuk mengkonstruksi sebuah pop-up restoran The Diner.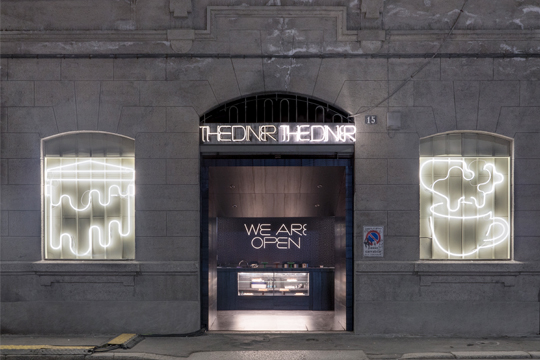 The facade of the pop up Diner
The Diner merayakan pengalaman menikmati makan pagi, siang, malam maupun minuman cocktail dengan nuansa kental budaya Amerika seperti terlihat di beberapa restoran terkemuka tipikal Amerika  yaitu The Roadside Diner, East Coast Luncheonette, Midwest Diner dan West Coast Diner. The Diner tidak lain adalah sebuah perayaan desain Amerika di Milan.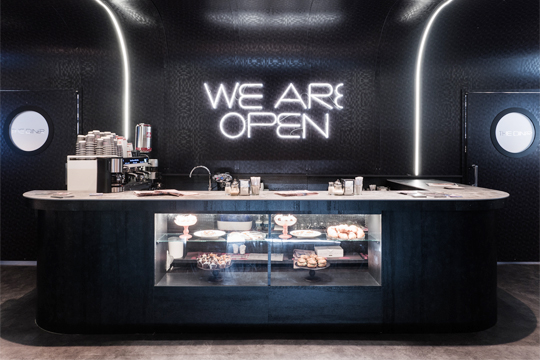 The Reception Area
"Diners have always been a home away from home for me and a place to observe people coming together. They are inherently optimistic mix of consistency, familiarity, and pioneering design. It has been a thrill to collaborate with Surface and 2×4 on our own version of The Diner. Along with the LAB at Rockwell Group, we handpicked some of our favorite brands to collaborate with us in order to create a unique visual language that expands and extrapolates on the DNA of this American cultural icon,"
David Rockwell, founder and President of Rockwell Group.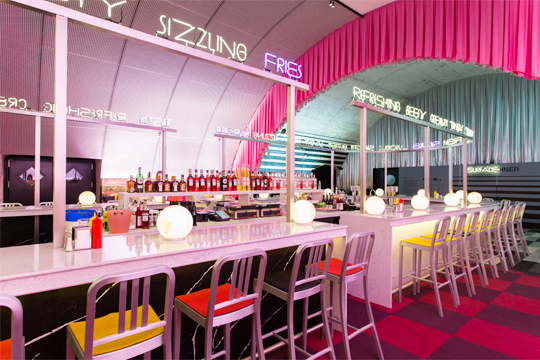 The Oval Bar in the center of the Diner
Sangat impresif dari The Diner yang berlokasi dekat station kereta api utama Milan (Milano Centrale). Anda tidak merasakan sebuah instalasi pop up. Melainkan sebuah restoran baru yang baru saja dibuka. Dikemas apik dengan atap melengkung. Yang menjadi daya tarik utama adalah sebuah bar berbentuk oval ditengah ruang dengan sebuah stage dibagian belakang. Sementara disisi kiri dan kanan terdapat gugusan meja makan. Mudah ditebak, interior The Diner membawa nuansa kental gaya restoran tipikal budaya Amerika yang kasual.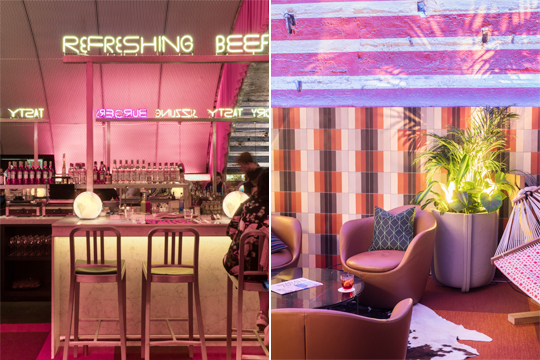 The Diner bukan sekadar sebuah instalasi pop up. Disini pengunjung dapat menikmati sajian makan pagi, siang, malam hingga nuasa bar dengan live DJ setiap hari selama Milan Desain Week tersebut. Menu yang ditawarkan tidak kalah unik yaitu kuliner tradisional Amerika dengan contemporary twist yang dipercayakan pada Murray's Cheese (ahli pemasok makanan) dari New York.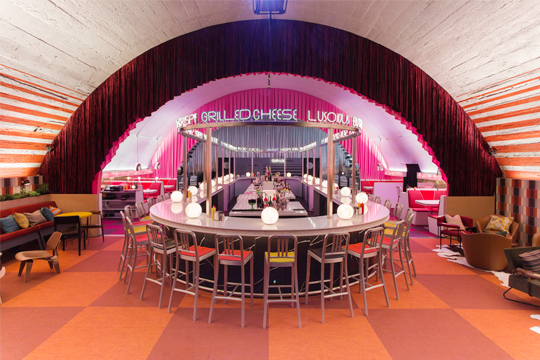 The Interior of the Diner
"Food and design have always gone hand in hand. Cheese is the thing that Murray's knows best, and we are thrilled to reinterpret our classic dishes through a collaborative vision with design leaders Surface and Rockwell Group. By reinterpreting American classics–grilled cheese, mac and cheese–and sharing them in this context, Murray's links the history of our American roots with the scope of an increasingly interconnected world,"
Elizabeth Chubbuck, SVP of Marketing and Sales for Murray's Cheese.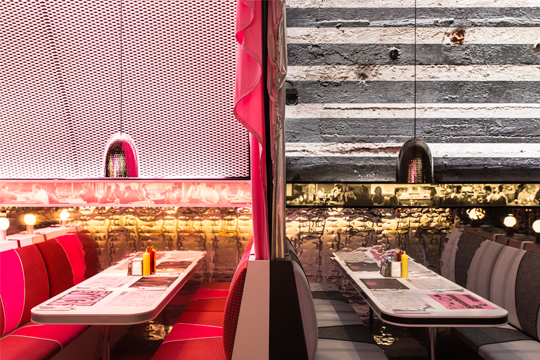 Inspiration from Midwest Dinner and East Coast Lunchonette
Kehadiran budaya Amerika melalui konsep cukup radikal yaitu sebuah instalasi pop up yang impresif layaknya sebuah restoran baru, menjadi salah satu daya tarik utama selama pekan desain week bulan April lalu di kota Milan.
Tidak heran jika organisasi Milan Design Week 2018 menobatkan The Dinner pemenang dalam kategori " The Best Engagement".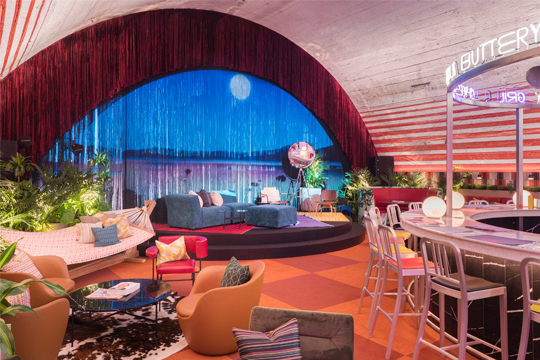 The Stage in the Diner
Additional Information
Initial idea: Jacob Perez (Jacob Perez Office, NY) dan  Eli Peer  (Allenby Concept House, NY)
Surfaces for Bar and Tables : Cosentino (Spanyol)
Furniture : Design Within Reach, Shaw Contract Carpet Tile, Maharam, Kohler, Chemetal, Pure + FreeForm, Nasser Nishaburi, Bisazza, Tina Frey Designs, L'Objet, Wallpaper Projects, dan Electrolux.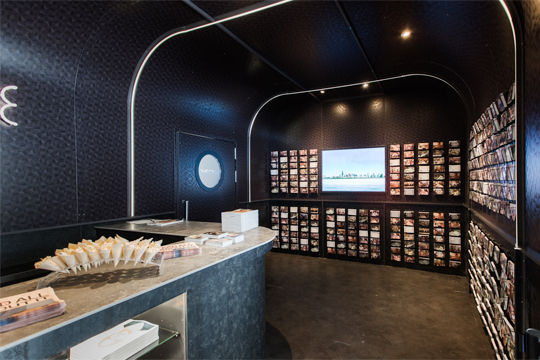 The Reception area