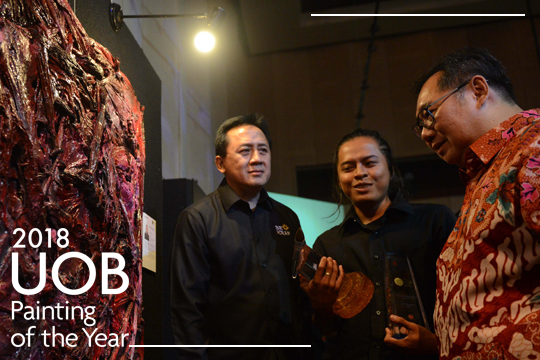 Suvi Wahyudianto as The Winner of UOB Indonesia Painting of The Year 2018
Published by Sugar & Cream, Tuesday 30 October 2018
Text by Auliya Putri, Images Courtesy of UOB Painting of The Year
'Angs't'
Lukisan abstrak berjudul 'Angs't' karya dari seniman Suvi Wahyudianto berhasil menjadi pemenang dalam penghargaan seni lukis tahunan UOB Indonesia Painting of The Year 2018.
"Karya saya menekankan pentingnya berempati. Inspirasi karya ini berasal dari ketegangan antar etnis di Sampit, Kalimantan. Karya ini juga menyimbolkan harapan bahwa suatu hari dinding tebal yang memisahkan kita sebagai manusia yang berkedudukan sama akan runtuh. Bagaimanapun, terlepas dari perbedaan ras dan budaya, kita semua pada dasarnya sama. Sebagai seniman profesional muda, saya merasa terhormat dapat memenangkan penghargaan UOB Indonesia Painting of the Year 2018. Penghargaan ini merupakan kompetisi seni internasional pertama dan memberi saya pengalaman yang sangat berharga," ujar seniman asal Madura – Jawa Timur ini.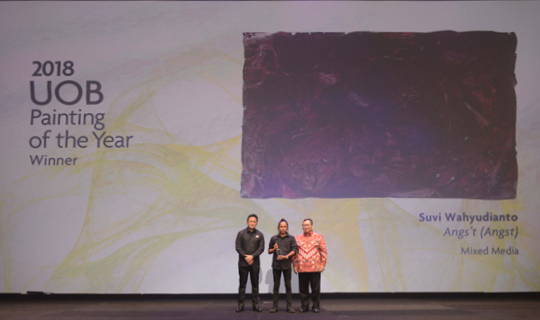 Triawan Munaf, Suvi Wahyudianto, Iwan Satawidinata
Seniman kontemporer Entang Wiharso, sebagai juri dari ajang ini pun mendapat kesan yang mendalam tehadap karya ini. Dimana teknik dan medium yang dipakai, pewarnaan, kepekaan, dan pesan yang terkandung membawa Suvi Wahyudianto kepada gerbang kemenangan.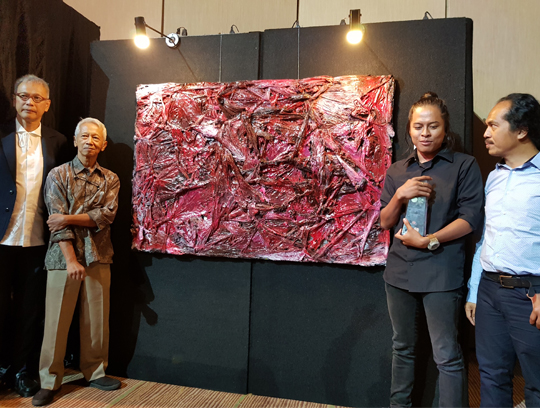 Dr Wiyu Wahono (juri & kolektor), Bambang Bujono (juri & kritikus seni), Suvi Wahyudianto (pemenang), Entang Wiharso (juri & perupa)
Atas kemenangannya, Suvi akan melanjutkan kompetisi dalam ajang UOB Southeast Asian Painting of The Year bersama pemenang dari negara lain yaitu Malaysia, Singapura, dan Thailand, yang akan diumumkan pada tanggal 1 November 2018 mendatang.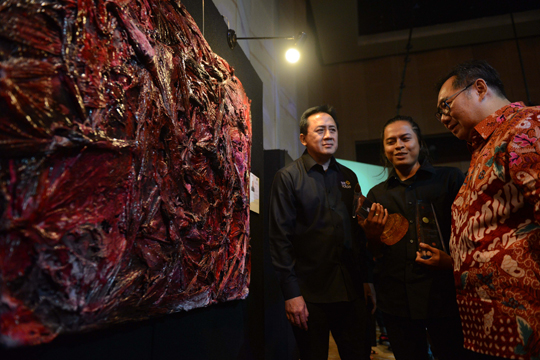 Triawan Munaf, Suvi Wahyudianto, Iwan Satawidinata
Selain Suvi, UOB Indonesia Painting of The Year 2018 juga melahirnya pemenang lainnya. Yaitu Seno Wahyu Sampono dengan lukisan berjudul 'Introspeksi Diri' yang memenangkan kategori Seniman Pendatang Baru (Emerging Artist). Lukisan-lukisan para pemenang pun akan dipamerkan di Gedung A Galeri Nasional pada tanggal 8 – 19 November 2018 dan terbuka untuk umum.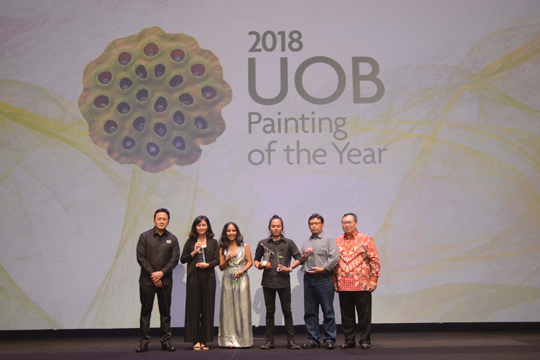 Triawan Munaf, Ajeng Martia Saputri (Pemenang Gold Award), Lenny Ratnasari Weichert (Pemenang Bronze Award), Suvi Wahyudianto (Pemenang UOB Painting of the Year 2018), Hudi Alfachuri (Pemenang Silver Award), Iwan Satawidinata
Berikut daftar pemenang dari kategori Seniman Profesional Indonesia
| | | | |
| --- | --- | --- | --- |
| | Seniman | Judul Karya | Gelar Juara |
| 1. | Suvi Wahyudianto | ANGS'T | 2018 UOB Indonesia Painting of the Year |
| 2. | Ajeng Martia Saputri | Universe Under Our Skin | Gold Award |
| 3. | Hudi Alfachuri | Urban Solitary | Silver Award |
| 4. | Lenny Ratnasari Weichert | Yang Ibu Ajarkan | Bronze Award |
Berikut daftar pemenang dari kategori Seniman Pendatang Baru Indonesia

| | | | |
| --- | --- | --- | --- |
| | Seniman | Judul Karya | Gelar Juara |
| 1. | Seno Wahyu Sampurno | Introspeksi Diri | Most Promising Artist of the Year |
| 2. | Danni Febriana | Shocking Beauty Is Goat | Gold Winner |
| 3. | Anissa Dermawan Kunaefi | Camouflage "Flackterns" | Silver Winner |
| 4. | Alif Edi Irmawan | Dongeng Tanah Surga | Bronze Winner |