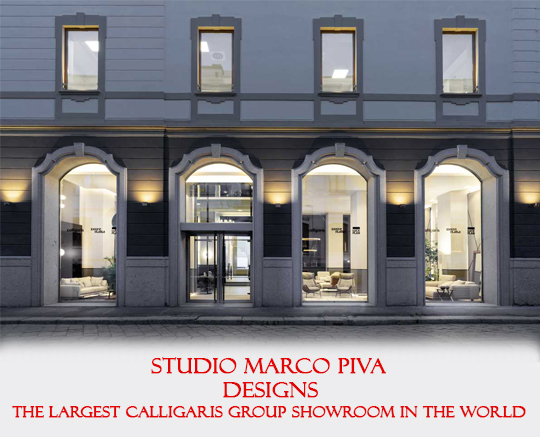 presented by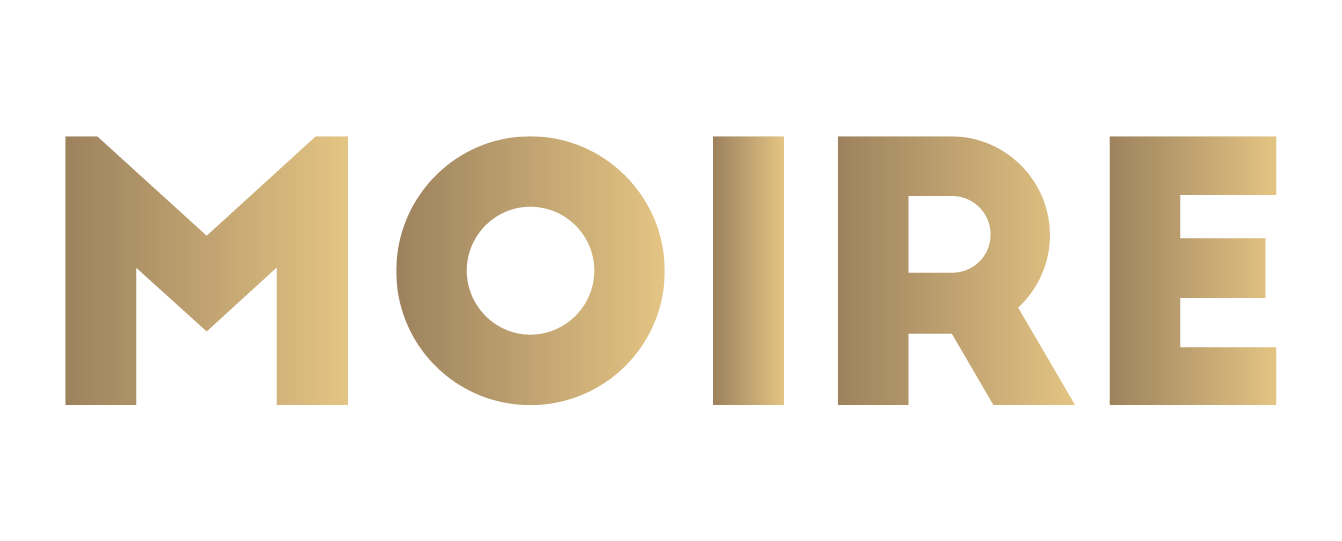 STUDIO MARCO PIVA DESIGNS THE LARGEST CALLIGARIS GROUP SHOWROOM IN THE WORLD
Published by Sugar & Cream, Friday 17 June 2022
Images courtesy of Studio Marco Piva
Open, Flexible, and Interconnected Spaces
Setelah pembukaan Eropa dan internasional baru-baru ini, Calligaris Group juga memperluas jaringannya di Italia, memilih Milan, kota yang mewakili keunggulan dalam dunia desain, untuk pembukaan flagship store terbesar dan paling bergengsi, yang dirancang oleh Studio Marco Piva.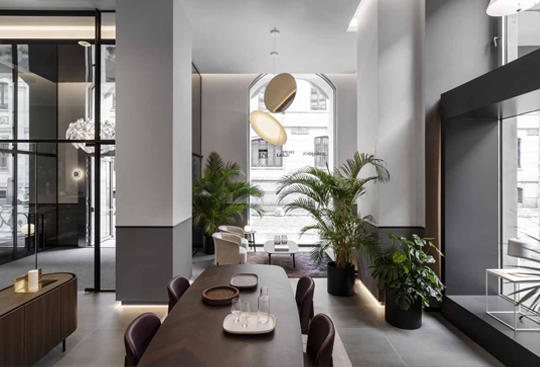 Flagship store yang terletak di Via Solferino 21N03, terletak di distrik desain baru Milan, di jantung distrik Brera. Mencakup area seluas 700 meter persegi di dalam bangunan bersejarah abad ke-19 "Cortile della Seta", yang baru-baru ini mengalami pekerjaan renovasi penting. Bangunan yang selama bertahun-tahun menjadi kantor pusat Banca Popolare Commercio e Industria, kemudian menjadi flagship Store terbaru ini akan memamerkan koleksi Calligaris, Ditre Italia, dan Luceplan.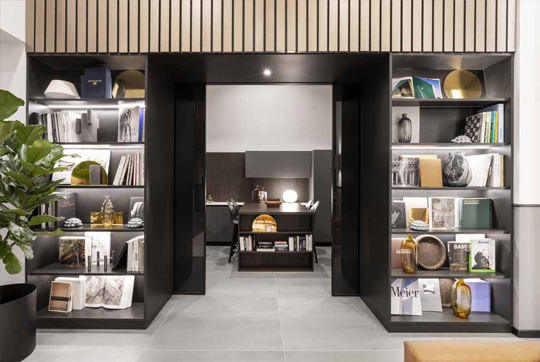 Simak video Calligarisgroup showroom in Milan – The Making Of di sini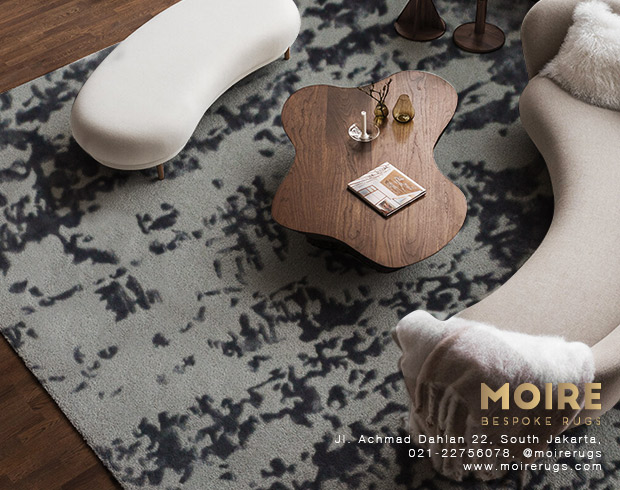 Presented by MOIRE Rugs
Konsep flagship store mengakomodasi ruang terbuka, fleksibel, dan saling berhubungan: mengintegrasikan tiga jenama inu, menciptakan skenario yang menyatukan berbagai lingkungan melalui cara pemahaman interior rumah kontemporer, yang diubah menjadi desain Italia, fokus perhatian terhadap manufaktur serta mesehingga  menyoroti berbagai pilihan kustomisasi yang tersedia.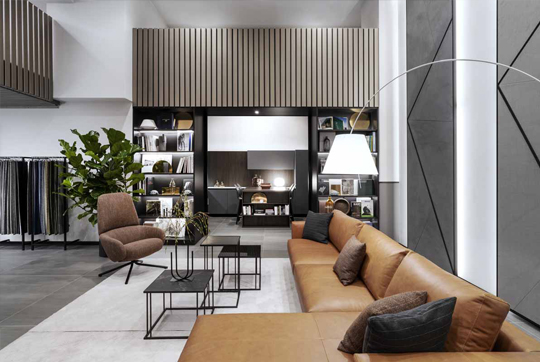 Tangga besi existing telah 'diawetkan dan dilengkapi dengan cantilevered stoneware steps dengan LED strips untuk menonjolkan jalur.  Sedangkan pada balustrade diputuskan untuk menggunakan bilah logam berwarna sampanye untuk menciptakan ritme vertikal yang menggemakan kolom penahan beban arsitektur. dan laminasi yang dipilih untuk langit-langit palsu di area materioteca: sebuah craftsmanship yang mengagumkan dengan dampak estetika hebat, memberikan efek dinamis ringan dan permeabilitas.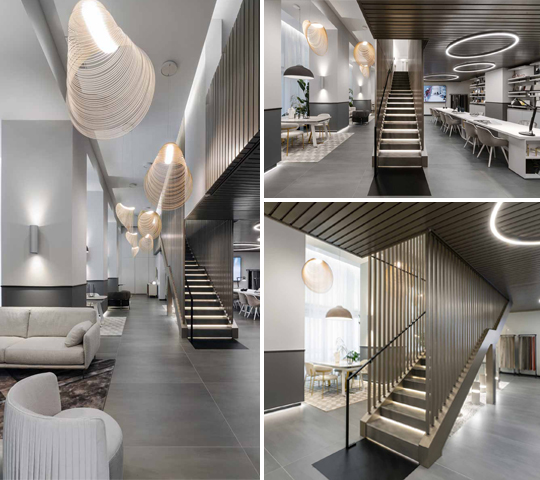 Untuk pencahayaan, entah cahaya alami dari jendela besar atau cahaya buatan, memainkan peran kunci: menyoroti produk, bahan, dan arsitektur melalui pencahayaan tersembunyi dan proyektor langit-langit, LED strips  di alas dan di sekitar portal besar untuk menandai jalurnya, demi menciptakan getaran yang bersinergi dengan decorative suspended lighting dari Luceplan.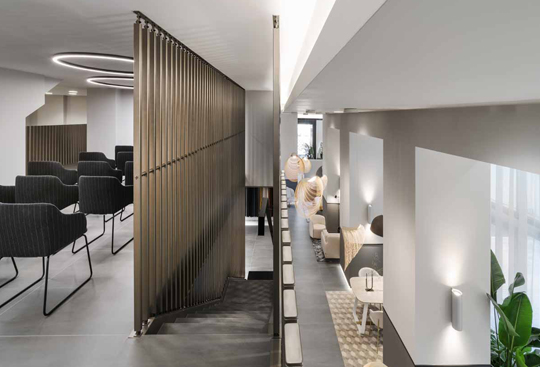 Aspek penting dari outfitting adalah telah dipilih skema warna yang dirancang dengan cermat: tone warna abu-abu netral (dari antrasit hingga perak).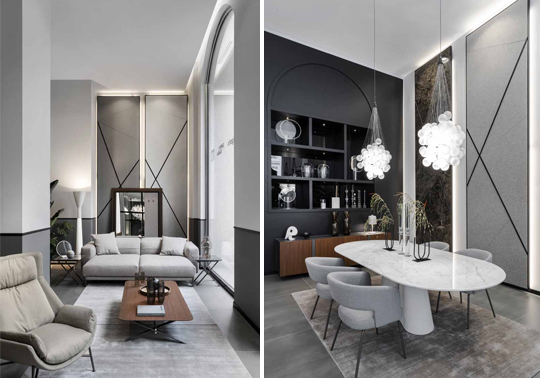 Diterapkan pada penutup lantai dan dinding dan digunakan untuk menandai elemen arsitektur, serta menekankan desain produk dalam konfigurasi yang berbeda dari ruangan, telah dirancang untuk berubah seakan seperti  perubahan musim tahun untuk presentasi koleksi terbaru. (DB)