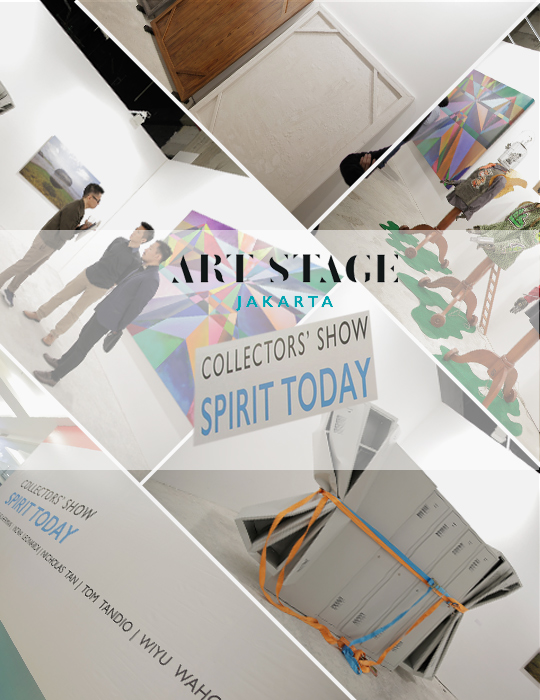 Spirit Today – ART STAGE Jakarta 2017
Published by Sugar & Cream, Monday 28 August 2017
Young Collectors Exhibition
Tidak dipungkiri lagi bahwa ART STAGE Jakarta merupakan panggung raksasa dalam konteks seni dan desain. Para pecinta maupun kolektor seni pastinya hadir mengujungi oasis yang menampilkan beragam karya seni yang fantastis. Salah satu penawaran spesial ialah pertunjukan karya seni dari para kolektor muda Indonesia yang pada edisi pertamanya berhasil diadakan dengan tema NO PAINTING TODAY di tahun 2014. Dan untuk tahun 2017, kelompok kolektor muda ini sekali lagi mengerahkan segalanya untuk mempersembahkan SPIRIT TODAY, 9 – 13 Agustus 2017 di Gandaria City, yang menghadirkan koleksi eksklusif dari Arif Suherman, Indra Leonardi, Nicholas Tan, Tom Tandio dan Wiyu Wahono. Malam pembukaannya tanggal 9 Agustus lalu, ajang pameran dipenuhi para undangan yang terdiri dari kolektor, pemerhati seni hingga pencinta seni dan para sosialista. Ajang ini sebagai momentum penanda waktu dimana para kolektor muda menampilkan citra rasa, spirit dan momen dimana pergerakan seni menjadi pilihan personal mereka.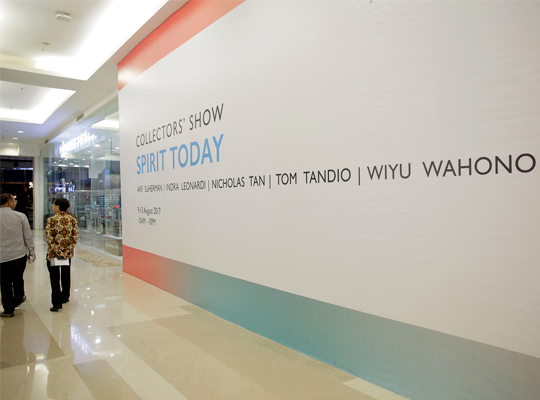 Wiyu Wahono menampilkan koleksinya berupa audio visual installation berjudul Modell V kreasi Granular-Synthesis (Kurt Hentschlaeger & Ulf Langheinrich). Menurut Wiyu, instalasi ini merupakan awal dari penemuan awal digital moving image.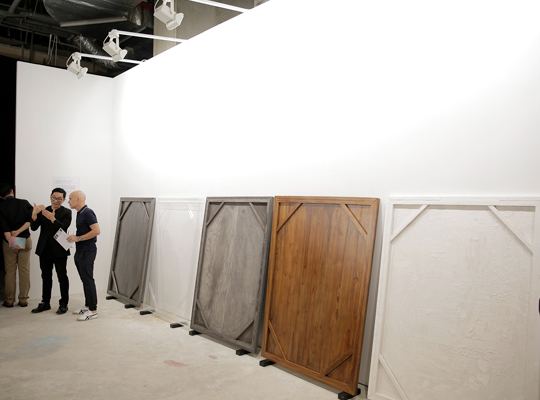 Aditya Novali, The Object(ion) of Paintingm, 2014 – Collection of Nicholas Tan

Fotografer ternama Indra Leonardi menampilkan 4 buah manekin karya Indieguerillas berjudul The Cheerful Hostages Sunday Brunch Club.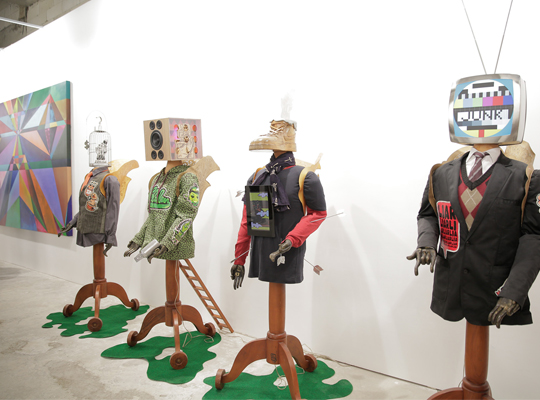 Indieguerillas, The Cheerful Hostages Brunch Club, 2010 – Collection of Indra Leonardi
Kolektor Tom Tandio menampilkan sebuah digital print on kodak paper on aluminium karya Wimo Ambala Bayang yang berjudul Holy 2012. Memperlihatkan sebuah batu masif yang mengapung diatas air.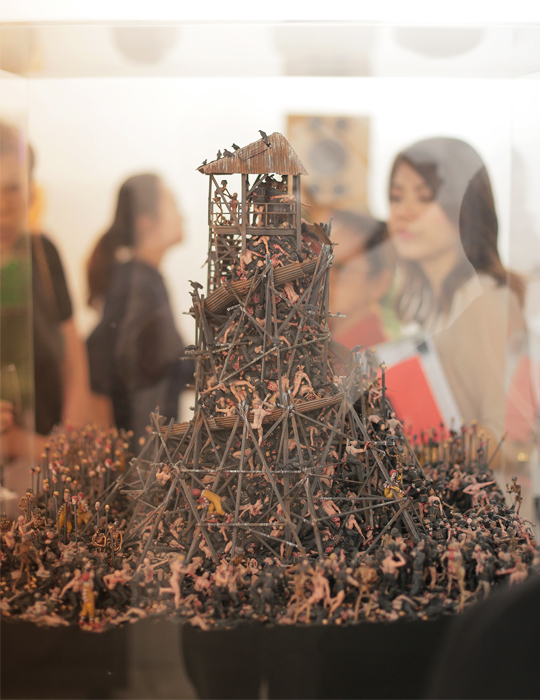 Jake & Dinos Chapman, HELTER SKELTER-ALKA-SELTZER, 2014 – Collection of Nicholas Tan
Kolektor Arif Suherman memperlihatkan spektrum warna diatas kanvas berjudul Plane_Space Glide 2013 karya seniman jepang yaitu Yosuke Komuta.  Disamping kanvas, Arif juga menampilkan koleksi yang terbilang unik yaitu sebuah instalasi berupa loker yang diikat dan dikompres hingga terjadi dekontruksi. Instalasi ini tidak lain karya dari seniman yang sedang naik daun yaitu Matias Faldbakken.


Matias Faldbakken, Untitled (Locker Sculpture #2), 2011 – Collection of Arif Suherman
Kolektor Nicholas Tan, menampilkan dua buah koleksinya. Koleksi pertama yaitu karya seniman asal solo, Aditya Novali berupa 5 figur kanvas berjudul The Object(ion) of Painting. Karya kedua yang ditampilkan yang banyak menarik perhatian publik tidak lain karya seniman Jake & Niko Chapman berjudul Helter-Skelter-Alka-Seltzer 2014. Karya ini memperlihakan puluhan figur mini dengan kepala beragam dari tengkorak hingga figur dari McDonnald's.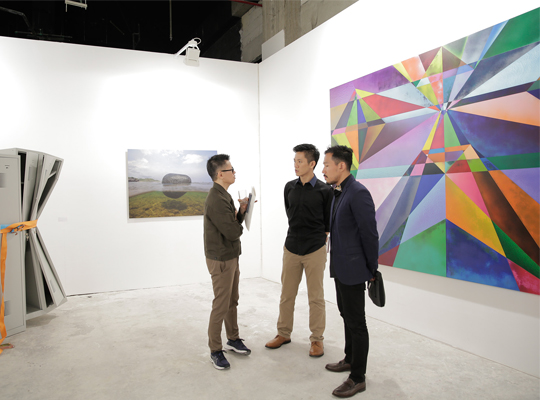 (Left) Wimo Ambala Bayang, Holy, 2012 – Collection of Tom Tandio, (Right) Yosuke Komuta, Plane_Space Glide, 2013 – Collection of Arif Suherman