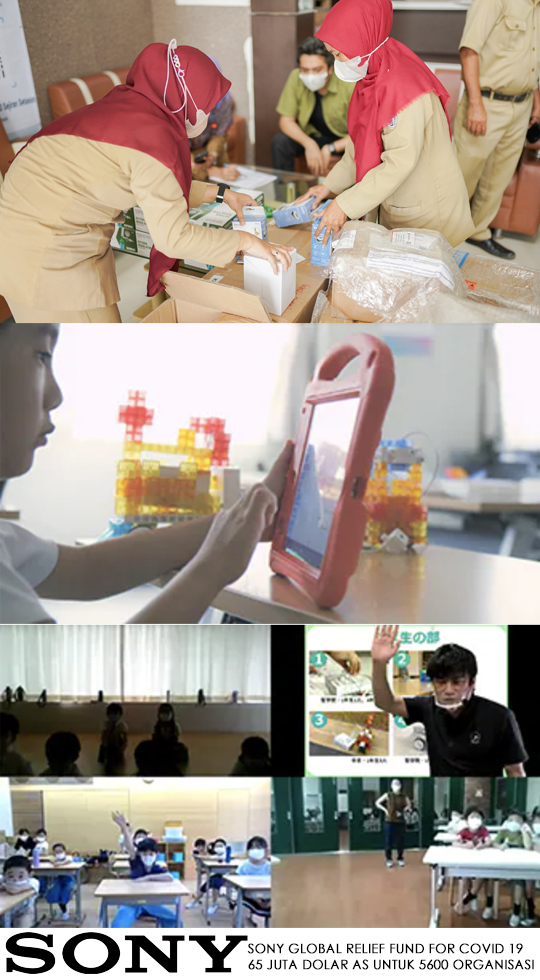 presented by

SONY GLOBAL RELIEF FUND FOR COVID 19: 65 JUTA DOLAR AS UNTUK 5600 ORGANISASI
Published by Sugar & Cream, Thursday 23 June 2022
Images courtesy of Sony
Sekitar 65 Juta Dolar AS Untuk 5600 Organisasi
Sejak "Sony Global Relief Fund for COVID-19" ("Dana") didirikan pada April 2020, Sony telah memberikan berbagai kegiatan dukungan, terutama di tiga bidang, yaitu "medis", "pendidikan", dan "komunitas kreatif". Selama dua tahun terakhir, Sony telah memberikan total sekitar 65 juta dolar AS kepada sekitar 5.600 organisasi.


Distribusi Alat Pelindung Diri dan Alat Kesehatan di Bangka Belitung
Menanggapi situasi di berbagai negara Asia Tenggara dimana tahun lalu tingkat infeksi COVID-19 memburuk dan memerlukan tindakan pencegahan berkelanjutan, Sony mendonasikan dana sebesar 2,5 juta dolar AS untuk kegiatan dukungan di Indonesia, Malaysia, Filipina, Thailand dan Vietnam.
Koji Sekiguchi, President Director PT Sony Indonesia menyampaikan, "Sony menyampaikan belasungkawa kepada keluarga yang kehilangan orang yang dicintai sebagai akibat dari pandemi COVID-19, serta simpati kepada semua yang terkena dampak. Untuk memerangi masalah luar biasa yang saat ini kita hadapi sebagai masyarakat, kami sebagai perusahaan global berupaya untuk membantu orang-orang di garis depan perjuangan COVID-19, anak-anak yang merupakan masa depan bangsa, dan mereka yang telah terdampak. Melalui bantuan ini, kami berharap dapat membantu masyarakat yang terdampak seiring dengan berupaya untuk kembali memulihkan keadaan."


Presented by Interni Cipta Selaras
Sejumlah 2,5 juta dolar AS telah didonasikan ke LSM internasional, Save the Children serta Malaysian Red Crescent Societies (International Red Cross and Red Crescent Societies) untuk mendukung kegiatan medis dan pendidikan lokal, serta tindakan pencegahan infeksi.
Bantuan tersebut di antaranya pengadaan dan penyediaan peralatan medis, alat pelindung diri, mengadakan kampanye kesadaran untuk pencegahan infeksi, dukungan pembelajaran berkelanjutan untuk anak-anak, serta pemasangan fasilitas cuci tangan di sekolah dan masyarakat.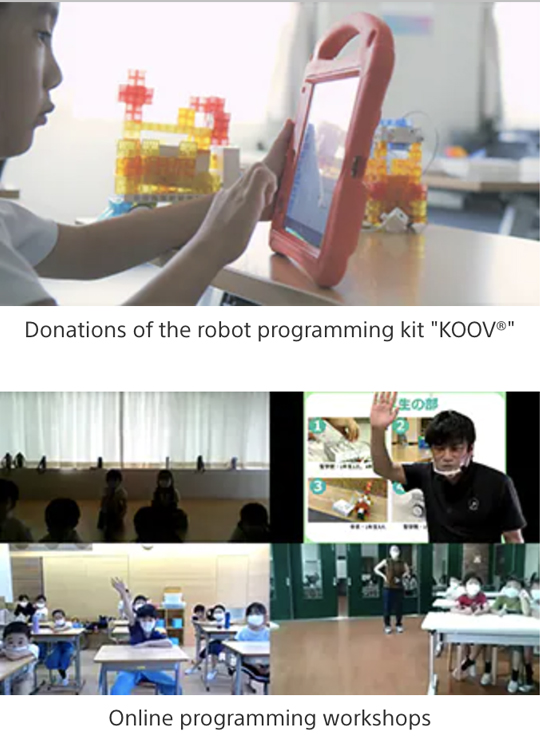 Wiwied Trisnadi, Senior Humanitarian Manager, Save the Children Indonesia mengatakan, "Kami sangat mengapresiasi bantuan dari Sony Group untuk menanggulangi dampak akibat pandemi COVID-19. Bantuan yang disalurkan sangat bermanfaat serta akan menunjang berbagai kebutuhan pada sektor-sektor esensial, khususnya dalam medis serta pendidikan anak-anak. Kami berharap melalui donasi yang diberikan oleh Sony Global Relief Fund for COVID-19, kami dapat menghadapi pandemi ini sebagai satu komunitas dan mempererat solidaritas terhadap sesama."
Ketahui lebih lanjut mengenai "Sony Global Relief Fund for COVID-19" di sini.
Sony akan terus bekerja sama dengan para mitra dan pemangku kepentingan untuk menyediakan kegiatan dukungan lebih lanjut di seluruh dunia. (PT Sony Indonesia)