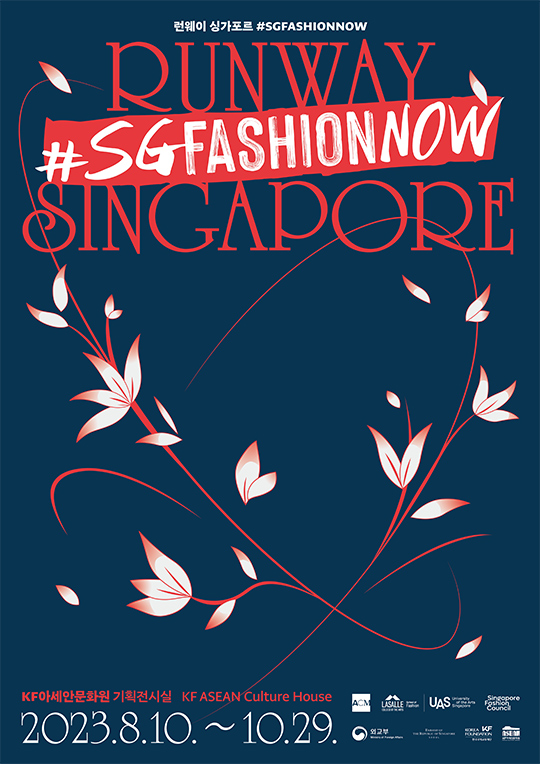 presented by

SINGAPORE CONTEMPORARY FASHION SPOTLIGHTED IN FIRST FORAY OF ACM'S #SGFASHIONNOW TO SOUTH KOREA
Published by Sugar & Cream, Wednesday 20 September 2023
Images courtesy of Asian Civilisations Museum (ACM) Team
Close Cultural Bonds and People-to-people ties Between Singapore and Korea
Asian Civilizations Museum (ACM) di Singapura meluncurkan edisi ketiga #SGFASHIONNOW di Busan dan Seoul, yang memulai debutnya di Korea Selatan. Ini menjadi pertama kalinya pameran mode kontemporer eksperimental yang ditampilkan di luar Singapura, berkat Korea Foundation (KF) dan diselenggarakan dalam kemitraan dengan LASALLE College of the Arts' School of Fashion dan Singapore Fashion Council. Pertama kali akan dipresentasikan di Busan di KF ASEAN Culture House mulai 10 Agustus hingga 29 Oktober 2023, kemudian di Seoul di KF Gallery mulai 21 November hingga 31 Januari 2024.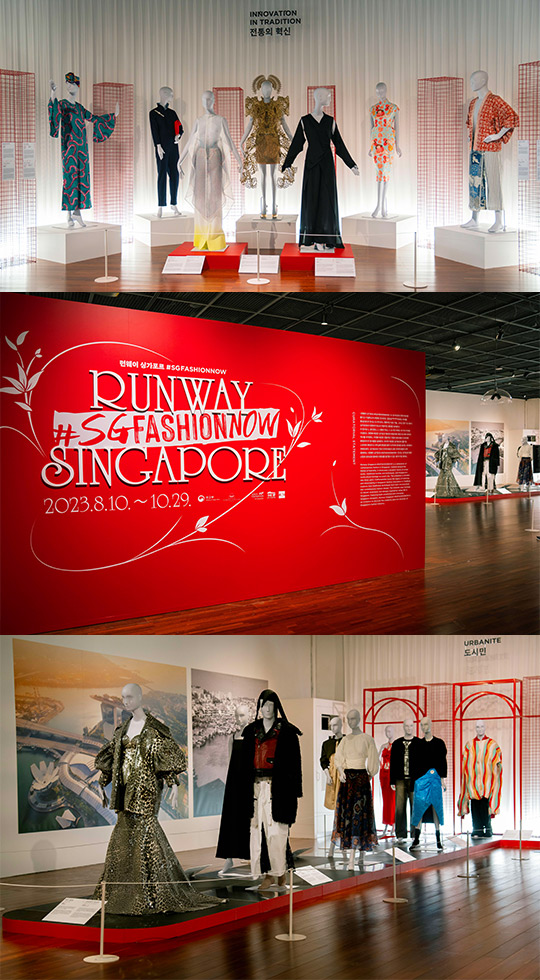 #SGFASHIONNOW menghormati mode kontemporer di Singapura melalui prisma latar belakang multikultural dan kosmopolitan negara kota ini. Pameran tahun ini merupakan yang terbesar, mempertemukan 27 perancang busana Singapura, termasuk desainer perintis Thomas Wee, Andrew Gn, dan Ashley Isham, serta dua pemenang Singapore Stories baru-baru ini, Jon Max Goh dan Kavita Thulasidas.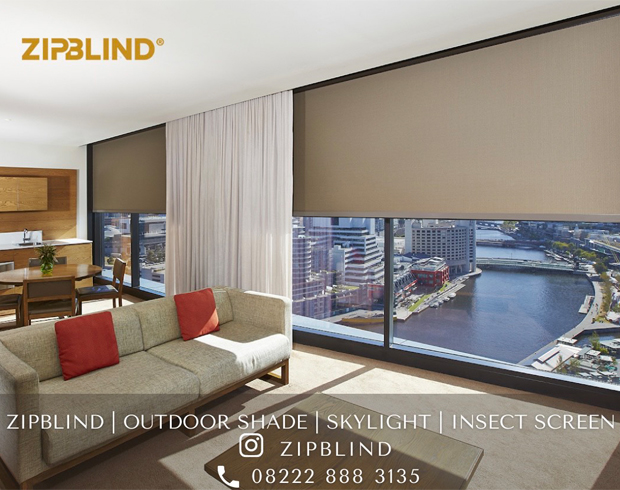 Presented by Zipblind
"We are excited to be presenting the third edition of #SGFASHIONNOW in two of Asia's most dynamic cities, Busan and Seoul; even more so as we celebrate Singapore's National Day this August. This is the first time a special exhibition on modern Singaporean fashion designers has traveled outside of Singapore, and it is thus an extraordinary milestone for us. The Singapore Embassy in Korea and the Singapore Fashion Council helped make the display possible. I'd like to thank our continuous partner and co-curator, LASALLE College of the Arts School of Fashion, as well as all of the Singapore designers who have participated in #SGFASHIONNOW in the past" –   Kennie Ting, Director of ACM and Peranakan Museum –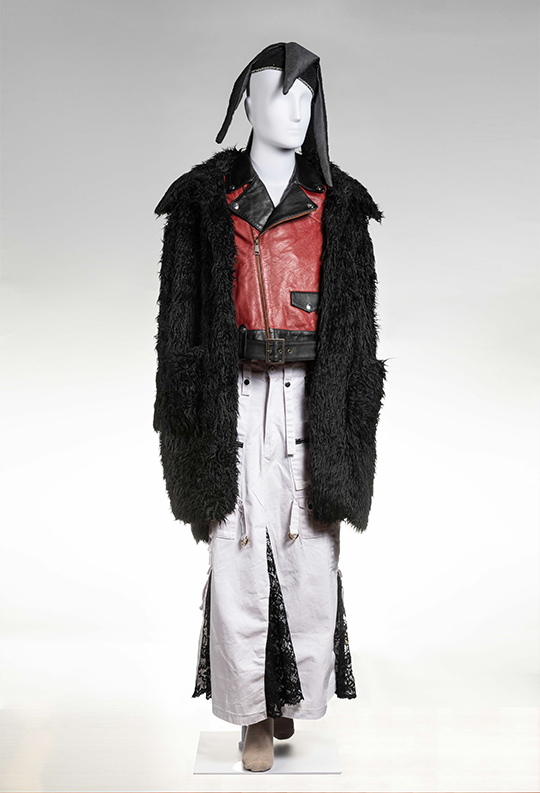 Youths in Balaclava – DIY Hat, Jacket, Coat, Upcycled skirt, Collection of Youths in Balaclava. Image courtesy of Korea Foundation

#SGFASHIONNOW edisi tahun 2023 mempertemukan Singapura dan Korea Selatan, dua negara Asia yang bangga dengan warisan mereka namun tetap modern dan berpikiran maju.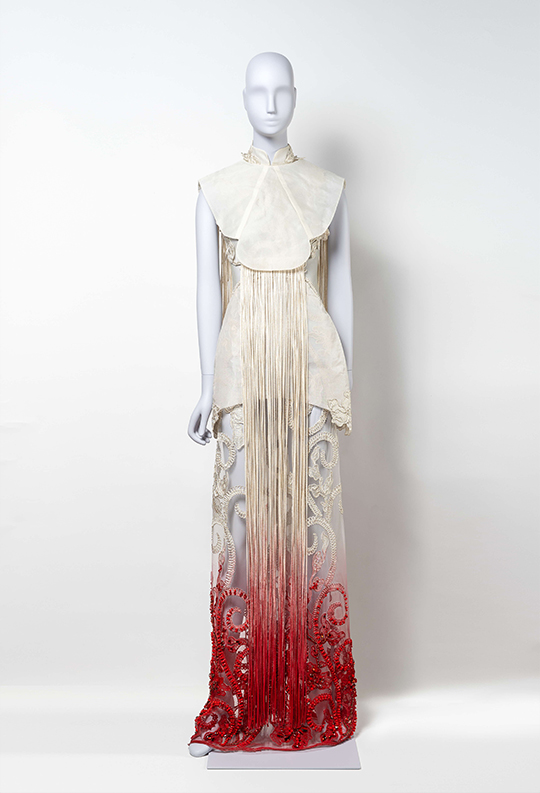 Time Taken to Make a Dress – Cheongsam, Collection of Asian Civilisations Museum. Image courtesy of Korea Foundation
Pameran ini sebagai cara ACM untuk mengenali bakat-bakat kreatif dan hanya memberikan sedikit gambaran tentang besarnya energi, inovasi, dan keragaman budaya dalam industri fesyen Singapura saat ini. Kami sangat antusias melihat bagaimana penonton Korea Selatan bereaksi terhadap pameran ini. ACM yakin hal ini akan membangkitkan rasa ingin tahu masyarakat terhadap dunia fesyen Singapura dan mendorong perbincangan tentang fesyen, warisan, teknologi, dan identitas budaya. Dan, tentunya berharap hal ini dapat membantu memperkuat hubungan antara karyawan dan talenta kreatif.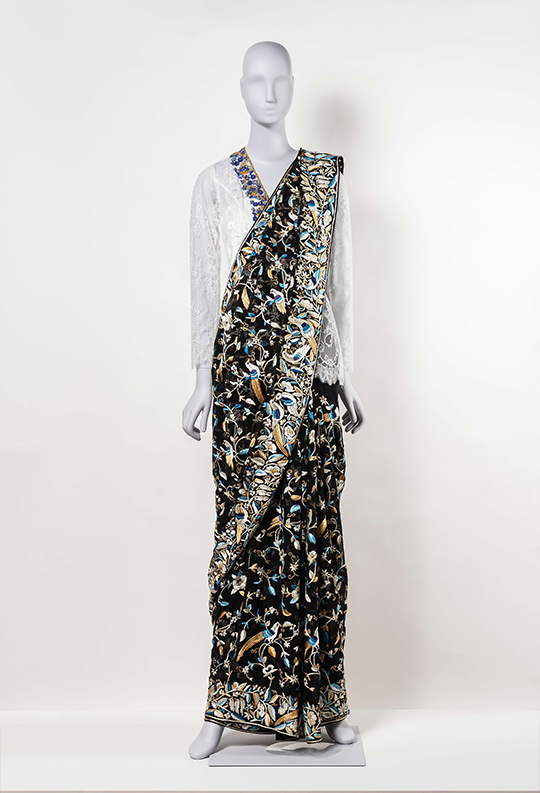 Stylemart – Kebaya and Gara, Collection of Asian Civilisations Museum. Image courtesy of Korea Foundation
Pengunjung diajak untuk mengeksplorasi inovasi dan keragaman sektor mode kontemporer Singapura, yang dibagi menjadi tiga bagian:  Craftsmanship, menceritakan sejarah tailoring di Singapura, memberikan penghormatan kepada beberapa desainer paling terkenal di Singapura serta kualitas dan keanggunan mereka yang abadi. Sebagai pengakuan atas posisi Singapura sebagai pusat teknologi yang kaya akan warisan dan budaya. Innovation in Tradition, menyelidiki bagaimana teknik dan siluet kuno dipadukan ke dalam kreasi mode masa kini. Urbanite, menampilkan pakaian jalanan dan desain yang terinspirasi oleh suasana perkotaan Singapura, serta penyelidikan terhadap identitas negara tersebut sebagai kota global yang dinamis.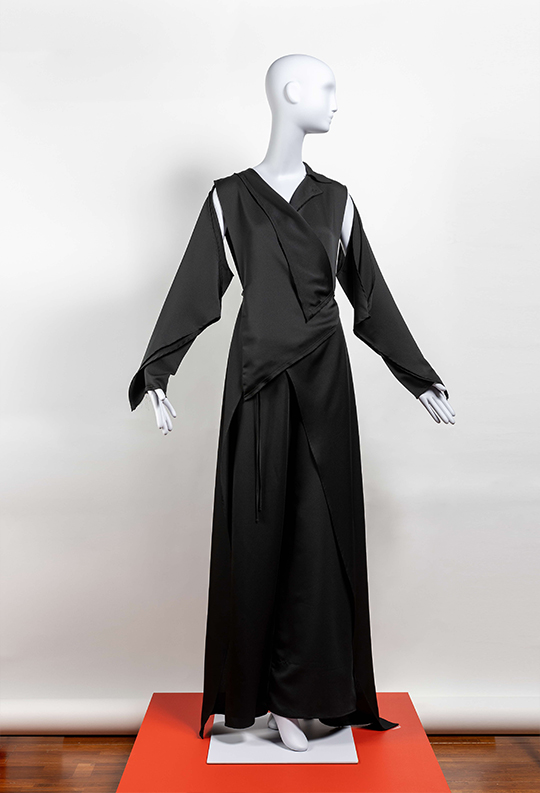 MAX.TAN – Hujan jumpsuit, Collection of Asian Civilisations Museum. Image courtesy of Korea Foundation
Tujuh karya baru akan ditampilkan untuk pertama kalinya, termasuk karya desainer yang telah terjun ke kancah mode Korea Selatan, seperti kolektif mode Youths in Balaclava, yang terkenal karena kaitannya dengan budaya anak muda; ESH oleh Esther Choy, yang baru-baru ini tampil di Busan Fashion Week 2023; dan Harry Halim yang karyanya dikenakan oleh penyanyi dan rapper 2NE1 Lee Chae-rin (CL). Pameran ini juga menampilkan karya dari Balf Design, sebuah perusahaan yang berspesialisasi dalam teknologi manufaktur revolusioner seperti 3D printing dan laser cutting.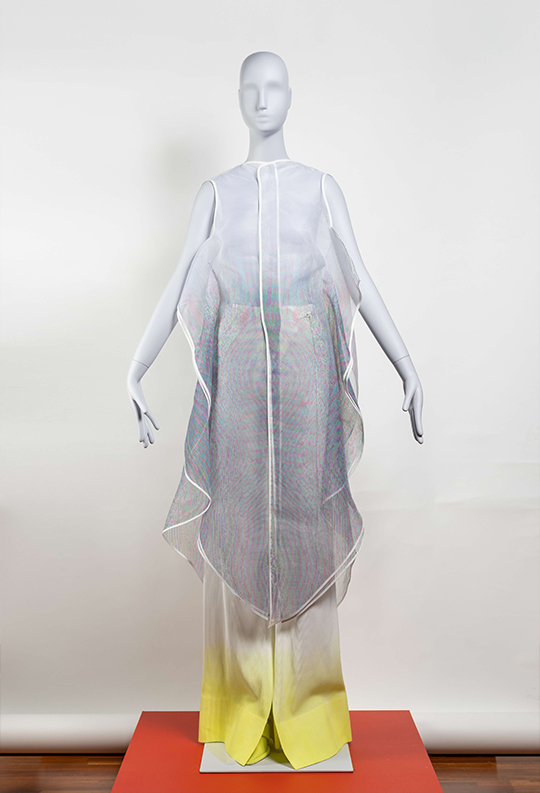 JONMAXGOH – Kebaya and Flared-leg pants, Collection of Jon Max Goh. Image courtesy of Korea Foundation
Pada 18 Agustus 2023 lalu, diadakan artist' talk untuk berbagi pengaruh tradisi Singapura dalam perjalanan kreatif para perancang busana Singapura, diikuti dengan diskusi panel tentang bagaimana masing-masing budaya tradisional mempengaruhi kancah mode kontemporer di Korea dan Singapura. Pembicaranya antara lain Kennie Ting, Direktur ACM dan Museum Peranakan, serta perancang busana Elyn Wong dari Stolen dan Lionel Wong dari Balf Design. Acara ini dimoderatori oleh Profesor Yoon Chorong dari Departemen Pakaian dan Tekstil Universitas Nasional Pusan. Pemaparan dilanjutkan dengan presentasi mahasiswa mengenai K-Fashion dan kunjungan pameran yang dipimpin oleh Dominic Low, Kurator Asian Civilizations Museum.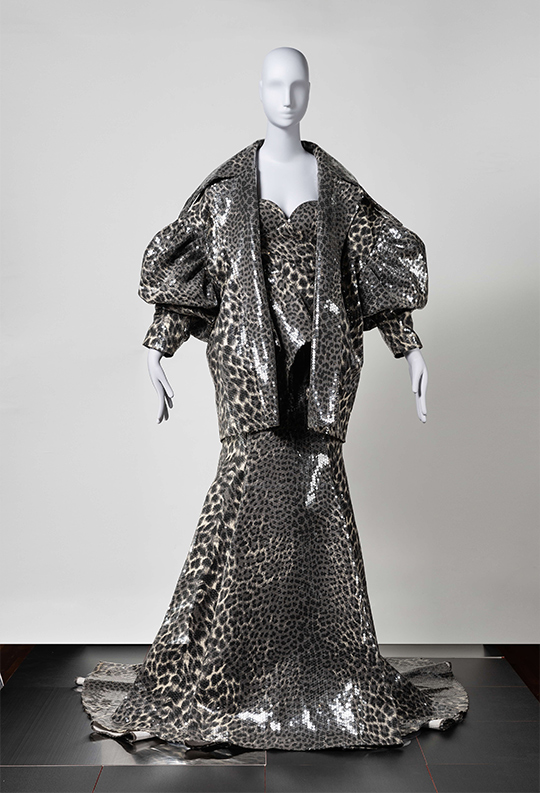 HARRY HALIM – Bustier, jacket, and skirt, Collection of LASALLE College of the Arts. Image courtesy of Korea Foundation
Untuk informasi lebih lanjut, silakan kunjungi www.acm.org.sg | @acm_sg | facebook.com/asiacivilisationsmuseum dan gunakan hashtag #SGFASHIONNOW dan #INNOVATIONINTRADITION.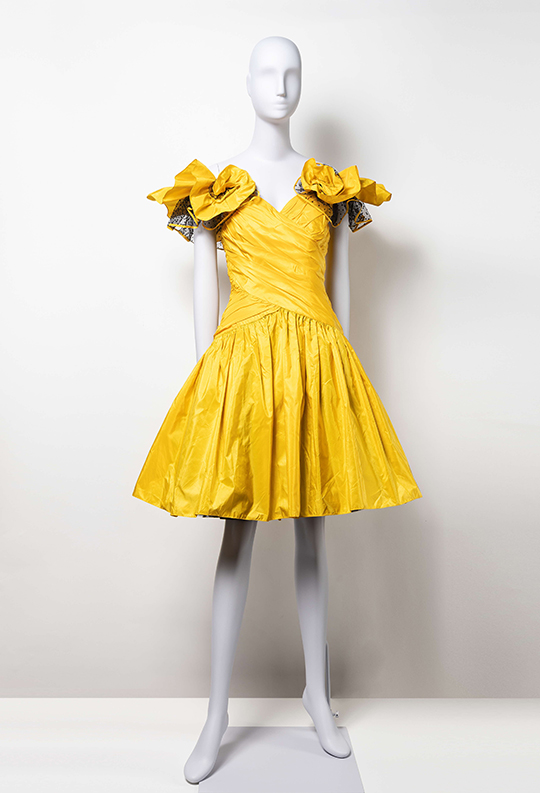 Benny Ong – Dress, Collection of National Museum of Singapore. Image courtesy of Korea Foundation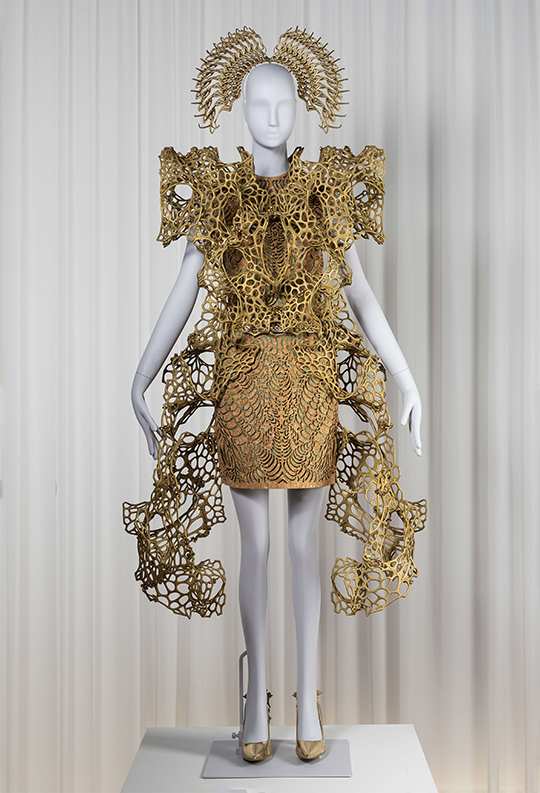 Baëlf Design – Dress Grande Couronne, Collection of Jamela Law and Lionel Wong. Image courtesy of Korea Foundation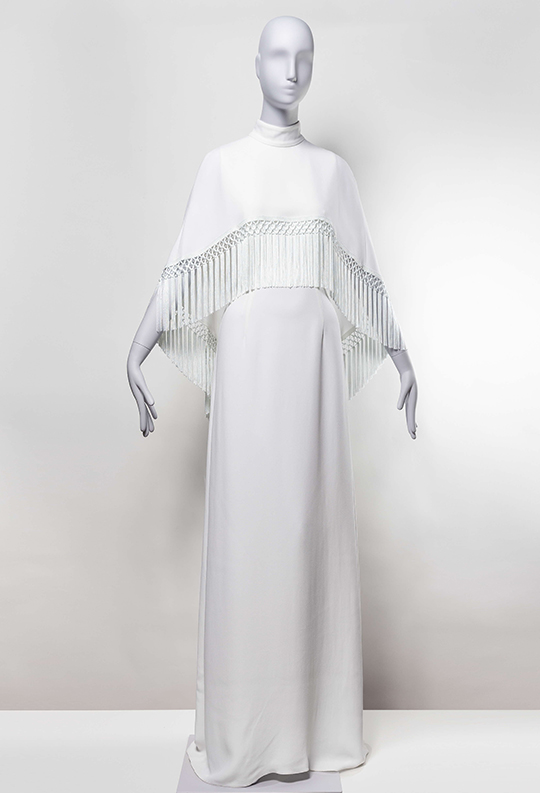 Andrew Gn – Gown, Collection of Asian Civilisations Museum. Image courtesy of Korea Foundation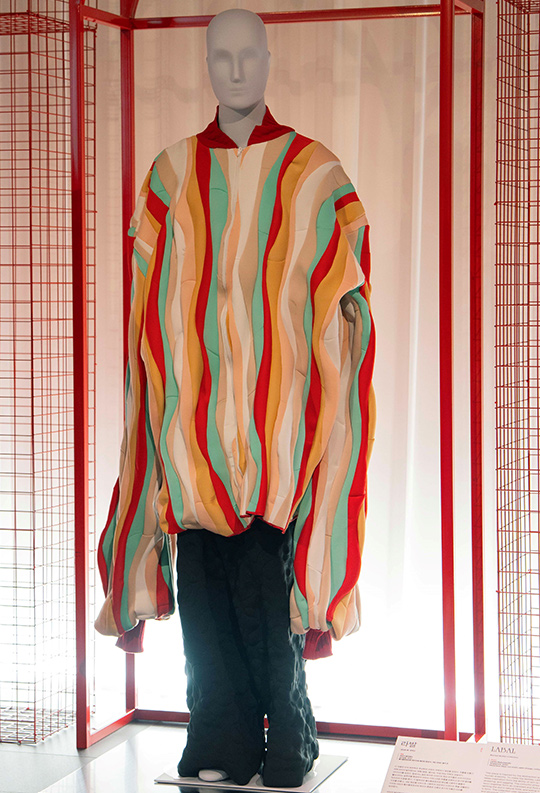 LABAL – Axon, Collection of LABAL. Image courtesy of Asian Civilisations Museum