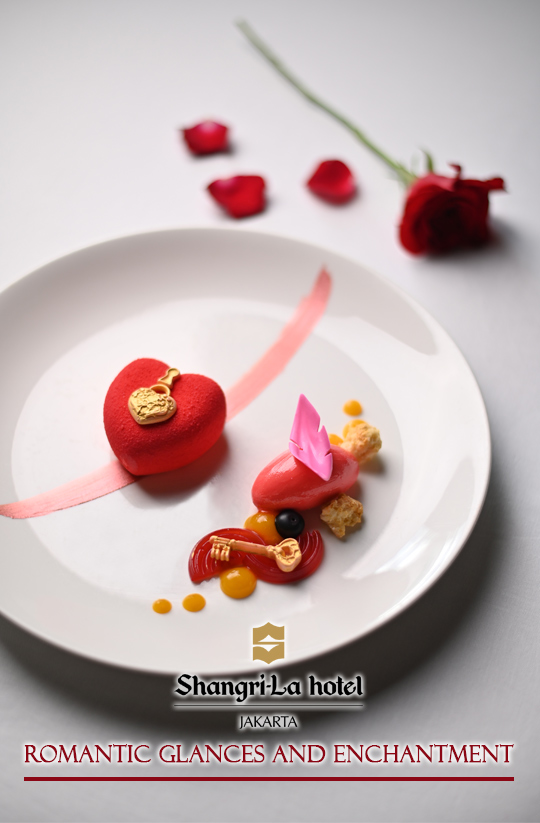 presented by

SHANGRI-LA JAKARTA: ROMANTIC GLANCES AND ENCHANTMENT
Published by Sugar & Cream, Saturday 12 February 2022
Images courtesy of Shangri-la Jakarta
Unforgettable Experiences on Valentine's Day
This year Valentine's Day falls on Monday. With Valentine's Day in mind, come and join Shangri-la Jakarta for the celebration. This year Shangri-la Jakarta presents Romantic Glances and Enchantment, a collection of exclusive treats and unforgettable experiences to celebrate the upcoming Valentine's Day.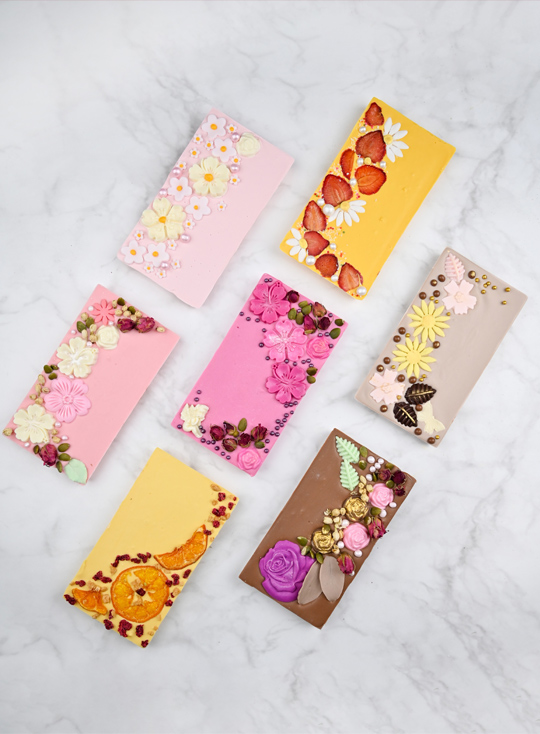 14 Limited ChocoIate bar edition
The hotel's venues exclusively offer an unforgettably romantic experience that will impress guests with their dear ones at first glance.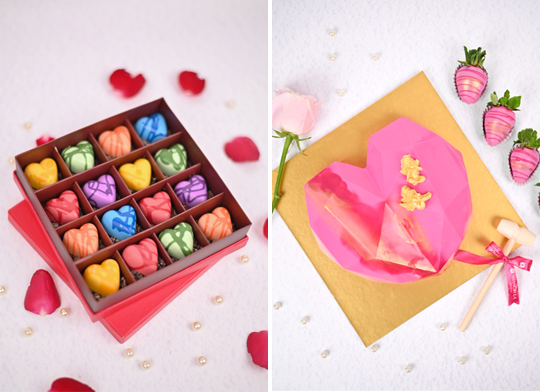 Valentine Deli Items – Valentine Praline | Heart Pinata
Rosso will delight guests with a lovely six-course dinner heartily bursting with fresh Italian seasonings. The set menu available at IDR 1,998,000++ per couple. The hotel also offers an exclusive room arrangement dining set for IDR 2,500,000++ per couple. To complete the package, surprise your loved one with a beautiful flower bouquet by adding at IDR 350,000+. These special offers will be available only on 14 February 2022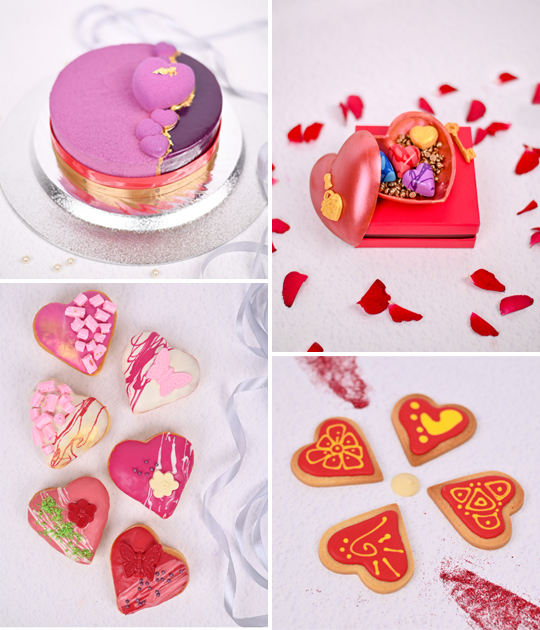 Valentine Deli Items – Blueberry Heart Delight Cake | Open Heart | Donuts Love | Cookies Heart
SATOO will deliver a signature Valentine's buffet filled with appetisingly crafted cuisines from Indonesian, Chinese, Japanese, Western, Italian, and Indian delicacies with prices starting at IDR 508,000++. SATOO Deli also comes with a wide variety of food arts that will be perfect to lure your romantic gesture into your special moments with your dearest one. Our experts present a special limited edition of Chocolate Box that comes in 14 beautiful designs and is wrapped nicely in a wooden treasure cage that would be perfect for sharing, priced at IDR 488,000 net. Another sweets creation appears in a graceful shapes such as the Blueberry Heart Delight Cake, Valentine Pinata, Valentine Mini Praline, Doughnut Love, and Cookies Heart with prices starting at IDR 300,000+.


Presented by Interni Cipta Selaras
Lobby Lounge presents a romantic glamor-inspired Valentine's Afternoon Tea with indulgent finger treats from sweet to savoury at IDR 230,000++ per set. B.A.T.S, the culinary team has also prepared an enchanting night of music with a variant of Valentine's special treats to round up the evening with Garbanzos Avocado Tacos Salad, Double Beef Ribs and Papas Rellenas, and those with a sweet tooth will be delighted to try our Sopapilla Cheesecake Bars with prices starting at IDR 490,000++. The captivating evening atmosphere will entirely delight guests.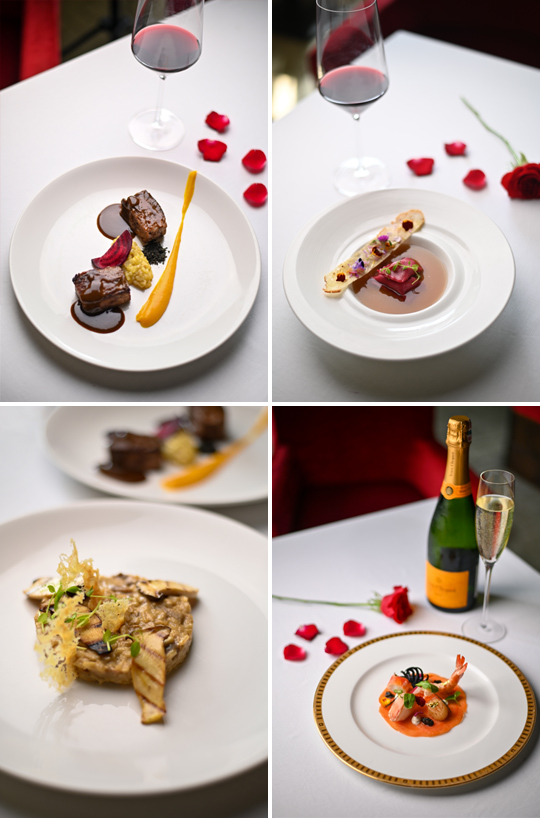 Rosso Valentine – Beef Accent | Duck consommé | Rhythm of Risotto | Seafood Symphony
JIA equally participates in the lovely commemoration with a beautiful shape of Pau Pau Love and Valentinsum with prices starting at IDR 48,000++. Nishimura will also embrace Valentine's Day with a delightful Sushilove that ready coming to your table with prices starting at IDR 988,000++. (S&C)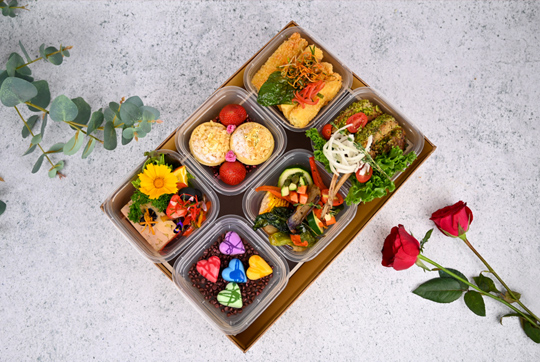 Valentine Takeaway – Romeo Box
For more information and to make reservations, guests may call +6221 2922 9999, visit https://linktr.ee/shangrilajkt or access the website at http://www.shangri- la.com/jakarta/ .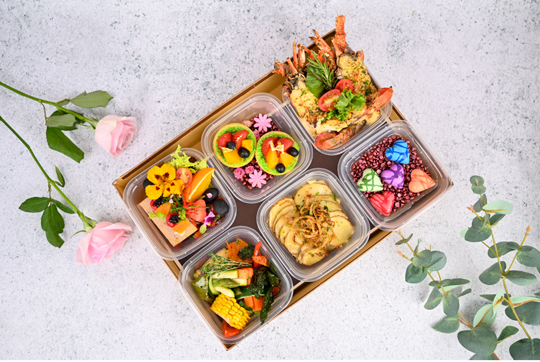 Valentine Takeaway – Juliette Box