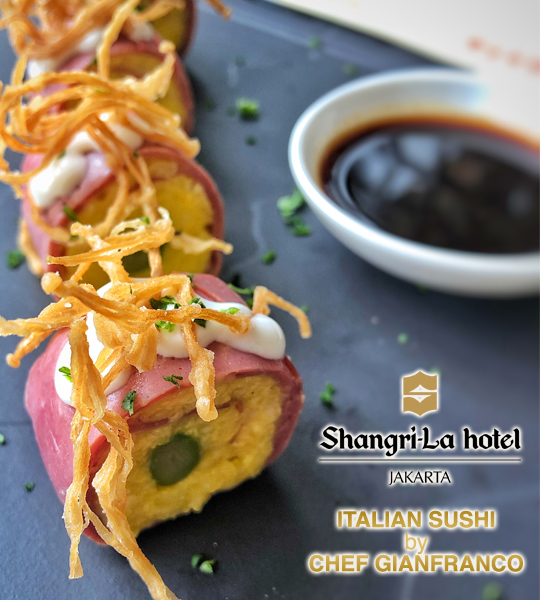 SHANGRI-LA HOTEL, JAKARTA – ITALIAN SUSHI BY CHEF GIANFRANCO
Published by Sugar & Cream, Tuesday 19 February 2019
Text by S&C, images courtesy of Shangri-la Hotel, Jakarta
Delicate and Delectable Fushion of Japanese and Italian Cuisines
Makanan berbasis fusi atau 'fusion' bukan hal baru. Namun jika diramu oleh seorang juru masak handal dengan jam terbang tinggi dan passion yang yang tak pernah padam akan kreasi baru bercita rasa sempurna, Anda tidak perlu ragu lagi untuk mencicipinya.
Datang saja ke Shangri-La Hotel, Jakarta tepatnya di Rosso Italian Restaurant yang terkenal dengan masakan otentik Italia. Disinilah penulis menjajal 4 jenis Sushi yang digarap apik bak sebuah karya seni yang mungil oleh Chef Gianfranco Pirrone. Mungil namun mampu menjadi perhatian mata para jurnalis lainnya yang hadir.
Chef Franco sang kreator hadir menyapa dan memberikan penjelasan detil mengenai menu promosi istimewa yang hanya berlangsung hingga akhir bulan February ini. Dijelaskan bahwa semua bahan diracik menggunakan bahan-bahan pilihan yang biasa digunakan untuk masakan Italia.
Dengan sajian Italian Sushi, Chef Franco telah menyatukan bentuk-bentuk lembut dari kreasi kuliner terinspirasi Jepang dengan semaraknya cita rasa regional dari Italia. Misalnya saja untuk saus kecap, Chef Franco meracik balsamic vinegar, dengan soya sauce dan sedikit wasabi. Kehadiran balsami vinegar terasa segar.
Tepatnya Italian Sushi tersebut layak sebagai makanan pembangkit selera atau pembuka karena ukuran mungilnya ditambah keunikan rasa percampuran/fusi.
Berikut kreasi Italian Sushi by Chef Gianfranco Pirrone :

Parma Roll : Prosciutto di Parma (irisan tipis Cured meat), Mozarella, Parma Ham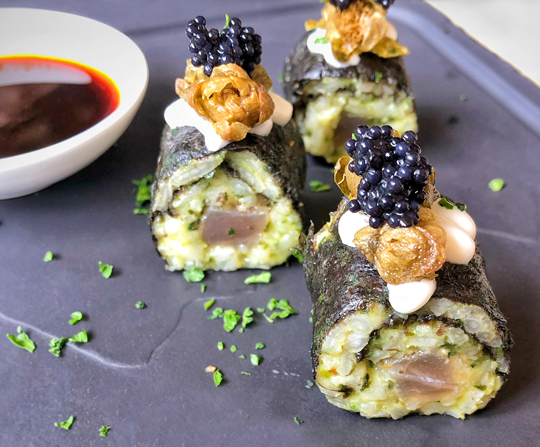 Marzuko Roll : Basil Risotto with extra virgin olive oil, Tuna Sashimi. On top are black caviar dan fried capers.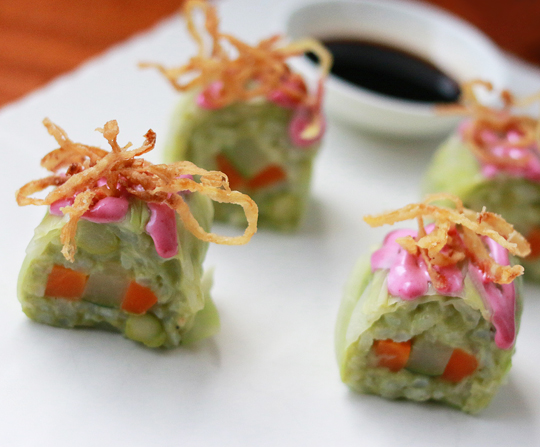 Veggie Roll : A sheet of delicate cabbage, Zucchini, Carrot, Fried Onion, flavourful beetroot mayonnaise.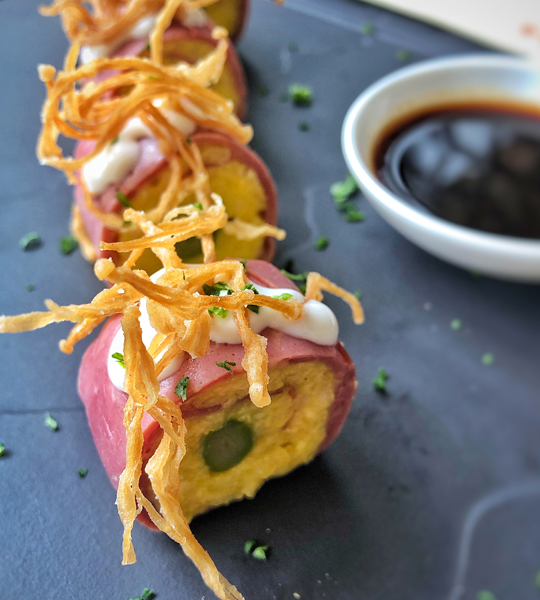 Milano Roll : Saffron-flavoured Risotto, Smoke beef, Asparagus. On the top is crunchy enoki mushrooms.
4 sushi dengan kedinamisan cita rasa Italia tersebut diperesentasikan dengan mungil dan menawan siap menggoda selera makan Anda. "The aesthetic part is the most important for me, especially with Japanese food where sushi is like a small sculpture or tiny artwork," jelas Chef Franco mengenai kreasi terbarunya