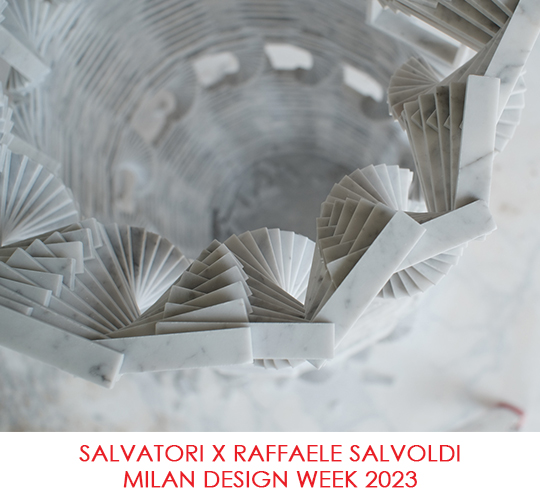 presented by

SALVATORI X RAFFAELE SALVOLDI @ MILAN DESIGN WEEK 2023
Published by Sugar & Cream, Tuesday 06 June 2023
Images and Text Courtesy of Salvatori
A Perfect Fit
Co-creation is a key element in the latest fruits of Salvatori's ongoing exploration of ways to develop sustainable design that will be showcased during Milan Design Week 2023.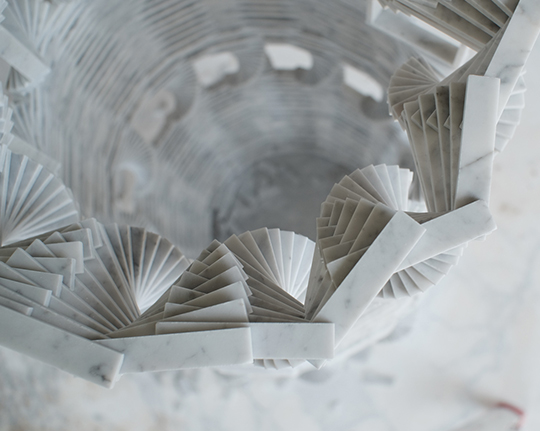 The company's understanding of the responsibility that comes with working with a rare and precious material has long been the driving force that has seen it develop production processes and innovative designs that promote sustainability and minimise waste.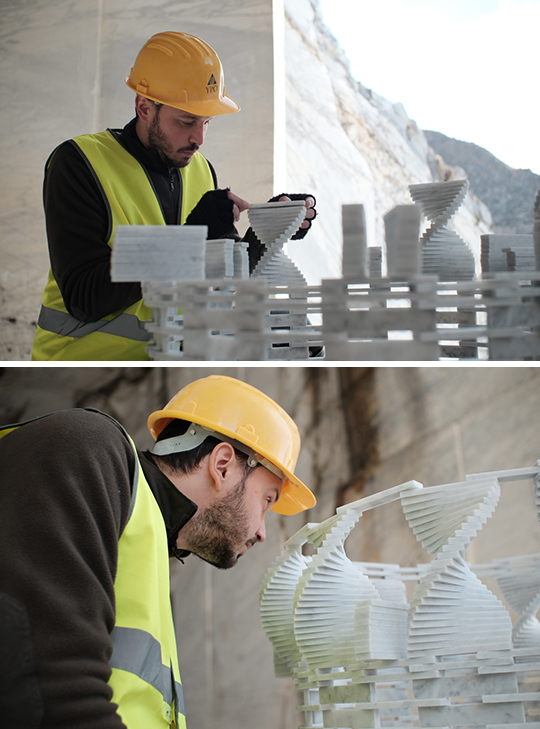 The latest collections are a further demonstration of that ethos, with a focus on reusing offcuts and offering ample scope for artists and designers to experiment and customise their creative work. In other words, the products themselves become part of a co-creative dialogue.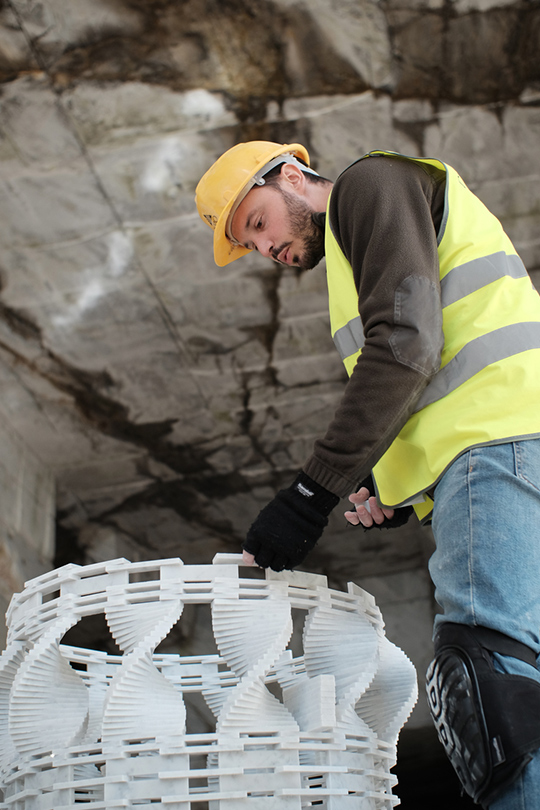 This spirit of co-creation is epitomised in Salvatori's collaboration with one of the most interesting emerging artists on the international scene, Raffaele Salvoldi, who departs from his favoured material of wood to work with natural stone for the first time. During Design Week, visitors to Salvatori's Brera showroom and boutique will be able to view three imposing installations, each made up of hundreds of small building bricks of natural stone that have been cut from production discards.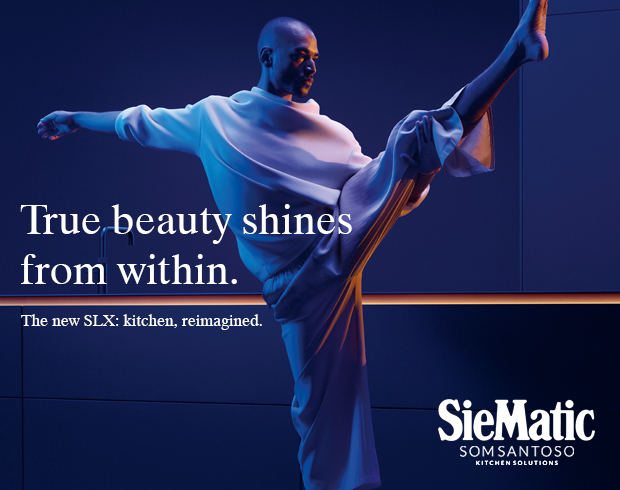 Presented by Som Santoso
As CEO Gabriele Salvatori explains, "the collaboration with Raffaele is a perfect fit with our philosophy of promoting designers, artists and work that demonstrate how human ingenuity and talent can become tools to raise awareness about safeguarding the planet, the most precious thing we have. Through Raffaele's works, we want to restore dignity to every single fragment of raw material by taking a parsimonious approach and highlighting the idea that "top grade" and "second grade" materials don't exist. Instead, it's up to us to be smart and use each element that nature provides in the best way possible."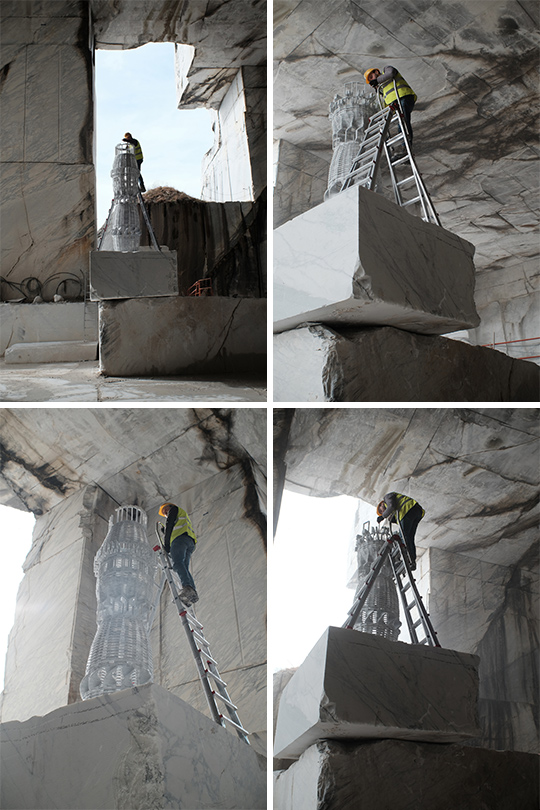 Two of Raffaele's artworks will be on display in the Salvatori showroom at via Solferino 11. The first will greet visitors at the ground floor entrance, while the second will be in the Room of Mirrors where its multiple reflections will create a dazzling kaleidoscopic effect.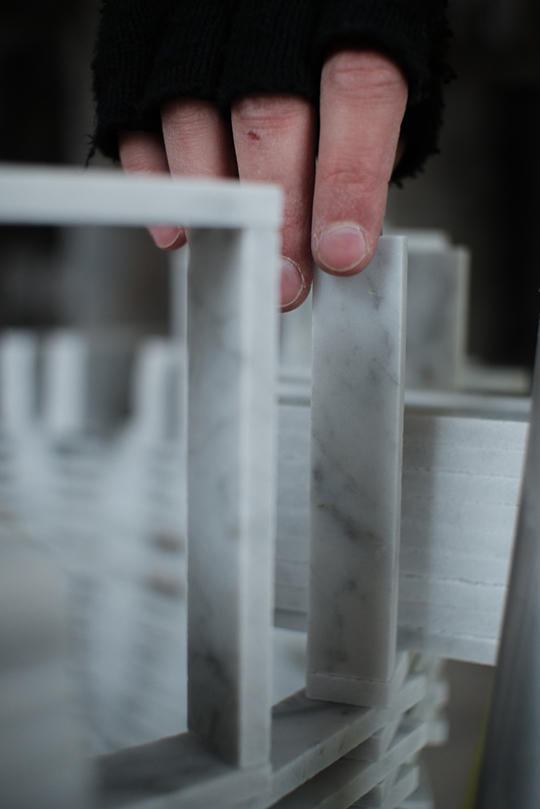 The third piece will be built during Design Week at the Salvatori boutique on the corner of via Palermo and Largo Treves, with the artist constructing it in real time in what promises to be a delicate, intriguing performance.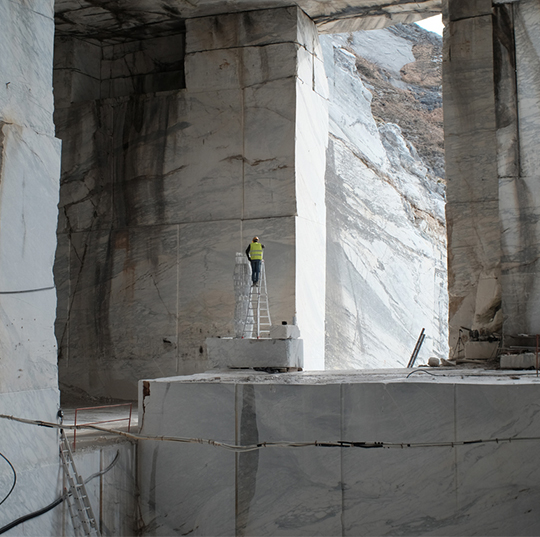 In creating the works, Bianco Carrara, Grigio Versilia and Pietra d'Avola become a very particular form of alphabet for the artist who talks about the project: "Wood and stone are two completely different materials. Wood is forgiving enough to offset any technical imprecisions, whereas with stone, you have to be precise down to the last millimetre. The meeting with Salvatori came about purely by chance but it was immediately clear that we were on the same wavelength. I'm not only fascinated by natural stone, but I also share Gabriele Salvatori's passion for seeking beauty in everything and by beauty, I don't just mean in the aesthetic sense, but as a tool for deciphering our world."