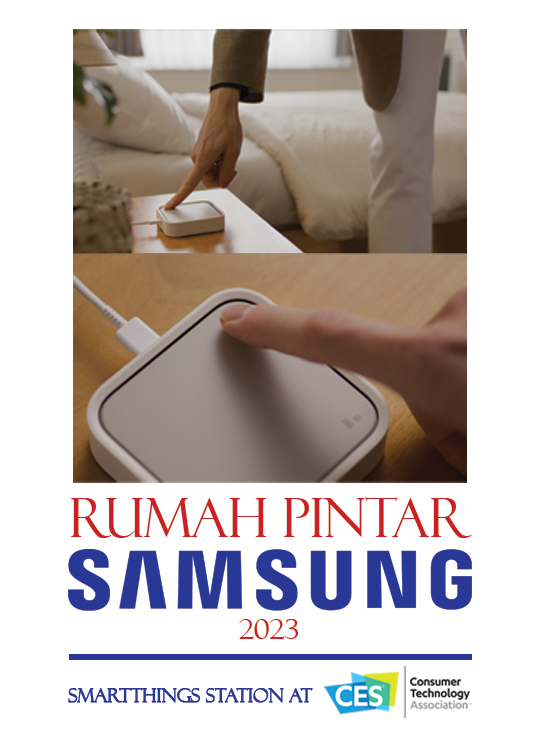 presented by

RUMAH PINTAR SAMSUNG 2023
Published by Sugar & Cream, Tuesday 31 January 2023
Images courtesy of Samsung Electronics Co., Ltd.
Samsung SmartThings Station at CES 2023
 Pada ajang CES 2023 kali ini, Samsung Electronics Co., Ltd. memperkenalkan SmartThings Station, hub rumah pintar baru atau Smart home hub yang menawarkan kontrol berbagai produk peralatan rumah dengan mudah. Dengan SmartThings Station, pengguna dapat mengotomasi berbagai aspek di lingkungan rumah mereka, mengatur rutinitas yang menambah kenyamanan sehari-hari, dan membantu mengurangi pemborosan energi seperti mematikan lampu dan perangkat secara mudah dan tanpa beranjak dari kursi.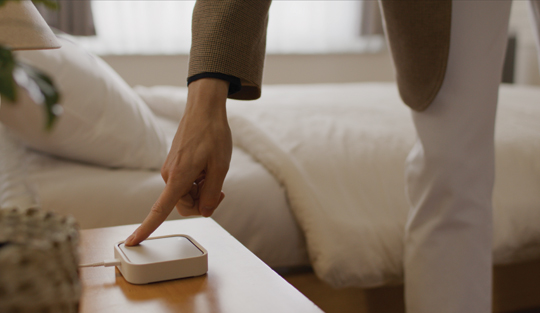 "Memiliki rumah yang lebih pintar seharusnya tidak rumit atau mahal. Jadi kami ingin membuat SmartThings Station sebagai hub rumah pintar yang sederhana, dapat diandalkan, dan dapat diekspansi," kata Jaeyeon Jung, Executive Vice President and Head of SmartThings, Device Platform Center, Samsung Electronics. "Jumlah perangkat yang ada di sebuah rumah terkoneksi terus bertambah, terutama mengingat peluncuran standar Matter baru-baru ini. Kami bangga telah mengambil peran dalam mempermudah penerapan teknologi yang menarik ini."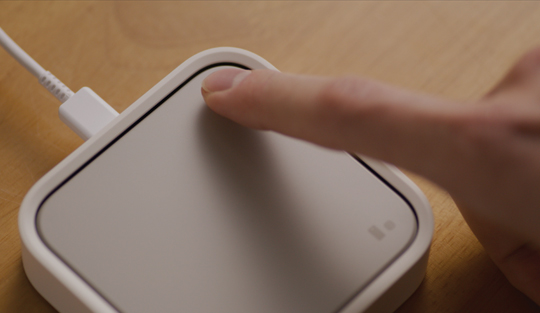 Saat perangkat dinyalakan untuk pertama kalinya, pesan pop-up akan muncul di smartphone Samsung Galaxy Anda untuk memandu menyelesaikan proses koneksi dengan lancer. Tentunya kehadiran Smart home hub ini dapat membantu mengerjakan aktivitas ringan di rumah yang biasanya mudah terlupakan. Seperti mengatur suhu, lampu, dan stopkontak yang terhubung ke server smart home ini. Melalui aplikasi SmartThings, Anda dapat membuat rutinitas yang dijalankan secara otomatis, tanpa mengharuskan Anda untuk mengontrol masing-masing perangkat secara manual.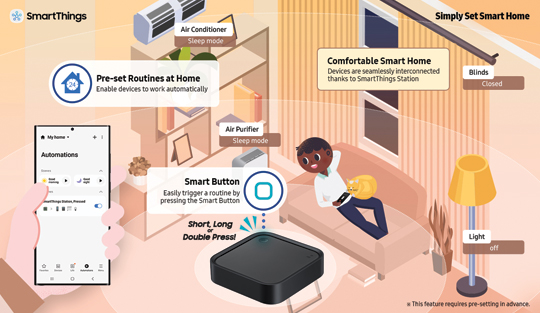 Dengan menekan Smart Button di SmartThings Station, Anda dapat mengaktifkan rutinitas yang dibuat di aplikasi SmartThings. Misalnya, saat waktunya tidur, satu ketukan dapat mengaktifkan rutinitas untuk tidur – yang terdiri dari mematikan lampu, menutup tirai, dan menurunkan suhu. Atau, jika ingin mengadakan movie night, rutinitas film seperti dapat menyalakan TV dan meredupkan lampu. Saat meninggalkan rumah, SmartThings Station dapat mematikan stopkontak dan peralatan yang tidak terpakai untuk menghemat energi, serta mengaktifkan sistem keamanan. Atau Anda mungkin ingin melakukan rutinitas gaming, perangkat pinrar ini juga dapat mengaktifkan pengaturan TV dan pencahayaan yang spesifik serta mengaktifkan mode 'Do Not Disturb'.


Presented by Interni Cipta Selaras
Lebih dari itu, perangkat SmartThings Station juga terintegrasi dengan Samsung SmartThings Find yaitu layanan pelacakan aset yang berkembang pesat. Ini akan membantu Anda dapat menemukan lokasi perangkat terdaftar yang dicari, mulai dari smartphone, tablet, jam tangan, dan earbuds hingga barang-barang pribadi seperti kunci atau dompet yang dipasangi Galaxy SmartTag atau SmartTag+. Dengan memindai perangkat secara rutin, SmartThings Station akan memberi tahu Anda lokasi perangkat pintar atau tag yang terhubung di sekitar rumah, dan membagikan peringatan di smartphone saat tag atau perangkat meninggalkan atau kembali ke rumah.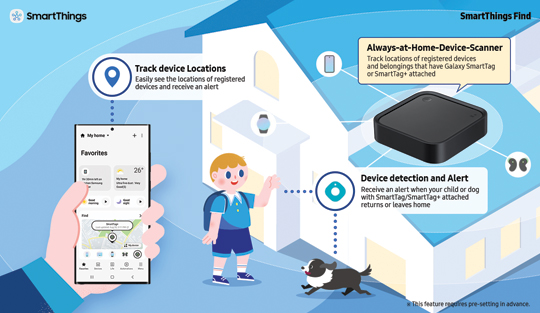 Untuk mengimbangi ritme kehidupan harian, SmartThings Station ini dilengkapi dengan pad fast charging mumpuni, yang mendukung pengisian daya hingga 15W. Sehingga, hub rumah pintar ini dapat kembali melanjutkan tugas yang telah ditentukan.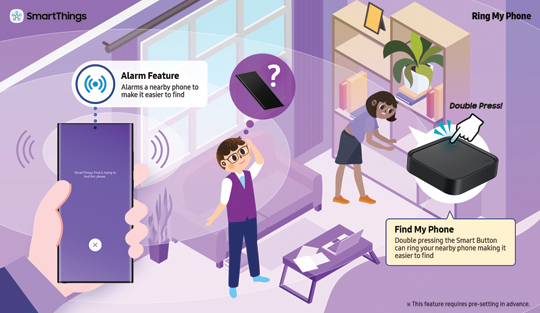 Tersedia dalam warna hitam atau putih, SmartThings Station akan diluncurkan di AS pada awal Februari 2023 dan juga di Korea. (DR)