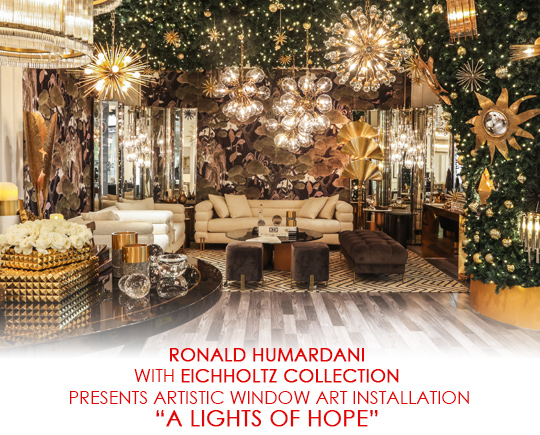 presented by

RONALD HUMARDANI X EICHHOLTZ INDONESIA: "LIGHTS OF HOPE"
Published by Sugar & Cream, Friday 24 December 2021
Text by Dinda Bestari, Image courtesy of Eichholtz
Magical Collaboration With A Spirit Of Optimism
Let's bring a magical Christmas into your home with the dazzling collection of Eichholtz Indonesia! Eichholtz sebagai salah satu jenama global dari Belanda untuk produk furnitur, lighting, dan aksesoris interior memiliki koleksi yang  eksklusif serta inspiratif.  Suatu kehormatan bagi desainer interior ternama Ronald Humardani –  Principal of Roum Design –  untuk berkolaborasi dengan jenama ini melalui karya seni instalasi yang memanfaatkan window area dari Eichholtz store di Plaza Indonesia.
Sebagai  'perayaan'  Eichholtz di Indonesia yang telah memasuki tahun ke-4 serta momen jelang akhir tahun yang istimewa, jenama ini menghadirkan sebuah window art installation yang memberikan visualisasi menawan, positif dan juga magical, sebagai bentuk optimisme di kala pandemi saat ini.
Berlangsung 22 November 2021 – 2 Januari berlokasi di Eichholtz store di Plaza Indonesia, Anda akan disuguhkan persembahan yang penuh kreativitas, sarat akan sentuhan seni, namun penuh kehangatan dalam suasana Natal.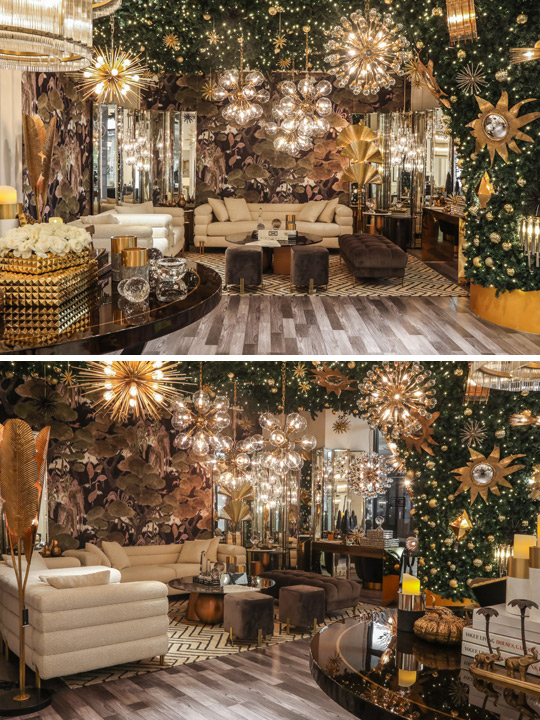 Refleksi dari sensitivitas dan imajinasi kreatif dari Ronald Humardani membawa produk – produk Eichholtz, menjadi berbeda di dua area window display yang ada di Eichholtz Store Plaza Indonesia. Bertema "Lights of Hope", karya seni instalasi ini di tangan Ronald menjadi sebuah refleksi dan cerita terbagi dalam dua bagian yang menyentuh hati dan relevan dengan situasi global terkini.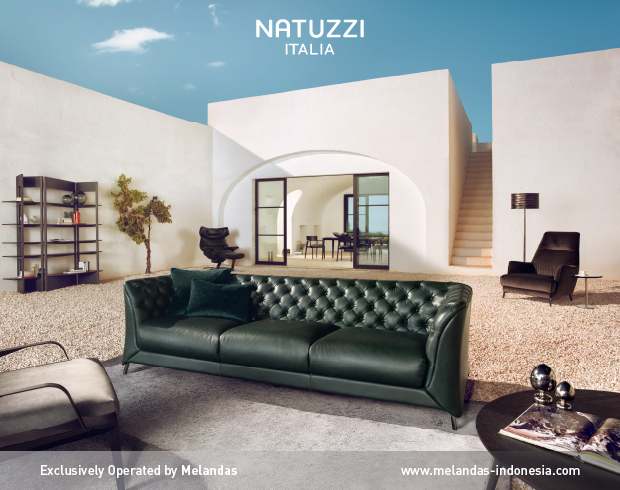 Presented by Melandas Indonesia
"Saya ingin menghadirkan sebuah intepretasi dari keceriaan menyambut festive season dalam konteks masa sulit yang dirasakan oleh semua orang selama dua tahun terakhir karena pandemi. Saya mengawalinya dengan cerita semua orang yang selama ini tetap menjaga harapan dalam simbol cahaya yang terang berlatar cermin yang reflektif meskipun pasir menandai kegersangan dan kesulitan yang ada." jelas Ronald Humardani.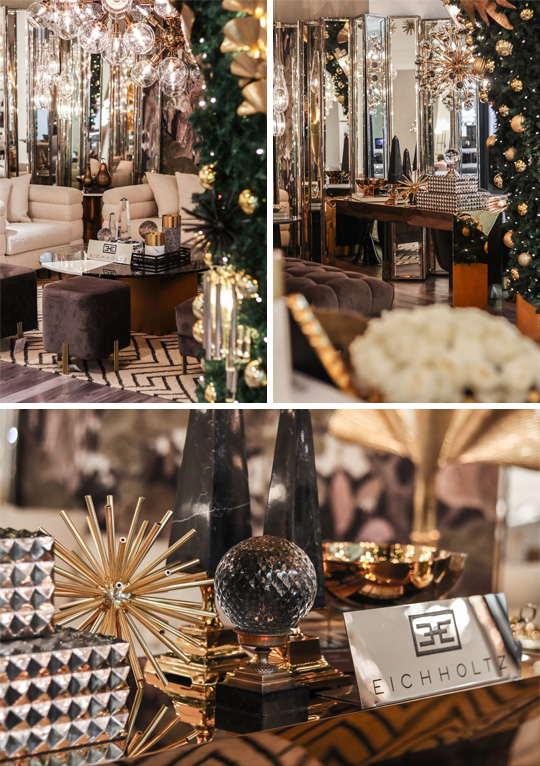 Bagaimana Ronald  tidak hanya ingin menampilkan suasana festive bagi window display Eichholtz store, namun ia juga ingin memberikan inspirasi dan wacana tentang koleksi Eichholtz mampu menjadi bagian dari sebuah tatanan seni artistik sekaligus fungsional. Dengan Eichholtz, Melandas bermaksud untuk mempersembahkan karya dan kreativitas tanpa batas kepada publik dengan bekerjasama dengan Ronald Humardani.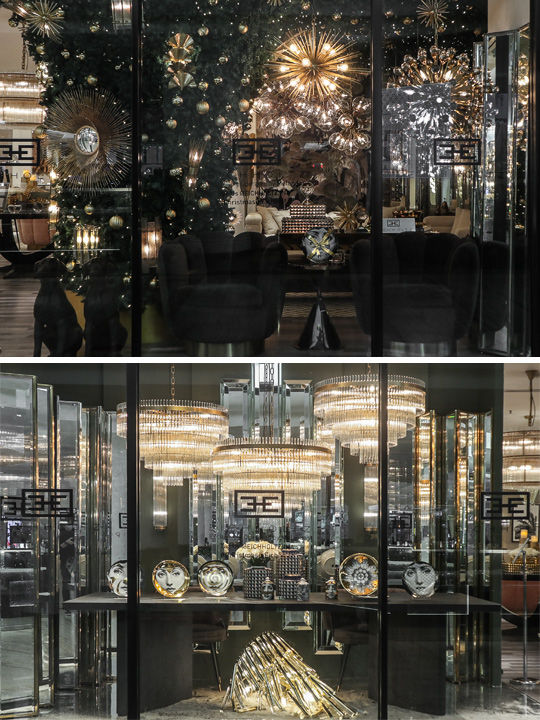 Di masa pandemi ini, Ronald Humardani  bersama Eichholtz memperlihatkan semangat untuk berkarya dan terus kreatif menyiasati rintangan-rintangan. Melalui karya instalasi ini, Ronald  berharap menawarkan sudut pandang baru dalam melihat koleksi Eichholtz, karena ia merasa bahwa di tiap produk Eichholtz memiliki fungsi dan keindahannya masing-masing. Yang menarik adalah dalam karya instalasi Ronald untuk Eichholtz, semuanya seakan menjadi sebuah 'ensambel' yang magical, menebarkan harapan serta optimisme. Dari sofa, lampu gantung, aksesori, dining table, side table, kursi dan pernak-pernik ruang koleksi Eichholtz menyatu tidak hanya selaras atau harmonis tapi menyuguhkan sebuah 'teater' estetika gemerlapan untuk akhir tahun. Seakan menawarkan kecerahan optimisme dalam menghadapi situasi global saat ini.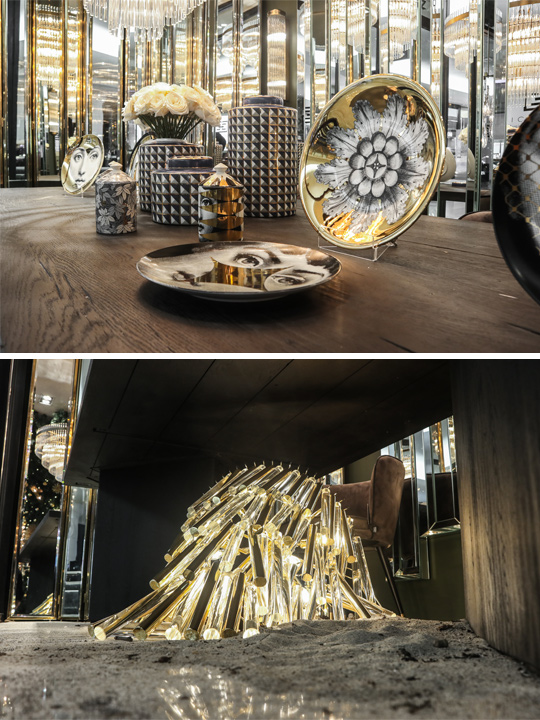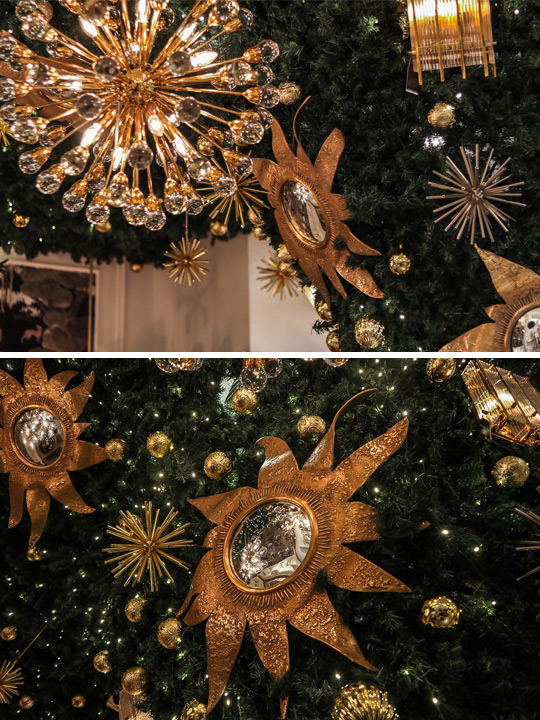 Porcelain Plate Fornasetti Courtesy of Living At The Papilion