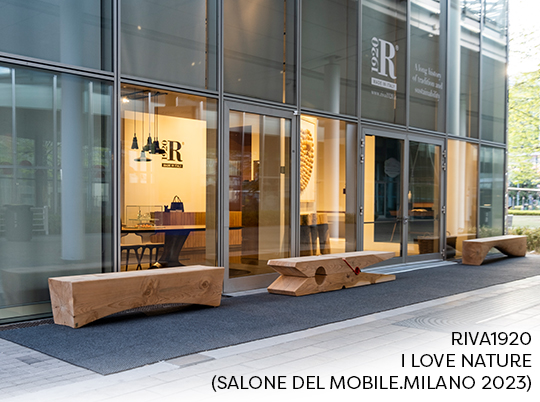 presented by

RIVA1920: I LOVE NATURE (SALONE DEL MOBILE.MILANO 2023)
Published by Sugar & Cream, Friday 19 May 2023
Images courtesy of Riva1920
Balance Between Sustainability & Tradition, Craftsmanship & Technology, History & Experience.
Riva1920 took part in Salone del Mobile.Milano 2023 at a new location: the Riva 1920 Building near Hall 7. The use of the existing building as a permanent exhibition affirmed the goal of sustainability. The exhibition displayed the iconic products of a brand byword of innate beauty and value over time.
A museum-like presentation of the best sellers products, made with reforestation and reused woods conceived by international designers, tells an extraordinary history of tradition and sustainability: Molletta bench designed by Baldessari and Baldessari,  Cambusa Wine and Rialto storage units designed by Giuliano and Gabriele Cappelletti, Sleek table designed by Karim Rashid and Bedrock table designed by Terry Dwan, and many others.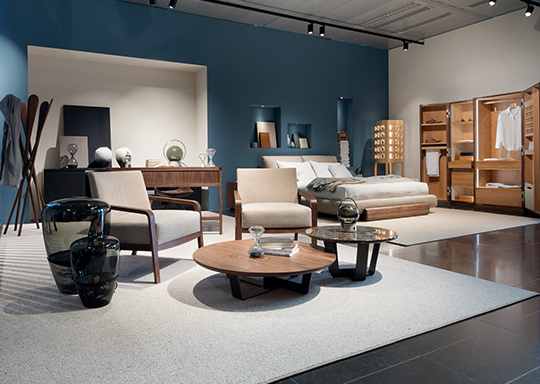 The creativity of Riva1920 also includes the world of lighting with a proposal having almost architectural features, designed by architect Michele de Lucchi.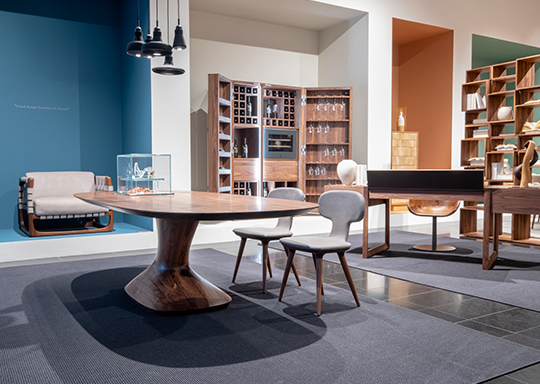 A new collection, a new character, a new variation of solid wood, whose magnificence is presented in refined yet gritty and elegant products.

Presented by Interni Cipta Selaras
The Sospiro Collection is integrated in the living area with table and storage unit and in the sleeping area with bed, chest of drawers and night tables, entirely conceived by architect Claudio Bellini.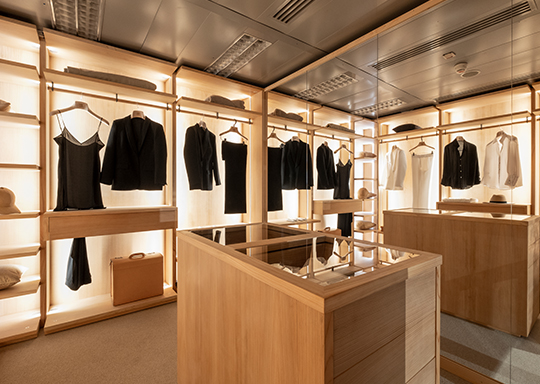 Very important is the celebration of synergies, attitudes, passions and visions apparently different and related to worlds far apart: furniture and high level pastry-making meet in common values to create a new project that celebrates the Italian craftsmanship vision: "Let's make rooms for sweetness"; here is the Bigné stool, made of scented cedar of Lebanon, with upholstered seat, conceived by Iginio Massari and Samuele Montorfano.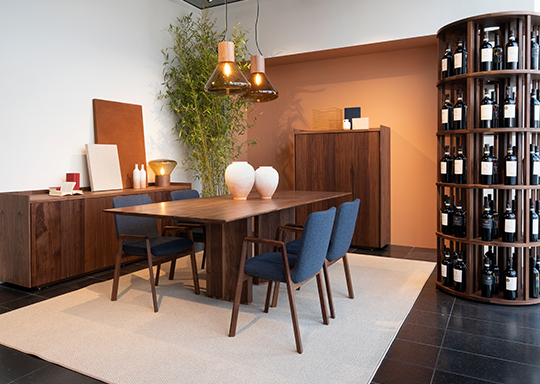 Traditional woods change their outward appearance through processes that enhance craftsmanship and technological innovation: for example, with the Fresart finish the surfaces of the furniture acquire a new look thanks to an external processing of the solid wood that gives it additional impetus, movement and further value to the different types of wood.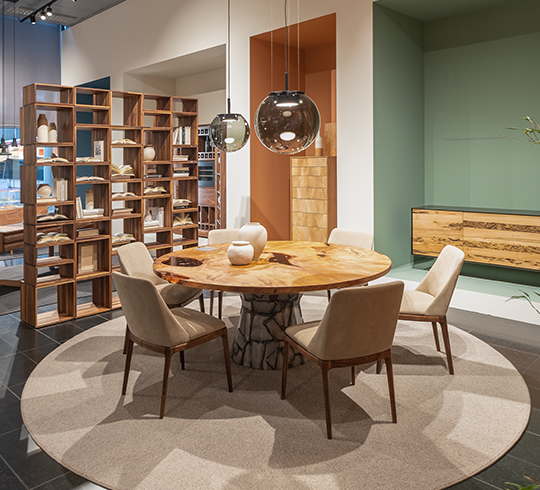 Riva1920's exhibition proofed once again its love for nature, in balance between sustainability and tradition, craftsmanship and technology, history and experience.