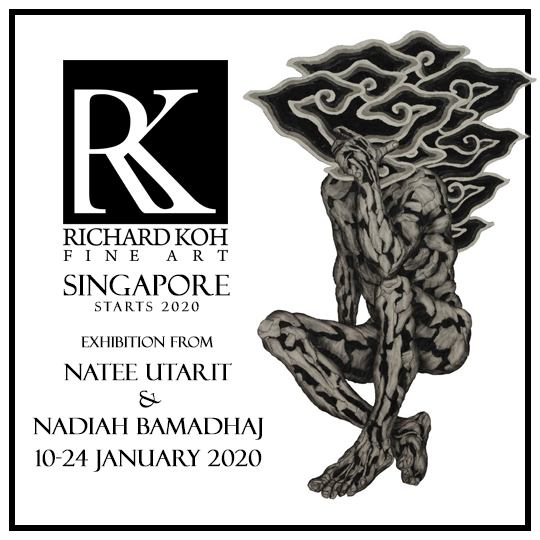 presented by

Richard Koh Fine Art Singapore Starts 2020 with Exhibition from Natee Utarit & Nadiah Bamadhaj
Published by Sugar & Cream, Thursday 09 January 2020
Text & Images Courtesy of Richard Koh Fine Art Singapore
10 – 24 January 2020
To inaugurate its 10-year anniversary celebration in Singapore, Richard Koh Fine Art (RKFA) kicks off the year with special presentations by Natee Utarit and Nadiah Bamadhaj. The highly anticipated exhibition titled DÉJÀ VU: Your Past is My Future and Dreaming Desire which runs from 10 – 24 January 2020.
In DÉJÀ VU: Your Past is My Future, new context for imagination is introduced through Guatama Buddha's Dhamma preaching journeys, challenging an apparent Eastern and Western cultural division. A prior presentation of the series was exhibited at Fondazion Made in Cloister, Naples, Italy in October 2019. It referenced Buddha's spiritual journeys and relics that oscillated between factual and imaginative accounts of historical and archaeological information.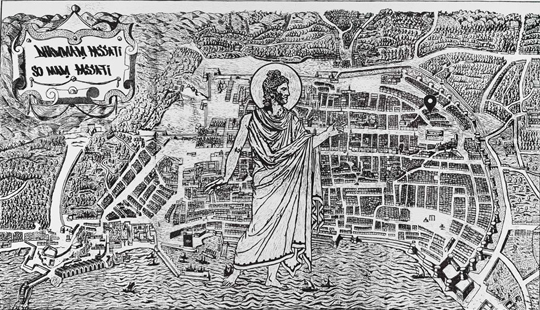 Natee Utarit – The Journey (2019), Wood block print on rice paper mounted on scroll 
The title Déjà Vu is derived from Utarit's reminiscence and recollection of the past. Utarit often catches glimpses of such vague images steeped in memory or the subconscious when he stumbles upon ideas and stories that profoundly parallels his current interest. Strong sensations as such often manifest itself into potential raw materials and develops further into Utarit's work process.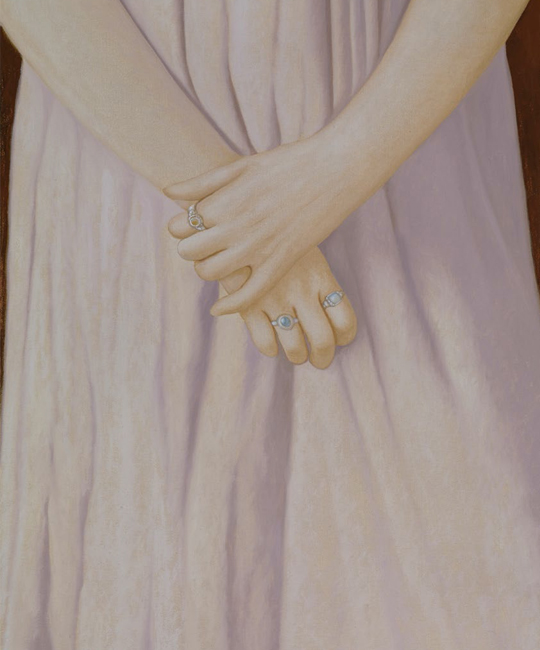 Natee Utarit – Sunday (2019), Oil on canvas 
In his Naples exhibition, Utarit was profoundly struck with inspiration to portray Buddha's journeys and relics vis-à-vis an impressive Greco-Roman marble sculpture from Museum Archaelogico. The sculpture enabled an assumption of Buddha's visit in days of yore. A combination of techniques was employed to reconcile the abstract notions of 'time' and 'space', and anchoring it between Buddha's footprint (utilizing ancient Neapolitan-style mosaic technique) and Buddha's quotation (via the vernacular of graffiti and Thai lacquer work aesthetics). The exhibition is considered Utarit's attempt at amalgamating Eastern and Western narratives and circumventing linear histories of grand civilizations and dogmatic religious beliefs.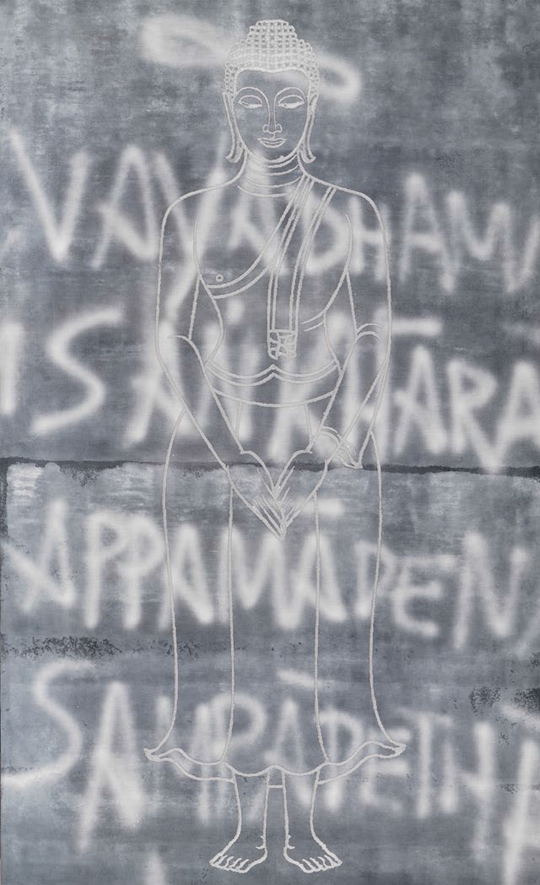 Natee Utarit – The Last Word (2019), Embroidery, spray color paint on linen
Déjà Vu is an expansion of Utarit's ideas and work processes from his Naples exhibition. By Utarit's further understanding and sophistication of the series, new presentation methods and techniques were developed, widening its geographical and archaeological range. The series therefore discovers itself within a variety of linguistics and etymology including Latin, Brahmi, and Pali-Sanskrit – a classical and liturgical language of the Theravada Buddhist canon and indigenous to Southeast Asia. Through his imagination, Utarit demonstrates the illusory line between the narratives of East and West, and reveals how fluid history can be via flows, fluctuations, assimilations and transformations in tandem with social forces and prerequisites for life.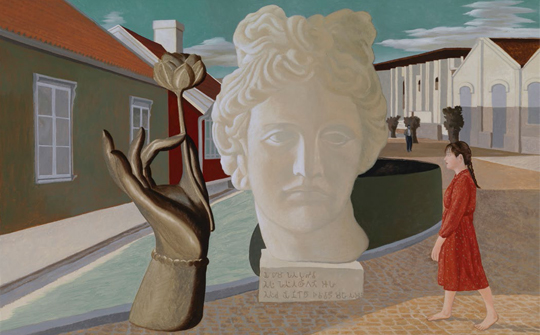 Natee Utarit – The Brightness (2019), Oil on canvas

Presented by Melandas Indonesia
Meanwhile, in Dreaming Desire, Bamadhaj continues her investigation of the human body in art making and its capacity to reveal facets of identity such as gender and sexuality. As a conceptual device, the cloud motif is introduced in this series as a symbolic indicator of the anxieties and subconscious grappling with issues of sexuality and sensuality that the body is constantly subjected to in this day and age. It poignantly reminds us of how these issues are relentlessly debated in public life and the domestic sphere. The body is bombarded and it yearns for detachment. Hence, the bodies naturally slips into a dream, in a transitional state, reminiscing the past and anticipating the future all at once.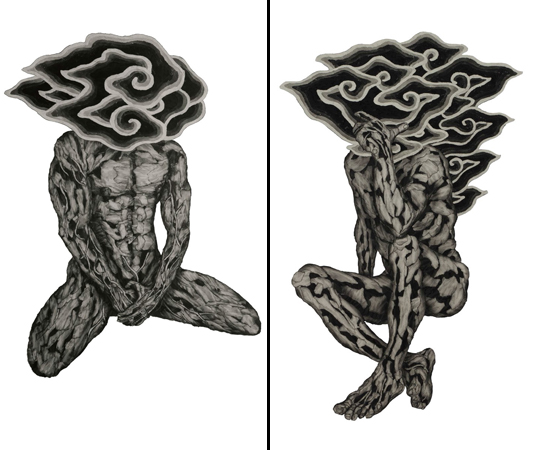 Nadiah Bamadhaj – Menopause Can Wait (2019) | Don't Overthink It (2019), Charcoal on paper collage 
From a historical perspective, the cloud motif is said to have arrived in part of Asia from China in the 16th century as a predominant motif on ceramics and textiles. In Asian cultures the clouds symbolizes water, fortune and the transitional worlds of heaven and earth. Within the context of this series the cloud motif places the body or figure in a transitional state between worlds, of being enveloped in an emotional state of dreaming.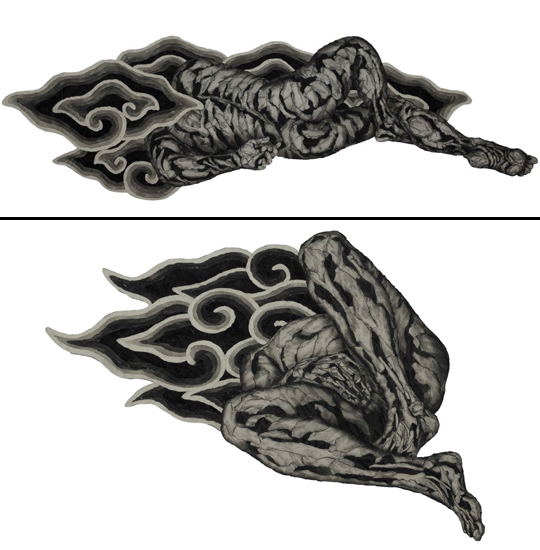 Nadiah Bamadhaj – Between Heaven and Earth (2019) | Slumber of Indifference (2019), Charcoal on paper col