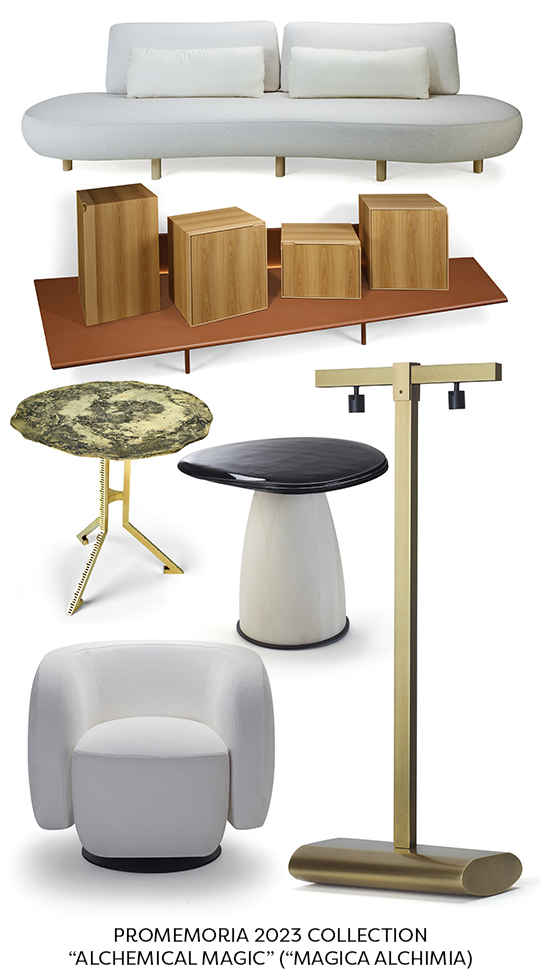 presented by

PROMEMORIA 2023 COLLECTION : "ALCHEMICAL MAGIC" ("MAGICA ALCHIMIA)
Published by Sugar & Cream, Thursday 11 May 2023
Images courtesy of Promemoria
Rebis Table & Ecata Swivel Chair by Davide Sozzi, Geber Table & Enigma Cabinet by Romeo Sozzi, Sofa Les Branches by Andrea Sanguineti, Gin&Simba by Piero Castiglioni
On the occasion of the Milano Design Week 2023, Promemoria presented a collection of furniture and accessories under the name of 'Magica Alchimia' or "Alchemical Magic", in the setting of the showroom on via Bagutta in Milan. Alchemy was about the transmutation of substances. It transformed lead (negative) into gold (positive). In the word's etymological root (which some trace back to Arabic, others to Greek) are contained the meanings of melting, casting together, and soldering. These actions lie at the heart of the daily life of those who design, work and create in Promemoria, with the mind and hands.
The Promemoria design works on matter like poetry with words: it provides a form it did not have before, and transfigures it. Providing rhythm and warmth makes it express something that without the designer (or poet's) work would not have been expressed. This is the magic of every creative act: making material access to what was previously unknown.
Even the new items' names in Promemoria 2023 collection refer to the alchemical universe : Rebis table & Ecata Swivel Chair by Davide Sozzi, Enigma Cabinet & Ecata Swivel Chair by Romeo Sozzi. 
Following is Promemoria 2023 Collection:
Rebis Table by Davide Sozzi: 55x53xh51 cm – solid lime wood and cast crystal
Rebis (from latin res bis or res bina, "double thing") in alchemical language evokes the union of opposites: light and dark, day and night, cold and heat, dry and wet….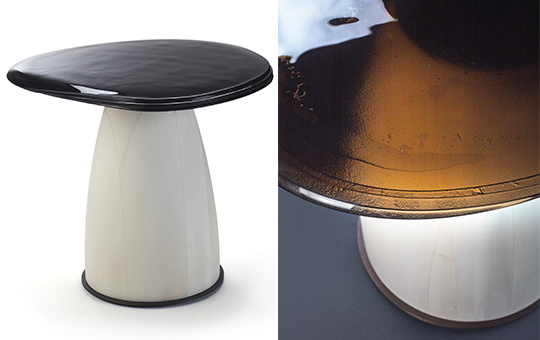 Rebis Table by Davide Sozzi
The principle of coincidentia oppositorum (coincidence of opposites) inspired Davide Sozzi to design this table, which combines different materials (wood and industrial glass sheets) and antithetical processing techniques. The wooden base is executed mechanically, but the but the smooth, ethereal finish is given by the craftsman smoothing the wood surface giving a unique touch to each individual piece. Similarly, the shelf comprises three or more overlapping coloured glass sheets. The irregular shape is designed by the designer's hand, so after each sheet is cut, they are staggered to create small "terraces". Melting the glass in high-temperature furnaces creates wraparound curves in the projecting slabs and small steps in the receding slabs. As happens in alchemic practices, the result is a "double" but organic object – a table that looks like simultaneously natural and artificial, industrial and hand-made, unique and mass produced.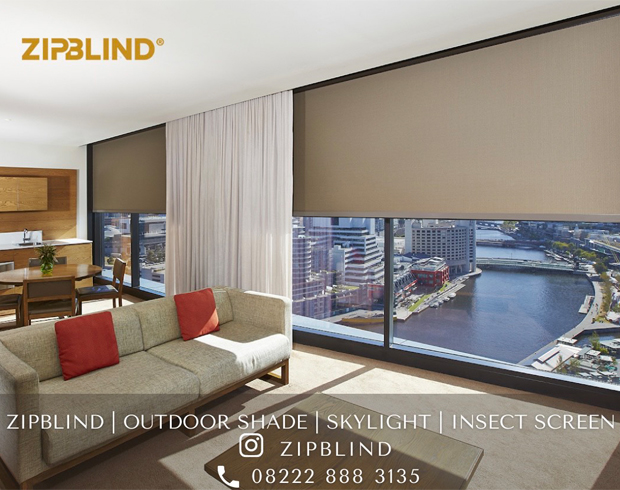 Prisented by Zipblind
Ecata by Davide Sozzi: swivel armchair – 86x82xh73 cm – fabric, metal base
Furniture is paradoxically immobile. Once placed in our homes they never move again, unless we relocate them. They stay where they are put, condemned to deny by their static presence what their name promises. Davide Sozzi's Ecate armchair; being an exception to this statement. Hinged on an axis resting on a metal base, it can rotate 360°, automatically returning to its starting point. With a dynamic pivoting and swivelling armchair, that allows those seated to move and change observation point, whilst standing still. Enveloping and comfortable, it resembles a capsule, an alcove, or a satellite. The name comes from Hecate, an intrinsically ambivalent and polymorphous deity worshipped in ancient Athens as a goddess of magic and crossroads. The armchair crosses and overlaps stasis with movement, providing relaxation, comfort and softness.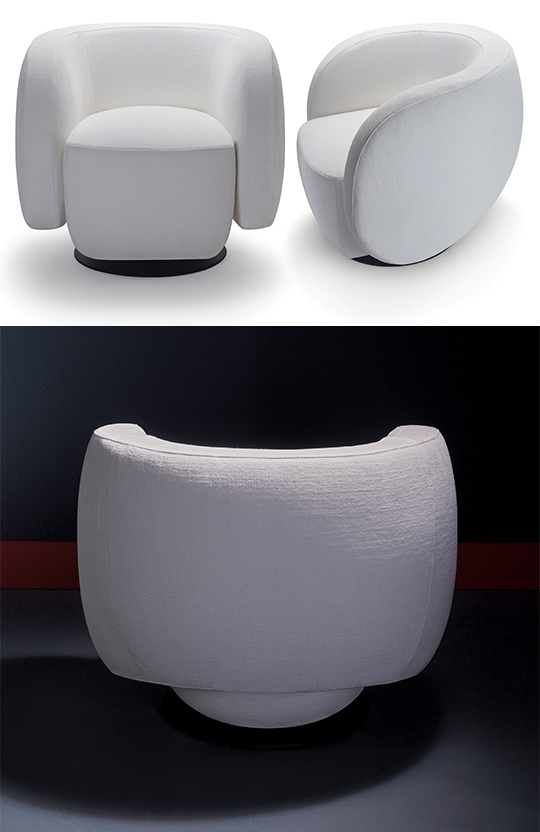 Ecata by Davide Sozzi
Enigma by Romeo Sozzi: cabinet – 320x106xh117 cm – leather base with cypress modules
A sideboard. A tabernacle. A mysterious container. A shrine. Careful to endow his objects with multiple meanings, with as many functions as possible, Romeo Sozzi places wooden "artifacts" in various different formats. Be it on a shelf-top in antiqued brass or covered in leather.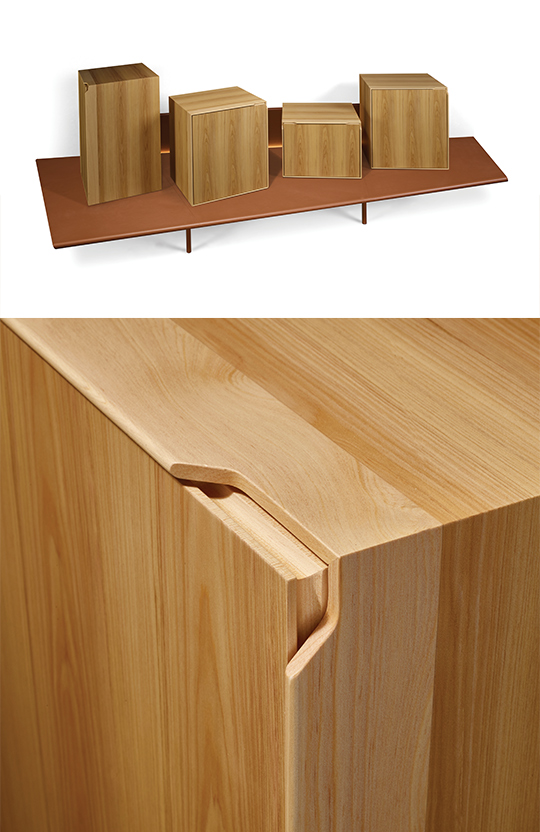 Enigma by Romeo Sozzi
The shelf is suspended from the ground and rests on "pilotis." The architectures are composed of detached and independent modules which can be placed freely on the horizontal plane.
This follows the lessons taught Le Corbusier. When the doors are opened, the backlit modules emanate a magical and mysterious light that invites you to store valuable things, small secrets, objects or confidential documents, on the shelves or within the drawers. The object's polysemy is evident – a piece of furniture, consistent with its name, lends itself for an enigmatic use. It presents itself with a shape that can evoke an altar or urban skyline, alchemically suspended between sacred and the profane. There are various types of wood used for the furniture: fragrant woods such as cypress and sanded cedar, elm for new colour tones, or zebra wood to evoke a tale of sand and earth, sun and warmth.
Geber by Romeo Sozzi: small table – ø75xh70 cm – cast brass
According to the Arab alchemist Giābir ibn Hayyān, alchemy is not an Arab magical practice but an imitation and expansion of Nature which creates new things useful to humankind.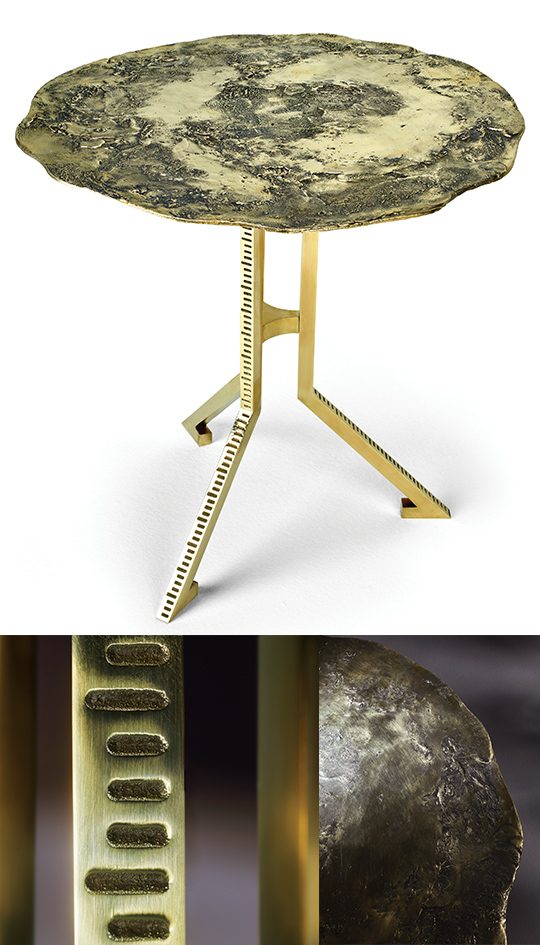 Geber by Romeo Sozzi
According to his theory, bodies placed in contact with each other can change and acquire new properties. The Geber table (a medieval, Latinised form of the Arabic proper name Giābir) designed by Romeo Sozzi using sand brass casting technique as inspired by the Arab alchemist. The starting point is a sand mould that forms the table top imprint. Inside this mould, molten brass is poured like volcanic lava. Then, depending on cooling and atmospheric conditions, the metal solidifies, taking on a unique and unrepeatable shape each time. The initial model being standard, mass produced, but always possessing a unique result. Almost an alchemical artefact.
Les Branches by Andrea Sanguineti: sofa – 308x126xh75 cm – solid ash-wood and fabric
Nest-like. Warm, cosy, and enveloping. Les Branches sofa was conceived as a soft cushion system supported by branch-shaped wood. It evokes natural organic forms and re-interprets them in the domestic space by adopting a curvilinear, comfortable and fluctuating yet rigorous line. The natural materials used are wood and fine fabrics, the craftsmanship is environmentally friendly, and the overall effect is a system of interwoven branches held together by leather laces. This forms a structure to the back of the sofa which creates a cosy feeling and invites you to lie down in complete comfort. Available in three sizes and made of solid ash, Les Branches is inspired by nature. To transfer the idea of a nest into the domestic environment using the synergy between migration and transmutation processes that are dear to alchemy.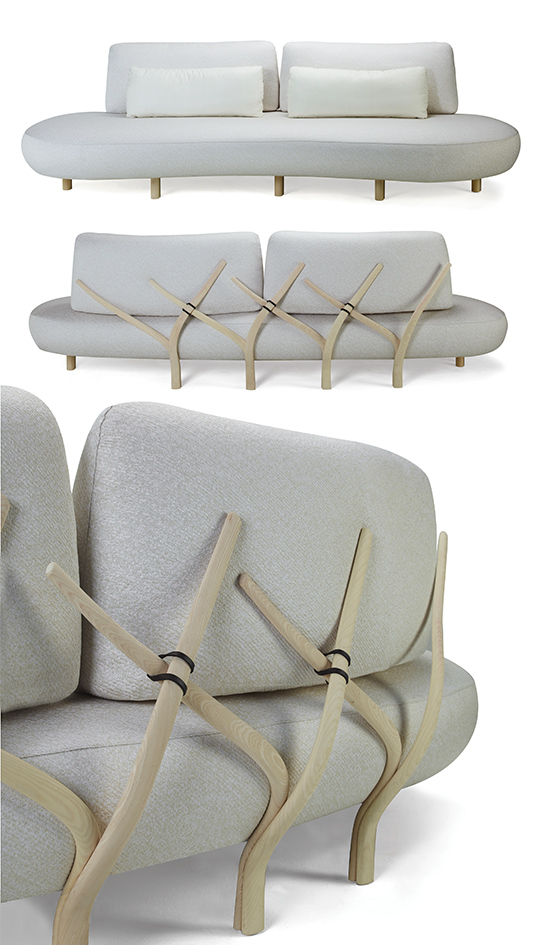 Les Branches by Andrea Sanguineti
Gin&Simba by Piero Castiglioni: table lamp – 16x9xh39,5 cm – brass gold
Piero Castiglioni wanted this effect for his Gin&Simba table lamp. Using two extremely compact projectors, usually mounted on a ceiling or wall recessed track, transformed them into a minimalist, exceptionally light and versatile table lamp. The weight ballasted and semi-circular brass base with elliptical shape allows for continuous freedom of movement without ever losing its balance. The two adjustable projectors, with spot optics, allow the light to be directed according to ones needs. Ultimately creating customised lighting scenarios resulting in an intimate, circumscribed, theatrical light, which in turn transforms and illuminates the tables scene. From the metamorphic positioning of the two projectors, Gin&Simba creates changing, iridescent scenic lighting effects with a magical synergy between technology and the resulting overall effect.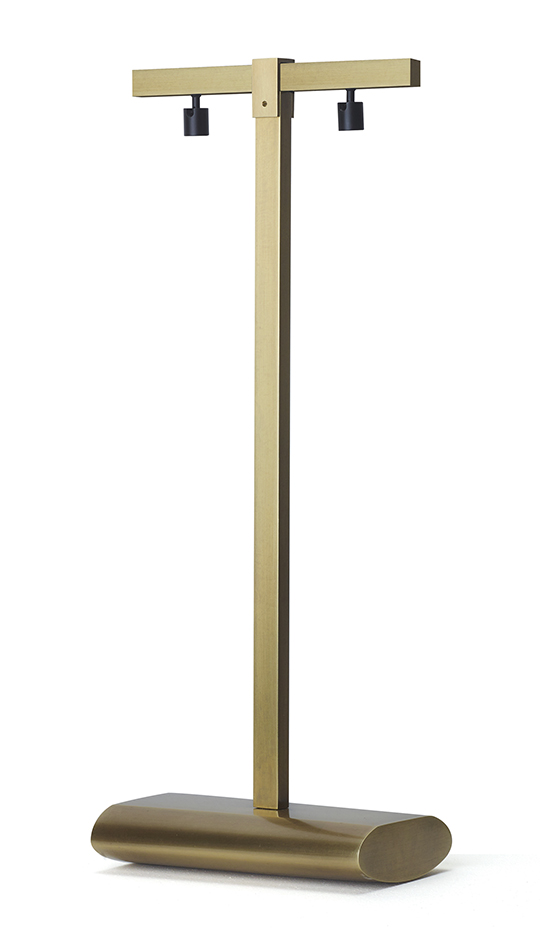 Gin&Simba